OREO Owl Cupcakes & Jack O' Lantern Juice has been compensated by Collective Bias and its advertiser. All opinions are mine alone. #SpookySnacks #CollectiveBias
Oreo Owl Cupcakes & Jack O'Lantern Juice are both easy recipes that are perfect for your Halloween party. The kids can help make the cupcakes. These cupcakes are so good. They made the cut in my best cupcake recipes.
What're your plans for Halloween?  I always look forward to our church's Trunk or Treat party.  
Just in case you've never participated in a Trunk or Treat, it's where all participants park their cars side-by-side, decorate their trunks and hand out treats as the kids walk from one trunk to the next.  
I can't tell you what my trunk is going to be yet because it's a surprise.  But I will be wearing a costume.
Best Halloween Treats
When it comes to handing out treats, I always like to be a little different AND have the best treats.  I remember when I was a kid and would go trick-or-treating in my hometown with my siblings. We always knew who had the good stuff.
This year, I'm the one with the good stuff! I'm handing out OREO cookies in glow-in-the-dark packaging. The cookies come 2 to a package and there are 30 packs of cookies in each box.
Before we head to the party on Halloween night, the grandkids always stop by to show off their costumes, have lots of photos taken and to get their special treats from me.
My most popular treats are Orange & Black OREO Owl Cupcakes & Jack O' Lantern Juice. The juice is made from Fanta Orange Soda, pineapple juice and orange sherbet.  Everything I need for my snacks is at my local Walmart.
It's true confession time.  As soon as I got home from Walmart, I opened the package of OREO cookies, rushed to the windowless guest bathroom, shut the door so that I was plunged into total darkness and watched the OREO packaging glow in the dark.  Yes, things like that really excite me.  I never stopped to think that someone might open the bathroom door and find me in the dark, surrounded by OREOs.  🙂
Jack O' Lantern Juice
My Jack O' Lantern Juice is so easy to make.  Add a couple of scoops of orange sherbet to a glass.  Then pour in equal parts Fanta Orange Soda and pineapple juice. It's simple to make, but it's oh, so good.
I made the not-so-spooky faces for the glasses using black construction paper and glue.

Jack O' Lantern Juice
Ingredients
1 cup Fanta Orange Soda
1 cup pineapple juice
1 large scoop of orange sherbet
Instructions
For each drink, add a large scoop of orange sherbet to a glass. Pour in equal parts of Fanta Orange Soda and pineapple juice. Serve immediately.
OREO Owl Cupcakes
My Orange & Black OREO Owl Cupcakes are just as easy to make.  There are only 2 ingredients in the cupcakes – a cake mix and 12 oz. of Fanta Orange Soda.  That's it.
After the cupcakes are baked and cooled, they're dipped into a luscious chocolate ganache and then decorated with Oreo cookies eyes to look like spooky owls.
Add the Fanta Orange Soda to the cake mix.
Scoop batter into lined cupcake tins.
Bake according to the package directions.
These cupcakes are so cute and easy!
OREO Owl Cupcakes
Yield: 24 cupcakes

Prep Time: 5 minutes

Cook Time: 20 minutes

Additional Time: 15 minutes

Total Time: 40 minutes

Oreo Owl Cupcakes are easy to make perfect for fall and Halloween. The cupcakes are topped with chocolate ganache and decorated with Oreos and candies.
Ingredients
1 white cake mix
12 oz. Fanta Orange Soda
OREOS
Candies, for decorating
Chocolate Ganache:
8 oz. chopped semi-sweet chocolate
1/2 cup heavy cream
Instructions
Mix the cake mix and Fanta Orange Soda. Place cupcake liners into tins and fill 2/3 full. Bake according to directions on the package.
To make the chocolate ganache:
Pour cream into a saucepan and heat on med. until barely simmering (don't boil).
Pour the cream over the chocolate (in a bowl) and stir until melted and well combined.
If you want more of a frosting consistency, let the chocolate ganache cool completely, place in a mixing bowl. Use the whisk attachment and whisk until light and pale.
When cupcakes have cooled, swirl tops of cupcakes into the chocolate ganache.
Decorate using OREO cookies and candies.
Nutrition Information
Yield 24 Serving Size 1
Amount Per Serving Calories 96 Total Fat 5g Saturated Fat 3g Trans Fat 0g Unsaturated Fat 2g Cholesterol 6mg Sodium 21mg Carbohydrates 13g Net Carbohydrates 0g Fiber 1g Sugar 9g Sugar Alcohols 0g Protein 1g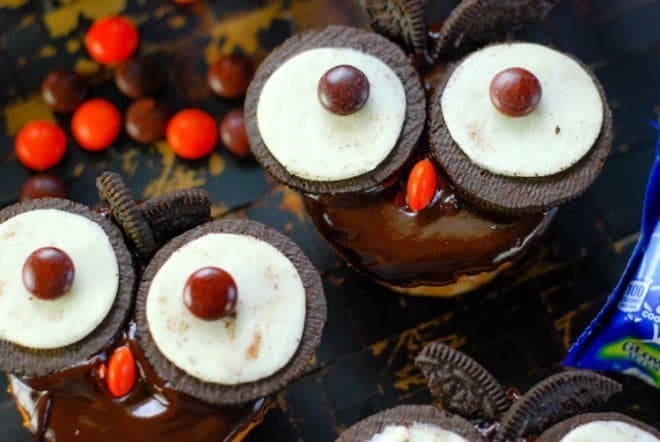 I can hardly wait unto Halloween night to see all the cute costumes, pass out my Halloween treats and watch the grandkid's eyes light up when they get a taste of my OREO Owl Cupcakes and Orange Fanta Jack O' Lantern Juice.
What are your favorite Halloween snacks?

Print Friendly