Easter comes early this year and PEEPS® are out in force! A few days ago I grabbed some Bubble Gum and Blue Raspberry Peeps Chicks to make a PEEPS Bubble Gum Easter Sundae. I wanted to do a test run before releasing the kids to make their own.
Let's face it – Peeps is all about fun! I can't help but smile every time I see one of these little marshmallow chicks or bunnies. The colors, the flavors, the bold packaging – it all screams spring is almost here and Easter is right around the corner.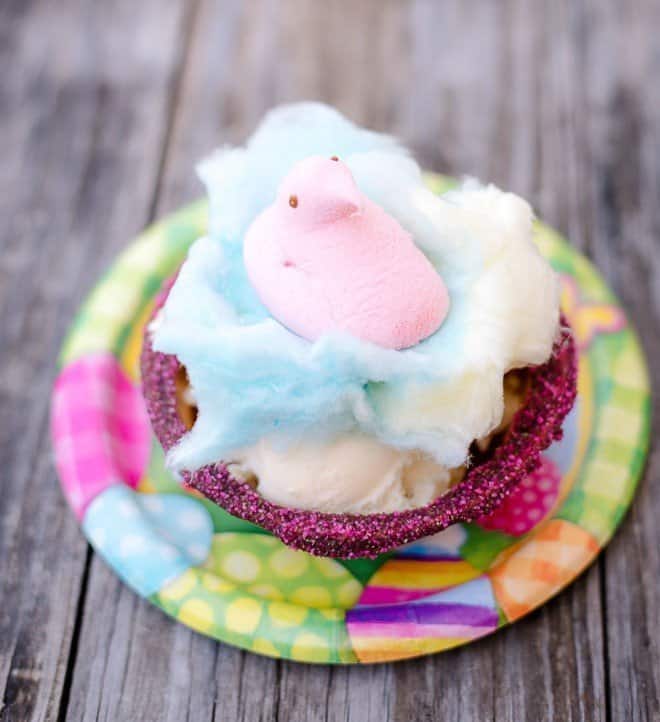 I guess you know by now that spring and summer are my favorite seasons, so when PEEPS arrive, I know warm weather is only a few weeks away.
I wanted to create a fun Peeps dessert for the family. Since waffle bowls look a little like bird's nests, I thought they would be great to hold my Peeps creation.
I dipped the waffle bowls in melted chocolate. After letting the excess chocolate drip off, I dipped them in pink sprinkles. I was tempted to let the chocolate drip into my mouth, but I held myself back.
Helpful Hint: Waffle Bowls can be fragile, so handle gently.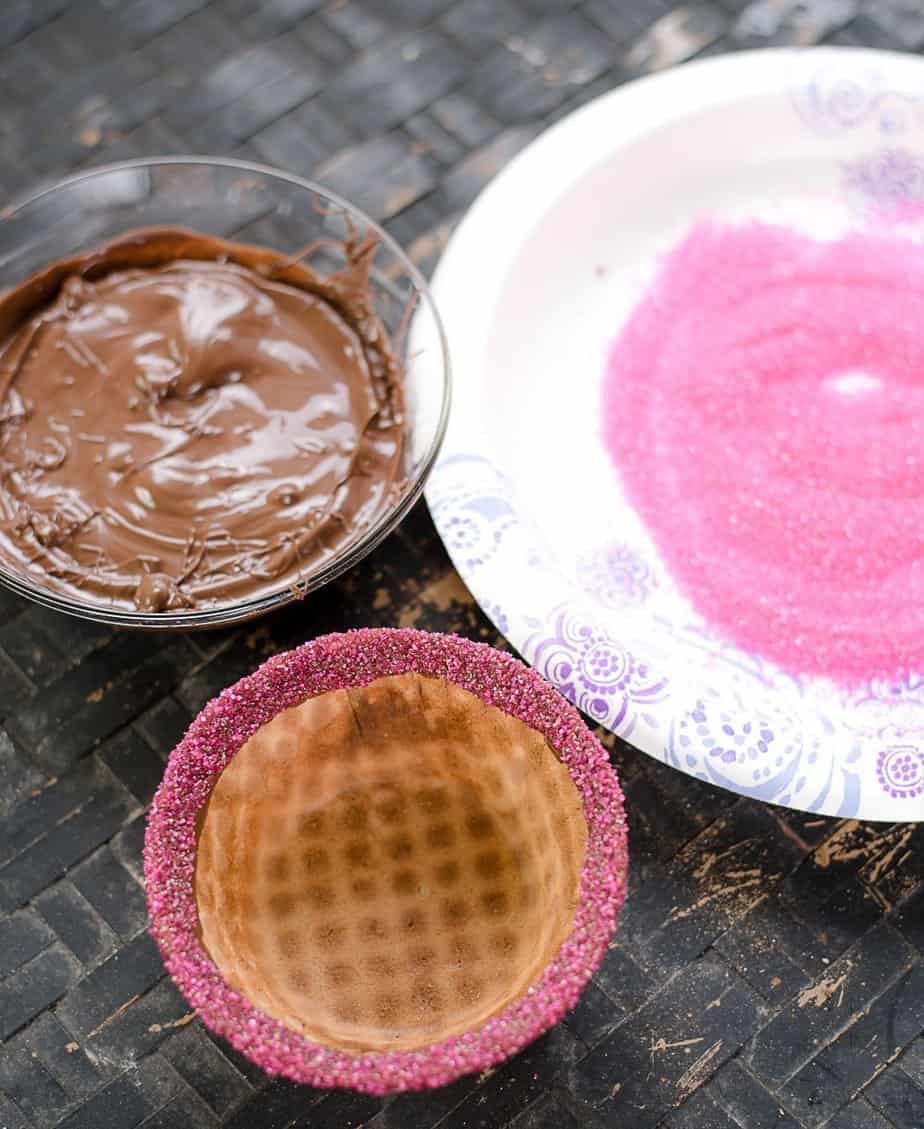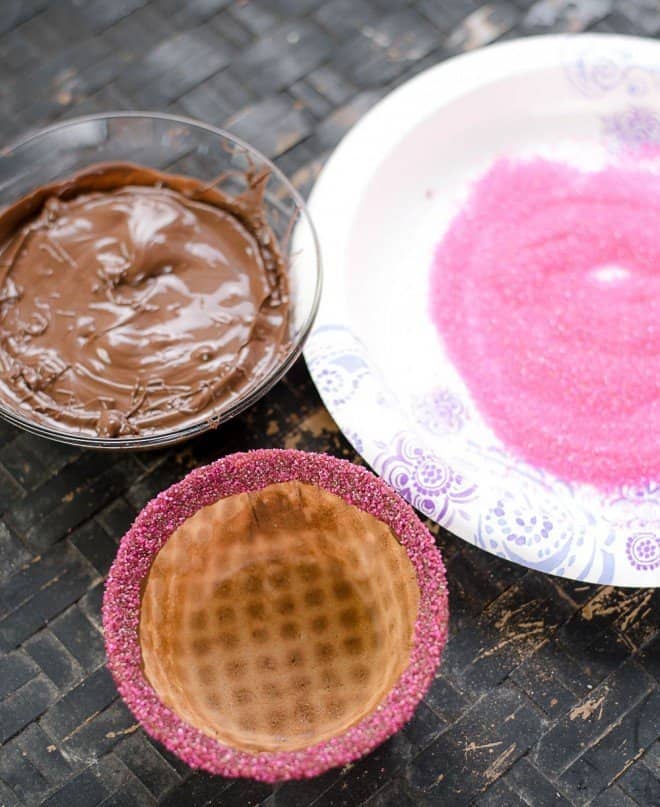 After the chocolate dried, I added scoops of vanilla ice cream, cotton candy and Peeps Chicks. I had to hide the cotton candy from my 20-something-year-old son. He loves that stuff.
You can drizzle with chocolate or caramel sauce before serving, but I think these are perfect just the way they are. What could be easier?
Bubble Gum PEEPS, Vanilla Ice Cream and Cotton Candy Nests
Ingredients
Waffle Bowls
Peeps Bubble Gum Chicks
Peeps Blue Raspberry Chicks
Vanilla Ice Cream
Cotton Candy (I used Cherry Berry and Blue Raz & Lemon)
Chocolate Candy Coating (Candiquik)
Sprinkles
Instructions
Melt chocolate according to microwave instructions.
Carefully dip waffle bowl rims into chocolate and let excess drip off.
Dip waffle bowl rims into sprinkles and let dry completely.
Scoop vanilla ice cream into waffle bowls and top with cotton candy. Add a Peeps Chick.
The grandkids are going to love this special Easter creation. I can't wait to see what they'll come up with when they make their own PEEPS Cotton Candy Easter Sundaes.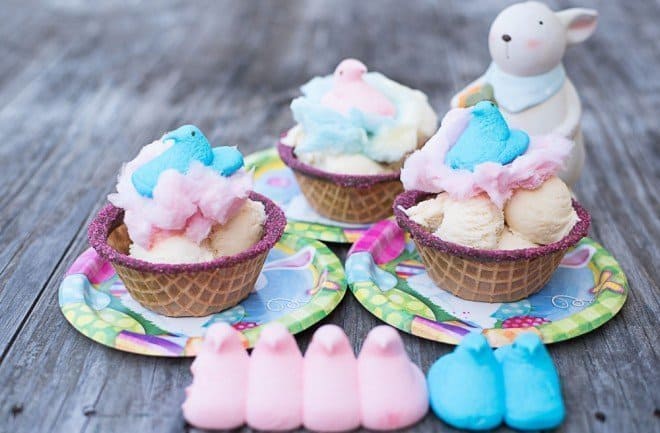 How do you eat your PEEPS?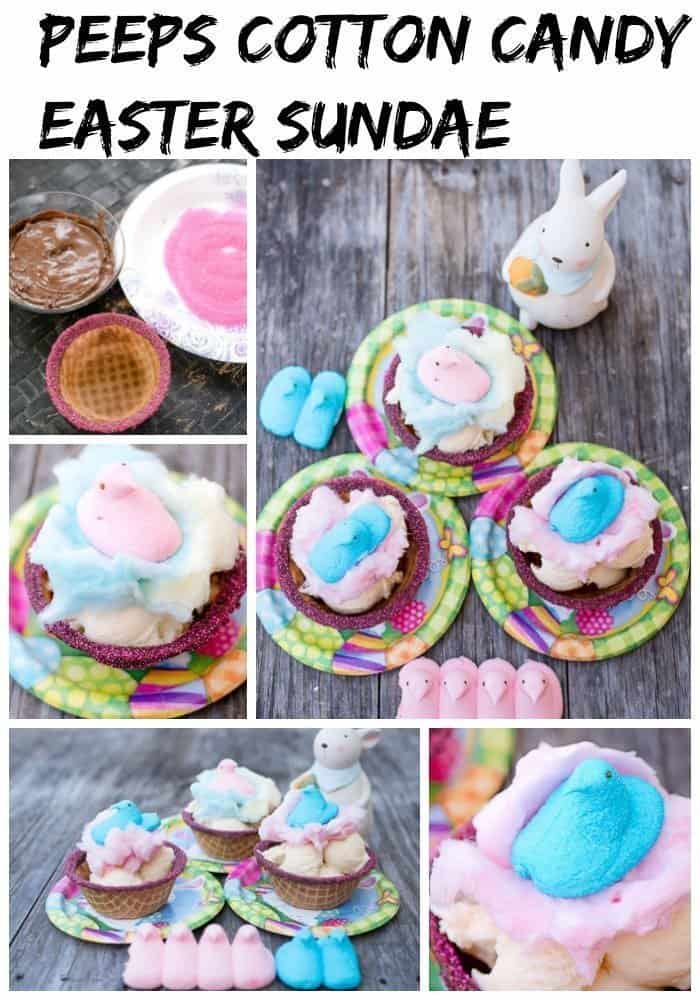 Marshmallow Peeps are everywhere! We've got 14 bloggers with all kinds of recipes and crafts for marshmallow Peeps! Looking for more fun ideas? Check all these great ideas:
White Chocolate Peeps Pops from Foody Schmoody
Peeps Ideas for Easter from Organized Island
Peeps Edible Play Dough from By Trish Sutton
Festive White Chocolate Pies from House of Faucis
Smores Peeps Pops from The Bitter Side of Sweet
Marshmallow Peeps Hair Clip from The TipToe Fairy
Peeps Brownies from My Big Fat Happy Life
Peeps Easter Bunny Pudding Cups from For the Love of Food
Easter Peeps Bunny Bags from Nap-Time Creations
Peeps Baked Lemon Cake Donuts from The Foodie Affair
Peeps Easter Basket Cupcakes from One Hoolie Mama
Chocolate-Dipped Marshmallow Bunnies with FREE Printable from A Grande Life
Peep Tarts Martini from An Affair from the Heart
Peeps Cotton Candy Easter Sundae from An Alli Event
*This blog hop is not associated with Target or Marshmallow Peeps.