This post, Citrus Cupcakes with Citrus Buttercream Frosting, has been compensated by Collective Bias, Inc. and its advertiser. All opinions are mine alone. #BakeItWithMotts #CollectiveBias
As soon as the weather starts to warm up outside, my thoughts turn to Citrus Cupcakes with Citrus Buttercream Frosting. To celebrate spring, I'm going to show you how to make three different citrus cupcakes – lemon, orange, and lime – from one cake mix. If you love cupcakes, make sure to visit my best cupcake recipes.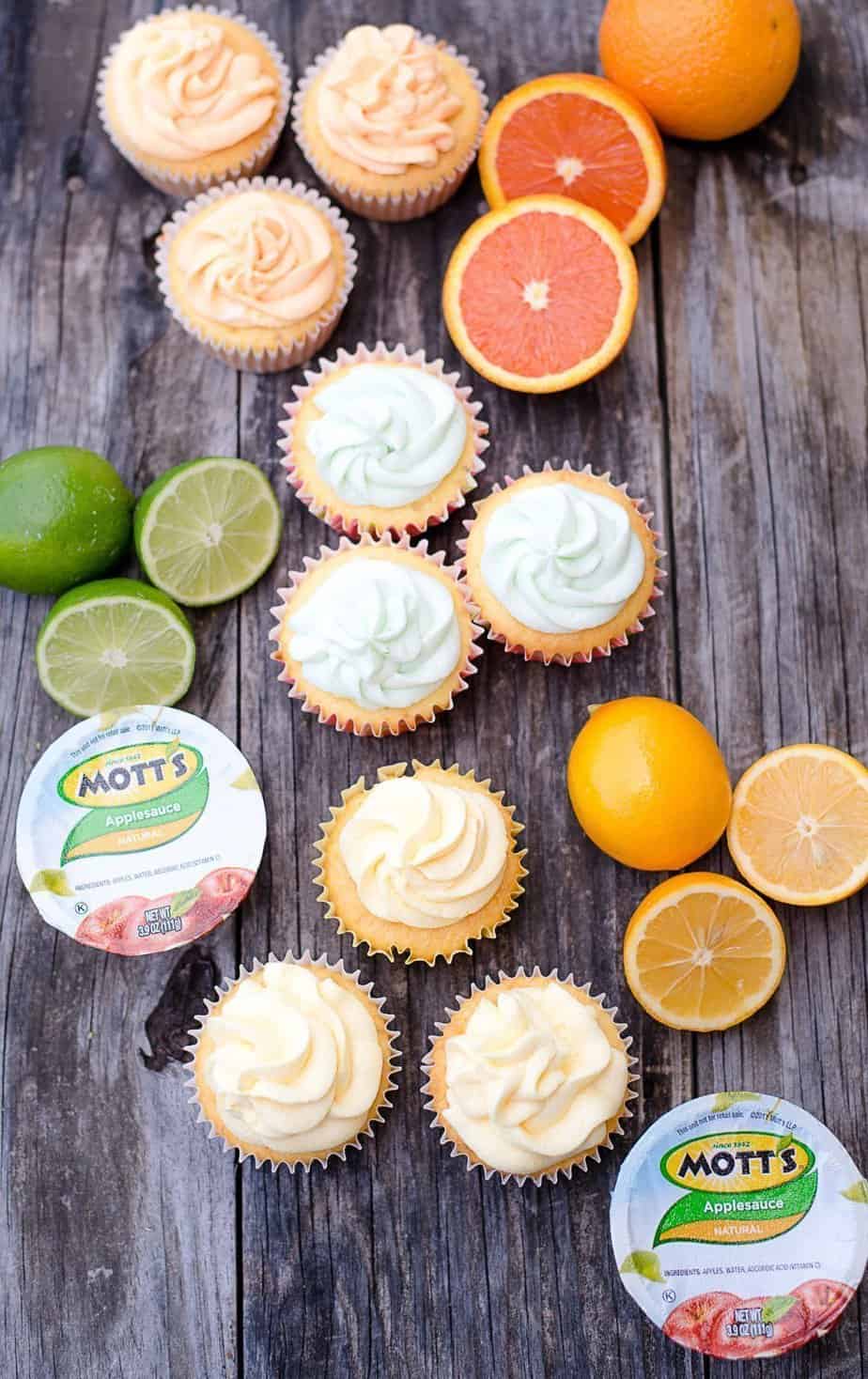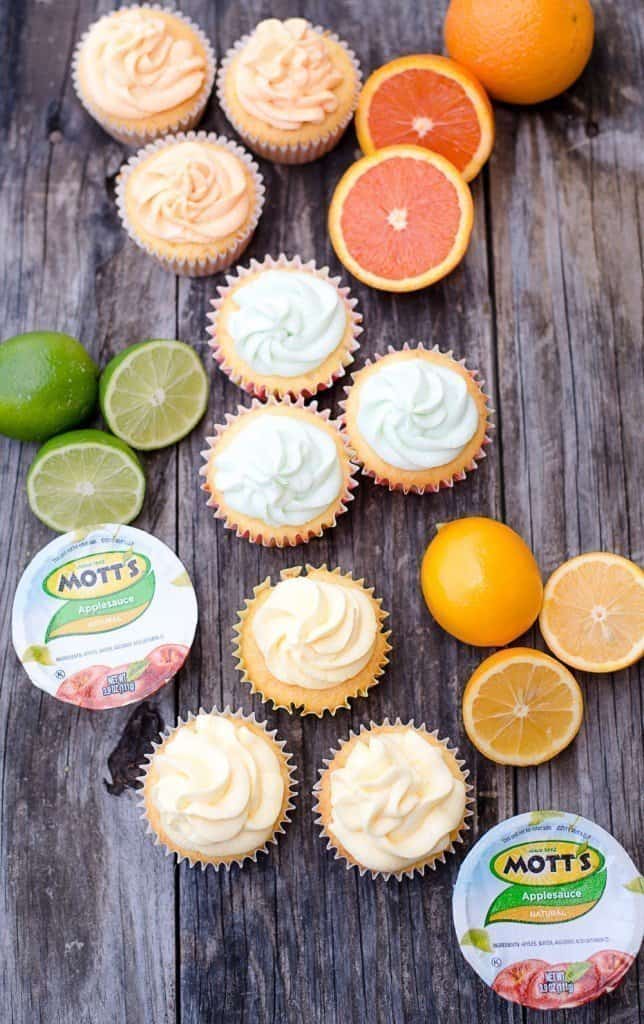 Citrus is a Favorite at my House
I've never met a citrus flavor I didn't like, but lime is my very favorite. I remember when I had limeade for the very first time.
I was a little girl and was spending the weekend with my aunt. We were visiting my aunt's friend who had just moved into town from another country. As soon as we arrived, she offered us a glass of fresh squeezed limeade. I fell in love with limes right there in her kitchen. I've been in love ever since.
Mott's Natural Applesauce in Place of Oil
To give my citrus cupcakes even more flavor and to reduce calories and fat, I use Mott's® Natural Applesauce in place of the oil. Did you know that 1/2 cup of Mott's® Natural Applesauce has only 50 calories and ½ cup vegetable oil has 960 calories?
Citrus Cupcakes with Citrus Buttercream Frosting
Combine cake mix, 3 eggs, 1 cup water and 1/2 cup Mott's® Natural Applesauce. Blend for two minutes.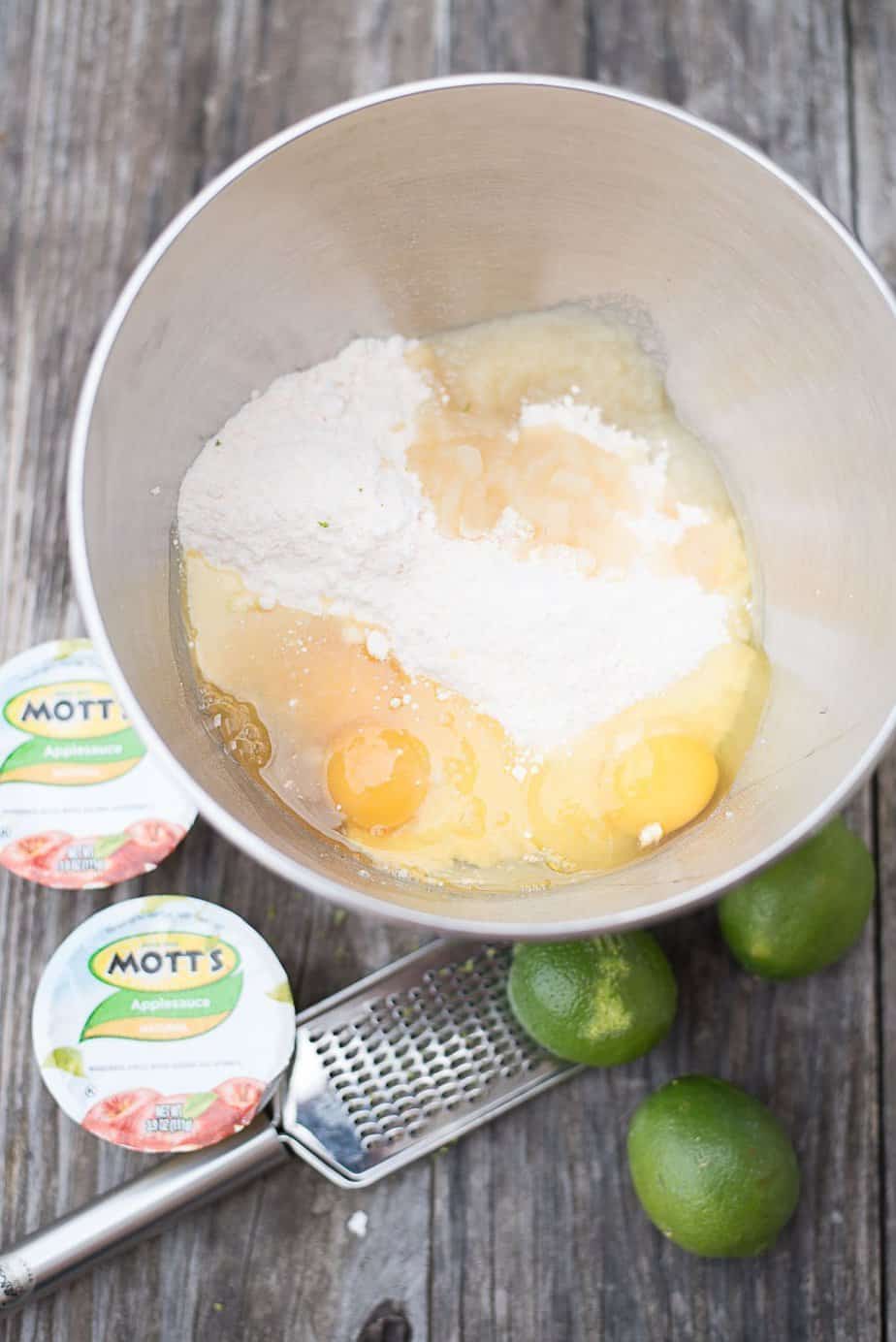 Divide the batter into three bowls.
In one bowl, stir in the orange juice and zest. To the second bowl, add the lemon zest and juice. To the third bowl, add the lime zest and juice. Pour batter into cupcake liners. You'll have eight of each citrus flavor.
Make 3 Batches of Frosting
While the cupcakes are cooling, make three batches of frosting. Add one drop of green food coloring to the lime frosting, three drops yellow food coloring to the lemon frosting and one drop red/two drops yellow for the orange frosting.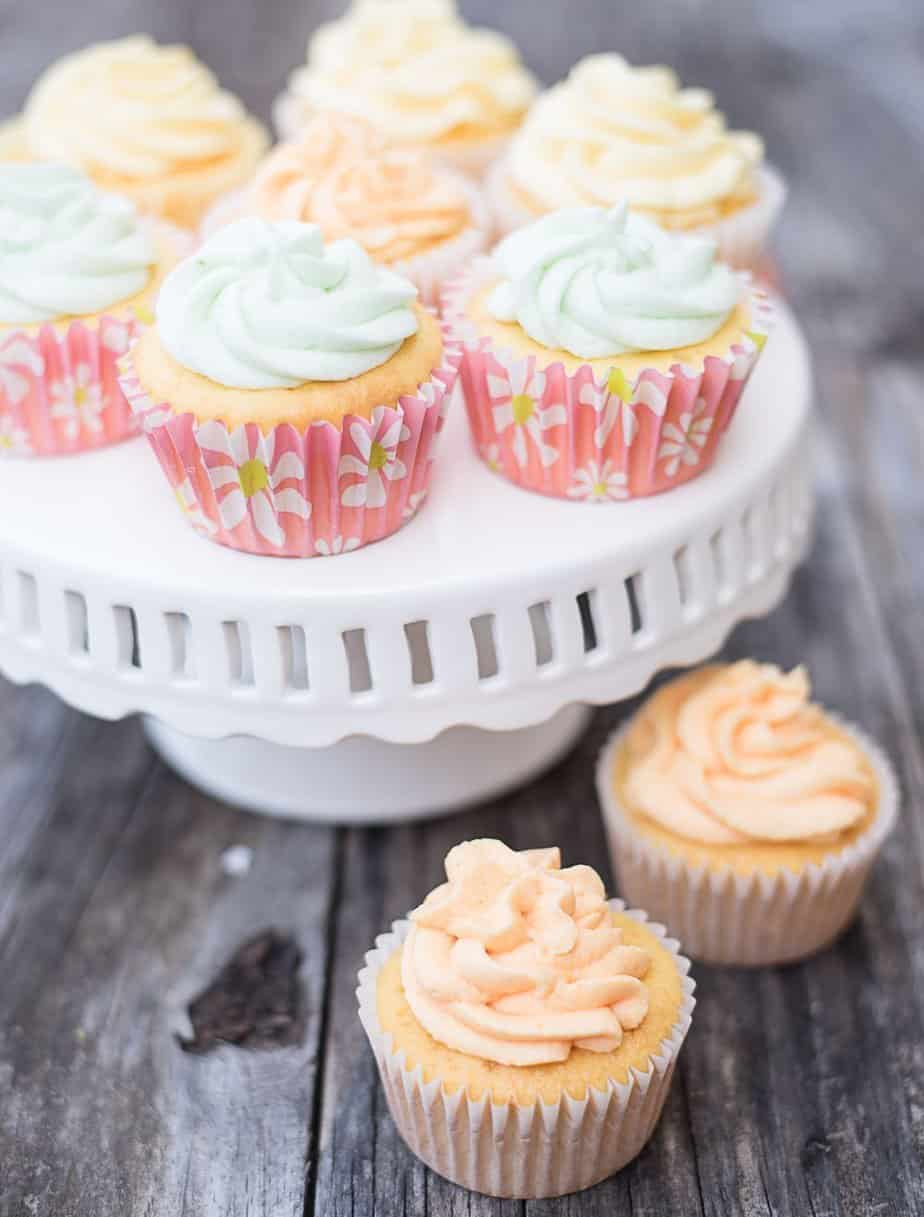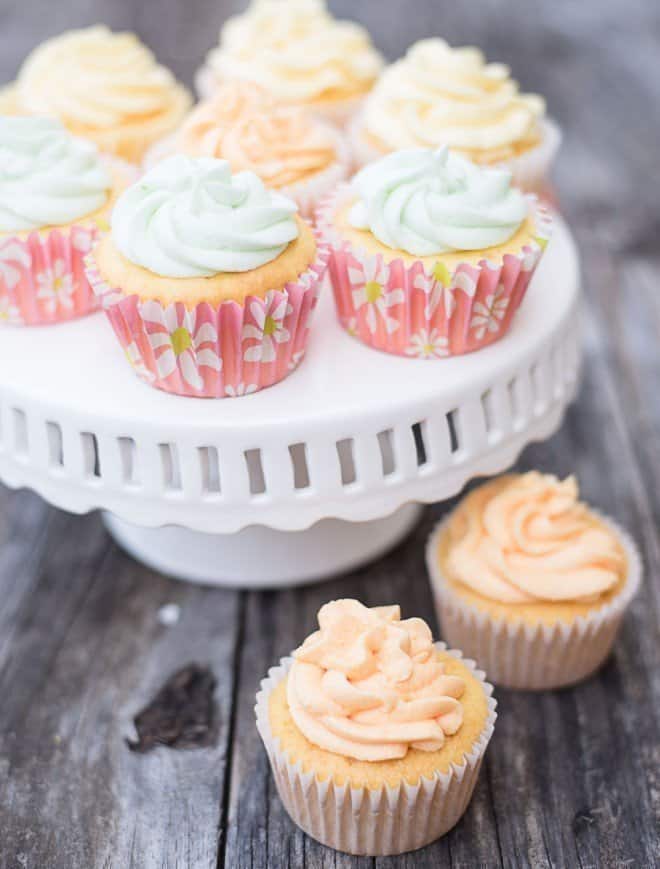 Frost The Cupcakes & Enjoy
Once the cupcakes are completely cooled, frost and enjoy.
Helpful Hint: I use three different colored cupcake liners to keep up with the different flavors.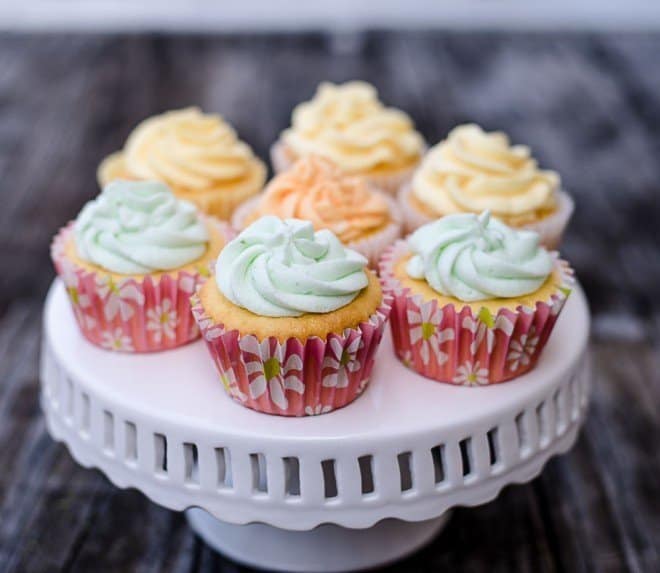 These Citrus Cupcakes are Delicious!
When my daughter bit into a lime cupcake, she declared it the best she's ever eaten and couldn't believe that I started with a boxed cake mix.
What Does the Family Think?
My future son-in-law said the buttercream frosting tasted like sherbet and he loves sherbet. When he said that, the rest of the family said, "That's it! It tastes like sherbet." Next time, I'll have to double the batch since I have a large family.
The Recipe for Citrus Cupcakes
Yield: 24 cupcakes
Citrus Cupcakes with Citrus Buttercream Frosting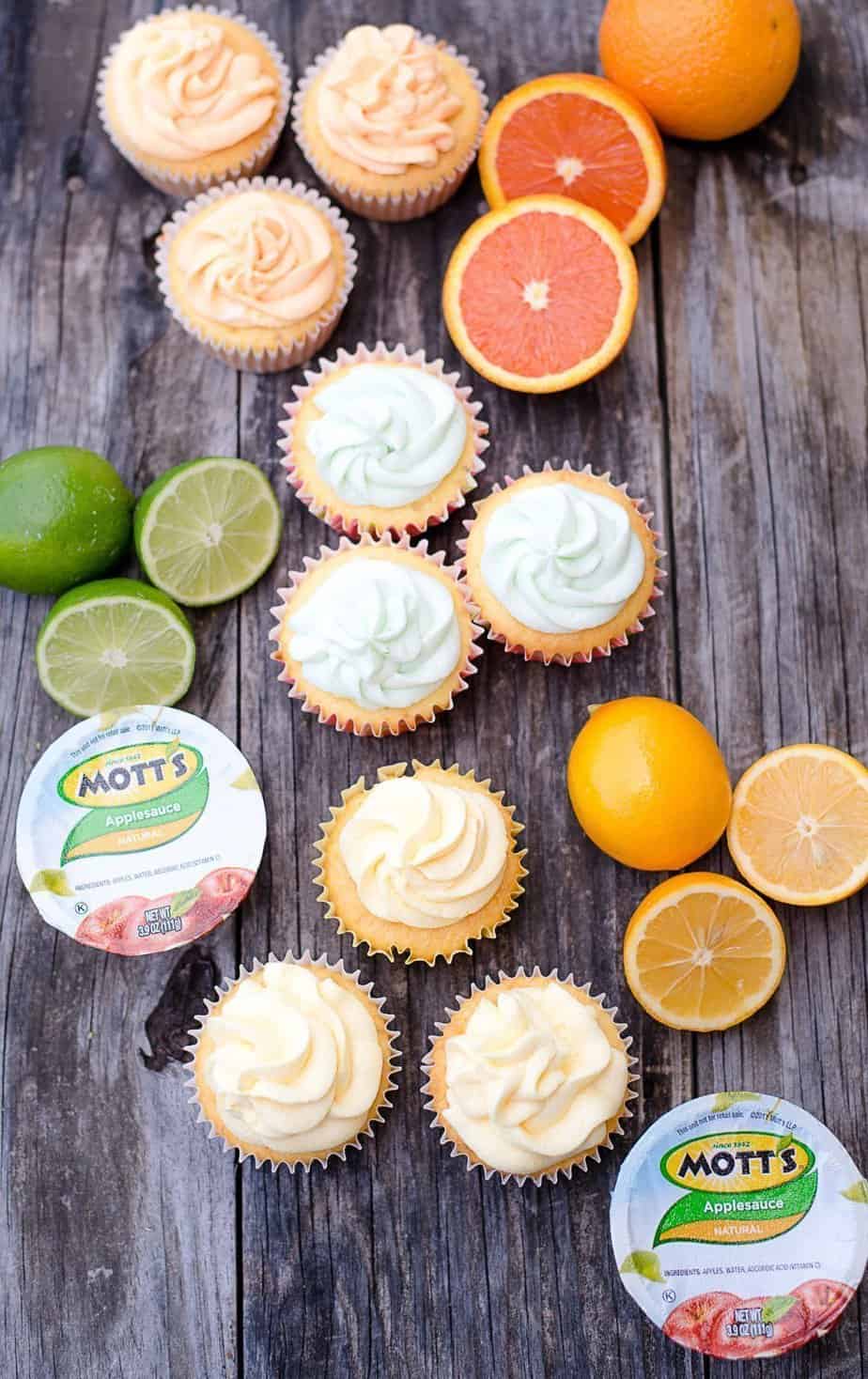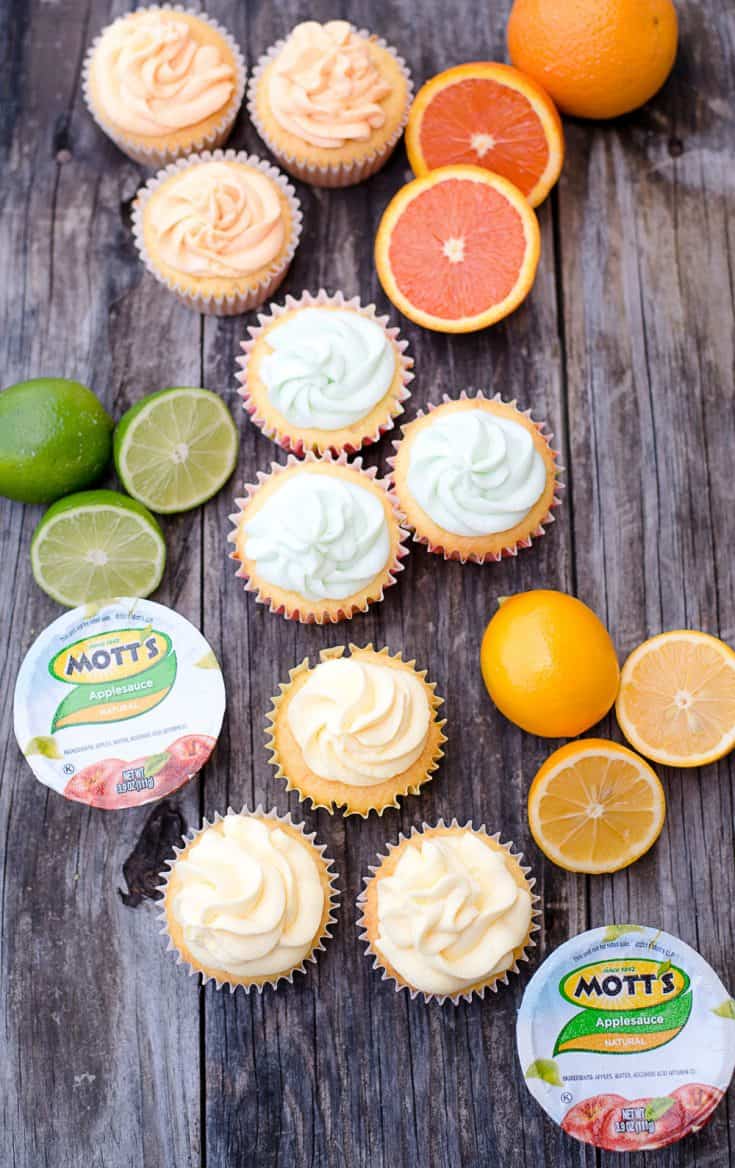 Citrus Cupcakes with Buttercream Frosting include lemon, lime, and orange cupcakes. The buttercream frosting is light and creamy and these cupcakes are delicious.
Additional Time
15 minutes
Ingredients
1 box yellow cake mix (I use Betty Crocker Super Moist Yellow Cake Mix)
1/2 cup Mott's® Natural Applesauce (in place of 1/2 cup oil)
3 eggs
1 cup water
1/2 Tablespoon EACH fresh orange juice and orange zest
1/2 Tablespoon EACH fresh lemon juice and lemon zest
1/2 Tablespoon EACH fresh lime juice and lime zest
Frosting:
1 cup butter, softened and divided
1 Tablespoon of orange, lemon and lime zest
6 cups powdered sugar
3 Tablespoons each of fresh lemon, fresh lime, and fresh orange juice
Red, Green and Yellow Liquid food coloring, if desired (1-2 drops for each flavor)
Instructions
Preheat oven to 350º.
Mix cake mix as directed on the back of the box, replacing 1/2 cup Mott's® Natural Applesauce for the 1/2 cup oil. (My cake mix calls for 3 eggs, 1 cup water, and 1/2 cup vegetable oil. I replace the oil with applesauce). Use the number of eggs and water that your cake mix calls for.
After mixing, divide evenly among 3 bowls.
Add 1/2 Tablespoon orange juice and 1/2 tablespoon orange zest to one bowl, lemon juice and zest to the second bowl and lime juice and zest to the third bowl.
Mix and pour into lined cupcake tins (8 of each flavor). Bake according to cupcake directions on the cake mix box.
Cool completely.
Frosting:
Combine 1/3 cup butter and 1 Tablespoon orange zest until creamy. Add 2 cups powdered sugar alternately with 3 Tablespoons orange juice. Beat until smooth. Add 1 drop red food coloring and 2 drops yellow (if desired) and beat for 1-2 minutes.
Repeat with the 2 remaining flavors adding the lemon juice, zest and 3 drops yellow food coloring for the lemon cupcakes. For the lime cupcakes, add the lime zest, juice and 1 drop of green food coloring.
Frost cupcakes and enjoy.
What's your favorite citrus flavor?
PS – My family voted these citrus cupcakes the best ever! I think I won mom of the year – Thanks, Mott's®!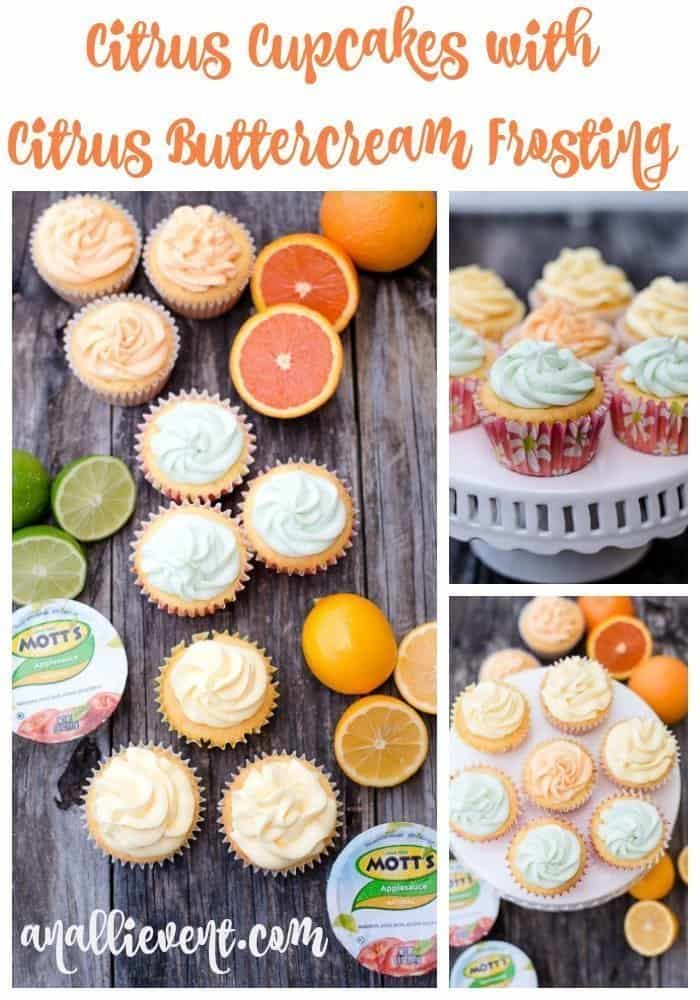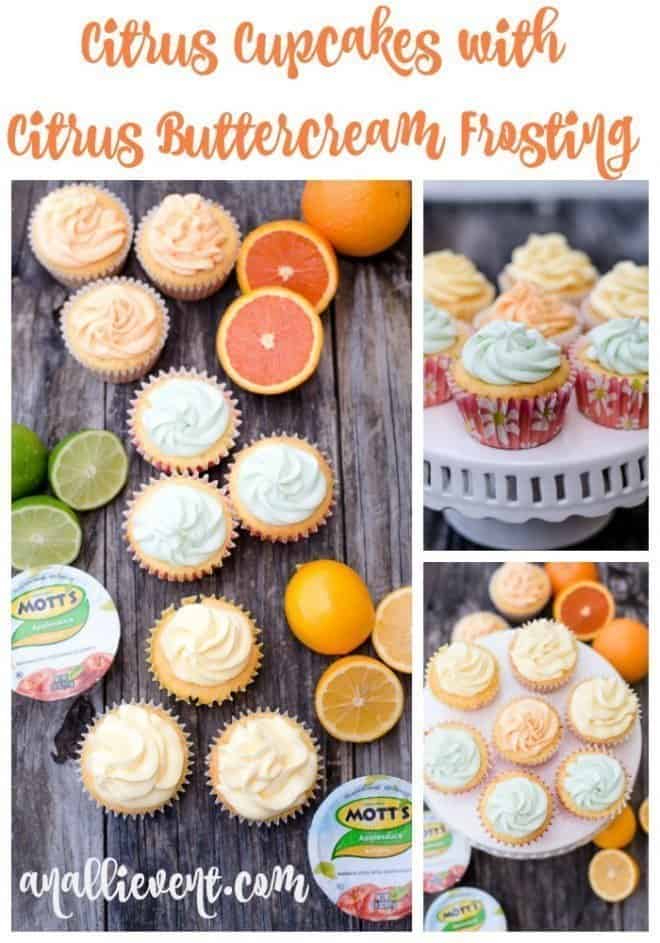 You May Also Like