Grilled Chicken Fajitas has been compensated by Collective Bias, Inc. and its advertiser. All opinions are mine alone. #EverydayEffortless #CollectiveBias
Summer is my favorite season except when it comes to cooking.  Don't get me wrong, you know I love to cook, but it's way too hot to be spending quality time with my stove.
Once summer arrives with all its glory and heat, I turn my back on recipes that involve turning on the oven.  That doesn't mean we eat out every night.  It just means that I turn to simple, delicious, healthy meals that are quick and easy to prepare.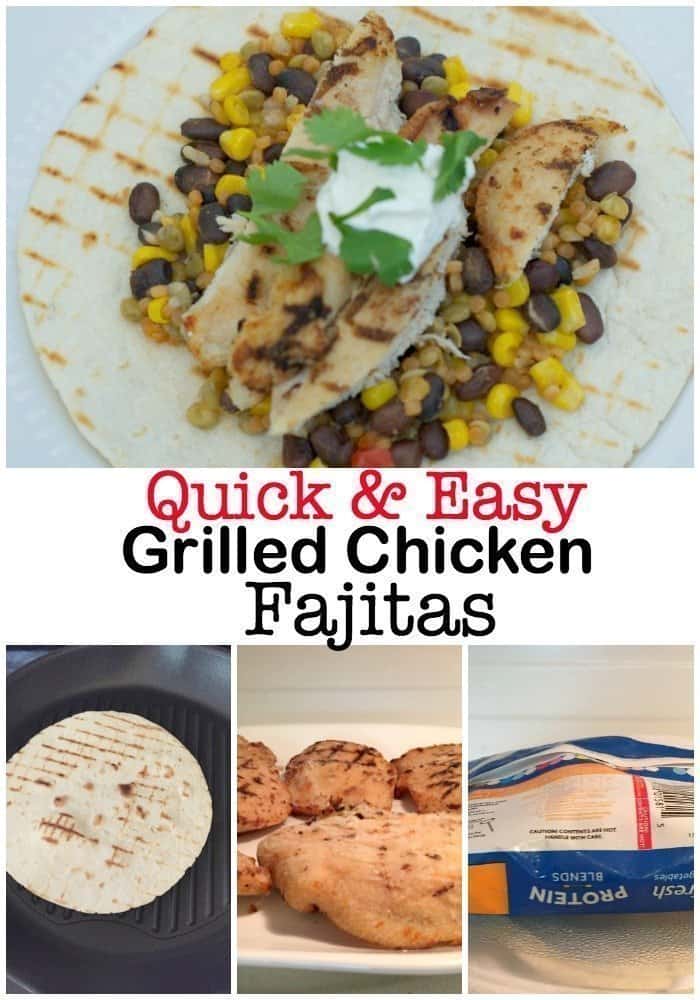 We're a Tex-Mex loving family, so my Quick and Easy Chicken Fajitas are fast becoming a weekly menu staple in my house. The chicken and veggies are cooked in the microwave.  Yep, in the microwave.  I use Tyson Grilled & Ready Chicken Breast Fillets and Birds Eye New Steamfresh Southwest Style Protein Blends.  You can find them both in the freezer aisle at your local Walmart.
I feel good about serving Tyson Grilled & Ready because they're fully cooked, 98% fat-free and have no preservatives.  Combined with the Birds Eye veggies, I can serve my family a high protein, healthy meal. It's the perfect meal solution to help me keep my cool and my reputation as a great cook.
Only 3 Ingredients!
This recipe calls for only 3 ingredients and the microwave does most of the work.  I heat the chicken breasts first, according to the package directions, then while the chicken cools enough so that I can slice it, I heat the veggies.
The southwest style of the new Birds Eye protein blend contains a delicious blend of whole grains, black beans, corn, lentils, red bell peppers, and sauce.  This blend would also be delicious with baked tortilla chips.
I only turn the stove on for just a few minutes in order to heat the tortillas on a grill pan.  I think the grill marks add to the overall appearance. Plus, it looks like I've been slaving over the stove.  No one needs to know that Tyson and Birds Eye have come to my rescue one more time.
Easy, Peasy, Recipe
I'll let you in on a little secret:  The first time I made these fajitas, my entire family thought I had grilled the chicken. As my husband, the grill master, was eating, he stated, "I didn't know you were grilling chicken tonight.  This is delicious."
The entire family (husband, daughter, son, future son-in-law) said they thought I had just taken the chicken off the grill.  It's that good!  I was a little embarrassed to tell them that the microwave did all the work.
Quick & Easy Grilled Chicken Fajitas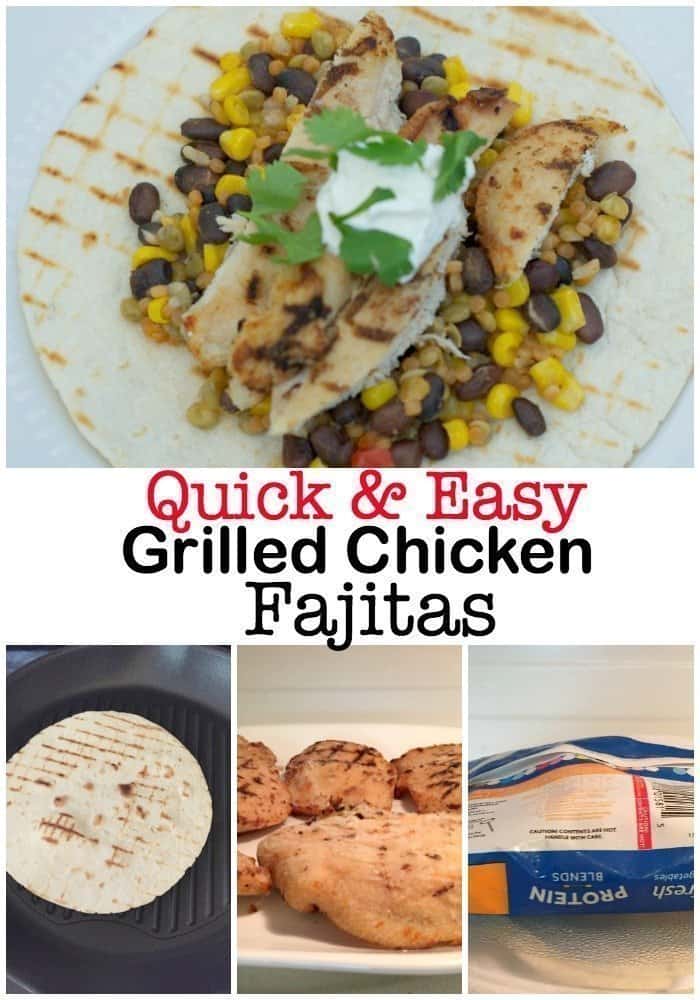 Ingredients
1 package (22 oz.) Tyson's Grilled & Ready Chicken Breast Fillets
1 package Birds Eye Protein Blend, southwest style
1 package flour tortillas
Condiments such as salsa, sour cream & cheese, if desired
Instructions
Cook Tyson's Grilled & Ready Chicken Breast Fillets in the microwave according to the directions on the package. Do the same for the Birds Eye Protein Blend.
Heat a grill pan over medium-high heat. Heat tortillas.
Cut chicken into strips and serve in a tortilla with vegetables.
These are so easy and delicious!
Be sure and check out more great recipes at Tyson.com.  I'd love to hear your fave!
You May Also Like