Sometimes I just need chocolate. Hot chocolate. No. Not the kind you drink. It's way too hot for that (it's 80º today!). I need spicy chocolate. I need heat. Sometimes I just need Mexican Lava Brownies & Dulce de Leche Ice Cream (caramel ice cream). Coffee ice cream is also good with these brownies.
If I had to pick a favorite ethnic cuisine, it would be Mexican food. Hands down. Every. Single. Time. It's a family favorite and I like it hot. (No worries, these brownies are not hot, just a little kick of spiciness)
The hubs and I have been to Mexico several times over the years and we always search for the most authentic, non-touristy places to eat. Oh, and we've found some good ones. Once we were in a tiny restaurant and I ordered guacamole. The owner sent his young son across the street for avocados. Talking about fresh!
Mexican Lava Brownies are so easy to make. Don't tell anyone, but I use a brownie mix. There's no shame in my game! I also add a pinch of cayenne pepper and cinnamon to kick things up a notch. If you don't like the heat, get out of the kitchen. I mean, leave the cayenne pepper out completely. It's all good. But it's better with the pepper.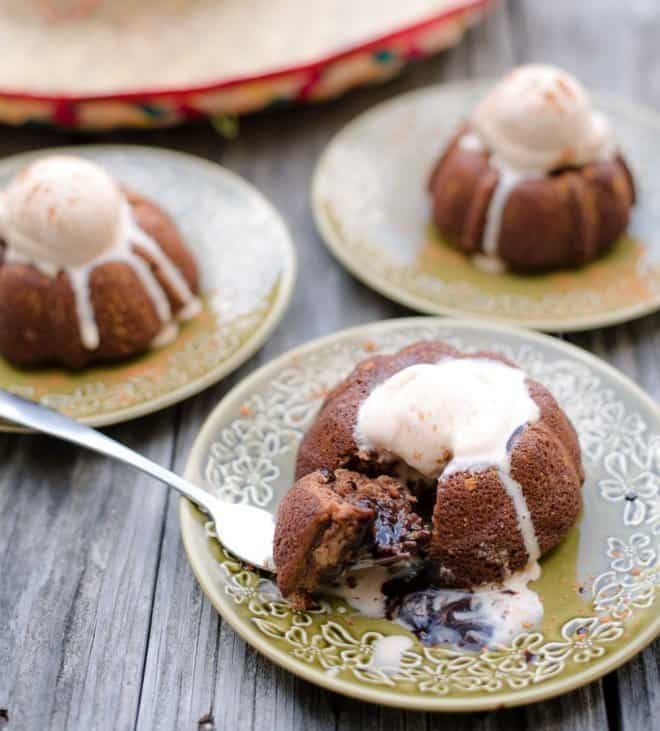 As soon as you dig into my Mexican Brownies, the chocolate center begins to ooze out and mixes with the caramel ice cream. It'll make you want to do a Mexican hat dance.
Mexican Lava Brownies & Dulce de Leche Ice Cream
Ingredients
1/2 cup milk chocolate chips
1/2 cup butter
1(1 lb. 2.4 oz) brownie mix (I use Betty Crocker Milk Chocolate)
3 eggs
3 egg yolks
1 tsp. vanilla extract
1/2 tsp. cinnamon
1/2 tsp. cayenne pepper
Dulce de Leche ice cream
Instructions
Heat oven to 400º. Grease 12 muffin cups. Meanwhile, melt chocolate chips and butter in the microwave for 45 seconds. Stir until smooth. Set aside.
Whisk together the eggs and egg yolks until frothy. (I do it all by hand).
Gradually add brownie mix, cinnamon, vanilla extract and cayenne pepper and stir until combined.
Stir the melted chocolate/butter mixture into the brownie mix.
Bake for 10-12 minutes or until sides are set. The center will be moist.
Cool for 2 minutes and run knife around the edges of the muffin cups.
Turn brownies onto a baking sheet to cool. Serve with ice cream.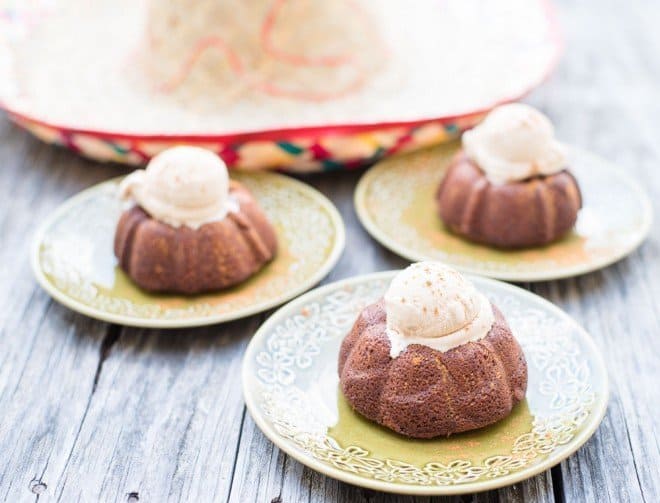 I ate the whole thing! Someone has to test taste, right? Any volunteers?
Looking for more scrumptious Mexican recipes? Be sure and visit all the bloggers participating in the Mexican Fiesta Recipe Blog Hop. Cinco de Mayo is right around the corner.
What's your very favorite Mexican food? I love it all.


Print Friendly