Spinach Cheese Tortellini & 3 Cheese Sauce has been compensated by Collective Bias, Inc. and its advertiser. All opinions are mine alone. #GetSaucy #CollectiveBias
You've probably noticed that I've been posting quick, easy and nutritious recipes lately since I broke up with my oven.  Oh, we'll get back together come fall. For now, I'm using shortcuts for cooking that tastes homemade.  
When I invited my youngest daughter, her fiancé, and both sons over for dinner, I knew I needed something quick, easy and delicious.  Since they all love Italian food, I decided to serve Spinach Cheese Tortellini with 3 Cheese Sauce.  No, I didn't make anything from scratch.  It's way too hot for that!
 I headed to Walmart looking for a pasta sauce to compliment the spinach cheese tortellini that I found in the refrigerated section right beside the deli.  I spotted Francesco Rinaldi Pasta Sauce and was intrigued when I read the label and saw it was low carb and under 100 calories per serving.  So, I  grabbed a jar of three cheese and a jar of meat flavored.  
While in Walmart, I stopped by the produce section for some fresh basil, mushrooms and green onions to complete my pasta dish. 
Here's a little crash course on how to cook pasta:
Fill a large pot with water and place over high heat.
When the water begins to boil, add salt to taste.
After the salt has dissolved and the water is boiling rapidly, add pasta to the water and stir frequently the first two minutes, then occasionally until the end of the cooking process.
Before draining the pasta, taste it to see if it's cooked to your liking. If the pasta is "al dente," you should feel a slight resistance when you bite into it or cut it with a fork.
Mushrooms and Onions
While the tortellini is cooking, heat a grill pan, spray with cooking spray and add mushrooms and green onions.  Cook on medium-high for a few minutes until tender. This is going to be the topping for the pasta.
Heat the Francesco Rinaldi sauce in a medium saucepan on medium-low for just a few minutes.  After draining the pasta, top with pasta sauce, mushrooms and onions and shaved parmesan.
Spinach Cheese Tortellini with 3 Cheese Sauce
Ingredients
1 package refrigerated spinach & cheese tortellini
2 jars Francesco Rinaldi 3 Cheese Pasta Sauce
I small package sliced and cleaned mushrooms
3 spring onions, chopped
Parmesan Cheese, shaved,
Basil, for garnish
Instructions
Prepare pasta according to package directions.
While pasta is boiling, saute mushrooms and onions on medium-high heat until tender, about 6 minutes.
Heat Francesco Rinaldi pasta sauce in a medium saucepan on medium-low heat until heated through.
Drain pasta and top with sauce, mushroom/onion mixture and shaved Parmesan.
Enjoy.
My Spinach Cheese Tortellini with 3 Cheese Sauce always gets rave reviews!
If there are any leftovers, my sons call dibs. (I was hoping no one would mention leftovers so I could have it again for lunch the next day).
Francesco Rinaldi pasta sauces are made by Italians and they use the finest tomatoes and freshest herbs. There are no additives, no preservatives and are low in saturated fat.
For all my gluten-free friends, they've got you covered in that department, too.  You know what I like the best?  The taste!
If you need a simple, yet beautiful appetizer for a summer party, spear tortellini and fresh basil leafs with a colorful toothpick.  Serve with Francesco Rinaldi pasta sauce for dipping.  Be sure and make plenty!
How would you get creative with Francesco Rinaldi pasta sauce?
You May Also Like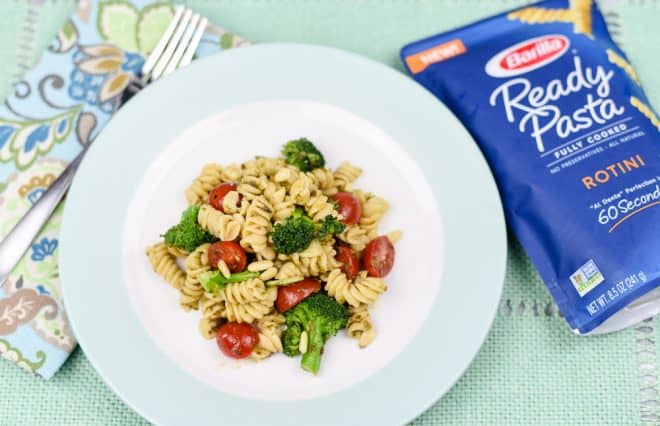 Print Friendly