Virgin Sangria and Fun Book Club Party is a sponsored post for SheSpeaks.
When I invited my best buds over for a book club party, I planned it with fun in mind – no stuffy parties for me. So, I made up a pitcher of virgin sangria, put together a few scrumptious nibbles, and gifted my guests with their very own advanced copy of my new favorite book, The Girl He Used to Know.
I've been a bookworm from birth. Thank you, mom, for reading to me! When I started first grade, I would take my new reader home and devour the entire book in one evening. Then I'd have to patiently wait for the rest of the class to catch up so I could dive into my next adventure. Yes, I was in the top reading group and I've been an avid reader ever since.
Naturally, when I received an advanced copy of The Girl He Used to Know by New York Times best-selling author Tracey Garvis Graves, I jumped right in and was immediately engaged. I finally made myself put the book down around midnight and finished it the next morning.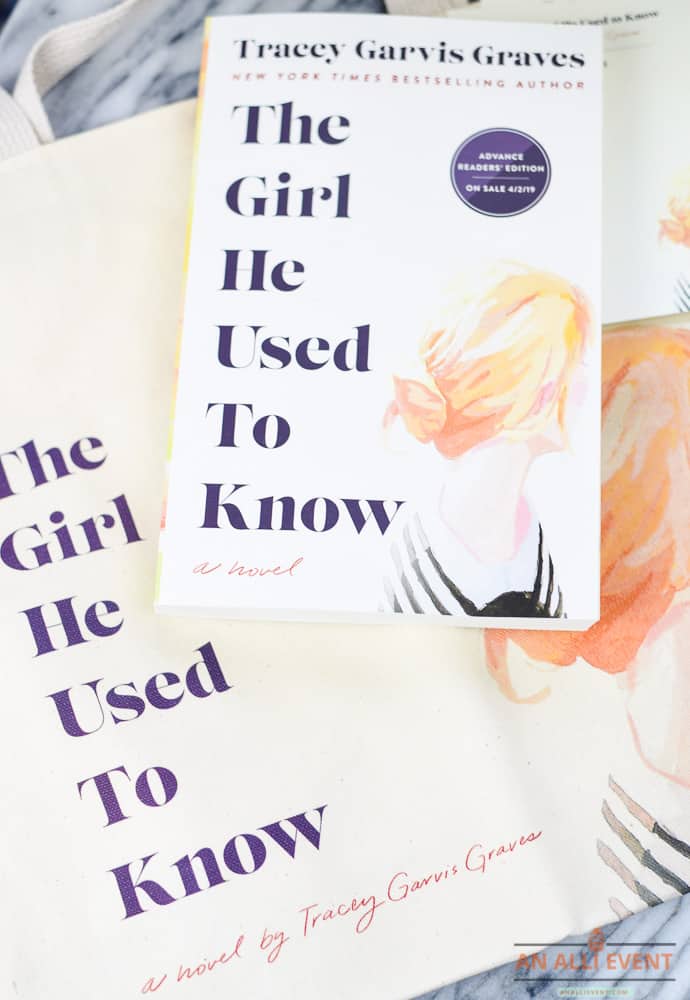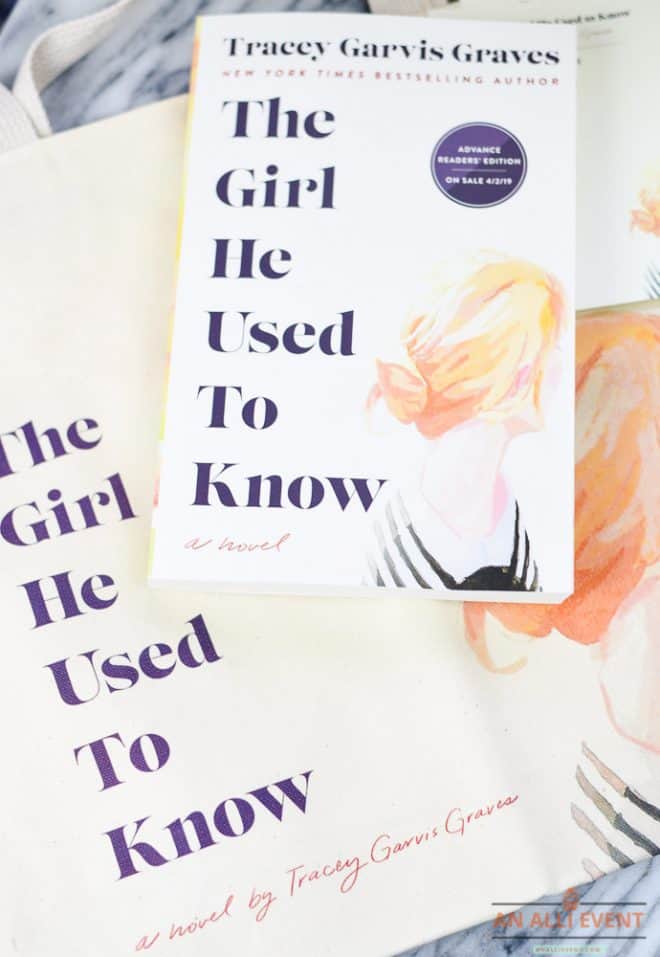 The Girl He Used to Know is totally different from any book I've ever read. I found myself rooting for the main characters, Annika and Jonathan, and I loved how the book would go from the present to the past to fill in all the questions I had swirling around in my head about the main characters.
Towards the end of the book, I found myself hoping for the best possible ending, yet fearing for the worst. I won't spoil anything for you, but I couldn't put this one down. You can get more info and find out where to buy the book when you click here.
After reading this refreshing novel, I just had to sit a while and contemplate. Then I got busy planning my book club party.
Tips for Planning a Fun Book Club Party
Make a Guest List and Send Invites
I thought it would be fun to print bookmark invites. The bookmark also doubles as a party favor. Plus, it keeps your guests from dog-earing the pages of their book.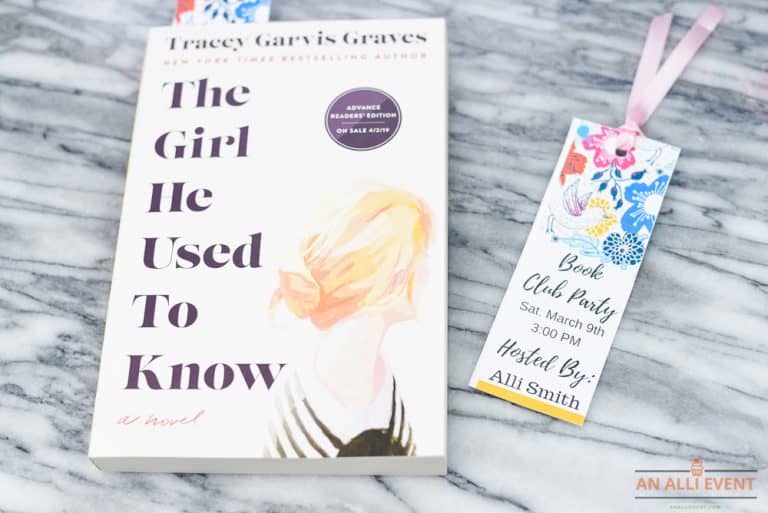 Grab some cardstock and print out my bookmark invites here: Free Printable Book Club Invite Bookmark
Food and Drink
A large pitcher of refreshing virgin sangria is the perfect drink to kick off a book club party. Plus, the sangrias should be made ahead of time to allow the flavors to meld, freeing up time to spend with your friends as they arrive.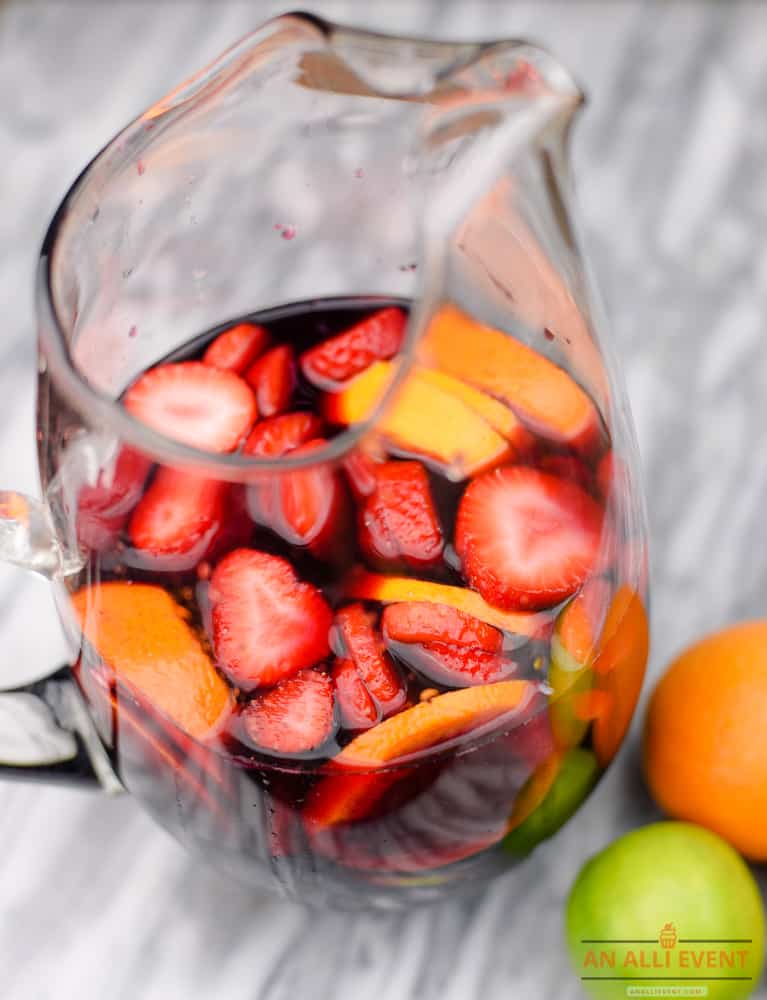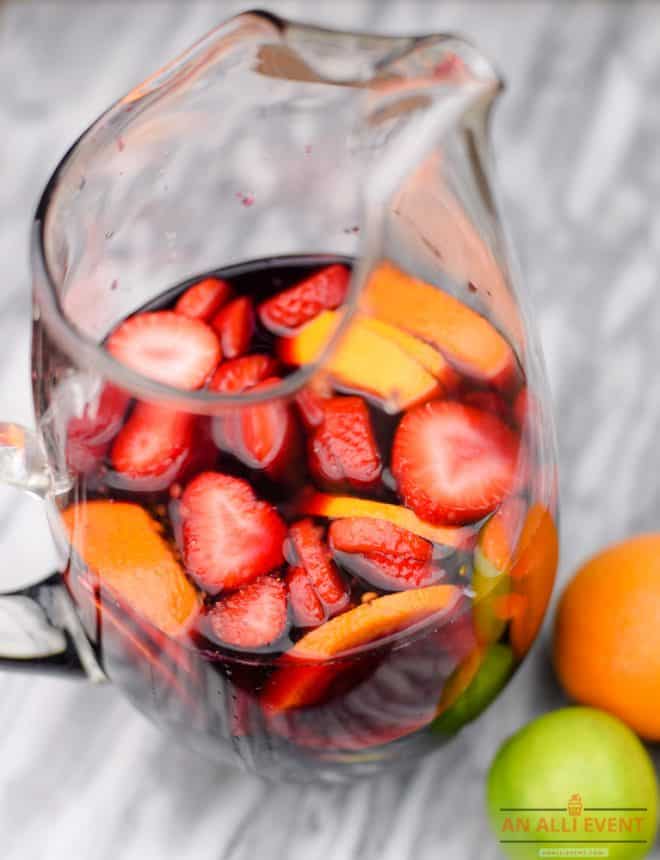 I made the sangria the night before and let it chill in the fridge overnight.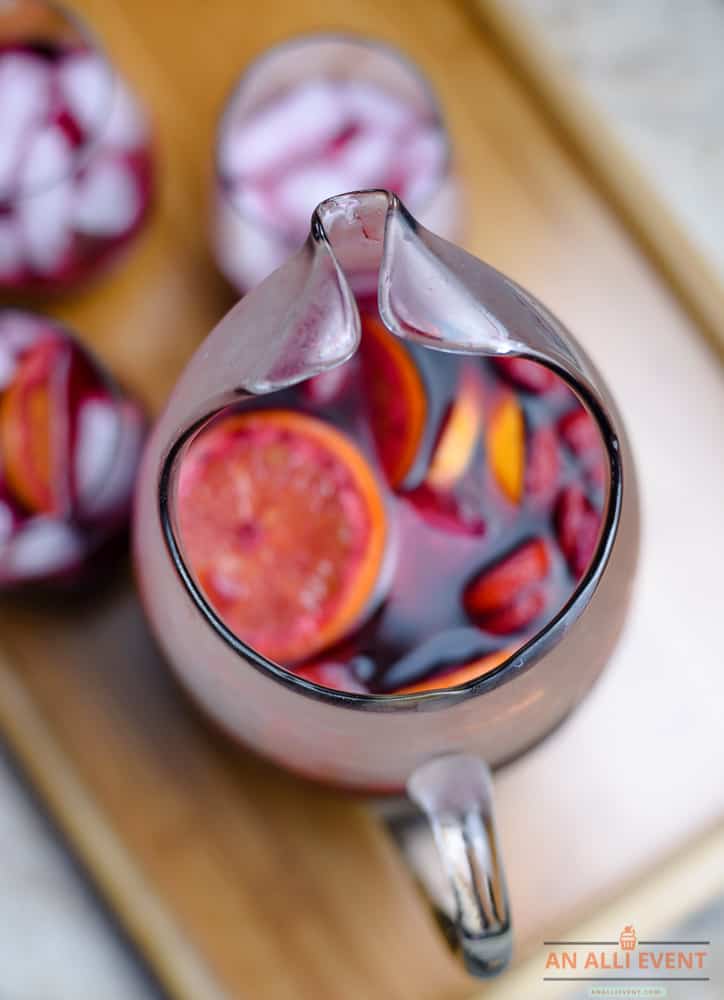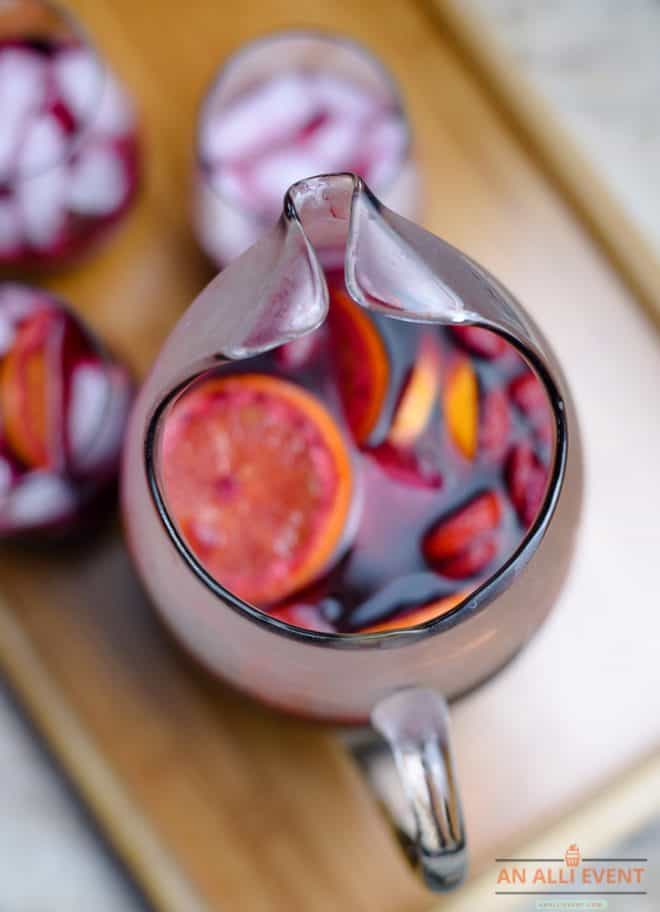 Yield: 12 servings
Virgin Sangria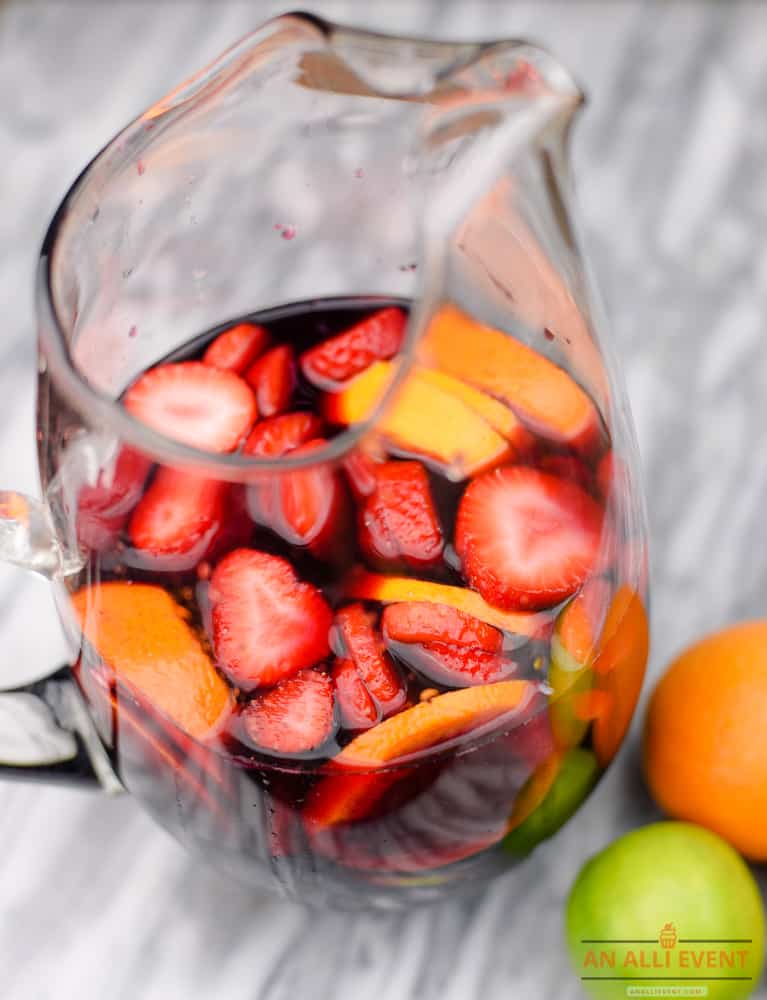 Virgin Sangria is the perfect signature drink for your next party or book club meeting. This drink is so pretty and refreshing.
Ingredients
4 cups grape juice
2 Tablespoons lemon juice
1 Tablespoon lime juice
1 can (12 oz.) frozen apple juice concentrate, thawed
1 medium orange, sliced
1 lime, sliced
1 medium apple, cored and sliced
1 cup sliced strawberries
2 Tablespoons non-alcohol orange bitters (such as Stirrings Blood Orange Cocktail Bitters)
2 cups sparkling water, chilled
Instructions
In a large pitcher, stir the grape, lemon, lime and apple juice together.
Add the sliced fruit and orange bitters. Cover and place in the refrigerator for 4 hours or overnight.
Right before serving, stir in the sparkling water.
Nutrition Information
Yield
12
Serving Size
4 oz.
Amount Per Serving
Calories

117
Total Fat

0g
Saturated Fat

0g
Trans Fat

0g
Unsaturated Fat

0g
Cholesterol

0mg
Sodium

7mg
Carbohydrates

24g
Fiber

2g
Sugar

20g
Protein

1g
Since this book club party coincides with the beginning of spring, I decided to serve my famous
Pineapple Cheese Ball
with assorted crackers,
Butterfly Shaped Tea Sandwiches
, and an Almond
Sugar Cookie Tart topped with Glazed Peaches and Berries
.
These are tried and true recipes and they can all be made ahead of time.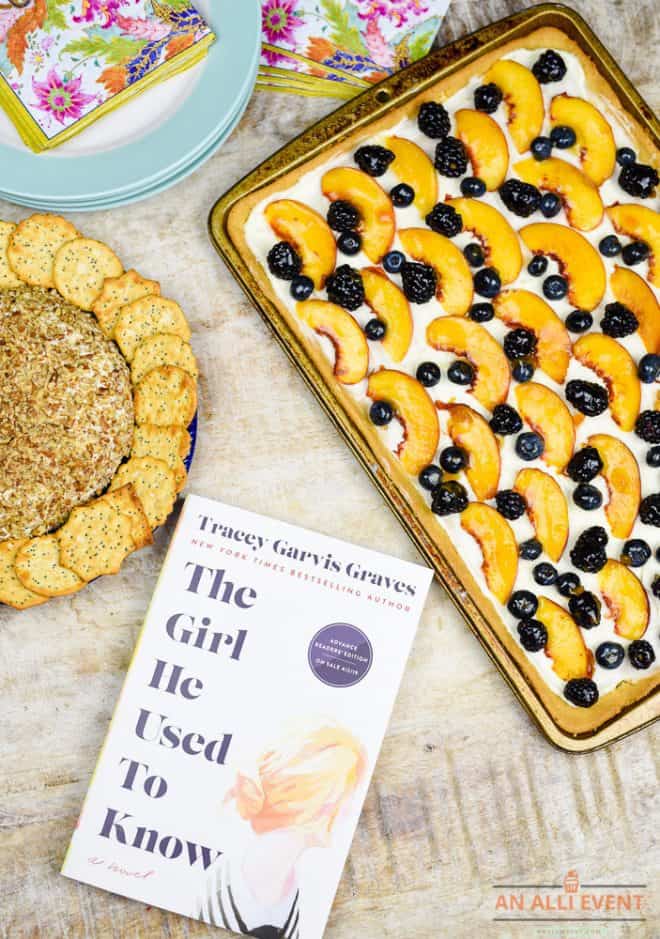 Discuss the Book
I like to keep the conversation informal and my friends and I may be guilty of interrupting each other during our book discussion.
To get things going, I jot down a few conversation starters on note cards. For example:
How did you like the book?
Did it take you a while to get immersed into the storyline or did it grab you from the start?
Were you immediately drawn to the main characters?
I won't share any more of my questions because I don't want to give away any spoilers.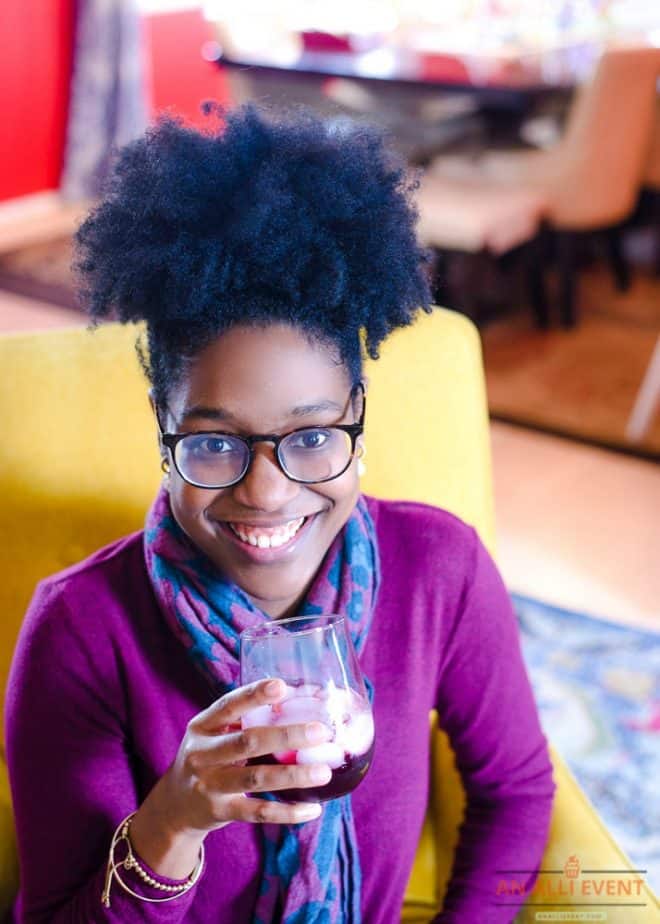 I'm already looking forward to my next book club party. It's a fun, casual way to discuss books and make plans for your next great read. We sure did have a blast at my party.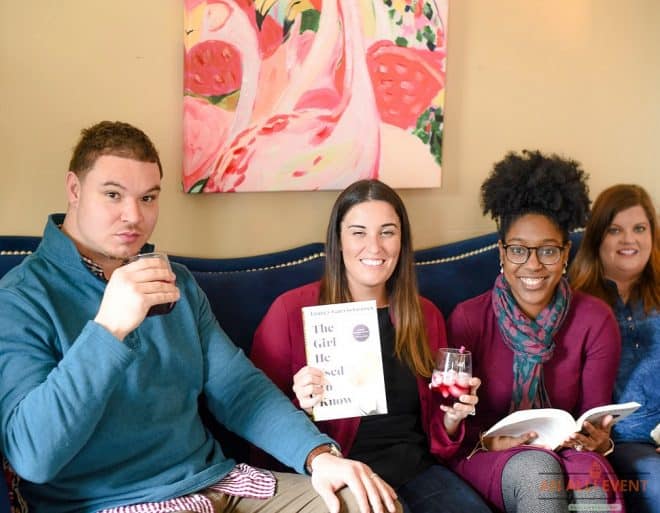 You'll want to grab The Girl He Used to Know when it hits the shelves on April 2nd!