It's time to take it outdoors!  Haven't we been cooped up inside way too long?  I don't know about you, but I'm so over old man winter.  He was quite brutal this past season!
But spring has sprung and it's outdoor entertaining time.  Can I get a witness?  It's time to hit the deck, make sure the grill is cleaned and get ready for some outdoor entertaining ideas!
Whether you are planning a small intimate date night outdoors or having the entire family or neighborhood drop in (yikes!), or celebrating a special occasion (graduation, bridal/baby shower, going away party, etc.), here's some ideas I think you're going to like!
5 Outdoor Entertaining Ideas
1.  Ditch the plain, boring paper plates.
I used melamine and bought mine at World Market.  They would get a little pricey if you needed to buy a large number of pieces.  But, I also spotted some beautiful ones at The Dollar Tree and I fell in love with the orange/white and blue/white pattern  I need to go back and buy them!  I just like the way melamine kicks an outdoor party up a notch, but still keeps that casual vibe.
If you want to stick with paper for easy clean up, go beyond the plain and boring and add a pop of color!
2.  Keep it simple and low key.
Just because you don't use paper plates, doesn't mean that you have to stress over the meal.  Make up a simple menu and let the grill do all of your work!  Check out my perfectly cooked steaks here!  But you can go way beyond the beef!  The veggies can be cooked on the grill, too.  Even dessert can be grilled!  Here's 17 irresistible grilled desserts!
A fish fry is a little more prep work, but, honestly, the outside deep fryer does all the work!  Find the best fried fish in the world right here!  Or keep it ultra healthy and grill your fish.
When cooking outdoors, my menu usually consists of a freshly prepared salad, a main dish meat, a starch, a vegetable, assorted beverages and a dessert.  Sometimes, if I'm feeling especially festive, I'll have an appetizer – usually an antipasto platter.  My favorite is Ina Garten's!
3.  Prep your yard and clean the house!
Make sure the lawn is mowed and your landscaping is tidy.  Also, unless you have an outdoor pool house with a bathroom, make sure the house is clean.  (I always do the deep cleaning a few days in advance and then on the day of the party I hit the high spots!
Make sure you have citronella candles to keep unwanted pests away.
Helpful Hint:  Mint will help keep the flies away!  Use pots of mint as part of your decor.  It's beautiful and smells good.  On that note . . .
4.  Decorate with cuttings from your yard.
It's pretty!  It's free!  What more could you ask for?
5.  If you feel too overwhelmed, have a pot-luck.
Ask everyone to bring a dish.  It's helpful to specify dessert, side dish, etc. so that everyone doesn't bring dessert.  Of course, that would be fine by me!  🙂  And ask your BFF to come over early and help you set up.
The outdoor party that I'm featuring here is an intimate party for my husband and me.  And I decided to celebrate our upcoming trip to St. Lucia.
I used tropical colors, with blue and lime green being my feature colors.  Then I added in a splash of orange and yellow.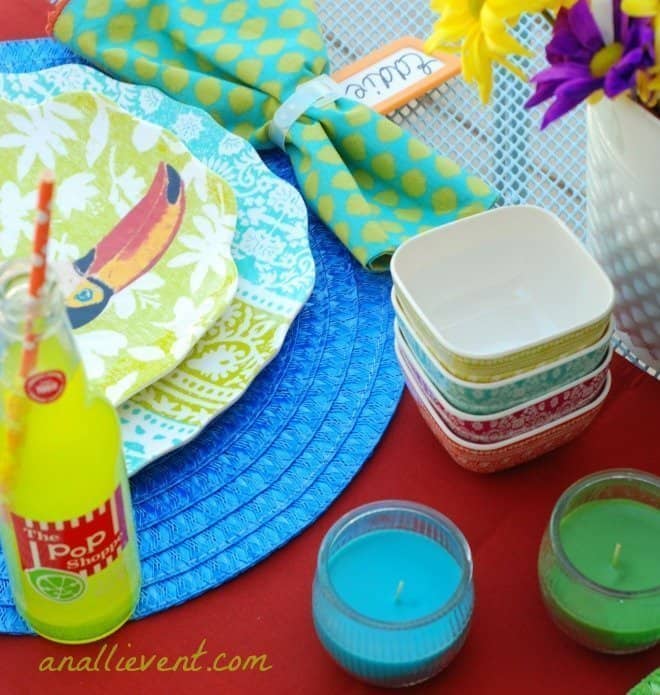 Notice that the place cards/napkin holders/party favors are luggage tags.  I just inserted our names written on colored paper into the luggage tag on top of the plastic insert.  The luggage tags are very inexpensive.  I ordered them from Amazon (look to the right and you can order them right this instance and I'll get a tiny little commision) and they came in a package of 10, in a rainbow of colors and were under $10.00.  Score!
Special Note:  I never write my home address or phone number on my luggage tag.  I use my cell number and my website address.  Why bother at all?  It's just easier to locate my checked luggage as it comes off the conveyor belt and I may gain a new fan of my blog!  
Want more packing tips?  Here's my top 10 packing list!
Where I bought It
Plates/Napkins/Bowls/Lime, Blue Sodas/Straws – World Market
Place Mats/Citronella Candles – The Dollar Tree
Table Runner (my linen closet, but I bought it a while back at Hobby Lobby)
Luggage Tags – Amazon.com
Flowers – Walmart
What's your favorite outdoor dining tip?
Oh, wait!  Don't forget the music!  You must have summer music playing in the background!

Print Friendly