I was late to the party when it came to buying an air fryer. I actually gifted two of my daughters with air fryers before I ever took the plunge. Once I made Air Fryer Rosemary Garlic Potato Wedges, I was hooked.
I don't know what took me so long to jump on the air fryer wagon. I just didn't think I'd use it and didn't want to end up with one more small appliance taking up valuable space in my kitchen.
When I finally decided to buy one, I went with the same one I purchased for my two daughters. I ordered it from Amazon. I'll make a small commission if you click the above link and purchase one. They have always raved about their fryers so I took the plunge.
I never cared much for fries or potato wedges until a few years ago. I'd take a baked potato any day over fries or wedges but lately, I actually crave them sometimes. Since I try not to eat a lot of fried foods, I only use 2 Tablespoons olive oil in this recipe.
Air Fryer Rosemary Garlic Potato Wedges
For this recipe, I use Yukon gold potatoes mainly because you don't have to peel them. Give them a good wash under warm water and scrub with a vegetable brush.
After scrubbing, cute each potato into wedges. For the small potatoes, I cut down the middle lengthwise and then crosswise. For slightly larger potatoes, I cut once down the middle lengthwise and then twice crosswise.
Many recipes call for soaking the fries in cold water. I don't soak and they come out just fine with the right amount of crisp.
Mix together the olive oil, rosemary, and garlic.
In a bowl, toss the potato wedges with olive oil, freshly chopped rosemary and minced garlic.
Preheat the air fryer at 360º for 15 minutes. Place the potatoes evenly in the air fryer and cook for 10 minutes.
Carefully pull the drawer out and shake the wedges. Push the drawer back in and cook for another 5 minutes or until desired crispiness.
How to Mince Garlic
Sometimes I cheat and buy minced garlic in the jar. Use about 1-1/2 teaspoons to equal a minced clove of garlic.
To mince a fresh garlic clove, trim off the root end of a clove of garlic. Crush the garlic gently between a chef's knife and a cutting board. The skin should fall off the garlic.
Lay the peeled clove on the cutting board. Hold the garlic with one hand and run the knife over the garlic clove repeatedly with a rocking motion to mince garlic.
How to Chop Rosemary
Hold the top of a sprig of rosemary and run your fingers down to release the needles. Snip the needles to the desired length with kitchen scissors.
You can also chop the rosemary needles, after stripping from sprigs, with a knife using a cutting board. For me, snipping the needles with kitchen scissors is much easier.
Yield: 4 servings
Air Fryer Rosemary Garlic Potato Wedges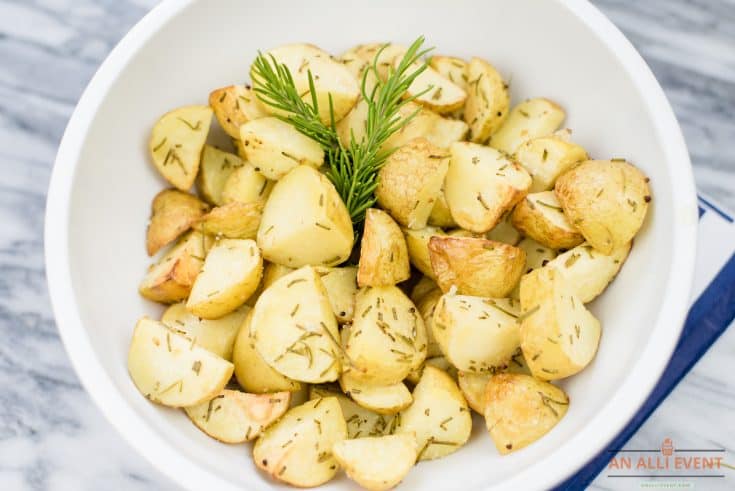 These Air Fryer Rosemary Garlic Potato Wedges are delicious, crispy and seasoned to perfection.
Ingredients
2 pounds Yukon Gold potatoes, scrubbed and cut into wedges
2 Tablespoons olive oil
2 Tablespoons fresh Rosemary, chopped
2 cloves garlic, minced
Salt to taste
Instructions
Preheat the air fryer to 360º F. for 15 minutes.
Toss together the potatoes, olive oil, rosemary and garlic
Place the potatoes in the air fryer in a single layer.
Cook the wedges for 10 minutes. Give the basket a shake and cook for 5 more minutes. If the fries aren't as crispy as you like, cook for 5 more minutes.
Nutrition Information
Yield
4
Serving Size
1
Amount Per Serving
Calories

274
Total Fat

7g
Saturated Fat

1g
Trans Fat

0g
Unsaturated Fat

6g
Cholesterol

0mg
Sodium

169mg
Carbohydrates

49g
Fiber

5g
Sugar

3g
Protein

6g
If You Don't Have An Air Fryer, You Can Bake The Wedges In The Oven
If you don't have an air fryer, you can bake these wedges in the oven. Preheat the oven to 450º. Spread the potatoes on a baking sheet in a single layer. Bake for 25 minutes or until tender when pierced with a fork.
You May Also Like
Sauteed Eggplant with Tomatoes and Onions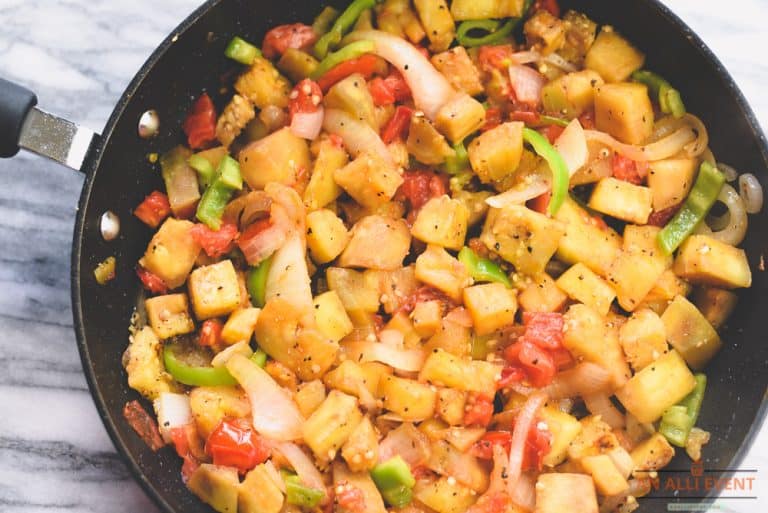 10 Air Fryer Recipes You Will Love