This shop has been compensated by Collective Bias, Inc. and its advertiser. All opinions are mine alone. #HogWildThrowdown #CollectiveBias
My husband is the grilling king! We use our grill year round, but it really gets a workout during the summer. When it comes to grilling, I serve as the sous chef, but it never stops me from telling my husband how to get his grill on. 
Grilled ribs are not hard to make at all. The grill does all the work!  But don't tell my husband I said that and please don't tell him that I'm giving away his secret dry rub recipe.
If you've never grilled ribs, I'm gonna walk you through the easy process. Once you've tasted your masterpiece, you'll never fear the grill again. Scouts honor.
First of all, let's make the not-a-secret-any-more dry rub. Don't be intimidated by the long list of ingredients. You probably have them all in your pantry.
Easy Grilled Ribs and Secret Dry Rub Recipe
Helpful Hint: I use prepared mustard to coat the ribs before applying the dry rub because the dry rub adheres better and the mustard acts as a carrier for the dry rub. You can't taste the mustard at all, but you can skip it if you'd like. It's all good.

Easy Grilled Ribs and Dry Rub Recipe
Ingredients
1/4 cup brown sugar
1/4 cup paprika
2 Tablespoons salt (I use kosher)
2 Tablespoons black pepper
1 Tablespoon Cayenne pepper
3 teaspoons cumin
2 teaspoons onion powder
2 teaspoons garlic powder
2 teaspoons thyme powder
Prepared yellow mustard
2 racks Smithfield Extra Tender Back Ribs
Instructions
Mix the first nine ingredients together in a medium-sized bowl.
Rub the Smithfield ribs with prepared mustard.
Apply the dry rub (you may have some left over. If so, cover and store in the pantry).
Wrap ribs in plastic wrap and refrigerate for 3-4 hours or overnight.
Preheat grill to medium heat.
Arrange the ribs on the grill and grill for 1-1/2 to 2 hours, turning with tongs occasionally until meat is tender and crisp on the outside.

My husband has a charcoal grill, two gas grills, and a smoker. For ribs, we always use the charcoal grill. It adds so much more flavor to the ribs.
Here's How We Do Easy Grilled Ribs
First of all,  I head to the meat department in Walmart to grab a few racks of Smithfield Extra Tender Back Ribs. I buy Smithfield® ribs because they have no added hormones or steroids. They're also hand-trimmed, extra tender and juicy. While I'm at Walmart, I also grab a bag of Kingsford charcoal and a bottle of KC Masterpiece to serve with the grilled ribs.
 Funny BBQ Sauce Story
During a trip to St. Maarten, we fell in love with the BBQ sauce at our favorite restaurant. We asked our waiter if it was homemade and he told us that the BBQ sauce was imported. We were like, "WOW." We then asked if he would share the name of the sauce and where it was imported from. He said it was KC Masterpiece, imported from the USA. We've been serving it with our grilled ribs ever since that day. 
Back to my Easy Grilled Ribs
A chimney starter is the cleanest and easiest way to get the charcoal going. I don't like using lighter fluid, so this is the easiest way to avoid it.
I add a little newspaper to the bottom, fill the top with charcoal and light the newspaper. In about 10 to 15 minutes, you're ready to grill.
You'll know the coals are ready when the ones on top have started to turn a bit gray with ash. Pour the coals into the grill and cover with the grate.
Once the grill is good to go, add your Smithfield® ribs and grill, covered, for 1-1/2 to 2 hours. Ribs are done at 180° F when checked with an instant-read thermometer.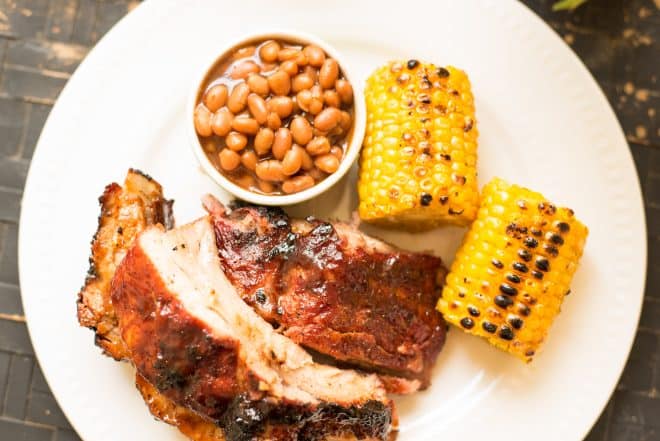 Helpful Hint:  Always use a grill mitt when lighting charcoal and using the grill.
Celebrity Pitmasters Moe Cason and Tuffy Stone have been partners with Smithfield® for the last two years and are brand ambassadors for the Hog Wild Throwdown.
Are you ready to get your grill on?