Sweet and Sour Spare Ribs, like most of my recipes, have been handed down from one generation of southern cooks to another.
I usually put my own spin on recipes and I'm always open to trying something new. But when all is said and done, it's those recipes born in the south that I make over and over.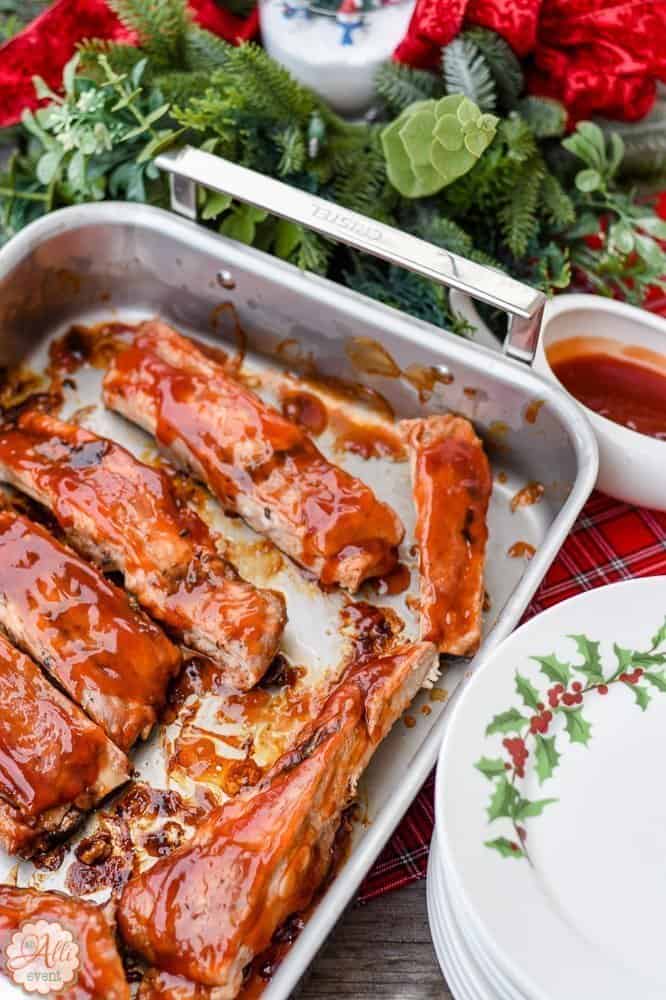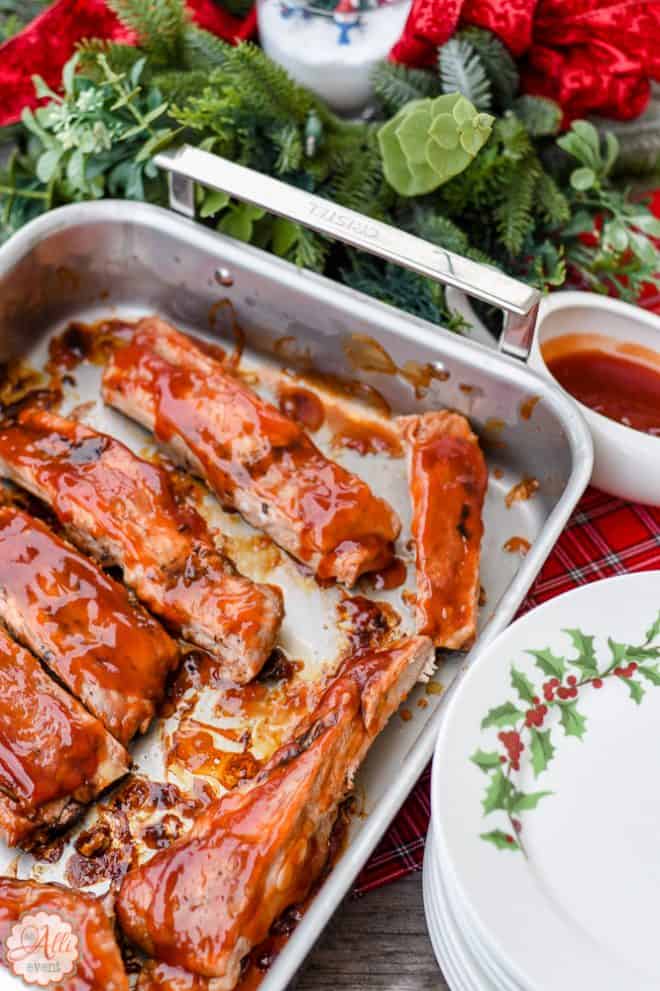 We tend to be busier during the holidays than any other time of the year. I have a tendency to put off wrapping gifts until the last minute or when my secret hiding place (aka my walk-in closet) is bursting at the seams.
When I finally put aside an afternoon to wrap presents, Sweet and Sour Spare Ribs are on the menu. I set the timer and get to work. When I'm a little over halfway done with the wrapping, I take a break and sauce the ribs.
Before we get to the recipe, let's talk about this Cristel Strate 3-ply Stainless Steel Roaster. It's a beauty, right? It's large, yet it fits into my conventional oven. This roaster was gifted to me.
I also like this roaster too (it's less expensive!)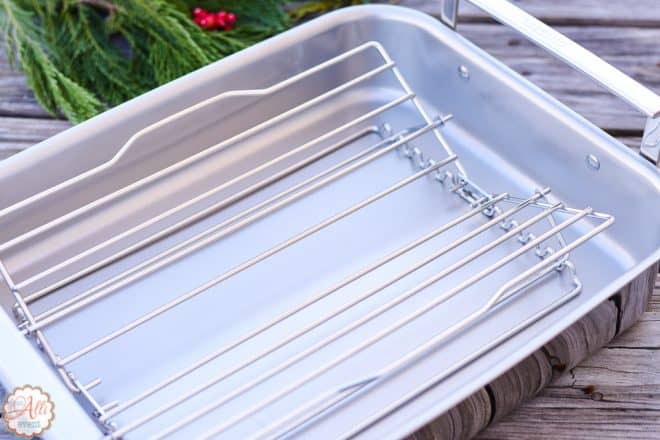 Ingredients You'll Need To Make Sweet and Sour Spare Ribs
pork spare ribs
brown sugar
granulated sugar
cornstarch
ketchup
white vinegar
cold water
How To Make Sweet and Sour Spare Ribs
These spare ribs are a family favorite and the house smells amazing while they are cooking! It's the simple recipes that usually taste the best and this one is simple and delicious.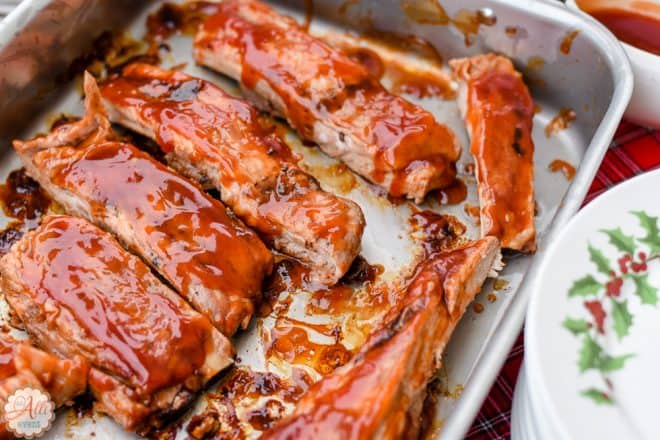 Sweet and Sour Spare Ribs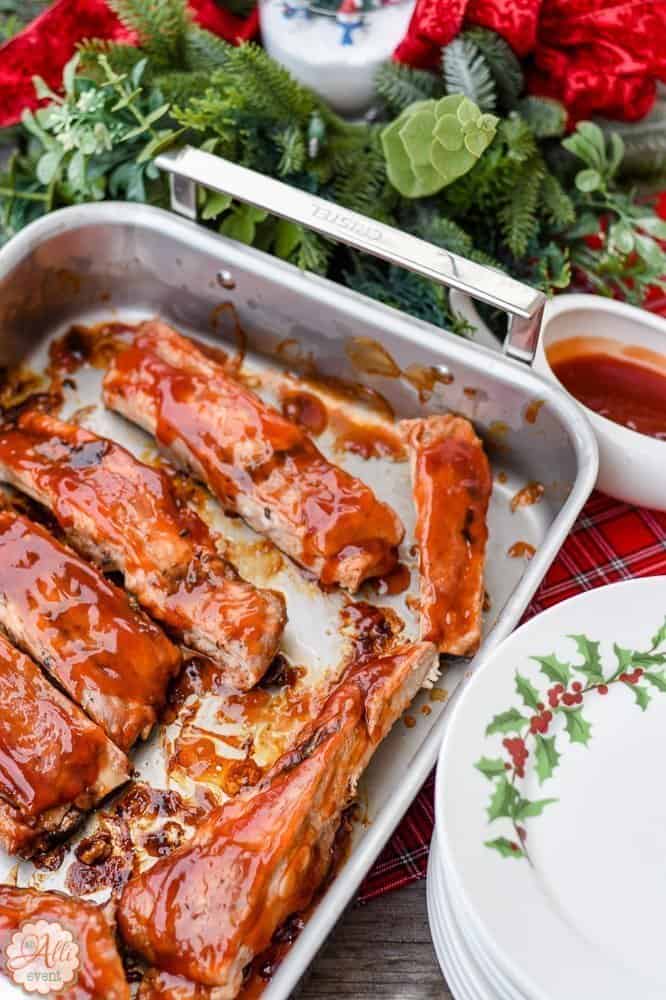 Ingredients
5 - 6 lbs. pork spare ribs
1/2 cup packed brown sugar
1/2 cup granulated sugar
2 Tablespoons cornstarch
1 cup ketchup
2/3 cup white vinegar
1/2 cup cold water
Instructions
Place ribs on a rack in a large roasting pan. Bake, uncovered, at 350º for 1-1/2 hours.
Meanwhile, combine sugars and cornstarch in a medium saucepan. Stir in ketchup, vinegar and water. Bring to a boil. Cook and stir until thickened and clear.
Remove ribs and rack from roasting pan. Discard fat. Place the ribs back in the roasting pan without the rack. Pour 1-1/2 cups sauce over ribs. Bake 30 minutes longer.
Cut ribs into serving pieces and brush with remaining sauce.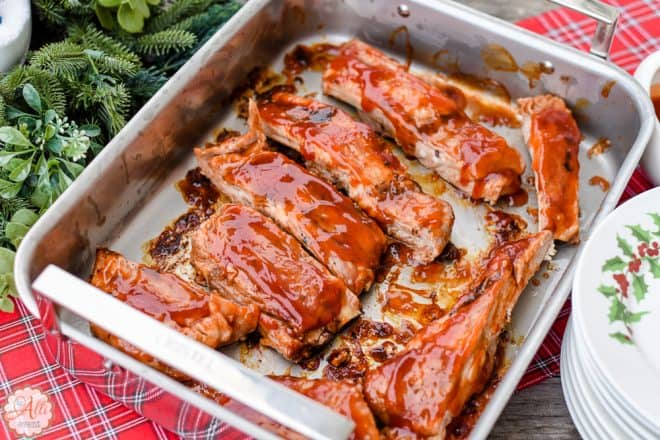 I'm loving my new roaster and it's perfect for cooking Sweet and Sour Spare Ribs. I hope you try them soon! I also use this roaster when I make my pineapple-peach glazed baked ham.
You May Also Like The Delicious Recipes Below