Stan's hushpuppies are tender on the inside and have a nice crunch on the outside. These are mush-haves when hosting a fish fry.
When my extended family gets together, there is usually a family fish fry in the cards. That's because my and older brother, Stan, is the best in the entire world when it comes to fishing and all things fish – including cooking them. And Stan's Hushpuppies are the greatest things since sliced bread.
I've eaten at many seafood restaurants across the USA and in other countries, but none come close to my family's fish fries! They're what legends are made of!
I consider myself blessed when I'm able to spend a week with my extended family at St. George Island. It's always a week of fishing, swimming, sunning, laughing, eating, and lots of walking (to counteract the eating).
Personally, I rarely eat fried foods these days, but on the night that we had THE fish fry, I made up for all the time I had lost!
We also had fried green tomatoes (you can find the recipe down below), fried squash, and fried fish! Do you think the coleslaw may have helped create a balance with all those fried foods? Or the fried french fries?
Nah, but it was a once a year (for me) kind of thing and I thoroughly enjoyed it! And, we walked for miles afterward!
Today I'm sharing Stan's Hushpuppies recipe. They are crunchy on the outside and tender on the inside, with little bits of onion mixed it. Yum!
Note: These were cooked outdoors, in a deep fryer!
Ingredients for Stan's Hushpuppies
Buttermilk
Eggs
Onion, finely chopped (we use Vidalia)
1/4 cup flour
Self-rising cornmeal (If you use self-rising cornmeal mix, omit the flour)
Peanut oil (for frying)
We don't add sugar to our hushpuppies, but if you like them sweet, add 1-1/2 Tablespoons sugar when you're mixing up the batter.
Don't these hushpuppies look yummy?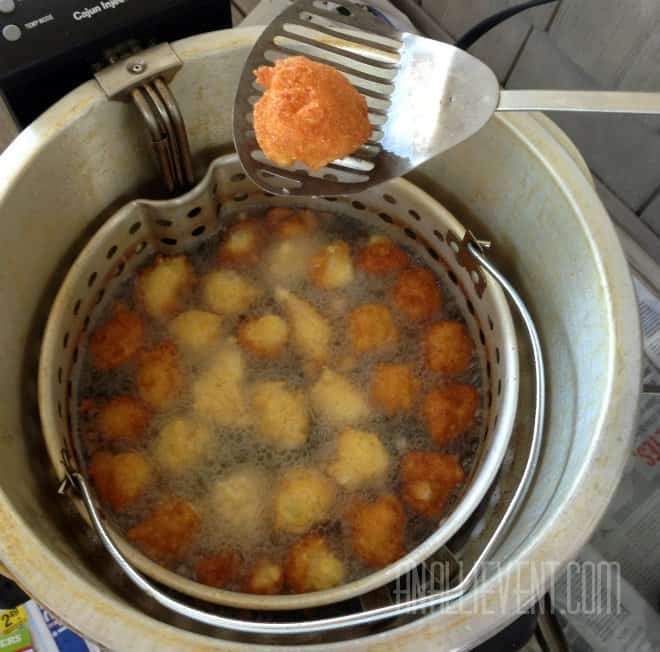 The finished batch of hushpuppies!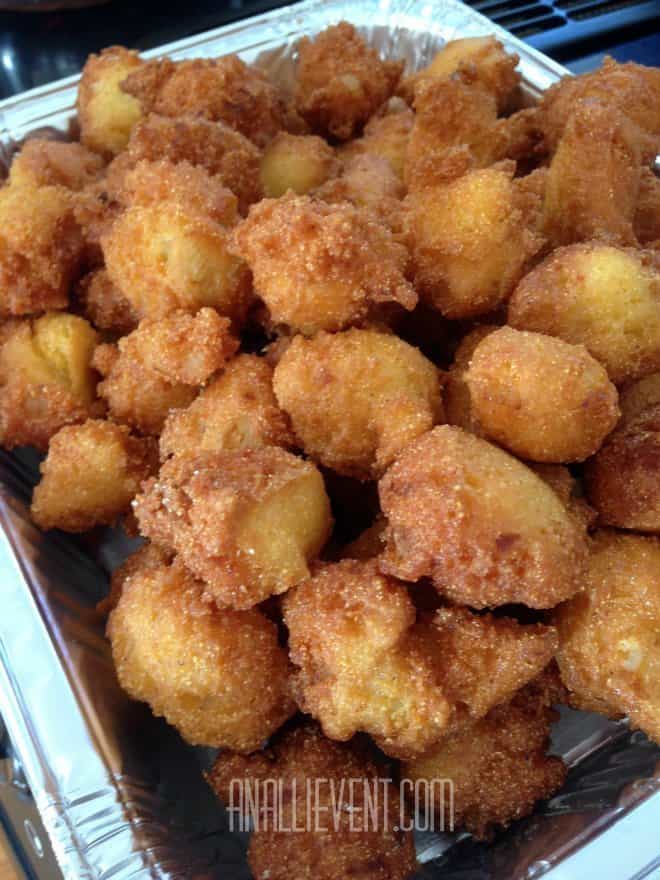 You may also like:
Yield: 35 - 40 hushpuppies
Stan's Hushpuppies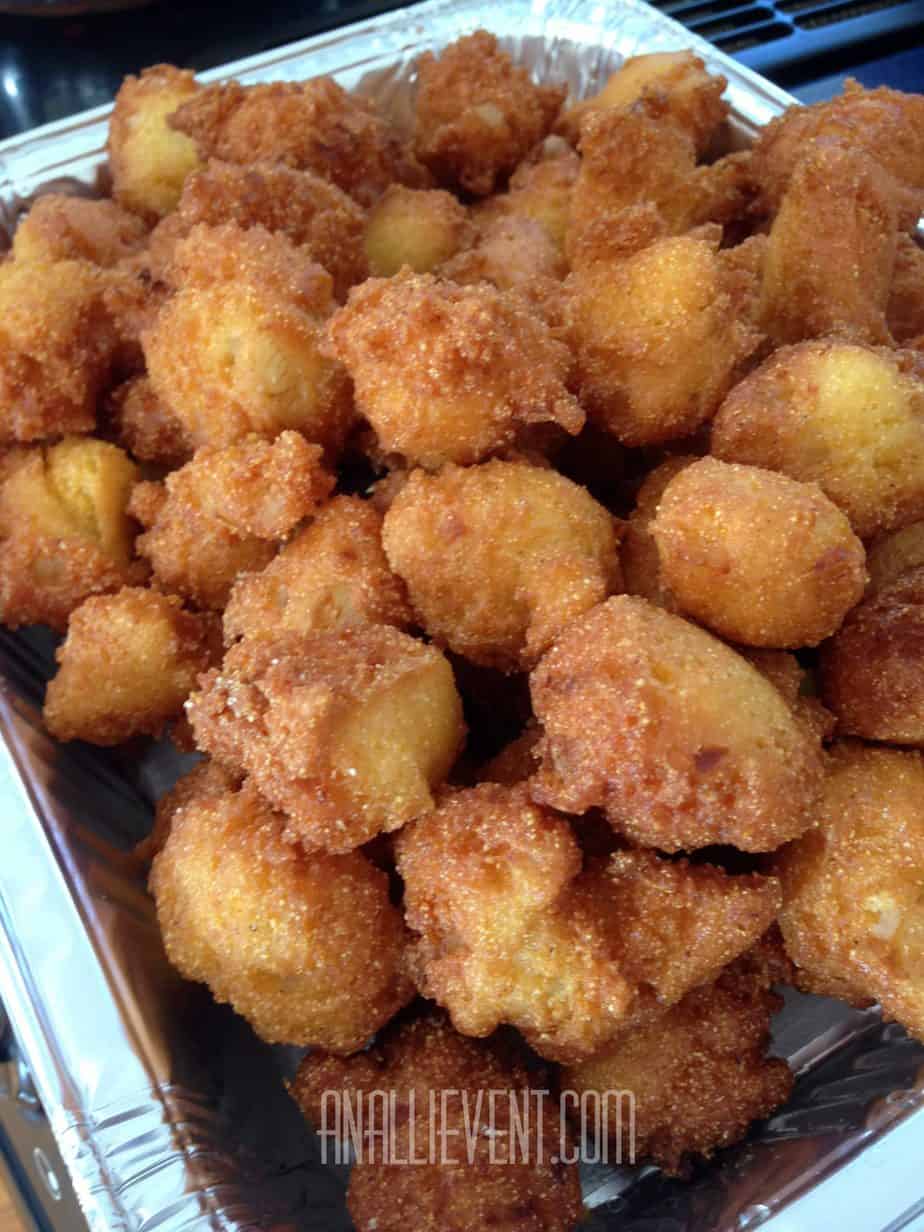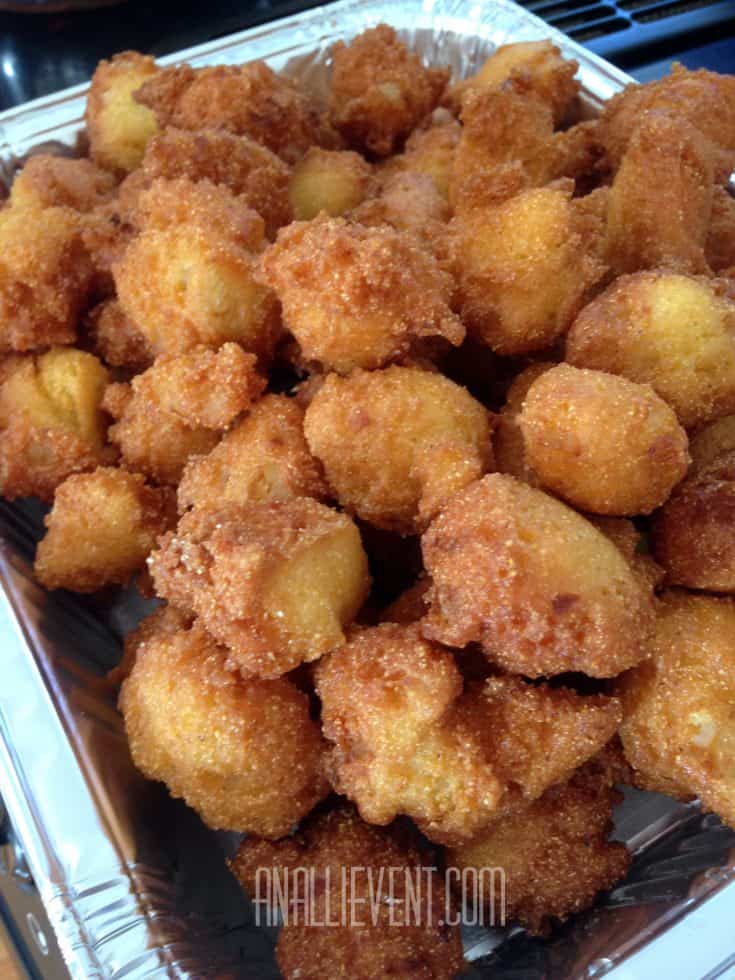 Stan's Hushpuppies are tender on the inside with a nice crunch on the outside.
Ingredients
1 cup buttermilk
3 eggs
1 sweet onion, finely chopped
1/4 cup flour
2 cups cornmeal (self-rising) (If you use self-rising cornmeal mix, omit flour)
peanut oil for deep frying (about 4-6 cups for an outdoor fryer)
Instructions
In a dutch oven or heavy pot, heat 2 inches of oil to 325º F.
Mix all hushpuppy ingredients together. The mixture should be fairly thick (when you drop mixture from a spoon, it should fall slowly) If it's too thick, add a little water, 1 tablespoon at a time.
Use a small cookie scoop or a tablespoon to drop mixture into the oil. (When deep-frying, the hushpuppies will almost flip themselves over in the oil. It's magic!) As soon as they are brown on one side, flip over. Watch carefully. It doesn't take long for them to cook (about 3 minutes per batch).
Drain on a paper towel-lined platter.
Notes
Always use extreme caution when deep-frying! Don't overcrowd the pot.
Nutrition Information
Yield
40
Serving Size
1
Amount Per Serving
Calories

38
Total Fat

1g
Saturated Fat

0g
Trans Fat

0g
Unsaturated Fat

1g
Cholesterol

14mg
Sodium

20mg
Carbohydrates

6g
Fiber

1g
Sugar

1g
Protein

1g
This post was originally written in 2013 and updated on August 5, 2020.