I'm on a toilet tissue roll!  It just had to be said!
I recently shared my toilet tissue roll snowmen and my Rudolf the Red-Nosed Reindeer napkin ring craft,  but today I want to show you my holiday napkin rings from TP rolls. Toilet tissue rolls are the perfect size for encircling your napkins!
Have you priced napkin rings lately?  They're not cheap when you're just buying 4, but when you need a baker's dozen (13), it's ridiculously expensive!   And I just love napkin rings!  I feel like they take a table setting over the top.
But what happens when you fall out of love with those pricey napkin rings?  You're pretty much stuck with them.
My toilet tissue roll napkin rings are cheap and oh, so easy to make with supplies you probably have on hand right this minute.
When I'm decorating my 5th tree and I'm about done, meaning I'M DONE and I peep in the ornament box and see all those cute little leftover ornaments staring back at me – you know what I mean – well, those are perfect for your holiday napkin rings.  And I know you've got odds and ends of ribbon just waiting to be used.
You just cut the empty toilet tissue rolls in thirds to make 3 napkins rings.  Or you can make them wider by cutting them in half to make 2.  Leave them whole for a dramatic look.
Using ribbon the same width as the napkin rings, hot glue in place.  Then hot glue a mini ornament of your choice onto the ribbon.  You're done.  You can use the same type ornaments for each place setting or mix and match.
These red and white pompom napkin rings are just plain fun.  I hot glued the little poms to the tp roll.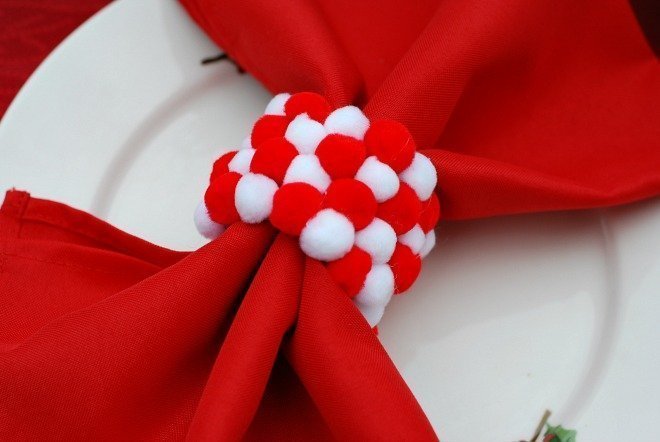 Here's my A Little Birdie Told Me napkin ring.  I used silver ribbon and one of my favorite bird ornaments.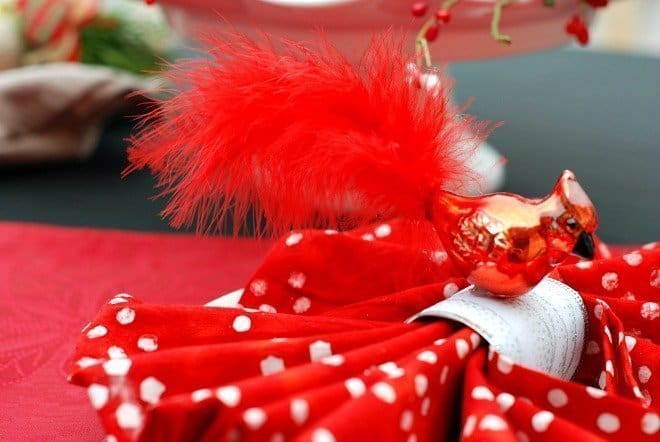 How about a little more rustic bird action?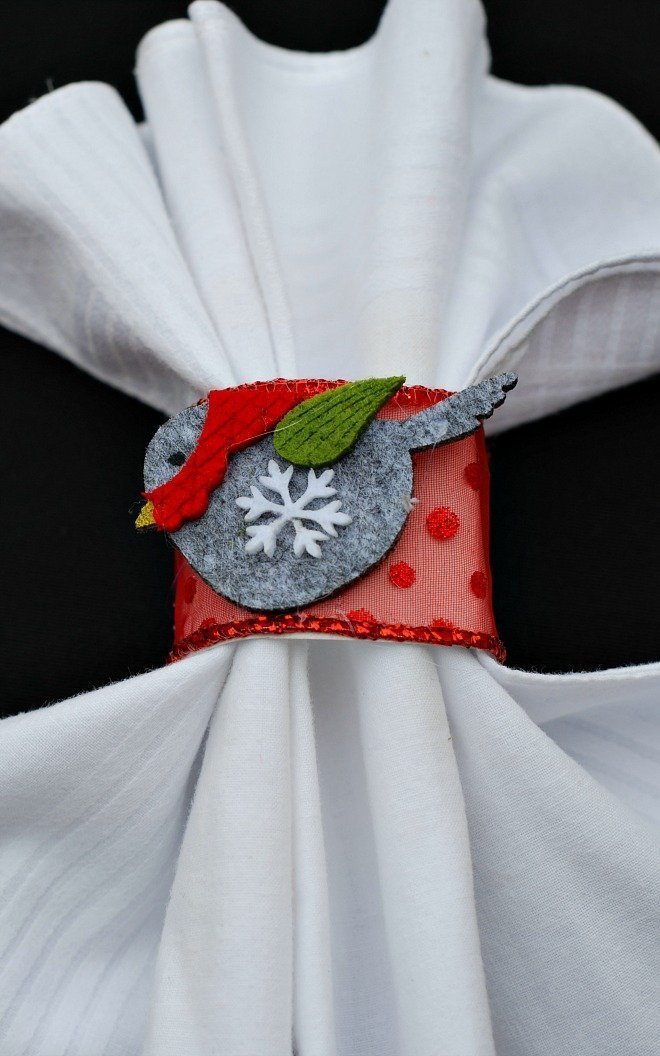 Speaking of rustic, how about my I Heart Plaid?  I used burlap, a smaller piece of moss ribbon, added the greenery from a tree in my yard and hot glued the heart on top.
Having a formal dinner?  Let's glam it up a little bit with a little gold ribbon and a glittery poinsetta.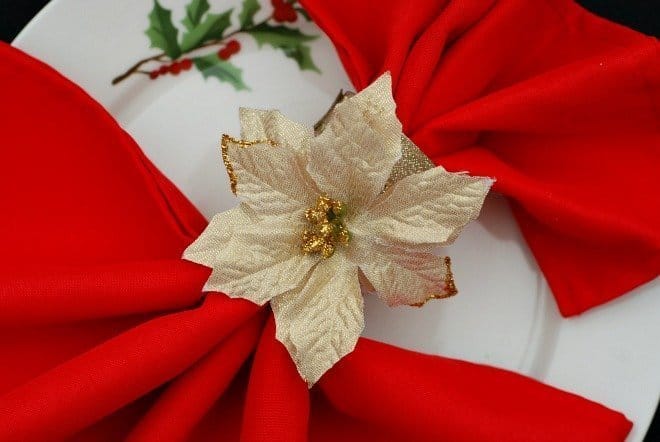 Want to take a walk on the wild side?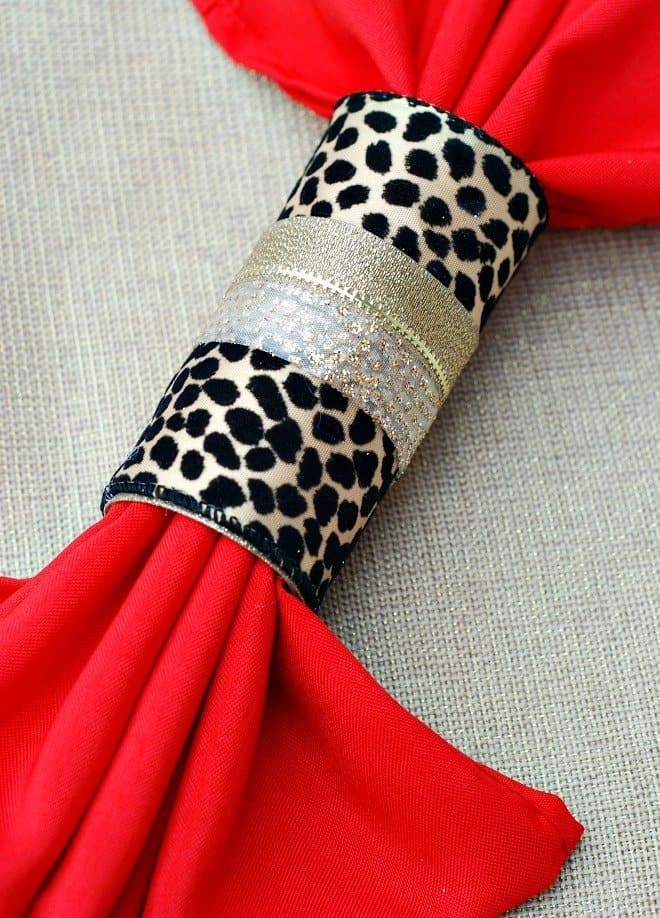 Here's my last one!  I call it A for Alli!  I found the mini ornament at Hobby Lobby (1/2 off).  The ornaments also serve as place cards and as a small gift for your guests.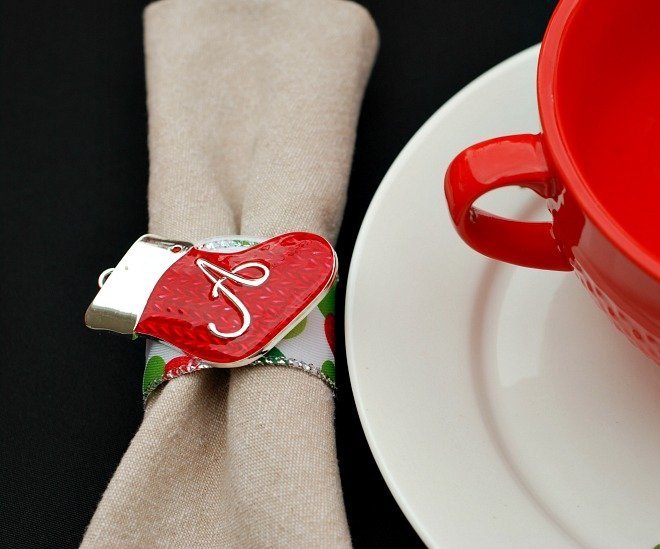 You can let your imagination run wild with this project!  You could use other items besides ribbon.  How about red and white paper straws cut to size and hot glued on?  And it only takes a few minutes to make each one.  So start saving those TP rolls!
Will you be hosting any holiday parties?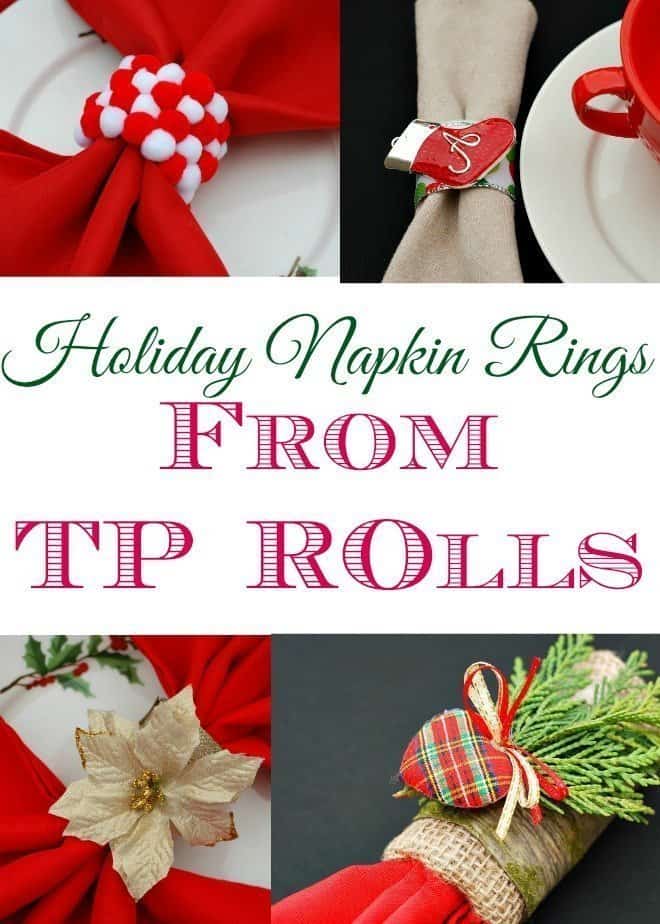 Print Friendly