I'm in love with my slim flocked Christmas tree! It doesn't take up too much room and the red and white decor fits this tree perfectly.
I've had my slim flocked Christmas tree up and decorated since late-October. Don't judge me – LOL! An online Christmas tree company gifted this tree for me to review and wanted it published in October. You can read all about my review of this Christmas tree.
I admit that it's a little strange – my dining room is decorated for fall/Thanksgiving and the rest of the house is in full-on Christmas mode. Hey, it's 2020, anything goes, right?
Since it rarely snows here in South Carolina, I just pretend my new Christmas tree is dusted with snow. Hey, it kinda works!
Welcome Back To Our Festive Christmas Event
Welcome back to year 6 of our Festive Christmas Event where we team up with a bunch of talented blogging friends to bring creative ways to celebrate your holiday season.
We will be baking some cookie recipes for you, sharing some party games, making some handmade gifts, doing some ornament crafting, and sharing our Christmas movies family fun. There will be breakfast recipes and as always our decorated Christmas Trees which is always a fun tour of homes.
New this year is Gift Guides. We are right there with you shopping from home due to Covid 19 and we understand how hard that can be so we have been busy little Elves doing tons of research to create fabulous Gift Guides to help you with your holiday shopping.
You will find new ideas every Monday and Wednesday between Oct. 19th through Nov. 18th. Scroll all the way down to find all the ideas linked at the end.
Slim Flocked Christmas Tree Surprise
When my grown kids came over for lunch last Sunday after church (it's a weekly family tradition) they were surprised to find the inside of my house decked out for Christmas. And, all but one of them loved the flocked tree.
The first question out of my 30-something-year-old son's mouth was, "Where is the regular tree?" I was expecting "gee, mom, nice tree." I should have known. Some people just don't like change, especially when it comes to the family Christmas tree.
Conversation Between My Son And Me
Me: "I'm not decorating the regular tree this year. Nearly Natural sent me this 7-1/2 foot slim tree – for free – to review. I love that it doesn't take up much space. It's a slim tree."
Son: "So, you're not going to put up the regular tree? Is this going to be the main tree?" (By regular tree, he means the big, wide, luxurious Christmas tree that Tree Classics sent me a couple of years ago. (Tree Classics now partners with Balsam Hill! You can read about that Christmas tree here.)
Me: "No, I'm not! I love that tree, but since I already have this one up and decorated, I'm just going with this one. I'm not going to take it down and put up another one in its place. (I also have another, smaller tree up and decorated).
Son: "So this is the Christmas tree." (He likes the flocking. It's the slim part that's throwing him off)
Me: "Well, there's more room for gifts around this tree."
While I'm busy putting the finishing touches on lunch, I catch a glimpse of my sweet daughter-in-law giving my son the side-eye. I can tell her eyes are saying, "Just shut up about the tree." He finally gives it a rest. He doesn't like change.
My daughter-in-law: "It's pretty. Does the flocking shed?" (Yes, she's very nicely trying to change the subject.)
Me: "I'm actually surprised that the flocking stays on. There's a tiny bit of shed but nothing like the flocked tree I had years ago. It was a nightmare."
Me: (Also trying to change the subject) "Time to eat!"
Red and White Christmas Ornaments On Flocked Tree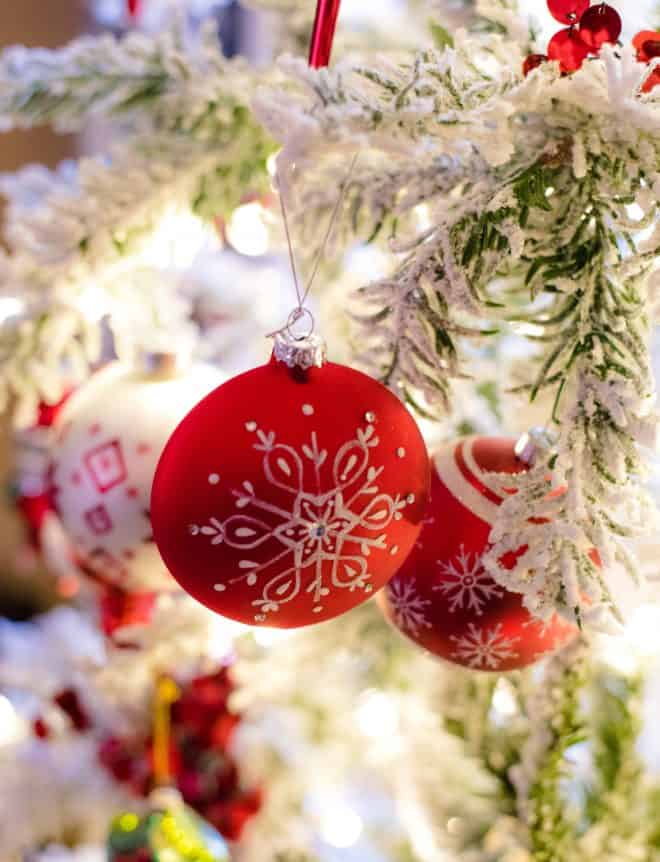 I decided to go with a classic red and white themed tree this year. Most of the ornaments on the tree are mouth-blown glass ornaments. They, too, were a gift from Tree Classics before they started selling exclusively wholesale. They were very generous when they gifted me four large boxes of these beautiful glass ornaments.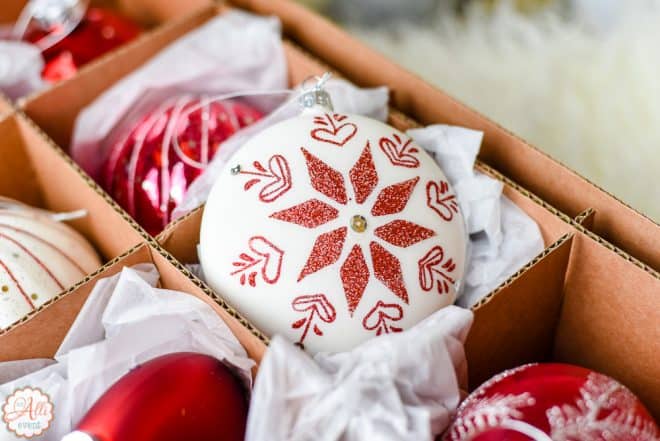 I also hang stockings for every one of my grown children, their spouses, all the grandchildren, and Max, the dog. That's 15 stockings! They are all personalized needlepoint stockings from Lillian Vernon.
I started this tradition when my oldest child was a toddler and I add a stocking each time the family grows. Thankfully, they still sell the stockings.
Inflation is real! When I first started the personalized stocking collection, they were $19.99 each. Now they are $44.99.
I place these personalized elves under the tree for the grandkids, even though the oldest grandson is now 16!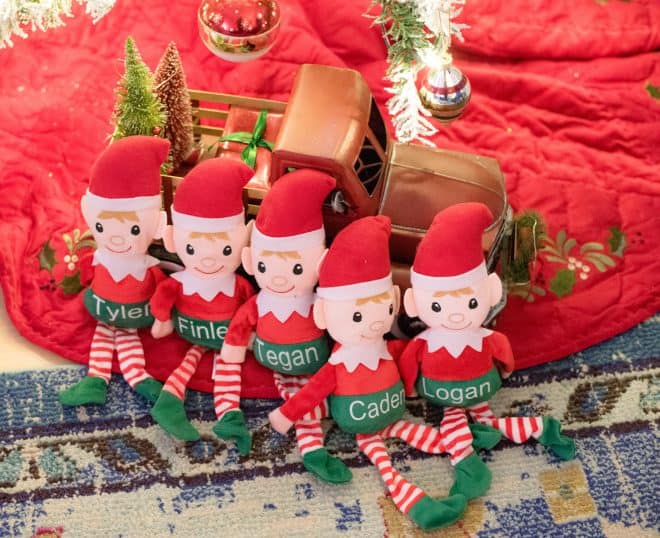 White Angel Topper
I kinda wanted to go with a snowflake (see the one I love down below) tree topper, but I do love this snow angel topper. This was actually a Christmas tabletop decor piece that plugged in, lit up, and changed colors. When it stopped working a couple of years ago I took it apart, removed the insides, and realized it makes the perfect tree topper.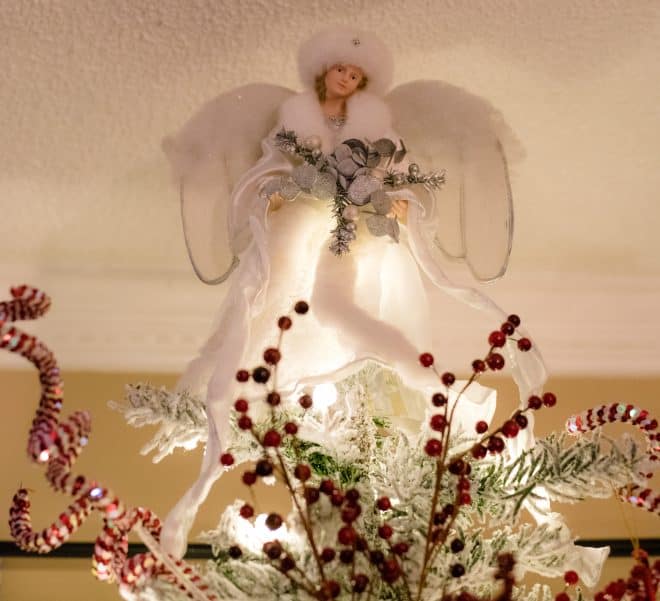 You May Also Like
Shop This Look! (Click on a photo below to shop)
You may not find these exact ornaments, but you can recreate this look by shopping below.


Check Out These Beautiful Trees!
Animal Crossing Christmas Tree My Pinterventures
Simple Silver & Gold Christmas Tree Decorations Intelligent Domestications
3D Felt Christmas Tree Creative Cynchronicity
Tips for Decorating a Small Christmas Tree Farm Girl Reformed
Small Christmas Tree for the Bedroom Little Vintage Cottage
Slim Flocked Christmas Tree An Alli Event
Louvered Door Slat Tabletop Christmas Tree Interior Frugalista
Rustic Minimal Christmas Tree Mom Home Guide
Coastal Christmas Tree Across The Blvd.
How to Create a Unified Look on an Eclectic Christmas Tree Tikkido
Black and White Christmas Tree Domestically Creative
2020 Candy Christmas Tree Craft Rocker
Rustic Christmas Tree As For Me and My Homestead
Washtub Christmas Tree Skirt Coffee With Us 3
A Christmas Tree Filled with Memories Made Through the Years Blogghetti
Woods and Silver Christmas Tree Polka Dot Poplars
Crochet Filled Christmas Tree Eye Love Knots
Purple Hues Christmas Tree Purple Hues and Me
Festive Outdoor Christmas Trees Domestic Deadline
How To Decorate A Stunning Christmas Tree – 5 Easy Steps My Humble Home and Garden
How to Make a Super Easy Paper Christmas Tree! Our Sutton Place
Neutral Farmhouse Christmas Tree Pretty DIY Home
Grinch Christmas Tree From House to Home
Mickey Mouse Christmas Tree Simply Inspired Meals
Christmas Tree Trends for 2020 Christmas Tree Lane