This post, Chocolate Thumbprint Cookies, is sponsored by I Can't Believe It's Not Butter. All opinions are my own.
You've just got to try my Chocolate Thumbprint Cookies! One bite and you'll be hooked for life! I dare say that these are my favorite cookies of all time. But before we rush into the easy recipe, let's talk butter.
If you've been reading my blog for very long, you know that I've always been a butter snob. I've even begged, pleaded and politely requested that no substitutes be made for the real deal in my recipes.
That was before I tried the new I Can't Believe It's Not Butter, made from simple ingredients (you know I'm all about simple) including a blend of plant-based oils, purified water and a pinch of salt. This new recipe is also offered in the original, light and olive oil varieties.
The best part: The new I Can't Believe It's Not Butter!® spread has 40% fewer calories and 70% less saturated fat than butter. And because no one can eat just one of my Chocolate Thumbprint Cookies, that's good news!
My chocolate and walnut cookie is not overly sweet, but then you bite into the frosting and the milk chocolate candy center and there's a burst of sweet, chocolaty goodness. Am I being overly dramatic? Not at all! It's like a little slice of heaven on earth!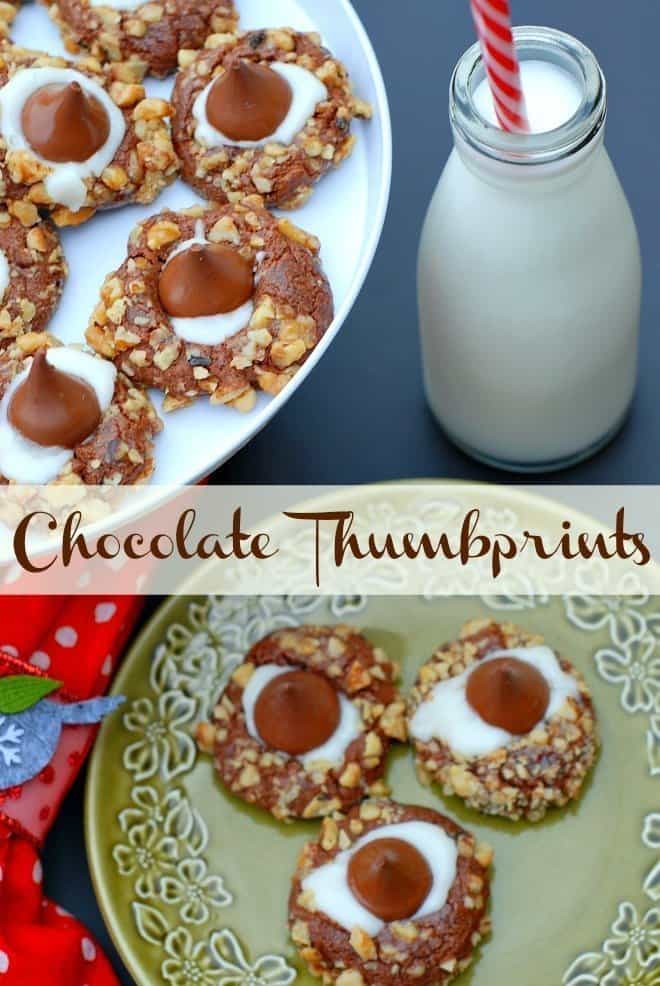 When I mentioned to my daughter that I was going to try the new I Can't Believe It's Not Butter in my cookie recipe, she informed me that she's been using it exclusively for years and loves it. Then I let her in on the secret that it was new and improved. Ha!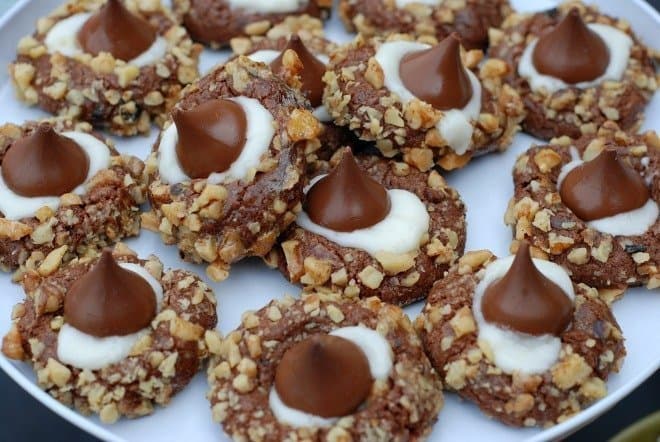 Chocolate Thumbprint Cookies
Yield: 2 dozen

Prep Time: 10 minutes

Cook Time: 10 minutes

Additional Time: 5 minutes

Total Time: 25 minutes

Chocolate Thumbprint Cookies are perfect for the holidays or any time. These chocolate cookies are rolled in chopped walnuts and topped with a vanilla filling and a kiss.
Ingredients
1/2 cup I Can't Believe It's Not Butter OR unsalted butter
2/3 cup sugar
1 egg, separated
2 Tablespoons milk
1 teaspoon vanilla extract
1 cup all-purpose flour
1/2 cup baking cocoa
1/4 teaspoon salt
1 cup finely chopped walnuts
Filling:
1/2 cup powdered sugar
1 Tablespoon I Can't Believe It's Not Butter
2 teaspoons milk
1/4 teaspoon vanilla extract
24 milk chocolate kisses, unwrapped
Instructions
In a mixing bowl, beat I Can't Believe It's Not Butter, sugar, egg yolk, milk and vanilla until light and fluffy.
Combine flour, cocoa and salt; gradually add to creamed mixture.
Cover and refrigerate for one hour.
When the dough has chilled for an hour, lightly beat the egg white in a small bowl.
Shape dough into 1" balls; dip in egg white, then roll in finely chopped walnuts.
Place on greased baking sheet.
Make an indention with thumb in the center of each cookie.
Bake at 350 for 10-12 minutes or until center is set.
Combine the first 4 filling ingredients in a small bowl and mix until smooth.
Spoon 1/4 teaspoon of filling into each warm cookie; gently press a chocolate kiss in the center.
Carefully remove from baking sheet to wire racks to cool.
Nutrition Information
Yield 24 Serving Size 1
Amount Per Serving Calories 142Total Fat 8gSaturated Fat 2gTrans Fat 0gUnsaturated Fat 5gCholesterol 10mgSodium 64mgCarbohydrates 16gFiber 1gSugar 11gProtein 2g


These cookies are the perfect treat to have on hand for the holiday season and especially a cookie exchange party! And who wouldn't love to get a tin of these chocolate thumbprints for Christmas?
Helpful Hint: Don't forget to try the new I Can't Believe It's Not Butter for all of your holiday baking! I like the fact that it's spreadable straight out of the refrigerator, so there's no need to wait for it to soften! Don't you hate waiting for butter to soften?
I Can't Believe It's Not Butter!® can also be used for spreading on blueberry muffins, multigrain toast, topping corn on the cob, and sauteing veggies.
What's your favorite holiday cookie?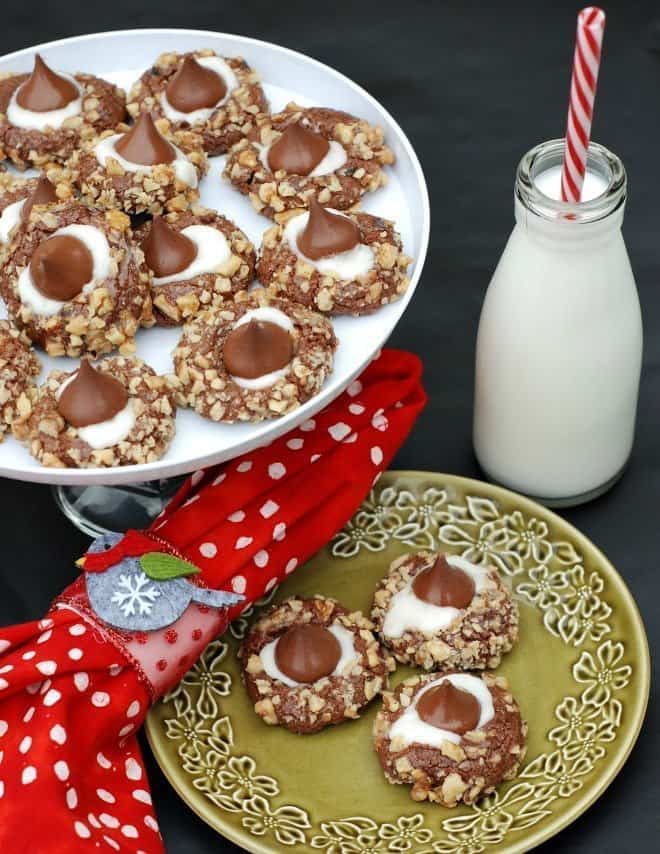 I was selected for this opportunity as a member of Clever Girls and the content and opinions expressed here are all my own.

Print Friendly