As an Amazon Associate, I earn from qualifying purchases at no extra cost to you.
Let's go glamping! I'm not much of a camper, but I'll happily go glamping. Glamping is a luxurious form of camping and I have the best Glamping Christmas Party Ideas.
Every December I host a Christmas party for 50 women. Last year we all put on our Christmas PJ's and enjoyed a fun and relaxing Christmas Pajama Party.
When I was planning this year's party, all the pretty, Christmassy vintage campers caught my eye and I knew I had to throw a glamping party.
Glamping is all about relaxing, unplugging and having a good time. This party certainly fits the bill.
Tabletop Decor for Best Glamping Christmas Party
Vintage Campers are the perfect centerpieces. These campers can be pricy but I found the perfect campers at my local At Home store. They were $14.99 each.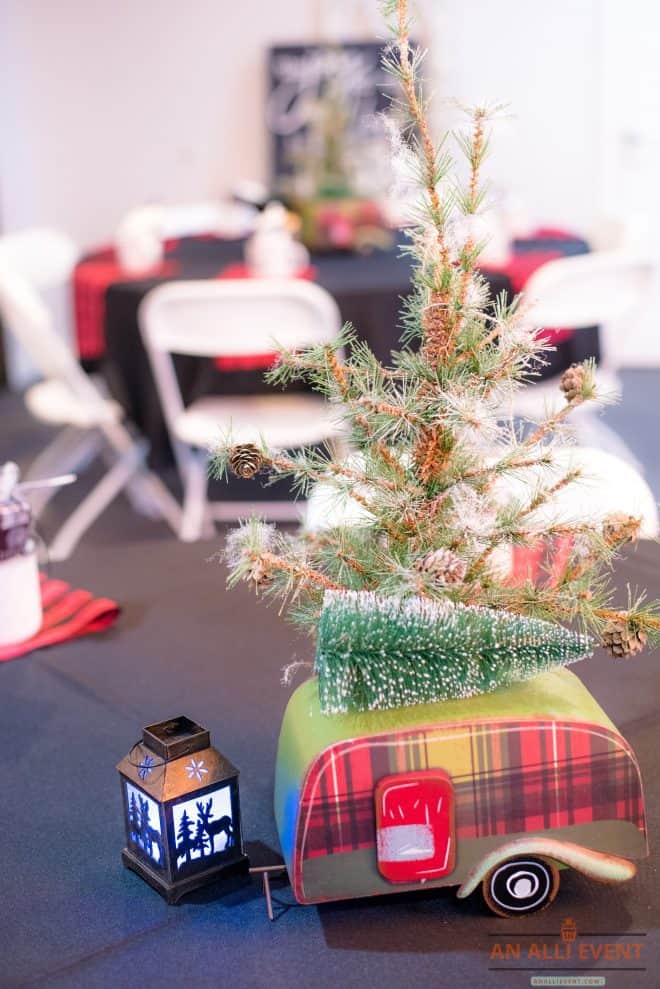 Little rustic lanterns from At Home and trees from Hobby Lobby complete the centerpiece. I love how the little rustic lanterns have battery-powered lights inside that change colors.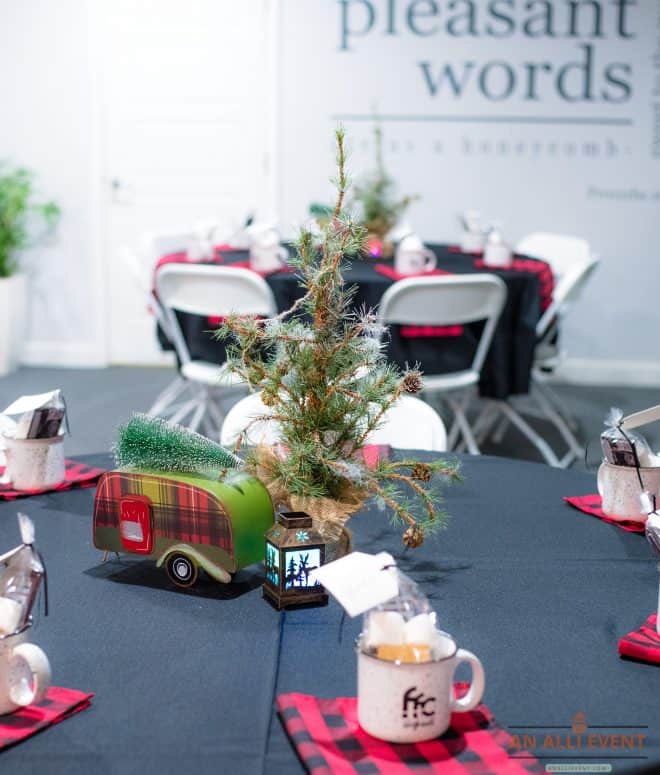 Black tablecloths and red and black buffalo plaid napkins add the finishing touches to the table. This year I kept it simple and rustic.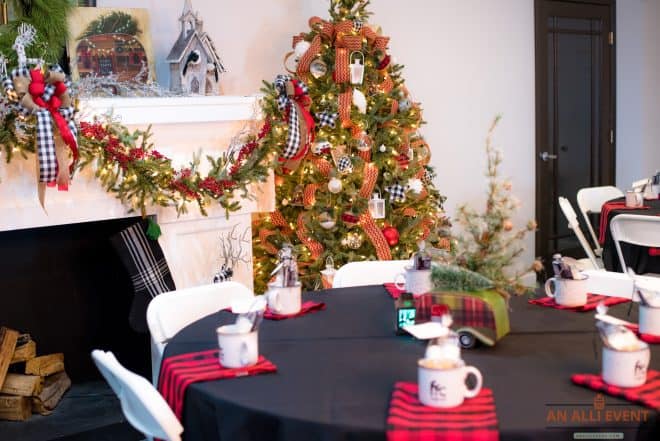 Favors for Glamping Christmas Party
Whenever I host a party, every guest leaves with a gift. I think of it as an "I love you and thank you for coming" gift.
Since it's a glamping theme, the perfect take-home favors are camping mugs. These look like the popular tin camping mugs but they are the real deal mugs – heavy and nice.
As an extra touch, we had them printed with our church's logo and our Girlfriends logo. Thanks to my daughter, Holly, for getting it done.
My son-in-law, Andrew, made up all the S'mores kits to place in each mug. He did a wonderful job!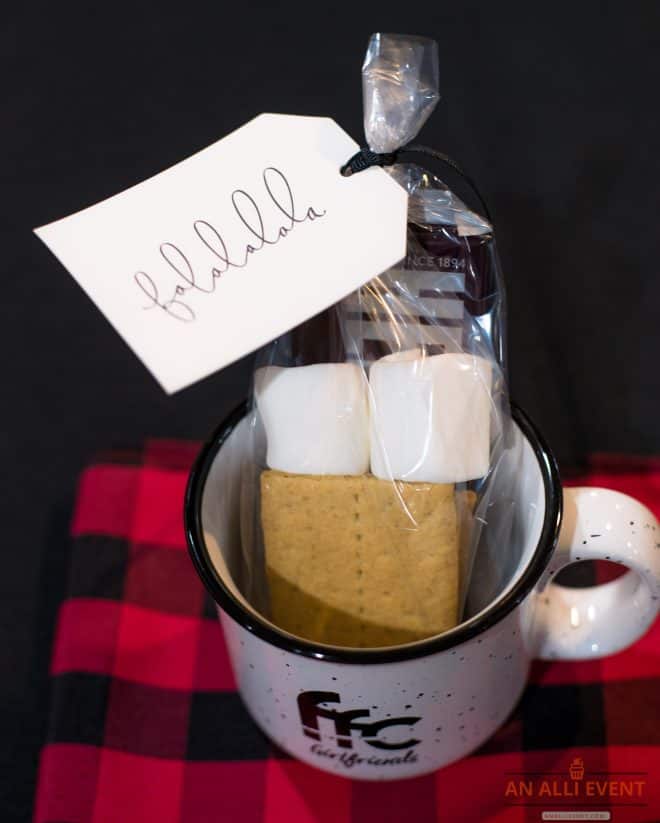 At each table, one mug had a sticker on the bottom. The person with the sticker won the centerpiece at her table.
Christmas Tree and Mantel Decor
I completely changed up the Christmas tree and mantel so they would reflect the rustic glamping theme. Buffalo plaid, vintage campers and farmhouse style ornaments compliment the glamping theme beautifully. Here is more of my glamping Christmas tree decor.
All the decor has a casual, rustic feel. The decor instantly conveys that the party will be relaxed and fun. Several of us incorporated plaid in our clothing choices. I mean, hello, camping – I mean, glamping.
Glamping Christmas Party Menu
To keep the theme of camping/glamping going, a rustic menu is a must. We strayed from our normal girly menu and went with a hearty meal. It was really tasty! I'd love to take credit for this meal but it was catered.
Menu
Tender Smoked Beef Brisket
Grilled Chicken
Mac & Cheese
Hashbrown Casserole
Tossed Green Salad with Assorted Toppings/Dressings
Cornbread and Yeast Rolls
Pickles, Onions & Assorted BBQ Sauces
Iced Tea, Lemonade and Water
Carrot Cake, Banana Pudding and Peanut Butter Pie
Glamping Christmas Party Hot Cocoa and Coffee Bar
Instead of brewing pots of coffee, I went the easy route by using the Keruig. Starbucks Decaf, Starbucks Holiday Blend and Swiss Miss K Cups are the way to go.
Different creamers (all-natural, sugar-free, regular, etc.) and sweeteners add a nice variety to the cocoa/coffee bar. Don't forget the mini marshmallows and whipped cream.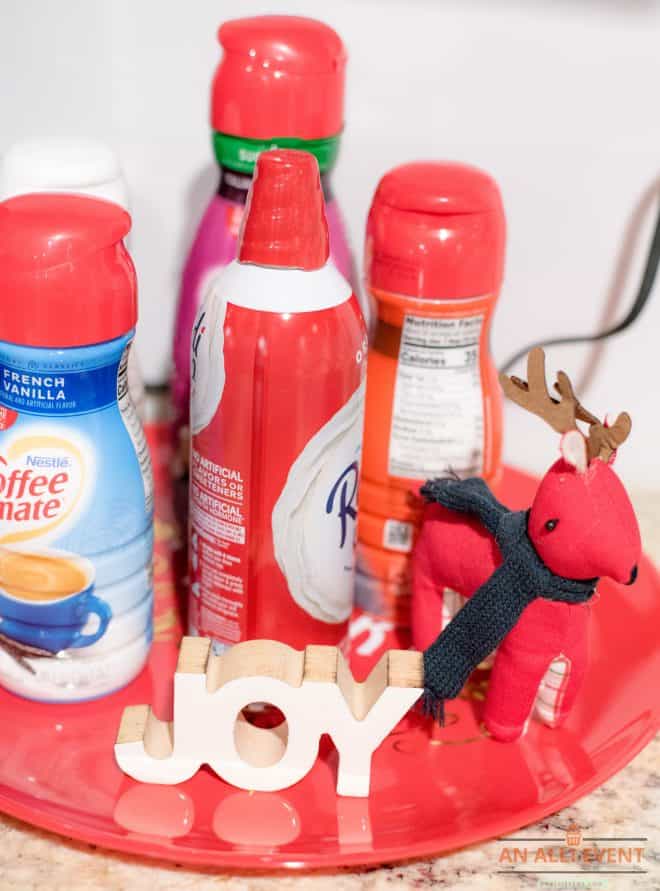 What Kind of Fun Games to Play at a Glamping Party?
I get so busy during these parties and forget to take photos. I wish I had more photos of the games but I did get a few.
Guess How Many? Glamping Party Icebreaker
As the guests arrive, it's good to have something to do immediately. I like to always have an ice breaker. I loaded a big basket with all kinds of goodies – from makeup and skincare products to kitchen accessories to a Michael Kors wristlet – and everything in between.
Everyone was invited to guess how many items were in the basket. The person the closest (without going over) won the entire basket. Three women guessed the correct number. Then we had a drawing to pick one name.
Group Games for Glamping Party
I like to incorporate several group games. It gets all the guests involved – even the ones who are shy.
Are You Ready for Christmas Game
The first game we played was "Are You Ready For Christmas?" You'll need to print one of these printables for each participant: Are You Ready for Christmas-Handout
Then the person (probably you) reading the questions will need this handout: Are You Ready For Christmas Questions
The person with the most points wins! It's nice to have prizes on hand for the winners.
What's On Your Phone Group Game
This is a fun game and there are different free printable versions online. The free printable I used can be found at Christmas Tree Lane.
Christmas Song Emoji Game
This is a really fun game and after the party, several guests asked me for copies of this game so they can play it with their families during holiday gatherings.
The free printable can be downloaded at My Pinterventures.
Reindeer Wrap Glamping Party Game
This is a cute one! Volunteers are needed for this game. You can have two teams of three compete. I went with three teams of three since the party is large.
For each team, you will need the following items: (you can click on each item to purchase from Amazon.)
Two members of each team wrap the other member of their team with the brown crepe paper, attach the headbands and the nose. The team who completes the reindeer wrap first wins.
Candy Cane Game
This is a fun game for kids and adults. I've played it with the grandkids and it's the perfect game for a glamping Christmas party. You can find out all about the game here. It's listed with all my favorite games.
Goodbyes and Parting Words
Fun parties always seen to end way too soon. Time flies when you're having fun!
At the end of the party, I shared 5 Ways to Say No To Holiday Stress. I won't go into all the details, but I thought I'd share the tips in case you're stressing over the holidays.
Pick and Choose Holiday Activites (You don't have to say yes to all the things.)
Get an Early Start (Don't wait until the last minute to get things done.)
Limit Spending (Set a budget and stick to it.)
Manage Holiday Expectations (Let go of all the pressure and have realistic goals – says the former perfectionist. Don't compare your Christmas with what you see on social media.
Unplug! (Put down that to-do list, take an afternoon to unplug. Watch old Christmas movies with (or without) the kids. Relax. Have fun. Make memories.
You May Also Like
10 Delicious Game Day Wing Recipes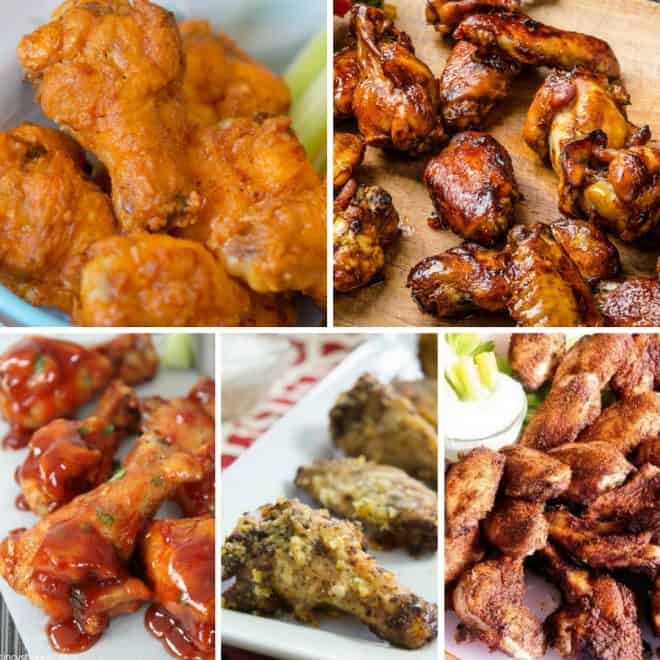 Easy Christmas Tree Appetizers