Kickoff Party has been compensated by Collective Bias, Inc. and The Coca-Cola Company. All opinions are mine alone. #ReadyForKickoff #CollectiveBias
I'm so proud of my husband! He kicked the new year off right by setting some fitness goals and he's nailing it. I, on the other hand, am missing hosting holiday parties and entertaining friends and family.
Since I always host a Kickoff Party for the big game, this year I'm serving food options that are delicious and easy on the waistline. No way am I sabotaging my husband's hard work. For more delicious recipes, check out my 29 Best Game Day Recipes.
For my Kickoff Party, I'm going whimsical and fun with an Ode to the Referee theme. We all know that the refs get no respect. I'll be the first one to jump up and yell at the ref. Then someone will hit replay in slow motion to prove we were right. I have to admit that sometimes I am so wrong.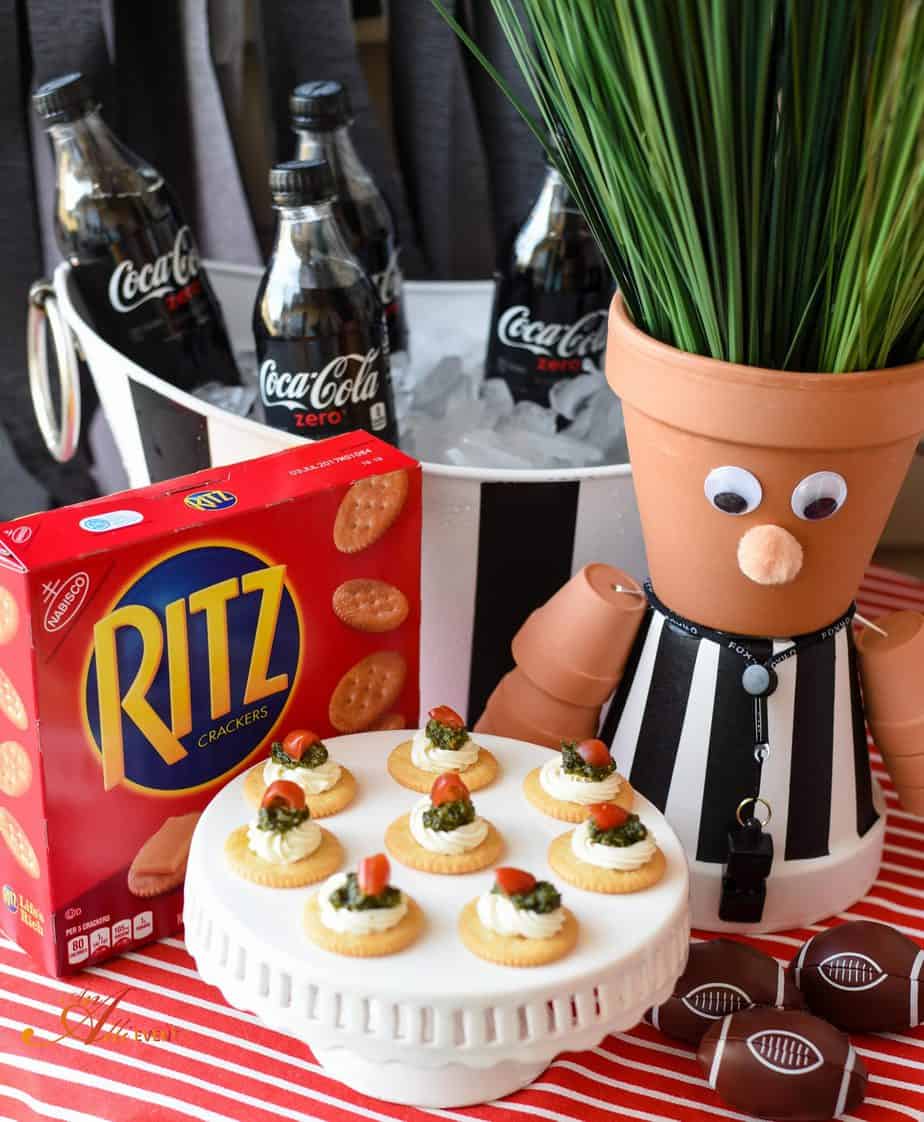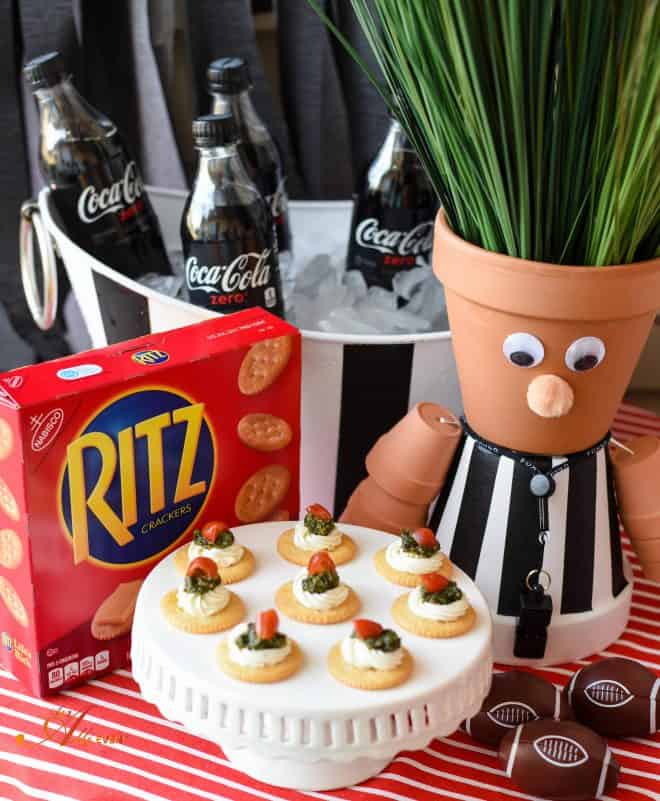 Another reason I'm having an Ode to the Referee theme is that my favorite color combination is black and white. I'll add a splash of red to honor my favorite team from my home state.
A whimsical party must have an over-the-top centerpiece. After choosing a menu and color scheme, my attention turns to the centerpiece. Let's create a referee with clay pots.
DIY Referee for KickOff Party
Here's what you need:
Two 6″ clay pots
Six 2″ clay pots
Ribbon
White Spray Paint
Black Masking Tape
Whistle
Potting Soil
Plant Material
Hot Glue Gun
Large Googly Eyes
Pom Pom for Nose
Spray paint one of the 6″ clay pots white. Let dry completely. Add black stripes with the masking tape. The stripes will not be perfect because the top of the clay pot is larger, but that's Ok. It's even more whimsical.
To make the arms, cut a length of ribbon about 12″ long and thread three clay pots on either side. Turn the striped pot upside down and place the ribbon across the top.
Add the other 6″ clay pot on top (right side up). Glue the two pots together using a hot glue gun.
Add potting soil to the top pot and plant greenery (hair). I couldn't find any fresh greenery so I used the fake kind. It's adorable. Add large googly eyes and a pompom nose. Place a whistle around the ref's neck. Done!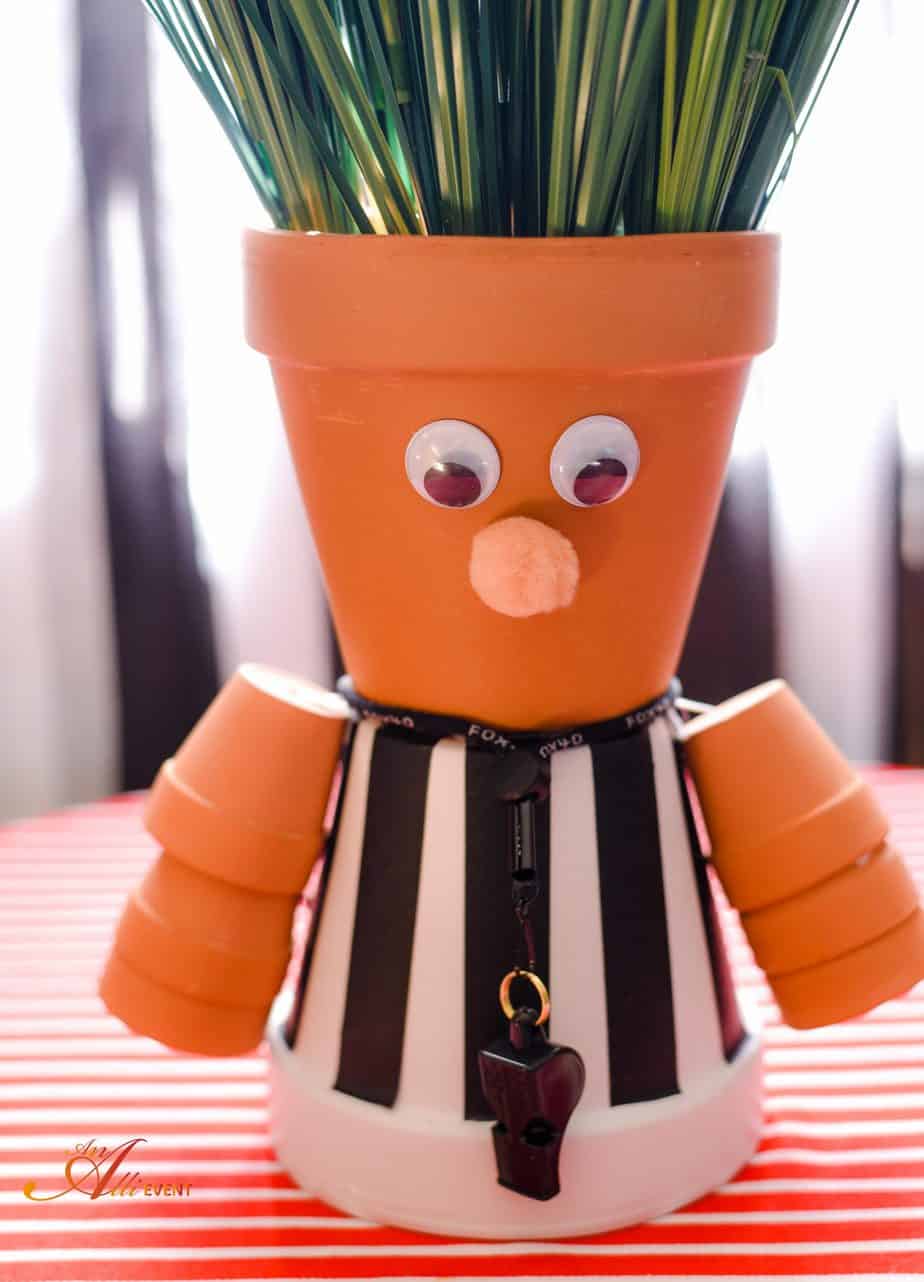 Now that we've got the centerpiece completed, let's talk about food and drink.
Whimsical Kickoff Party Menu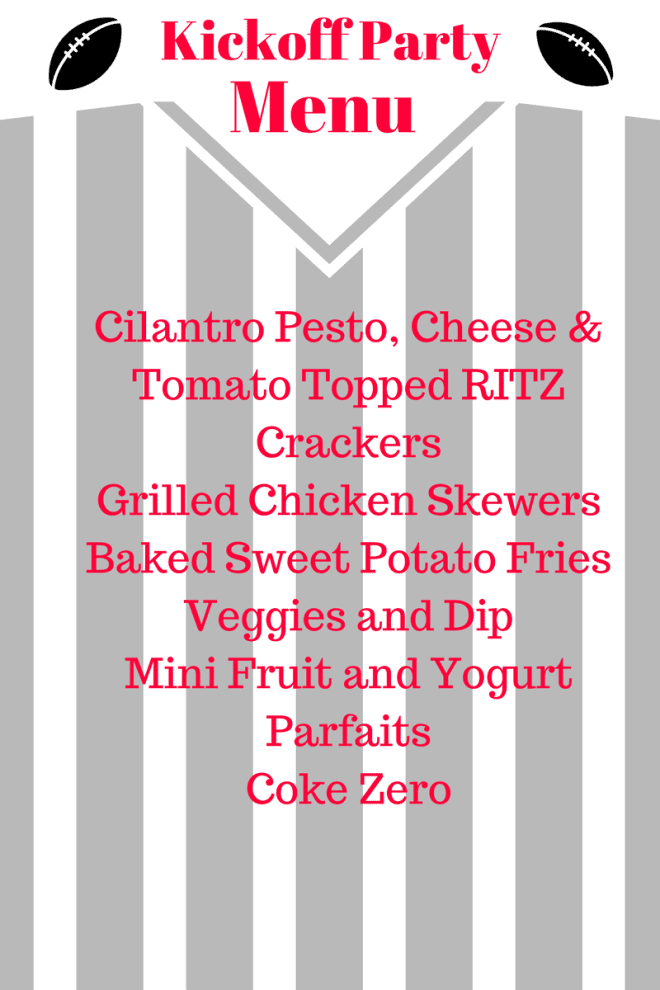 Homemade Cilantro Pesto is easy to make and pairs perfectly with my favorite RITZ crackers. You'll need two cups fresh cilantro, garlic cloves, pecans, extra-virgin olive oil, parmesan cheese, salt, and pepper.
Combine the cilantro, garlic, pecans, and parmesan cheese in a food processor and process until chopped. Add a 1/2 cup olive oil and process until smooth.
To serve, spread the reduced fat cream cheese onto a RITZ cracker. I use a piping bag because it's prettier and easier to spread.
Top with pesto and add 1/2 grape tomato. Repeat until you have a serving tray full of appetizers.
Cilantro Pesto, Cream Cheese and Tomato Topped RITZ Crackers
Ingredients
2 cups fresh cilantro leaves
2 cloves garlic
1/4 cup pecans, chopped
2/3 cups extra-virgin olive oil
1/2 cup grated Parmesan cheese
Salt and pepper to taste
1 (12 oz.) reduced fat tub of cream cheese
Grape tomatoes
RITZ crackers (13.7 oz. box)
Instructions
Combine cilantro, garlic, pecans and cheese in a food processor.
Process until chopped.
Add 1/2 cup of olive oil and process until smooth.
Add salt and pepper to taste.
Spread cream cheese onto RITZ crackers. Add a dollop of pesto to each cracker and top with 1/2 Grape tomato.
For dessert, I serve Mini Fruit and Yogurt Parfaits. I layer Light Vanilla Greek yogurt, fresh raspberries, and blueberries in shot glasses. It's a simple, tasty dessert that always gets rave reviews.
Helpful Hint: Use a pastry bag for the yogurt. It's so much easier than trying to spoon yogurt into the tiny glasses.
Grilled chicken is served on skewers. That way, my guests can eat and cheer at the same time – no forks or knives needed.
A veggie tray always makes an appearance on my party table. For my Kickoff Party, I'm serving veggies in individual containers. Just grab it and get your munch on while watching the big game.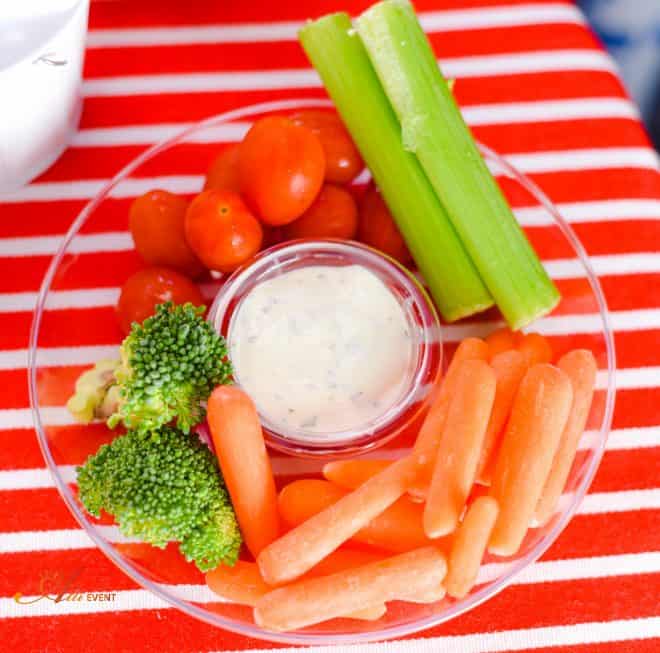 Baked sweet potato fries round out my menu. I made cones out of parchment paper, filled them with sweet potato fries and placed individual servings in little white buckets.
Food and Drink Tables
Round tables work perfectly for a football kickoff party. I usually have two tables – one for the food and one for the drinks. That way, all the guests aren't clogged up in one place.
I added the black and white referee theme to my drink table as well. Using black tape, my sweet hubby added stripes to my plain white beverage tub and it ties in nicely with my referee theme.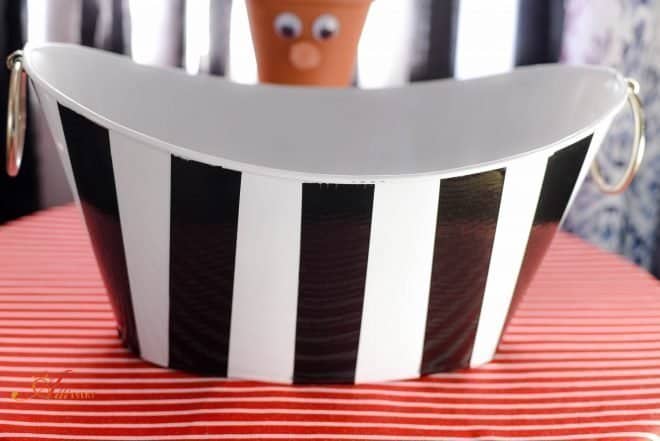 Since I'm leaning towards lighter fare, Coke Zero is my family's drink of choice. I like the six-pack variety because I can keep them well chilled in my beverage tub and I don't need cups at all.
Name That Referee Football Signal Game and Free Printables
A Whimsical Kickoff Party with a Referee theme calls for a game with a nod towards the officials. Do you know what the signals mean? This fun game will showcase how much your guests know about the game of football. Be sure and have a prize on hand for the winner.
Download the free printables here: Name That Referee Signal Game | Correct Answers
My guests are wild about the whimsical spin I added to my Kickoff Party. It's fun, easy to recreate and cleanup is a breeze.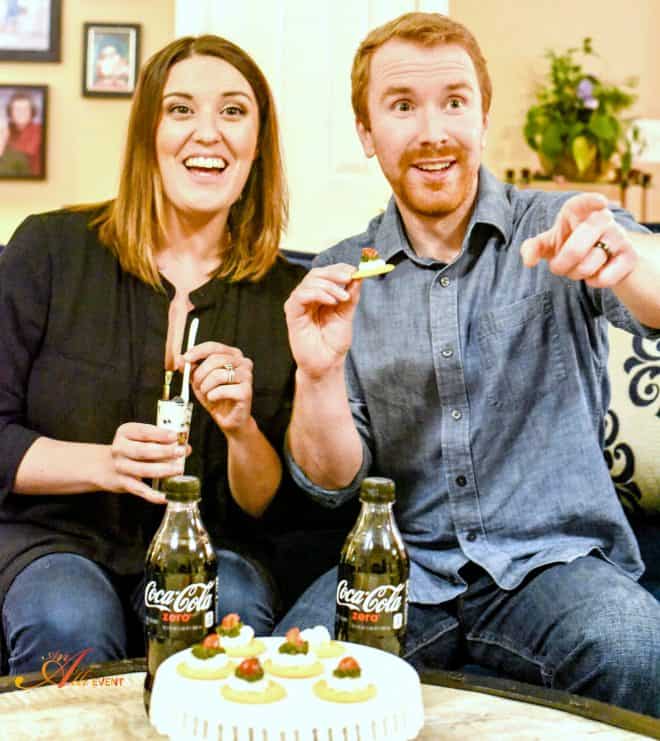 No one had to know the food is better for them. We'll keep that little secret between ourselves.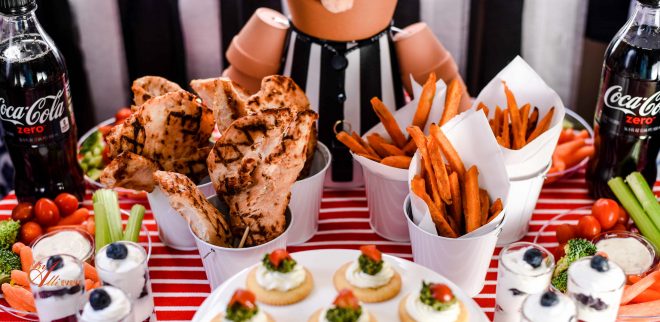 Helpful Hint: Everything you need to throw a Whimsical Kickoff Party can be purchased at your local Walmart, including the RITZ Crackers and Coke Zero.
There's no need to run from one store to the next when Walmart has everything you need for a fabulous party.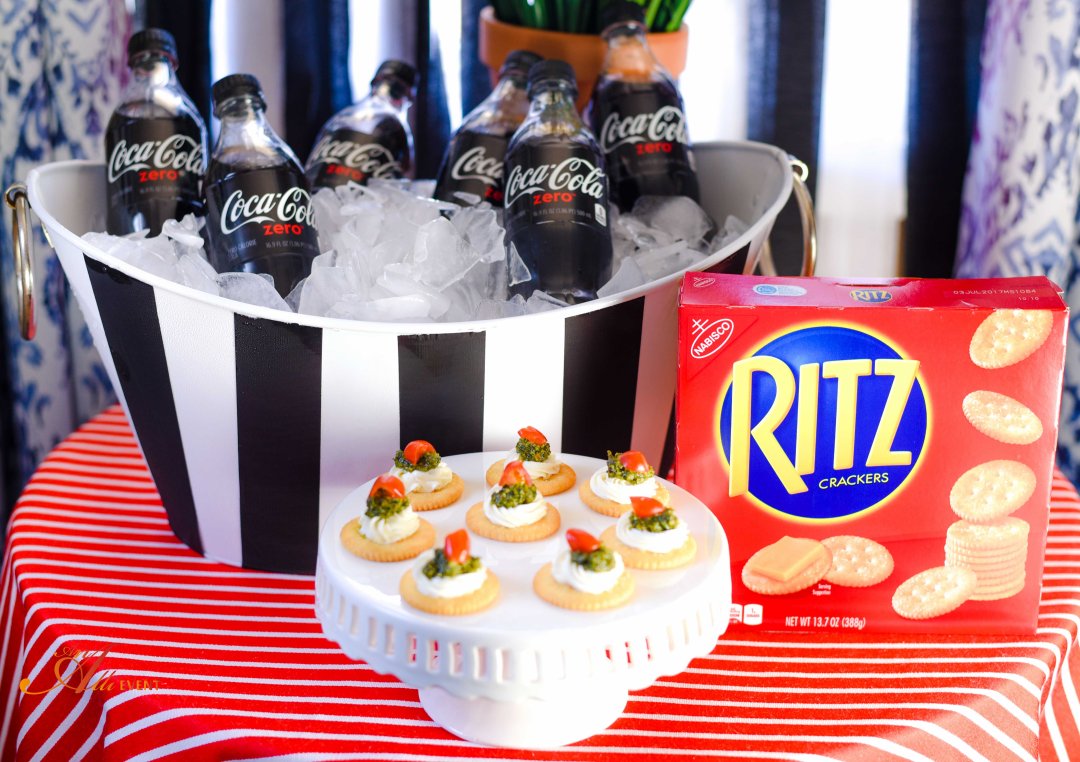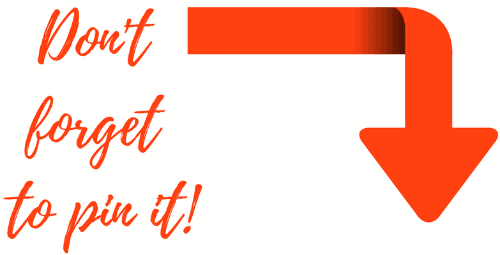 You May Also Like
Pecan Tassies and Big Football Bash
Easy Stress-Free Football Party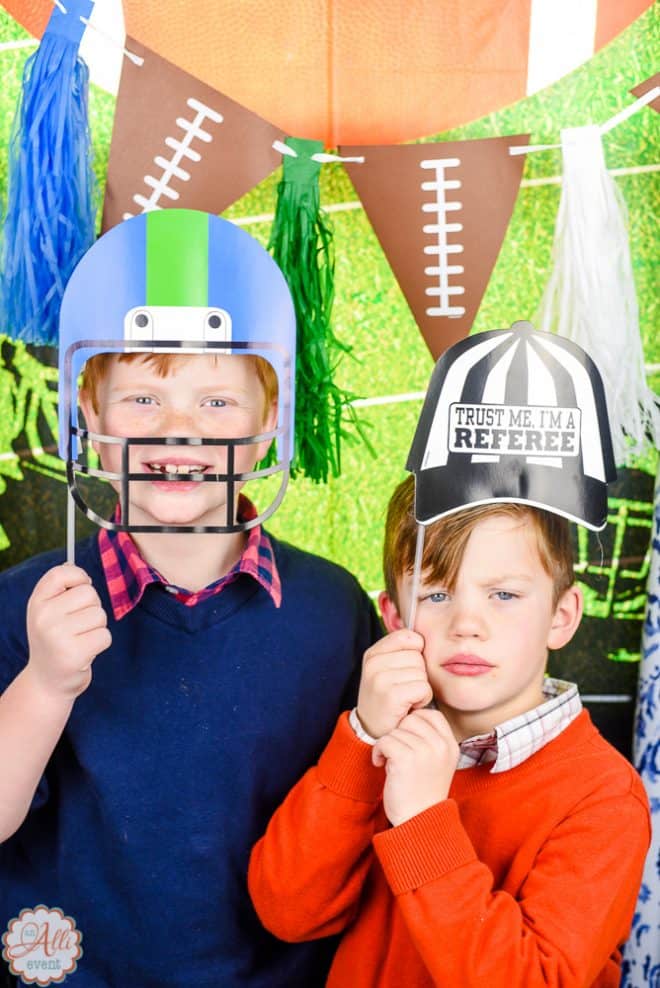 33 Slow Cooker Meatball Recipes