Coca-Cola Pecan Tassies was compensated by Collective Bias, Inc. and its advertiser. All opinions are mine alone.
It's time to pull out the pom-poms, megaphones, and cowbells. It's football season and here in the south, we know how to throw a football party.
My parties always include many of my Best Game Day Recipes.
Tailgating is fun, but more often than not, you'll find me at home watching the game on the big screen with lots of food, Diet Coke, and all my friends and family.
We can pause the game when the conversation gets a little rowdy. And we often rewind & play it back real slow if we witness a bad call by the ref.
Casual Party and Pecan Tassies
Football parties should be casual, fuss-free, and easy to clean up. You won't find fancy centerpieces or uppity tablescapes when we gather for game day, but you will find good food, a big football bash & Coca-Cola Pecan Tassies.
If you've never had pecan tassies, you're in for a treat.
When entertaining a crowd, even when it's informal, I like to set up food stations. It keeps traffic from coming to a standstill and everyone piling up at one table.
No one likes to stand in line forever to get another Coke. Usually, three stations will suffice – Snacks, Desserts, and Beverages.
Here are a few tips to help you organize your party!
Plan Your Menu
Y'all know I'm a planner and list maker, so after I've planned my menu and made a list of what I need, I head to Sam's Club to stock up on everything from paper plates to drinks and food.
To really save time, you can go to Sam's Club online, choose everything you need and it will be ready and waiting for you at your local store. How cool is that?
Finger Foods Including Coca-Cola Pecan Tassies
When it comes to a big football bash, I don't serve anything that needs eating utensils other than your hands.
Hand-held food is more convenient and easier to enjoy when you're relaxing on the sofa or up on your feet jumping and yelling for your favorite team.
Coca-Cola Pecan Tassies
I always make my pecan tassies the day before the big football bash. That way, there's not a lot of cooking on the day of. They're really easy to make and everyone loves um!
The dough is made with cream cheese, butter and flour; rolled into balls, and chilled for an hour.
After pressing the dough into mini muffin pans, the pecan filling is whisked together and spooned into the mini-tarts.
Yield: 4 dozen
Coca-Cola Pecan Tassies
Pecan Tassies are delicious little treats that remind me of pecan pie. They are so good
Additional Time
20 minutes
Ingredients
1 cup butter, softened
1 (8-oz.) package cream cheese, softened
2 1/2 cups all-purpose flour
1 1/2 cups firmly packed brown sugar
1 1/2 cups chopped pecans
2 large eggs
2 tablespoons butter, melted
1 teaspoon vanilla extract
1 teaspoon Coke Classic
1/8 teaspoon salt
Glaze:
1 cup powdered sugar
1 tsp. vanilla
2 Tablespoons Coke Classic
Instructions
Beat 1 cup butter and cream cheese at medium speed with an electric mixer until creamy. Gradually add flour to butter mixture, beating at low speed.
Shape mixture into 48 balls, and place on a baking sheet; cover and chill 1 hour.
Place 1 dough ball into each lightly greased muffin cup in mini muffin pans, shaping each into a shell.
Whisk together brown sugar and next 6 ingredients. Spoon into tart shells.
Bake at 350° for 20 minutes or until filling is set. Cool in pans on wire racks 10 minutes. Remove from pans; cool on wire racks 20 minutes or until completely cooled.
Whisk glaze ingredients together until smooth. Drizzle onto cooled pecan tassies.
Recommended Products
As an Amazon Associate and member of other affiliate programs, I earn from qualifying purchases.
Nutrition Information
Yield
24
Serving Size
2
Amount Per Serving
Calories

244
Total Fat

14g
Saturated Fat

6g
Trans Fat

0g
Unsaturated Fat

7g
Cholesterol

40mg
Sodium

92mg
Carbohydrates

27g
Fiber

1g
Sugar

16g
Protein

3g
Coca-Cola Pecan Tassies & Snack Ideas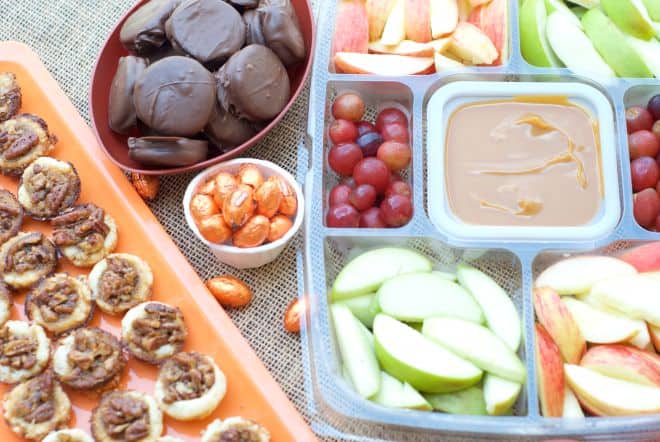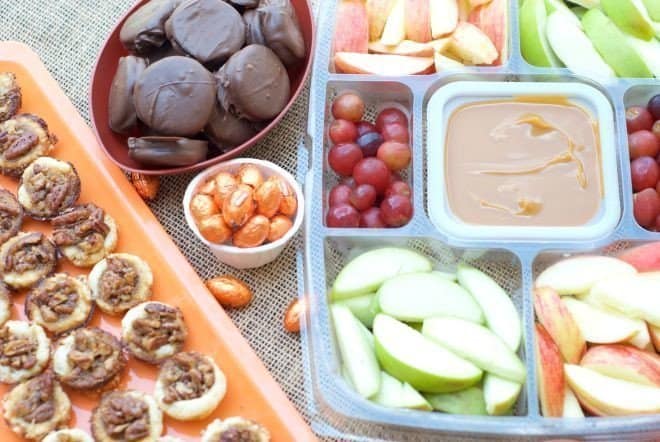 Decor
For tabletop decor, simple is always better when planning a football party.
I used a roll of black kraft paper as a table runner and my husband used a chalk pen to draw football plays. It's rustic, inexpensive and if the kids get bored, they can draw more plays.
A megaphone and pom poms complete the look.
Decorating the table is a good way to get the kids involved. I asked Logan to make goal posts from his building blocks. Man, was I impressed with his building skills.
Check out my menu and some photos of the three stations:
I love this "Snacks" banner!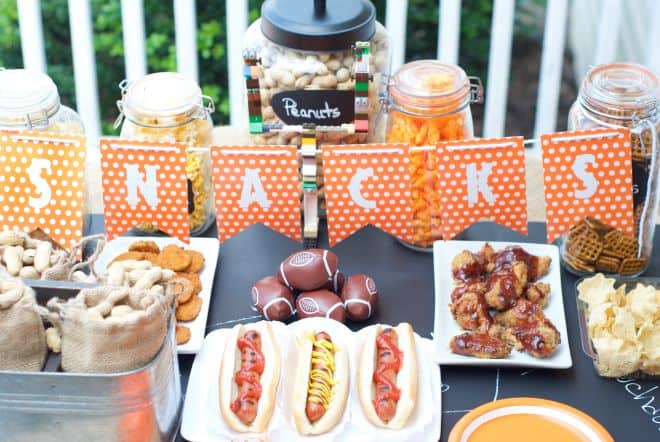 Football Bingo Ice Breaker & Free Printable
Whenever I'm throwing a big football bash, there's always a few guests who don't know each other. To break the ice, I like to play a game of Icebreaker Football Bingo.
At first glance, it looks like a regular Bingo card, but the cards are identical. To play the game, you have to mingle and find a person who has done whatever is written inside the squares.
The first person to call BINGO wins. Everyone gets to know each other a little better and it's a whole lot of fun.
The best part of Icebreaker Bingo is when someone has a row of squares almost completed and they can't find anyone to complete the last square, then they have to go in a different direction.
I've included a FREE Printable so your guests can play, too.
Grab a Free Printable
(Click Football-IceBreaker-PDF to download)
Be sure and download the fun Bingo game, make my coca-cola pecan tassies (delish!) and use a few of my tips the next time you host a football viewing party.
What's your favorite game-time snack?
You May Also Like:
Originally posted in August 2013 and updated on July 23, 2021