Many thanks to Mezzetta for sponsoring today's story and encouraging me to spice up my favorite Holiday recipe.

I adore the Christmas season.  It's probably because my mom and dad always made a big deal out of this special holiday.  I remember one particular Christmas morning when I was about 8 or 9 years old.  Santa had come and gone and left behind a sleigh full of toys including a bike with that coveted banana seat and streamers cascading from the handle bars, roller skates and a wallet with my birthstone and name engraved on the front.  I was in Christmas heaven.
As my sister and I began to lace up our skates I could barely hear my mom's voice over the noise of my brothers pulling on their cowboy boots, hats and strapping on their six-shooter cap guns as they prepared to take on the wild west of south Georgia.
Mom was trying to tell my sister and me that we had each overlooked one gift.  When we heard the word gift, skates were put aside and we bounded back to that beautiful, scratchy cedar tree we had cut down and decorated a few weeks earlier.  Presents?  No presents here.
Thus began a game of hot, cold.  I recall searching high and low until finally we saw our new watches dangling from the tree like  bright, shiny ornaments.  I'll never forget that day.
Of course Christmas was not entirely about the presents.  We were taught from an early age the true meaning of Christmas and we always looked forward to visits from our relatives and lots of good food.
Speaking of  hot, cold, here's two of my favorite Mezzetta holiday recipes to make during the Christmas season, one served piping hot and the other served cold.  Your kids and guests will enjoy my easy baked spaghetti and my southern cream cheese and olive log will be the star of your holiday party! 
Baked Spaghetti
Ingredients
1 lb. ground chuck
1/4 cup Mezzetta pitted kalamata olives, chopped
1/4 cup Mezzetta roasted bell peppers
1 (25 oz.) jar Mezzetta artichoke parmesan marinara
1 cup mozzarella cheese, shredded
1/4 cup Parmesan cheese, shredded
12 oz. spaghetti
Instructions
Cook spaghetti according to directions. Do not overcook.
Meanwhile, brown ground chuck and drain. Add the chopped olives, roasted red peppers and artichoke Parmesan marinara. Stir to combine.
In a lightly greased 8 x 8" baking pan, spoon in half the meat mixture, 1/2 the mozzarella and a sprinkling of Parmesan.
Add all of the spaghetti on top of the cheese mixture. Top with remaining meat mixture.
Sprinkle the remaining mozzarella cheese and top with Parmesan cheese.
Bake in a 350 degree oven for 30-40 minutes or until golden brown.
Notes
When I have company I double this recipe and bake it in a 9 x 13 pan for 45 minutes to an hour.



I've had a love for olives ever since I was a child.  I've never found an olive I didn't like and Mezzetta always satisfies my olive craving in my southern cream cheese and olive log.
Southern Cream Cheese & Olive Log
Ingredients
1 package (8 oz.) cream cheese, room temperature
1/2 cup finely chopped Mezzetta Spanish Queen Olives, finely chopped
1 Tablespoon mayonnaise
1/2 cup walnuts, chopped
Instructions
In a mixing bowl, mix cream cheese until creamy.
Add the mayonnaise and the olives and mix on low until combined.
Place cream cheese and olive mixture in the refrigerator for one hour.
Shape into a log and roll in walnuts.
Serve with crackers or crudites.
Helpful Hint:  Sometimes I forgo the log and make party sandwiches out of the cream cheese and olive mixture.
Did you know that Mezzetta has been family owned since 1935? The fourth generation of Mezzetta family is continuing the commitment to bring their customers the highest quality foods available. They source the finest fresh produce from California, Italy, Spain, France, and Greece and prepare them according to their Italian family recipes in the Napa Valley.
To spice it up even more, Mezzetta is giving away a Holidays Favorite gift basket each day during the entire month of December!
To register for the gift basket, click here and enter your name, email, address and favorite holiday memory. Each day a winner will be selected at random. Prizes will be shipped within 2 weeks. 
Mezzetta Favorites Holiday Gift Basket (31 Winners – Daily) includes:
• 100% Italian Estate Grown Extra Virgin Olive Oil
• Golden Greek Peperoncini
• Garlic Stuffed Olives
• Castelvetrano Olives
• Pitted Greek Kalamata Olives
• Roasted Marinated Red & Yellow Sweet Bell Peppers
• Cocktail Onions
• 1 Apron (from House Party contents)
• 1 Metal Olive Spoon (from House Party contents)
• 1 Tote Bag (from House Party contents)
• 1 Ceramic Bowl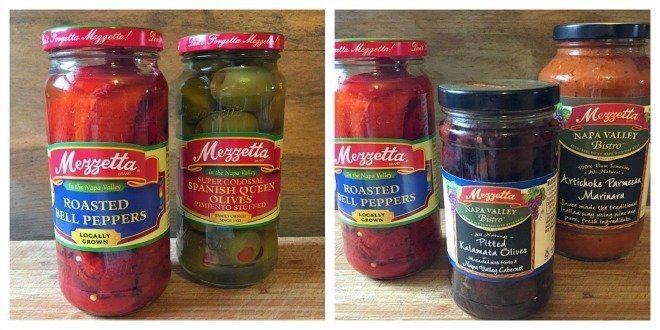 What's your favorite holiday party food?

Print Friendly