This Southern Peach Cobbler is just like mama used to make! It's got the right amount of crust, peaches and creamy filling. Serve warm with a big scoop (or two) of vanilla ice cream.
When I was growing up, we usually enjoyed dessert only on Sundays and special occasions. We didn't eat a lot of sweets throughout the week, so I always looked forward to Sunday. When fresh produce was available from the garden, we'd get home from church and feast on mama's southern fried chicken.
Mama always made homemade biscuits, rice and gravy, peas, butterbeans, and corn. I can't forget about the sliced tomatoes and cucumbers. Dessert was usually banana pudding or southern peach cobbler with homemade vanilla ice cream.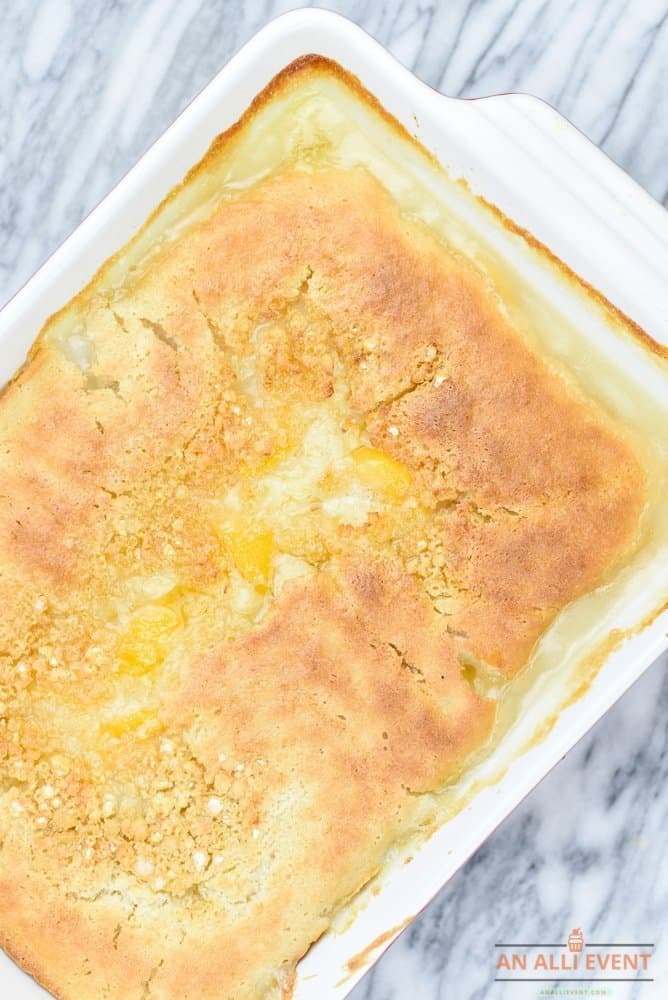 These days, whenever I eat peach cobbler or banana pudding, I can't help but think of mama. She made other desserts, like red velvet cake, chocolate cake with the best chocolate pecan frosting and pecan pie. But today we're talking peach cobbler.
Southern peach cobbler recipes differ from state to state and from cook to cook. The recipes may be slightly different but I've never met a southern peach cobbler I didn't love.
Some home cooks add a sprinkle of cinnamon to the top just before the cobbler goes in the oven. I don't. Why? Because mama didn't. My mom never cared for cinnamon or cilantro, but that's another story. So, because mama didn't use cinnamon in her southern peach cobbler, I don't either.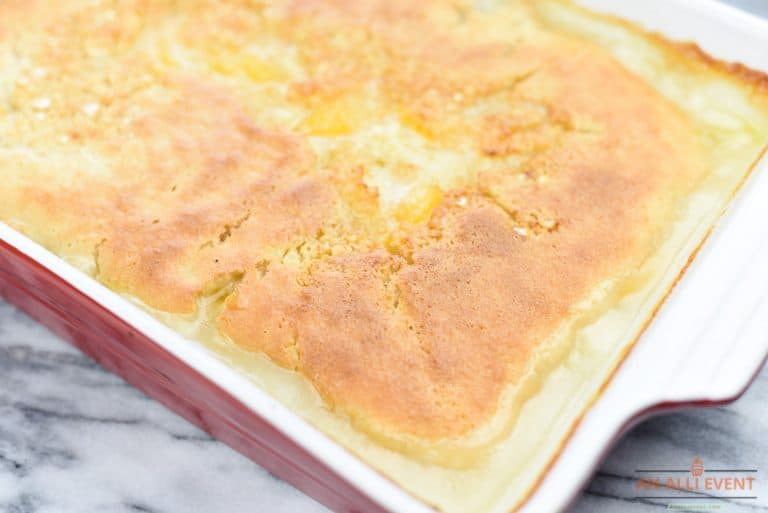 When peaches are in season, I use fresh peaches. When they're not in season or I'm in a hurry, I use canned peaches in heavy syrup. Southern peach cobbler is best served warm with a big scoop or two of vanilla ice cream.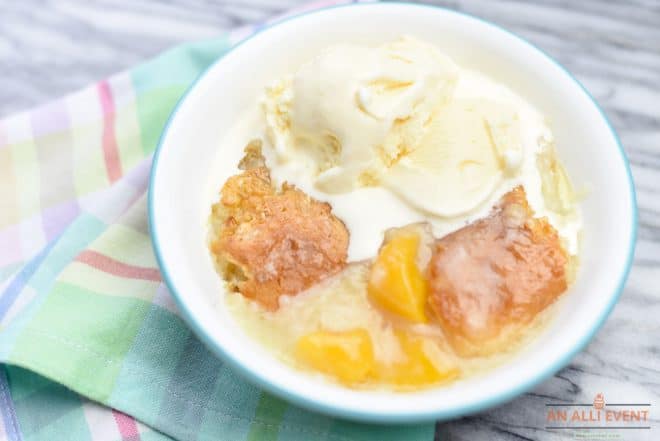 Southern Peach Cobbler
If using fresh peaches, peel and slice peaches. In a bowl, add the peaches and 3/4 cup sugar. Stir to combine.
Preheat oven to 350ºF. Pour the melted butter into a 9×13 pan. Mix together the self-rising flour and sugar. Slowly, whisk in the milk. Pour over the melted butter. Don't stir.
Spoon the peaches over the flour mixture. Pour in the syrup as well. Don't stir. At this time you can sprinkle lightly with cinnamon. As you know, I don't add the cinnamon. I just added that bit in case you like cinnamon in your peach cobbler.
Helpful Hint: If you don't have self-rising flour on hand, make your own using plain flour, baking powder, and salt. Here's how you do it.
Yield: 10-12 Servings
Southern Peach Cobbler
Southern Peach Cobbler has just the right amount of peaches, crust, and creamy filling.
Ingredients
2 cans (15 oz. each) sliced peaches in heavy syrup (OR 4 cups peeled, sliced peaches mixed with 3/4 cup granulated sugar)
1/2 cup butter, melted
1-1/2 cups self-rising flour
1 cup sugar
1-1/2 cups milk
Instructions
Preheat oven to 350º F.
Pour melted butter into a 9x13 pan.
Mix together the flour and sugar. Whisk in the milk. Pour mixture over the melted butter. Do not stir.
Spoon peaches and syrup over the flour mixture. Don't stir.
Bake for 40-45 minutes or until crust is golden brown.
Nutrition Information
Yield
10
Serving Size
1
Amount Per Serving
Calories

223
Total Fat

10g
Saturated Fat

6g
Trans Fat

0g
Unsaturated Fat

3g
Cholesterol

25mg
Sodium

159mg
Carbohydrates

34g
Fiber

1g
Sugar

26g
Protein

1g
I think I'll have a bowl of southern peach cobbler and take a stroll down memory lane – back to those Sunday dinners when I was a little girl.
Yes, we called the midday meal dinner. And we ate supper every night at 5:30. That's when dad got home from work.
Whenever you're craving peach cobbler, make this one. It's amazing! Another delicious summertime dessert is my Spiced Rum Peach Dumplings. So good!
You May Also Like