My Tequila Sunrise Mocktails are the easiest and prettiest drinks you will ever serve.  Trust me. It's such a refreshing summertime or anytime drink for children and adults.
The first time I fixed this for my grandchildren, they were mesmerized by the beautiful color and the refreshing taste.  I served these drinks with appetizers for my daughter's 25th birthday.  You can find the menu and recipes for that party here.
No Tequilla-Just the Sunrise Mocktails
Ingredients
For one drink:
Dash of Grenadine
Ice
1 measure of orange juice (according to the size of glass)
½ measure of pineapple juice
Instructions
Pour a generous dash of Grenadine into the bottom of a tall glass. Fill with ice. Add the orange juice and then the pineapple juice. Add a slice of orange and a cherry for garnish, if desired.
Helpful Hint: Follow the steps exactly and make sure to add the ice after the Grenadine. The ice is what keeps the juices separate and the colors pretty.
The day I photographed this beautiful drink, it was raining cats and dogs outside, so I dashed outside between sprinkles and placed the drink on my pallet potting table and I love the way the photos turned out. If you look close, you can tell the table is wet. No, I didn't step in a poodle. 🙂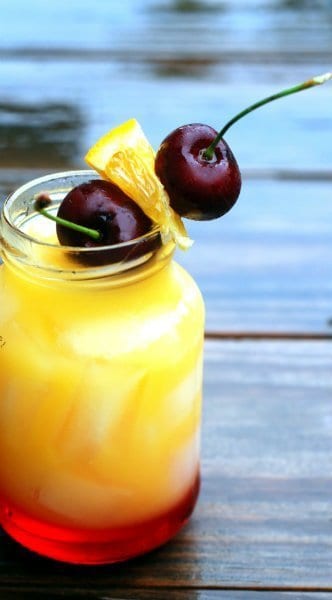 You can find my Best Ever Mocktails for Spring or Summer here!
You're gonna want to try my Tequila Sunrise Mocktails ASAP! What's your favorite mocktail?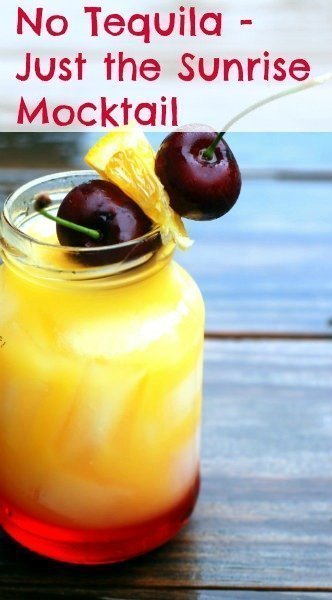 Print Friendly