No-Yeast Buttermilk Doughnuts are light and airy. These delicious, old-fashioned doughnuts are rolled in a cinnamon-sugar mixture and served warm.
You don't need yeast to make these doughnuts. The best part about these homemade doughnuts is that you can mix up the ingredients the night before and store the dough in the fridge overnight since the dough needs to chill before frying.
Ingredients For No-Yeast Buttermilk Doughnuts
self-rising flour
nutmeg
eggs
sugar
buttermilk
vegetable oil
additional oil for frying
cinnamon
How To Fry No-Yeast Buttermilk Doughnuts
I love this recipe because I can put the dough together the night before and let it hang out in the fridge overnight. Plus, you don't need a deep fryer to fry these doughnuts.
A dutch oven or large saucepan works just fine to fry these doughnuts and I always use a candy thermometer to keep the oil at the correct temperature.
I like to use peanut oil for frying because of its high smoke point. You can also use vegetable oil or canola oil.
Heat 2-3 inches of oil in a large, heavy saucepan until the temperature reaches 375º F. Fry the doughnuts for 2-3 minutes per side, turning once.
Drain on a wire rack and toss warm doughnuts in a cinnamon/sugar mixture before serving.
Note: The oil will be hot and it's best to have the dough rolled out before heating the oil. While the oil is heating, cut the doughnuts out.
Use a candy thermometer to ensure the oil stays at 375º F. Don't forget to fry the doughnut holes. I always fry mine at the end.
Note: Never step away from the stove when frying foods.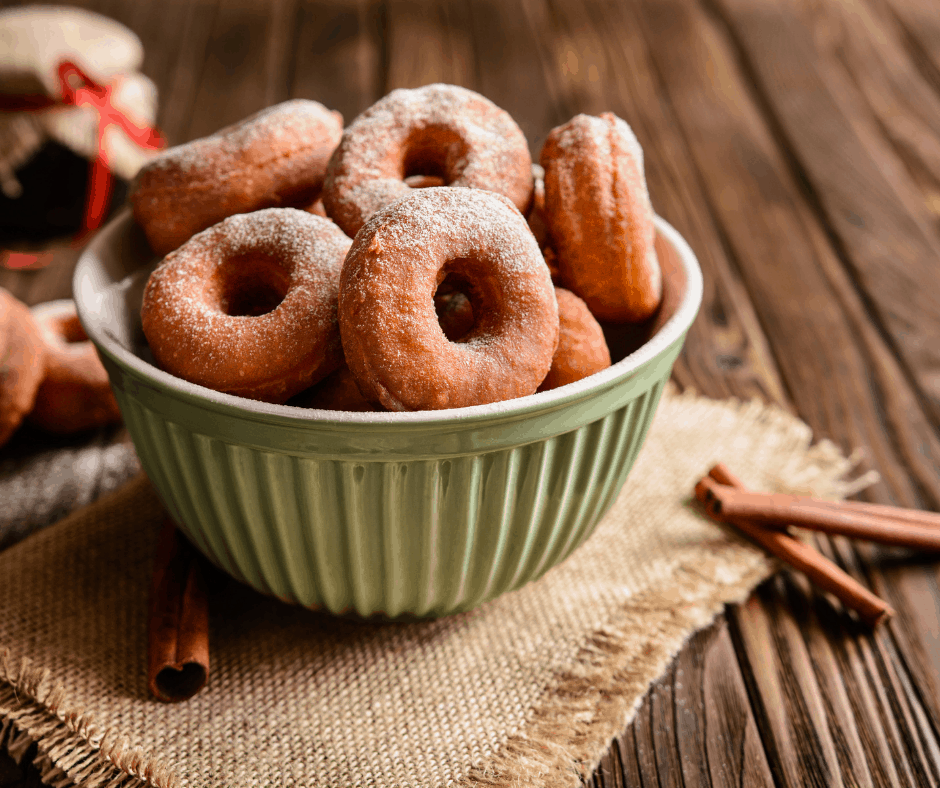 Do You Need A Doughnut Cutter To Make Buttermilk Doughnuts?
If you have a doughnut cutter, pull that bad boy out. I don't own one so I use a 3″ round biscuit/cookie cutter and a 1″ round cutter. I think it would probably be easier to cut them out with a doughnut cutter.
How To Store Homemade Doughnuts
Doughnuts are best eaten as soon as you make them. For real! Or at least the day of. You can store them overnight in a sealed pastry box. Don't store doughnuts in plastic because they will get soggy.
You can freeze cooled doughnuts for several months. Just remember, doughnuts are always best eaten the day you make them.
When I made these this past weekend, my husband and I ate one each and immediately sent them to the grandkids. I can't be trusted around doughnuts.
I received a text from my grandson, Logan, that read: "Krispy Kreme has nothing on you." Awww – I don't know about that but these doughnuts are really good.
Yield: 18 - 20 doughnuts
No-Yeast Buttermilk Doughnuts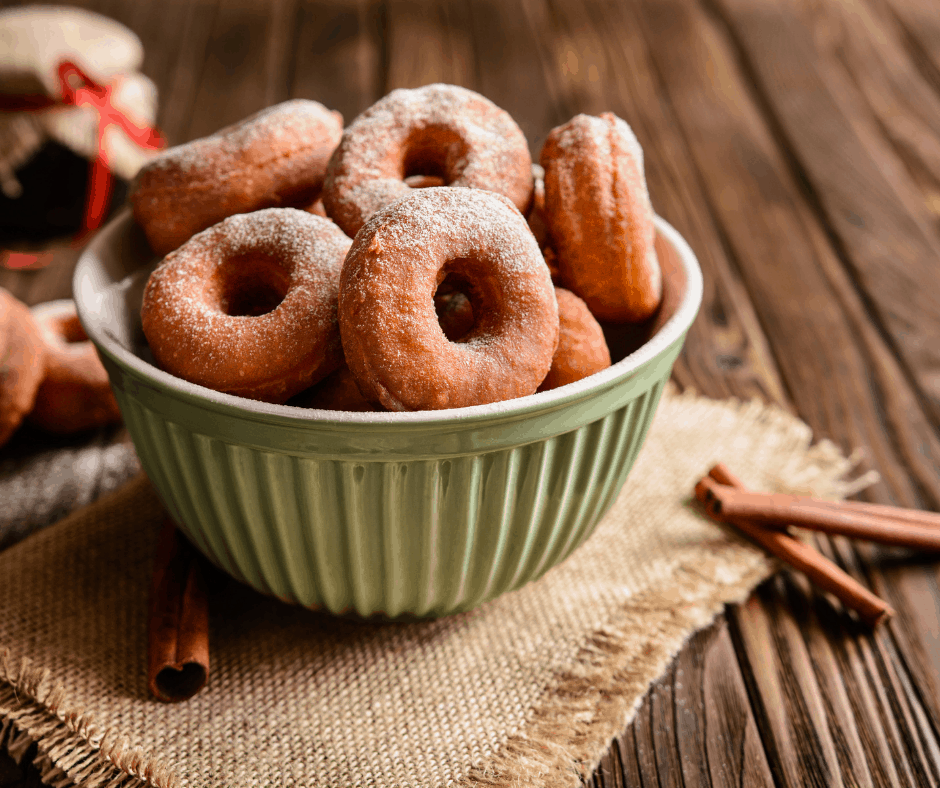 No-Yeast Buttermilk Doughnuts are light and fluffy with a slight crisp. Cinnamon and sugar add even extra flavor to these delicious doughnuts.
Total Time
4 hours
26 minutes
Ingredients
5 cups self-rising flour
1/2 teaspoon nutmeg
3 eggs
1 cup sugar
1 cup buttermilk
3 Tablespoons vegetable oil
1/2 cup sugar
1/2 teaspoon cinnamon
Oil for frying
Instructions
In a large bowl, stir together flour and nutmeg. Set aside.
In a mixer bowl beat eggs until thick and lemon-colored. Gradually beat in one cup of sugar until thick.
In a small bowl, combine buttermilk and 3 Tablespoons vegetable oil. With the mixer on low, add the flour mixture and the buttermilk mixture alternately to the egg mixture until just blended after each addition. Cover and chill dough for four hours or overnight.
Turn chilled dough out onto a well-floured surface and kneed gently for 30 seconds. Roll or pat dough into a rectangle to 1/2 inch thickness.
On a plate, mix together the 1/2 cup sugar and 1/2 teaspoon cinnamon. Set aside. This mixture will be used to coat the doughnuts while they are still warm.
In a large saucepan or dutch oven, heat 2-3 inches of oil to 375º F.
While the oil is heating, cut the doughnuts out using a well-floured doughnut cutter OR a 3" and a 1" cookie cutter. Re-roll the dough scraps and cut out more doughnuts.
Fry doughnuts in batches, for 2-3 minutes per side, turning once. Drain on a wire rack. Toss warm doughnuts in the cinnamon-sugar mixture.
Don't forget to fry the doughnut holes!
Recommended Products
As an Amazon Associate and member of other affiliate programs, I earn from qualifying purchases.
Nutrition Information
Yield
20
Serving Size
1
Amount Per Serving
Calories

203
Total Fat

3g
Saturated Fat

1g
Trans Fat

0g
Unsaturated Fat

2g
Cholesterol

28mg
Sodium

407mg
Carbohydrates

39g
Fiber

1g
Sugar

16g
Protein

4g
You May Also Like These Recipes