This shop has been compensated by Collective Bias, Inc. and its advertiser. All opinions are mine alone. #SweetenTheSpread #CollectiveBias
Are you ready to throw the best Super Bowl party ever? I've got some fun and easy Super Bowl Party Food Ideas, Decor & More that will impress your guests and reduce your stress.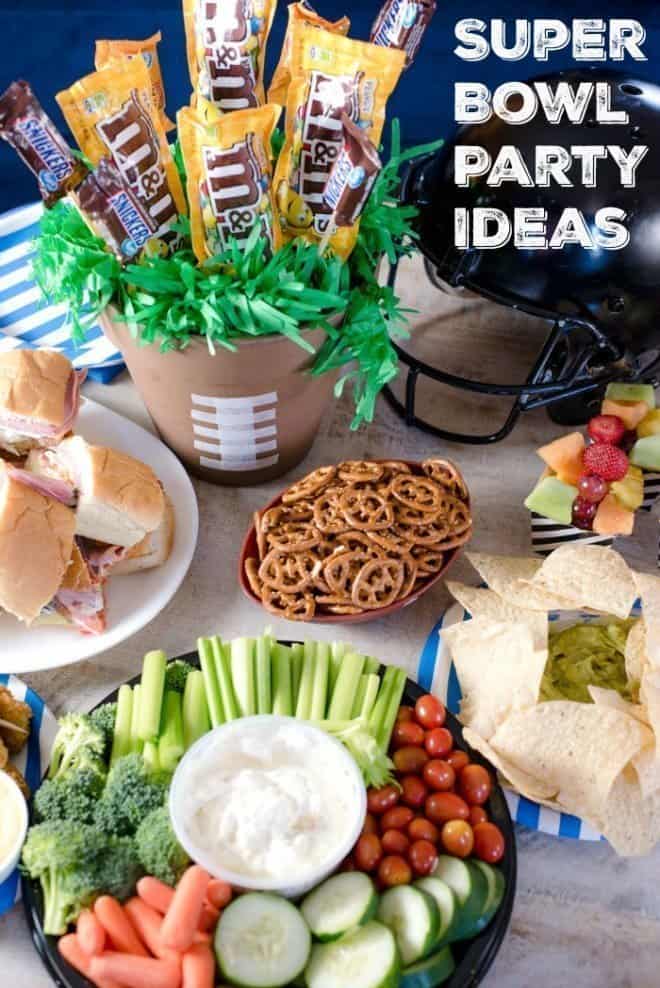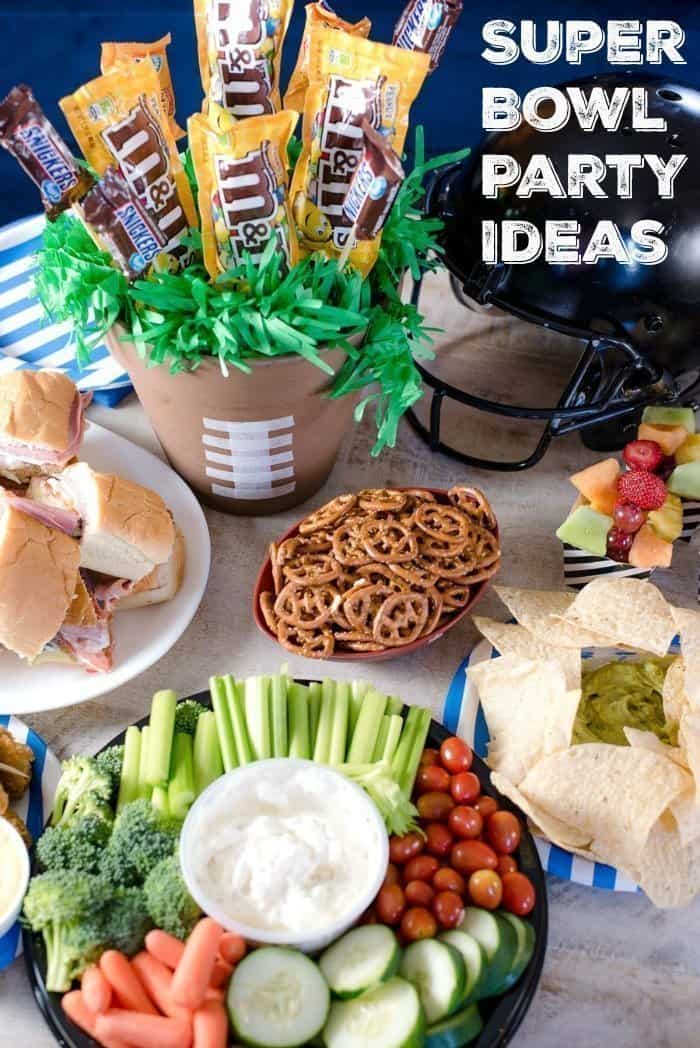 I've got my fingers crossed that my favorite Carolina team will be heading to the big game and I'm throwing a big bash. Of course, I throw a big party every year whether my team makes it or not. The commercials alone keep me glued to the TV screen.
If you've never hosted a Super Bowl Party, have no fear, Alli's here. I've got secrets galore that will have you out of the kitchen and smack dab in the middle of all the halftime festivities including a dabbin' contest (more about that later).
The Decor
Remember, this is not a black tie affair so don't go anywhere near your formal dining room and keep that china you rarely use locked up tight. It's time to pull on your favorite team jersey, jeans or leggings, a warm pair of socks, a low or high ponytail, a little bronzer, lip gloss, mascara and you're ready to party.
Before you head to Target to stock up on party foods and decor, raid your son's bedroom for footballs and/or helmets. You're gonna need them for your decor. (Can you believe my son tried to make me use his shoulder pads for a centerpiece?  I knew then and there that he did not inherit my decor gene.)
Remember, we're not going near that dining room. Think stations. Think within arm's reach. Think coffee table. My coffee table is large and round with a crank that lifts it up or down.  It can go up as high as a regular table and you ought to see how low it can go. For this party, I crank it up a tad.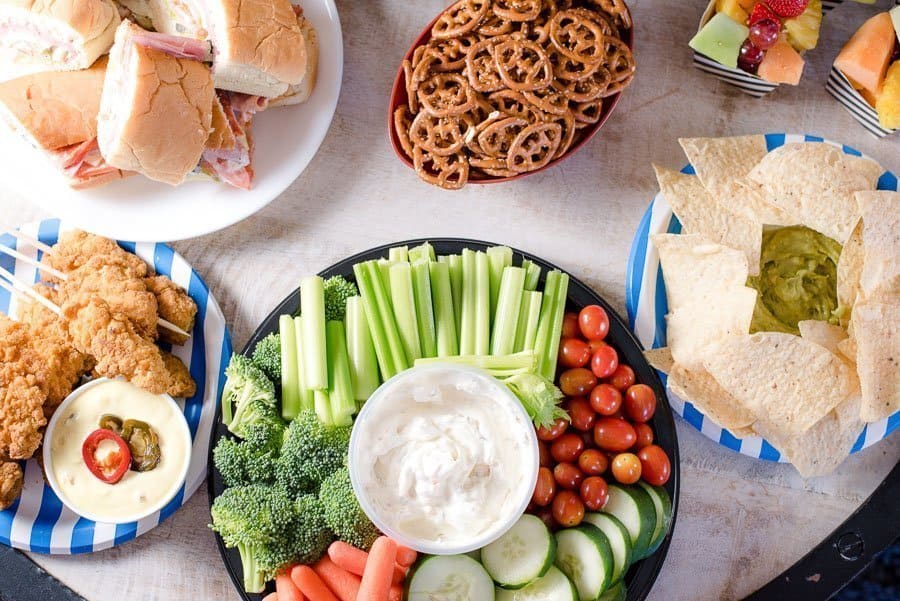 When I was at Target, I stopped by the party supply section and bought crepe paper streamers in my favorite team colors – blue, black & silver. You've got to have lots of color. I even found some crepe paper dots.
Since my dessert station is to the right of the big screen, in front of a window, I decided to hang the streamers from the curtain rod – no tape required. I cut a length of blue and one of black and tied the two together and repeated the pattern all the way across the window (between the open curtains). Then I added a few silver streamers and I was done.
For a centerpiece, I made a candy bouquet. I found a terra cotta pot the same color as a football and added tape to mimic the lacing. I cut a foam plate down to size and inserted it in the top of the pot and covered it with a tissue paper place mat that looks like grass. Wooden skewers from my pantry were used to make the bouquet.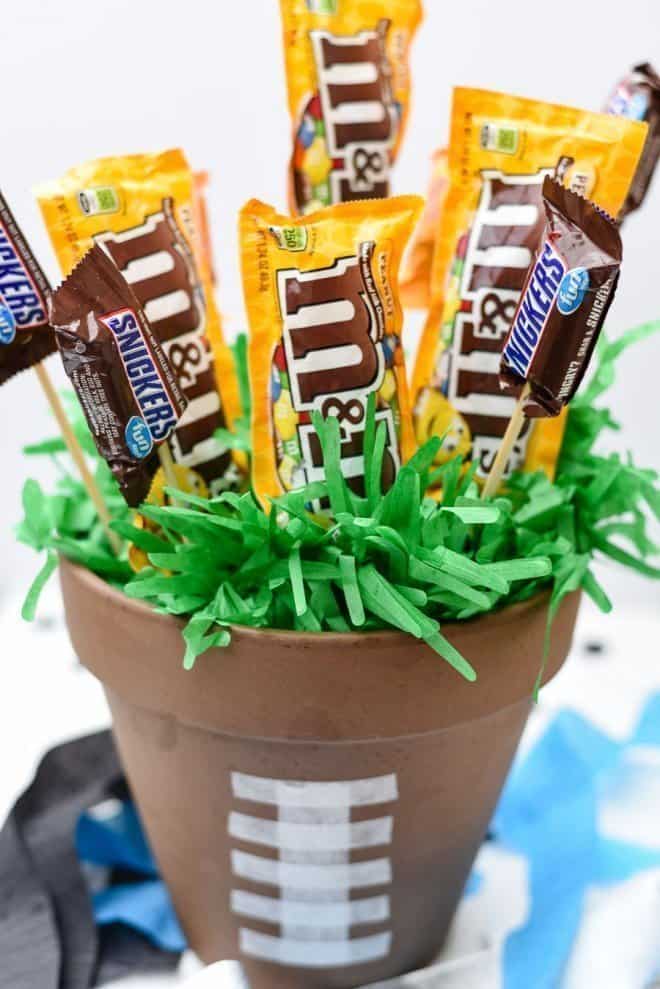 The type candy I used was a no-brainer. All of my childhood friends know that my favorite candy ever is a tie between Snickers and Peanut M&M's. Skittles and Starburst are my son-in-law's fave, so I grabbed a few bags while I was in Target.
Helpful Hint:  Use your Target Cartwheel App from January 17-February 6 to save on Super Snacks including M&M's and Snickers.
Now that we've got our fun and easy decor done without breaking a sweat, let's take a look at my semi-homemade menu:
Everyone loves my Touchdown Snack Mix and it's so easy to make. You'll need honey graham cereal, coarsely chopped pecans, Peanut M&M's, Skittles, Chopped Snickers and pretzel sticks.
After melting the butter in a saucepan, add the brown sugar and bring to a boil on medium heat. Boil for 2 minutes. Pour over the cereal and pecan mixture. Bake the mixture in a 350º oven for 10 minutes. Cool completely and add the other ingredients. This is a big favorite at my house.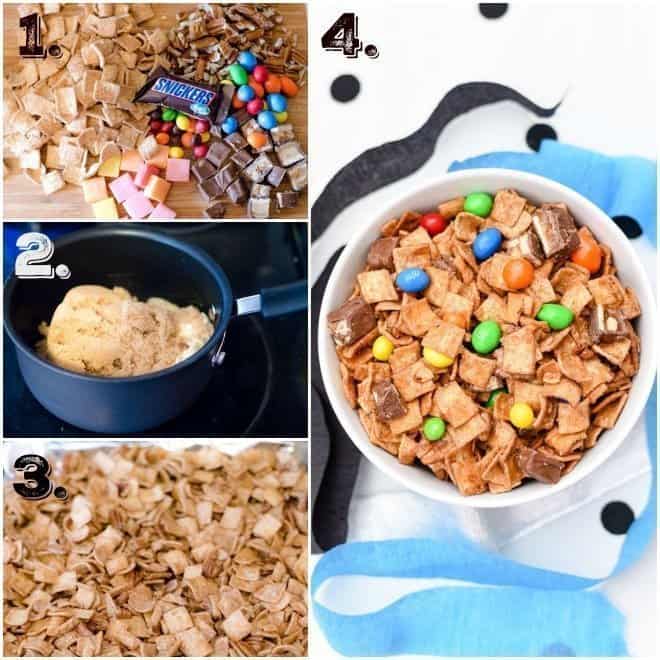 Touchdown Snack Mix
Ingredients
6 cups honey graham cereal
1 cup coarsely chopped pecans
1/2 cup butter
1 cup firmly packed light brown sugar
2 cups pretzel sticks
1 cup Peanut M&M's
1 cup Snickers Fun Size, chopped
1/2 cup Skittles
Instructions
Preheat oven to 350°. Combine cereal and pecans in a large bowl.
Melt butter in a saucepan over medium-low heat; stir in sugar. Bring to a boil over medium heat; boil 2 minutes.
Pour butter mixture over cereal mixture, and stir quickly to coat. Spread in a single layer on a lightly greased aluminum foil-lined jelly-roll pan.
Bake at 350° for 10 minutes. Transfer to wax paper and cool completely (about 10 minutes). Break into pieces and toss with pretzel sticks, Peanut M&M's, Snickers and Skittles.
Store in an airtight container.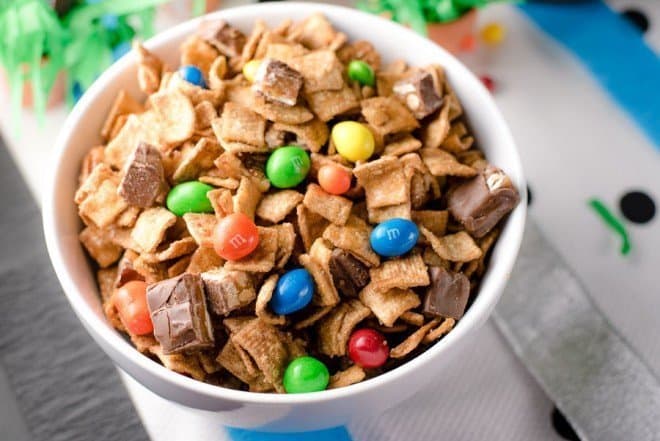 For the cupcake toppers, you'll need pretzel sticks and melted semi-sweet chocolate chips. Make goal posts using the melted chocolate as the "glue" to build the pretzel sticks goal posts.
Add brown Peanut M&M's to represent footballs. M&M's is an Official Sponsor of Super Bowl 50! Little helmets in my team's color finishes these cute toppers.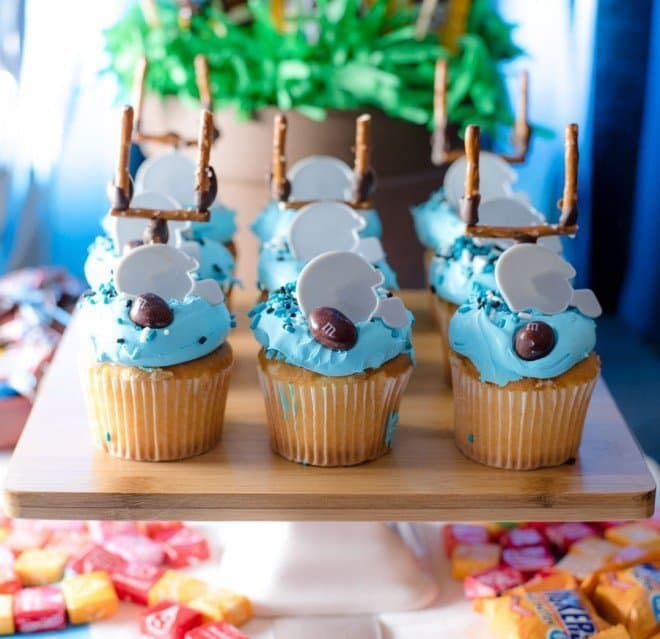 Instead of wings, I'm serving Chicken Tenders on Skewers with Jalapeño Mustard Dip. The dip is easy to whip up. Mix all the ingredients and refrigerate until ready to serve.
Jalapeño Mustard Dip
Ingredients
3/4 cup mayonnaise
1/2 cup prepared mustard
1 Tablespoon diced jalapeños (fresh or from jar)
2 Tablespoons honey
Instructions
Whisk the mayonnaise, mustard and honey together. Stir in the diced jalapeños.

The Fun
We all love the halftime festivities during a Super Bowl party, but you're gonna want to pause the action in order to have a dabbin' contest. Whenever my favorite quarterback scores a touchdown, he does a little end zone dance. You've got to have an end zone dance contest to see who has the moves down. The winner gets a Snickers/M&M's Candy Bouquet and the bragging rights, of course.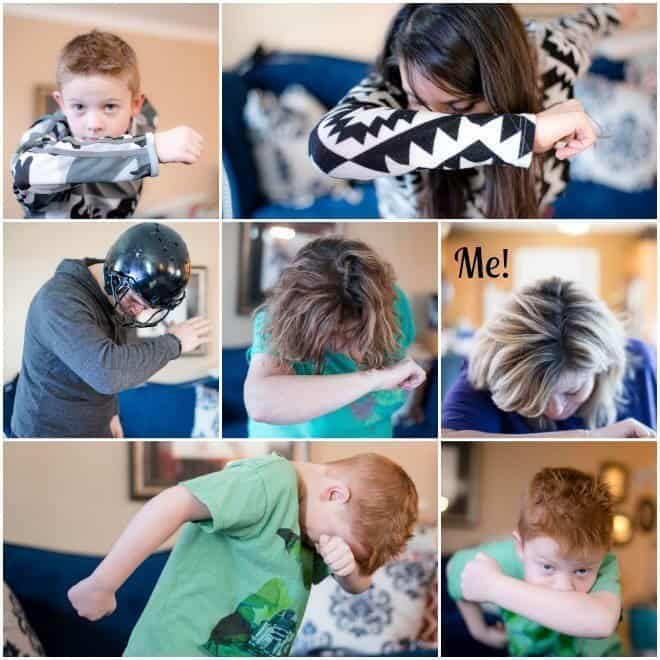 And the winner is . . .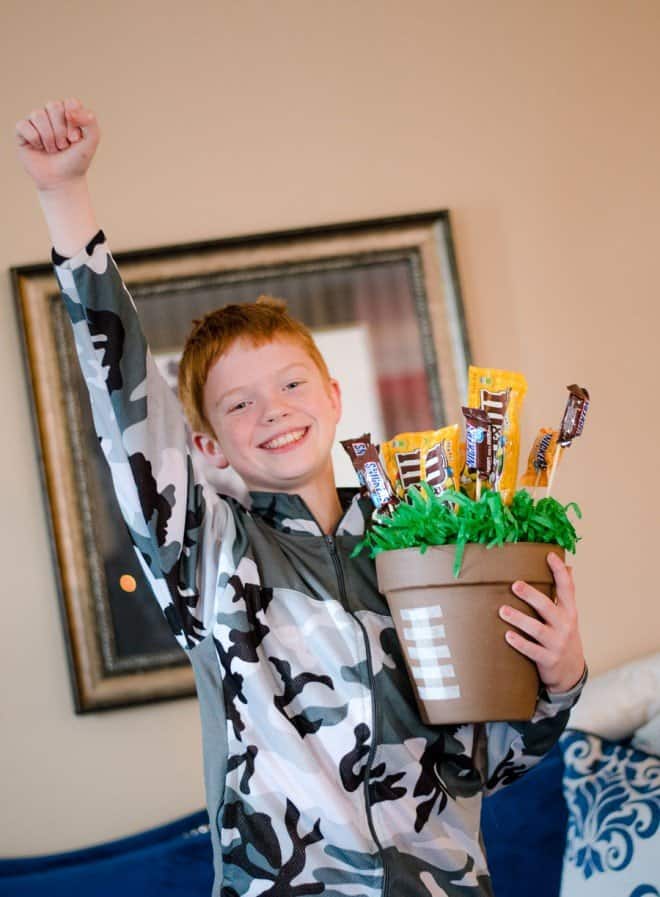 Oh, yeah, everyone at my party gets a mini candy bouquet to take home. Use chalk to draw lacing onto the "football" mini terra cotta pots. Use toothpicks to secure a Fun Sized Snickers.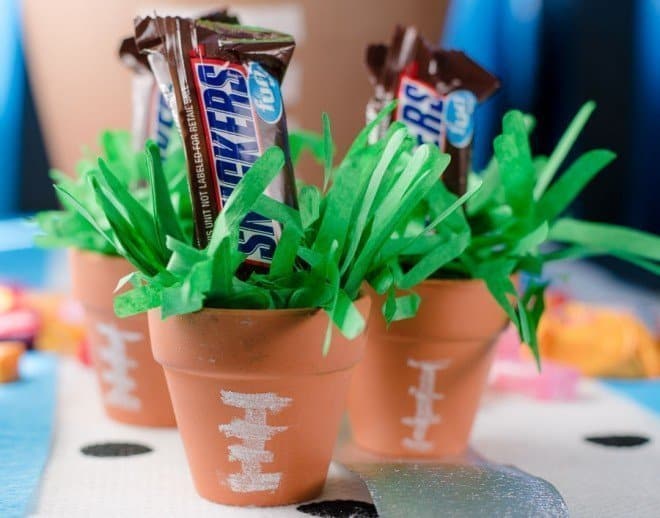 I do hope you try a few of my Super Bowl Party Food Ideas (don't forget the end zone dance!).
How will you sweeten your Super Bowl Party spread? Click here for more ideas!

Print Friendly