This is the best coconut cake! A delicious, tender layer cake is filled and topped with a creamy coconut cream cheese frosting.
My husband is not crazy about most coconut cakes, but he loves this one. It's the frosting that really makes this cake stand out. I ditched the traditional corn-syrup filled white frosting and I think it's a major upgrade.
I love to make a coconut cake for our Easter celebration. Of course, you don't need a special occasion to make this cake. It's a great dessert option at any time of the year.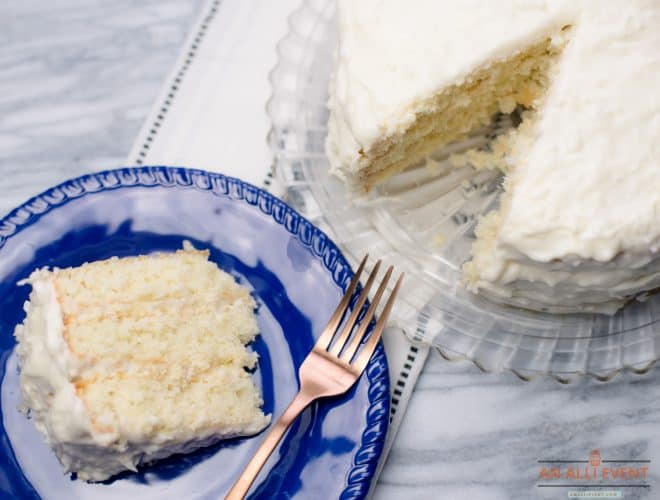 Best Coconut Cake Ingredients
I usually have eggs, baking powder, salt, granulated sugar, etc. on hand. To make this coconut cake, you'll also need the following ingredients:
Cake Flour – Cake flour produces a lighter, softer cake. It's a winner in this recipe.
Shortening – I use shortening instead of butter because shortening yields a higher, lighter cake.
Canned Coconut Milk – Coconut Milk is thicker and creamier than regular milk. Plus, it adds more coconut flavor.
Sweetened Flaked Coconut – It's much easier than buying a coconut and extracting the meat.
Helpful Hint: If you don't have shortening on hand or had rather use softened butter in place of shortening, that's fine. Instead of the 3/4 cup of shortening this recipe calls for, use 3/4 cup + 2 Tablespoons butter.
Coconut Cream Cheese Frosting
For the delicious cream cheese frosting, you'll need:
Cream Cheese
Butter
Unsweetened Coconut Milk
Vanilla Extract
Powdered Sugar
Sweetened Flaked Coconut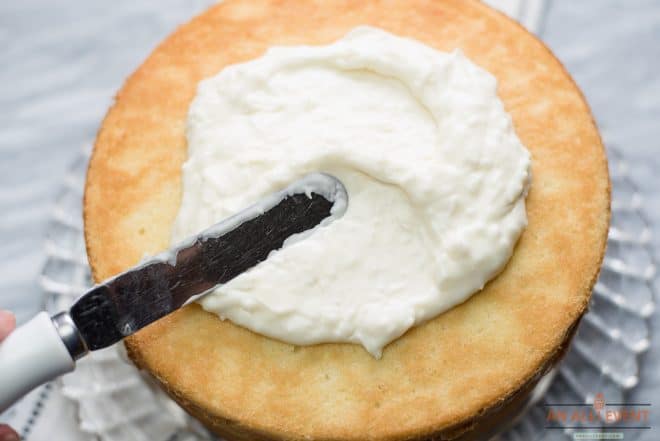 Tips On Making This Coconut Cake
Coconut milk separates at room temperature. The solid white cream rises to the top of the can and the liquid stays at the bottom. Give it a few good stirs before measuring.
Sometimes I sprinkle a little extra – about 1/4 cup – coconut on the top after I refrigerate it for 30 minutes. It's completely optional, but I think it's pretty.
Also, I like to have all the ingredients at room temperature before baking a cake.
Always measure ingredients correctly. When measuring flour, spoon the flour into the measuring cup and level off evenly.
This cake recipe calls for cake flour. Cake flour is finely milled from soft winter wheat and has a lower protein count than all-purpose flour. It produces a cake that is light and tender. And that's exactly what we want!
Helpful Hint: This cake can be made a day ahead and stored in the refrigerator overnight.
More Delicious Cake Recipes
Italian Cream Cake (my husband's all-time favorite cake)
Chocolate Mounds Cake with Coconut Filling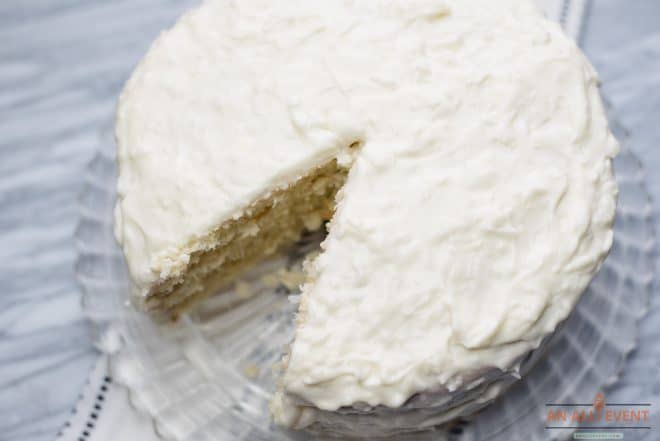 Yield: 16 servings
Coconut Cake With Coconut Cream Cheese Frosting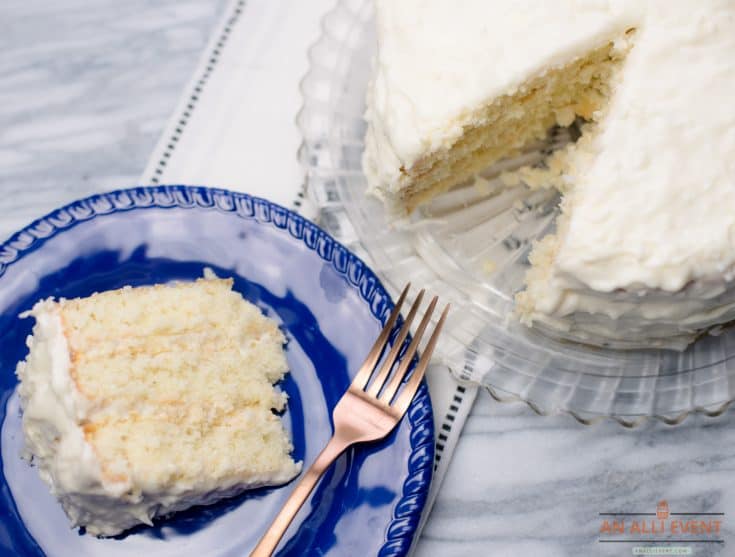 Coconut Cake With Coconut Cream Cheese Frosting is a 3-layer moist cake filled and topped with a delicious frosting.
Total Time
2 hours
45 minutes
Ingredients
2-1/4 cups cake flour
2-1/2 teaspoons baking powder
1 teaspoon salt
1-1/2 cups granulated sugar
3/4 cup shortening
3 eggs
1 cup canned unsweetened coconut milk
1 teaspoon vanilla extract
1 cup sweetened flaked coconut
Frosting
1 package (8 oz.) cream cheese, softened
1/2 cup butter, softened
3 Tablespoons canned coconut milk
1 teaspoon vanilla extract
1 (16 oz.) package powdered sugar
1 cup sweetened flaked coconut
Instructions
Preheat oven to 350º F. Grease three 9-inch cake pans and line with parchment paper. Grease the parchment paper.
In a bowl, whisk the cake flour, baking powder, and salt together. Set aside.
In a large mixing bowl, with mixer at medium-high, beat the shortening and sugar together until smooth, about 2-3 minutes, scraping sides of the bowl as needed.
Add eggs and mix well.
With the mixer speed on low, slowly add the flour mixture and coconut milk alternately, beginning and ending with the flour. Beat on low speed until combined. Stir in the flaked coconut and vanilla extract.
Pour the batter evenly into the cake pans and bake for 20-25 minutes or until a toothpick inserted near the middle of the cake comes out clean.
Let cool on wire racks for 10 minutes. Remove from pans, remove parchment paper, and let cool completely on racks.
To make the frosting, beat cream cheese and butter with an electric mixer on medium speed until smooth and creamy. Add coconut milk and vanilla, beating well. Gradually add sugar, beating until smooth. Stir in flaked coconut.
To frost the cake, place one cake layer on cake plate and frost with 1/3 of the frosting. Repeat with the second layer. Add the third layer and frost top and sides of the cake. Refrigerate for 30 minutes before serving. Store leftovers in the fridge.