Coffee cake is probably my favorite type of cake. The tenderness of the cake and the crunchy streusel on top is the best breakfast, brunch, or dessert. Blueberry Streusel Coffee Cake hits all the notes for the best ever coffee cake.
To me, the perfect breakfast includes a nice cup of decaf (click to read about my coffee experience) and a big chunk of Blueberry Streusel Coffee Cake. Pick some fresh blueberries and make this cake. You'll be glad you did.
Helpful Hint: Planning a summer brunch? Skip the muffins and serve this instead. Your brunch will be the talk of the town!
Health Benefit of Blueberries
When it comes to health benefits, blueberries rule! Blueberries are believed to have the highest antioxidant levels of all fruits and vegetables. Eating blueberries every single day is not a bad idea!
Other benefits of eating blueberries include:
Skin health
Maintaining healthy bones
Protection against heart disease
Improves mental health
Protects against obesity and diabetes
Ways to Incorporate More Blueberries Into Your Diet
My Blueberry Coffee Cake is my favorite way to eat blueberries, but I can't eat cake every day. I wish I could! Here are more ways to add blueberries to your diet.
Fruit Salad
Smoothies
Cereal
Add to yogurt
Of course, eating a handful of blueberries as a snack is the number one way to eat blueberries.
Blueberry Streusel Coffee Cake Ingredients
To make this blueberry streusel coffee cake, you'll need the following ingredients. (The complete recipe is down below)
All-purpose flour
Sugar
Baking powder
Salt
Egg, beaten
Milk
Butter
Fresh (or frozen) blueberries
Chopped pecans
The streusel topping is the reason I love coffee cakes. For the Streusel Topping, you'll need:
Sugar, all-purpose flour, and butter.
Topping the coffee cake with a powdered sugar glaze is optional. Sometimes I add a glaze and top the cake with fresh blueberries.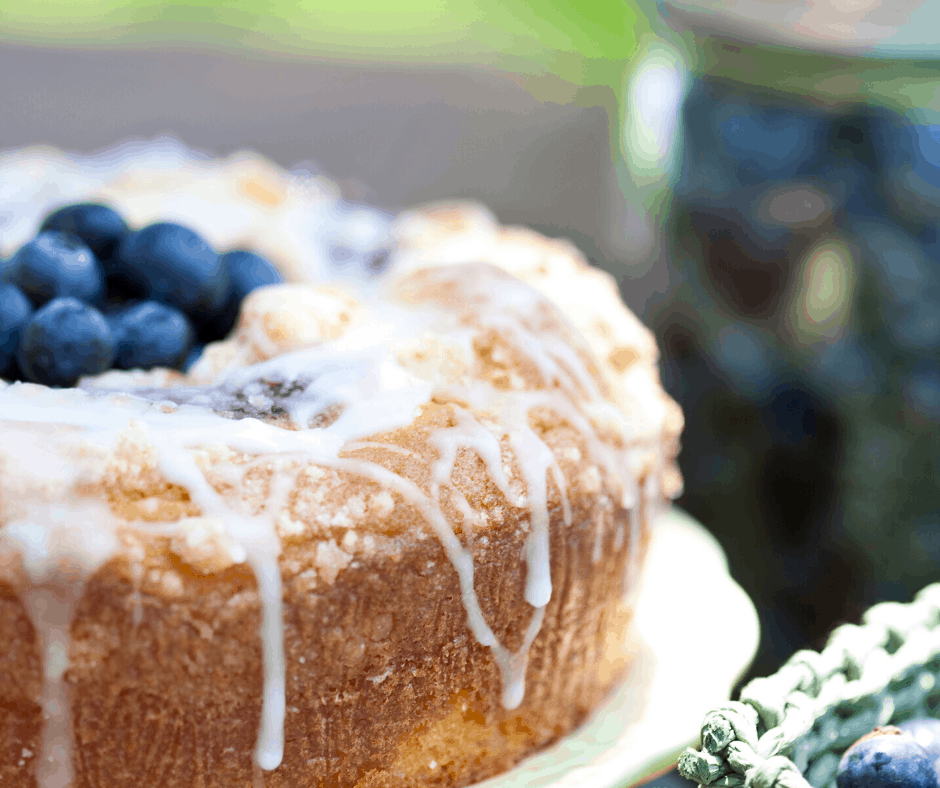 You May Also Like These Recipes:
Yield: 12 servings
Blueberry Streusel Coffee Cake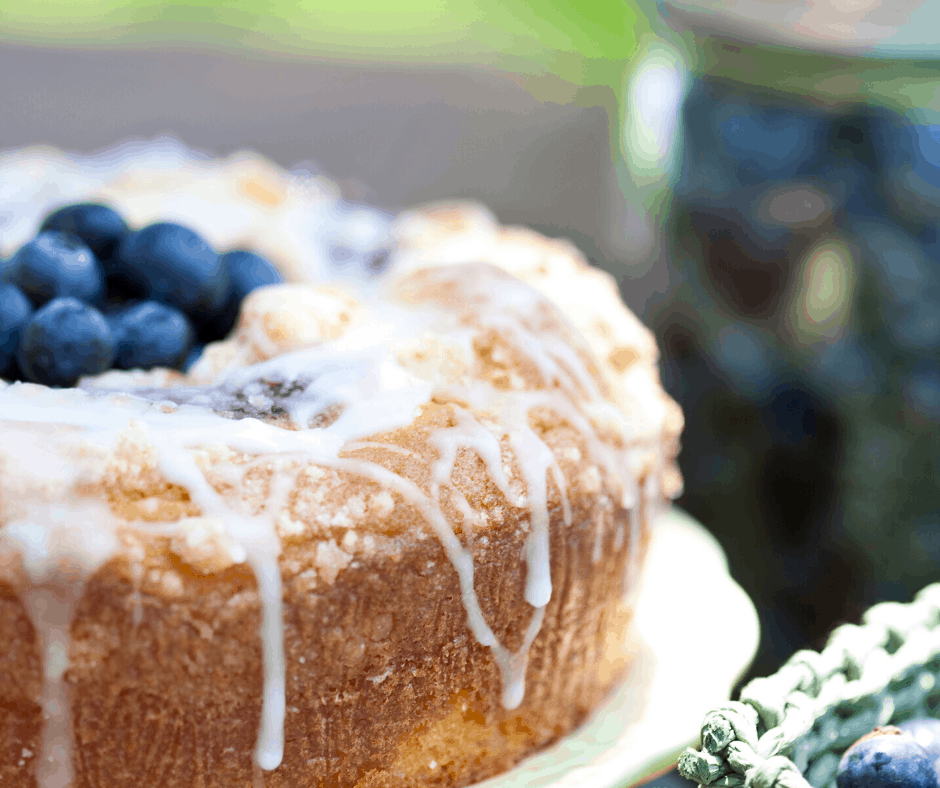 Blueberry Streusel Coffee Cake is a tender cake topped with a crunchy streusel.
Ingredients
2 cups all-purpose flour
3/4 cup sugar
2 tsp. baking powder
1/4 tsp. salt
1 egg, beaten
1/2 cup milk
1/2 cup butter, softened
1 cup fresh (or frozen) blueberries
1 cup chopped pecans
Streusel
1/2 cup sugar
1/3 cup all-purpose flour
1/4 cup cold butter
Glaze (optional)
1-1/2 cups powdered sugar
2-4 Tablespoons milk
Instructions
Preheat oven to 375. In a mixing bowl, combine flour, sugar, baking powder, and salt. Add egg, milk, and butter; beat well. Fold in blueberries and pecans.
Spread into a greased 9" square baking pan. In another bowl, combine sugar and flour; cut in the butter until crumbly. Sprinkle over batter.
Bake for 35-40 minutes or until a wooden pick inserted near the center comes out clean.
To make the glaze, place the powdered sugar in a medium bowl. Slowly stir in the milk, a little at a time, to make a smooth, pourable glaze. Drizzle over coffee cake.
I originally posted this recipe in August of 2013. It was updated in June of 2020.