Caramel Apple Panini is a sandwich made with cinnamon raisin bread, spread with a creamy Greek yogurt (or cream cheese) cinnamon mixture and crisp apple slices before toasting. The panini is drizzled with caramel before serving. Oh, my, I'm in heaven!
I've been trying to lose a few pounds so I've cut way back on some of the foods I love. But sometimes I want something sweet without undoing all of my hard work. What's a girl to do? That's when I make a Caramel Apple Panini.
My caramel apple panini has just the right amount of sweetness without causing me to crave more sweets. It's perfect for breakfast, lunch, or brunch.
I've always loved cinnamon-raisin bread. When you add the creamy Greek yogurt cream cheese and the crisp, tart Granny Smith apples, you've created a masterpiece. Of course, the pièce de résistance is the caramel drizzle.
Fall is the perfect time to enjoy this sandwich (of course you can enjoy it all year long) because it's apple season. I think I'll make these again this coming weekend.
Ingredients for Caramel Apple Panini (complete printable recipe card down below)
Greek yogurt cream cheese (or 1/3 less fat regular cream cheese, softened)
Honey
Ground cinnamon
Cinnamon-raisin bread
Granny Smith apple slices
Water
Individually wrapped caramels
Special Note: I use Thomas' Cinnamon Raisin Swirl Bread when I make Caramel Apple Paninis. This bread has 80 calories a slice. Plus, it's low fat and contains no high fructose corn syrup.
Other Apples That Will Work When Making Caramel Apple Paninis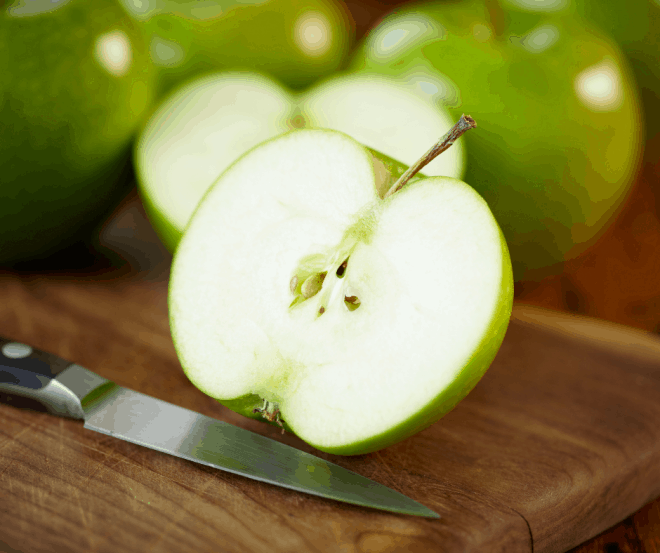 There are other crisp apples that will work well in this recipe. My favorites are Honeycrisp and Granny Smith.
Honeycrisp
Winesap
Pink Lady
Gala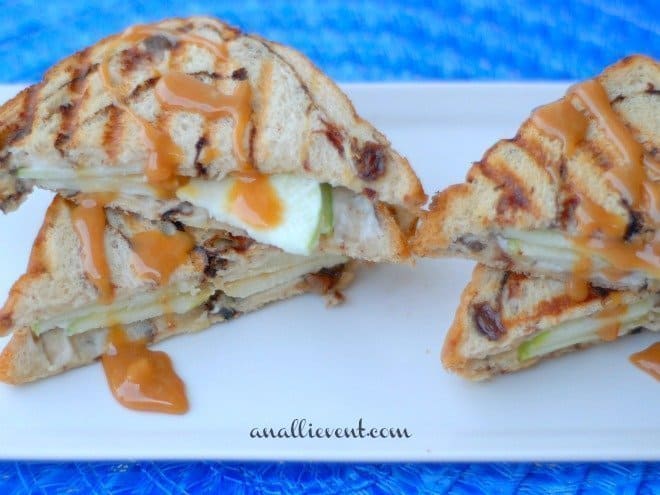 You May Also Like These Recipes!
Yield: 2 Sandwiches
Caramel Apple Panini
Caramel Apple Panini is so delicious and filling.
Ingredients
2 oz. Greek yogurt cream cheese (OR 1/3 less fat regular cream cheese, softened)
1 teaspoon honey
1/8 tsp. ground cinnamon
4 slices cinnamon-raisin bread
4 thin slices Granny Smith apples
1/2 teaspoon water
2 individually wrapped caramels
Instructions
Combine the first 3 ingredients and stir until smooth.
Spread 1 tablespoon Greek yogurt mixture over 1 side of each slice of bread.
Top 2 slices of bread with 2 slices of Granny Smith apples and top with remaining 2 bread slices.
Heat a grill pan over medium heat. Lightly coat with cooking spray.
Add sandwiches to pan and cook for 2-3 minutes per side.
Cut each sandwich into triangles.
Mix caramel and water in a small bowl and microwave on high for 20-30 seconds, stirring after 15 seconds until melted. Stir and drizzle on sandwiches.
This recipe was posted in 2015 and updated in September 2020.