How are you doing on your quest to eat a healthier diet?  I'm actually doing pretty good, thank you.  But sometimes I want something sweet without undoing all of my hard work.  What's a girl to do?
My caramel apple panini is under 200 calories and adds just the right amount of sweetness without causing me to crave more sweets.  It's perfect for breakfast, lunch or a snack.
I've always loved cinnamon-raisin bread.  When you add the creamy Greek yogurt cream cheese and the crisp, tart Granny Smith apples, you've created a masterpiece.  Of course, the pièce de résistance is the caramel drizzle.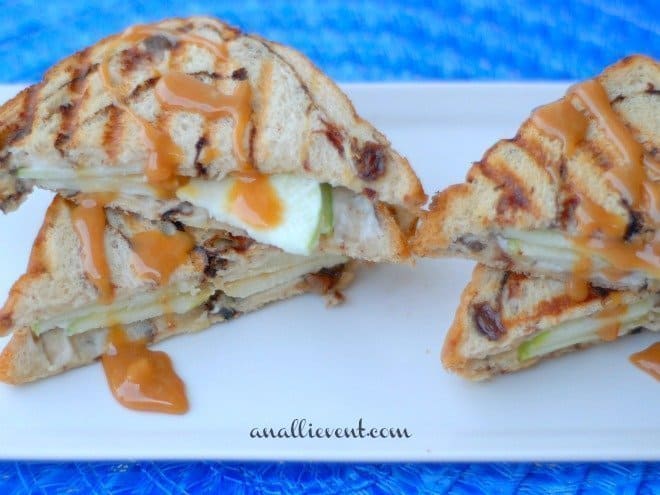 Caramel Apple Panini
Ingredients
2 oz. Greek yogurt cream cheese (or ⅓ less fat regular cream cheese, softened)
1 teaspoon honey
⅛ tsp. ground cinnamon
4 slices cinnamon-raisin bread
4 thin slices Granny Smith apples
Caramel Sauce
½ teaspoon water
2 individually wrapped caramels
Instructions
Combine the first 3 ingredients and stir until smooth.
Spread 1 tablespoon Greek yogurt mixture over 1 side of each slice of bread.
Top 2 slices of bread with 2 slices of Granny Smith apples and remaining 2 bread slices.
Heat a grill pan over medium heat. Lightly coat with cooking spray.
Add sandwiches to pan and cook for 2-3 minutes per side.
Cut each sandwich into triangles.
Mix caramel and water in a small bowl and microwave on high for 20-30 seconds, stirring after 15 seconds until melted. Stir and drizzle on sandwiches.

Print Friendly