This post is part of a social shopper marketing insight campaign with Pollinate Media Group®, Sara Lee®, and Hershey's® but all my opinions are my own. #pmedia #SweetTreatDessert http://my-disclosur.es/OBsstV
I created the best dessert this past Sunday! It only took a few minutes to put together and I've got to tell you all about it!  But first, let me back up a bit . . .
Sundays are always reserved for family dinners.  This is the day when the entire family comes over for lunch (we call it Sunday Dinner here in the south).  There's 15 of us now, including kids, sons-in-law, grandkids and 2 fiancés.  (Yes, we're having 2 weddings next year!)  Be still my event-planning heart!
Whew, 15's a crowd!  And I cook for the entire bunch.  While we eat, we catch up on each other's week, talk over each other, interrupt each other with wild bursts of laughter and enjoy each other's company.
As soon as the family comes rushing in for Sunday dinner, the first question is always, "What's for dessert?" And because I don't have a whole lot of time (nor inclination) to spend thinking about, planning or making Sunday dessert, I've created a Chocolate & Strawberry Cheesecake Parfait. And it only took a few minutes.  Here's what I did:
While I was shopping in Publix, I stopped by the frozen dessert aisle to pick up a Sara Lee® French Strawberry Cheesecake, then I grabbed a big bottle of FREE Hershey's® Syrup (it's in the syrup aisle).
Receive a FREE 17-24oz Hershey's® Syrup when you buy any ONE (1) Sara Lee® Frozen Dessert item now thru 10/09/15 while supplies last! 
I let the Sara Lee® frozen pie thaw just a tad – about 5 minutes – and used a cookie scoop to layer the pie into small mason jars.  I made sure I went all the way down and included the crust with each scoop.  I'm all about that crust!
After adding a scoop of cheesecake, I added whipped cream and a layer of chocolate sauce.
I kept layering until the jar was full.  Then I topped it all with whipped cream.  A big, fat juicy strawberry was added to the side of the jar by slicing a small indention in the side of the strawberry.  It adds color and lets your guest know that they are about to enter strawberry heaven!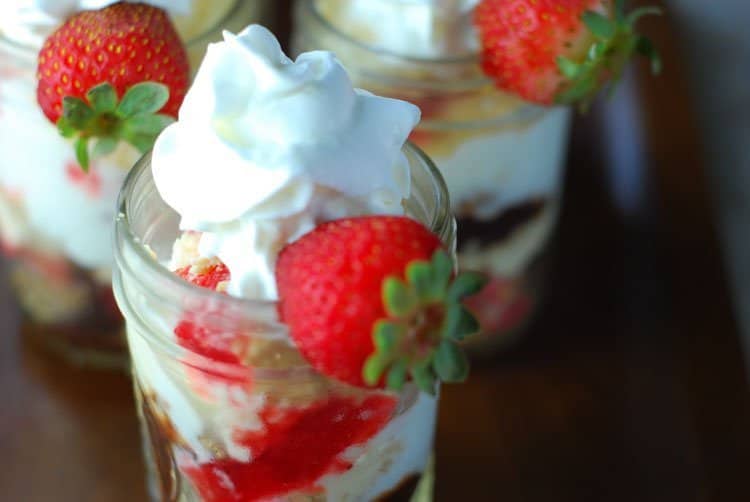 Right before serving, add another drizzle of Hershey's chocolate sauce.
Chocolate & Strawberry Cheesecake Parfait
Ingredients
1 Sara Lee® French Strawberry Cheesecake
1 bottle Hershey's® Chocolate Syrup
Whipped Cream
Instructions
Let the Sara Lee Strawberry Cheesecake thaw for about 5 minutes.
Using a cookie scoop, scoop out rounded scoops of cheesecake and place in small mason jars.
Drizzle a layer of Hershey's chocolate syrup and a scoop of whipped cream.
Continue layering until mason jars are full.
Top with additional whipped cream and drizzle with Hershey's syrup.

My Chocolate & Strawberry Cheesecake Parfait was a huge success!  The next time you need a delicious, easy dessert, you'll want to make this – I promise. Visit their websites to get more great dessert ideas from Sara Lee® and Hershey's®.
How often do you host big family dinners?  What's your favorite Sara Lee/Hershey's combination?