Cookie Exchange Party & Dairy Free Punch has been compensated by Collective Bias, Inc. and its advertiser. All opinions are mine alone. #DairyFree4All #CollectiveBias
Come on in! I'm getting ready to host a cookie exchange party for a few of my closest girlfriends.
No, you don't have to bake dozens of cookies.  Who has time for that?  At my party, you only bring 2 dozen – one dozen is for sharing at the party and everyone will get to leave with an assortment of all the cookies.  Now that's something everyone can handle.
Helpful Hint: If you're not a baker, grab 2 dozen delicious cookies from the bakery, put them in a pretty cookie tin from Walmart and bring them with you.  I'll never tell!
I'd love to have you all over for my Cookie Exchange Party, but since some of you live miles away, I'm going to give you some easy tips to host one for your closest friends.
Free Printable Invites
Let's start with the invites. There's no need to buy them.  I've already created some and you're welcome to use them, too.  You can print as many as you need by clicking the invitation below.
Once you've printed out the above invitations, hand them out to your nearest and dearest, or use snail mail.  I don't know about you, but I find it refreshing to actually receive an invitation the old school way.
Cookie Exchange Party
A cookie exchange party is one of the easiest parties to host.  Once your party rolls around, your house is already decked out for the holidays, so you only have to supply your cookies for the exchange and a beverage.
Non-Dairy Coconut Vanilla Bean Chocolate Punch
Speaking of beverages, have I got a treat for you!  Let's take a quick, little detour from party planning.  I promise I'll get back to it soon.  My non-dairy Coconut Vanilla Bean Chocolate Punch is simply irresistible.  When I gave my husband a cup of punch to try, he said, "What's in this stuff?  It's delicious!"
The key ingredient in my holiday punch is So Delicious Dairy Free® Frozen Dessert.  I used the Coconut Vanilla Bean and the Coconut Milk Chocolate varieties. It was a hard decision because they also have Cashew Salted Caramel Cluster, Cashew Dark Chocolate Truffle, Coconut Milk Almond Bar, Almond Mocha Almond Fudge Bar, and Almond Milk Mocha Almond Fudge.  Yum!
I don't drink dairy at all, so these frozen treats are perfect for me. I like the fact that they are gluten free, egg free and have no artificial colors, flavors or preservatives.  But, honestly, the taste won me over!
Make the Base of the Punch The Night Before
I usually make the base of the punch the night before. As long as you make it 3-4 hours in advance, you're good to go. After bringing three cups water to a boil, add 1/4 cup chocolate drink mix, 1/4 cup sugar, and 2 tablespoons coffee.  Stir well and refrigerate for 3-4 hours.
Right before the punch is ready to serve, stir again and pour into a punch bowl.  Add scoops of So Delicious Dairy Free® Vanilla Bean & Chocolate frozen treats.
The coconut milk adds a very subtle taste of coconut and it blends so well with the chocolate and vanilla. Here's what the punch looks like before you add the scoops of vanilla bean and chocolate frozen treats.
This is one punch you'll want to add to all your holiday parties.  (I'll also serve it with cinnamon rolls for breakfast on Christmas Day.)
Coconut Milk Vanilla Bean & Chocolate Punch
Ingredients
3 cups water
1/4 cup instant chocolate drink mix
1/4 cup sugar
2 Tablespoons instant decaf coffee
2 pints So Delicious Dairy Free® Coconut Milk Chocolate Frozen Treats
2 pints So Delicious Dairy Free® Coconut Milk Vanilla Bean Frozen Treats
Instructions
Bring water to a boil. Remove from heat and add chocolate drink mix, sugar and decaf coffee. Mix well. Let cool to room temperature and place in the fridge for 3-4 hours or overnight.
About 15 minutes before serving, remove the punch mixture from the fridge. Stir well and pour into punch bowl. Add scoops of So Delicious Dairy Free® Frozen Treats.
Stir gently and serve!
Decor
Now that we've got the punch covered, let's get back to the decor.  I started with a plaid runner that I'm reusing from last year.  Believe me, no one will remember.  And I bought plates and napkins while I was in Walmart purchasing my punch ingredients.
Epsom Salt is Perfect for Faux Snow
Have you guessed my theme yet?  We seldom get snow here in the south around Christmas time, so I thought I'd go with a snow theme and decorate with my favorite (and cheap) faux snow – Epsom salt.  I've tried them all through the years and Epsom salt is the best faux snow around.
Easy DIY Centerpiece
All you need is a vase with a large opening or a trifle dish.  Add Epsom salt and your favorite Christmas ornaments.  Then add some mini trees.  That's it.  I added a couple of snowmen and bam – the perfect snowy centerpiece is born.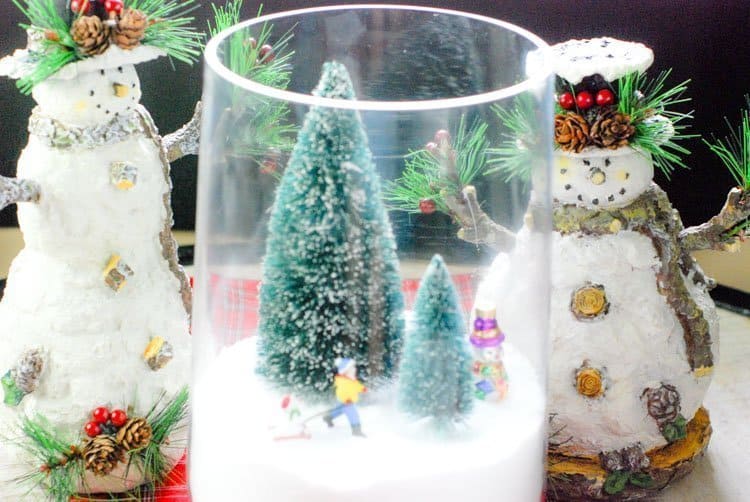 As the guests arrive, place their goodies on the table and it will be full of delectable cookies before you know it.
Here's a view from the top!
Free Printable Voting Cards
As you and your guests sample the cookies, it's time to take a vote.  Here's a free printable to hand out so everyone can discreetly vote on their favorites.  Click the photo below to print the voting cards.
I'm so glad you stopped by my Cookie Exchange party.  It's one of the easiest holiday parties you'll ever host.
Don't forget to stop by the frozen dessert aisle at Walmart for the So Delicious Dairy Free® frozen treats so you can make my punch for your party.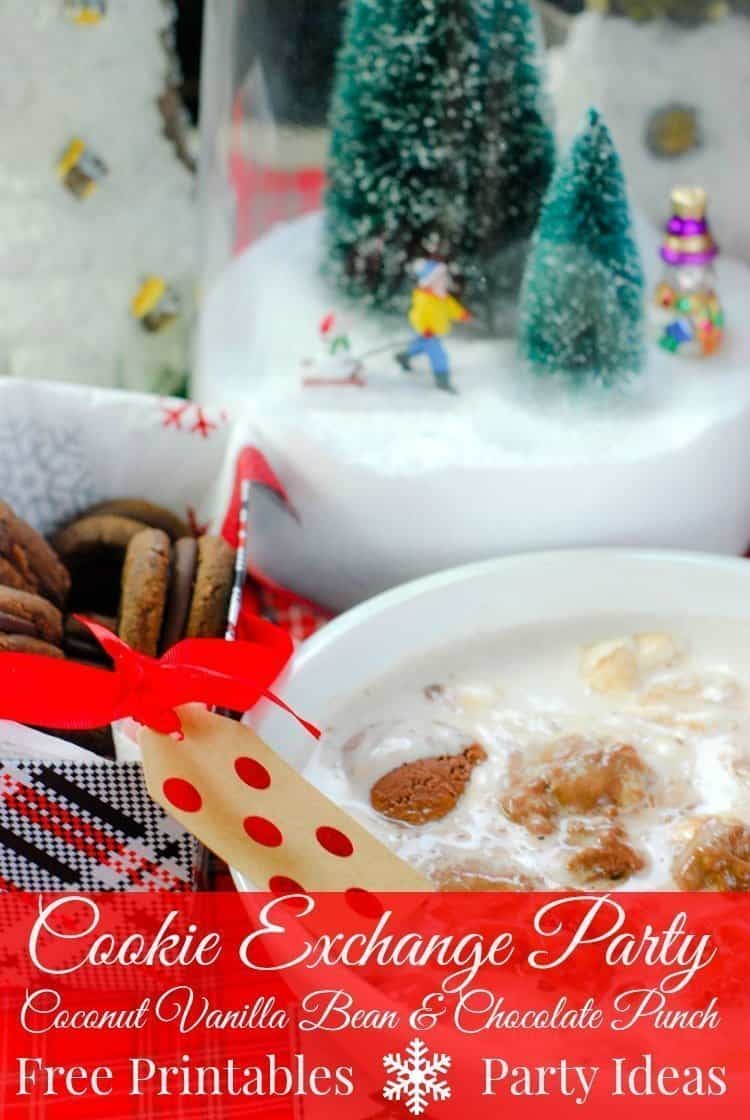 Which is your favorite So-Delicious Dairy Free frozen treat?
If you're planning a cookie exchange party, click my affiliate link below to find some great items you will need for baking cookies. If you purchase an item, I may get a small commission with no extra cost to you.


Check Out My Cookie Recipes
Chocolate Chip Cookies Filled With Chocolate Ganache
Milk Chocolate Toffee Butter Cookies
Shortbread Chocolate Chip Cookies