I've never really cared for bread pudding.  I think it's because some of them have a real eggy (made up word alert) taste and I don't like or eat eggs unless they are hidden so well that I can't find or taste them.
When I came across a recipe for cornbread pudding with whiskey caramel in Southern Living, I was intrigued to say the least.  After reading the recipe a couple of times, I decided on the spur of the moment that I would recreate it my way.
First of all, I didn't want to call my daughter and ask her to make another liquor store run since I don't drink and I didn't have any whiskey lying around waiting to be used in the caramel sauce.  Secondly, their caramel sauce looked way complicated and I have my own caramel sauce that takes mere minutes and is a no-fail recipe.  Thirdly, I did have some rum left over from a rum cake I made for my son's birthday last year.  So I did a complete remix!
This is, by far, the best bread pudding I've ever eaten.  It's crunchy, tender, slightly sweet and then the rum infused caramel kicks in and it's just over the top good!  I made it with my Aunt Jean's cornbread sticks!  You can find the recipe here!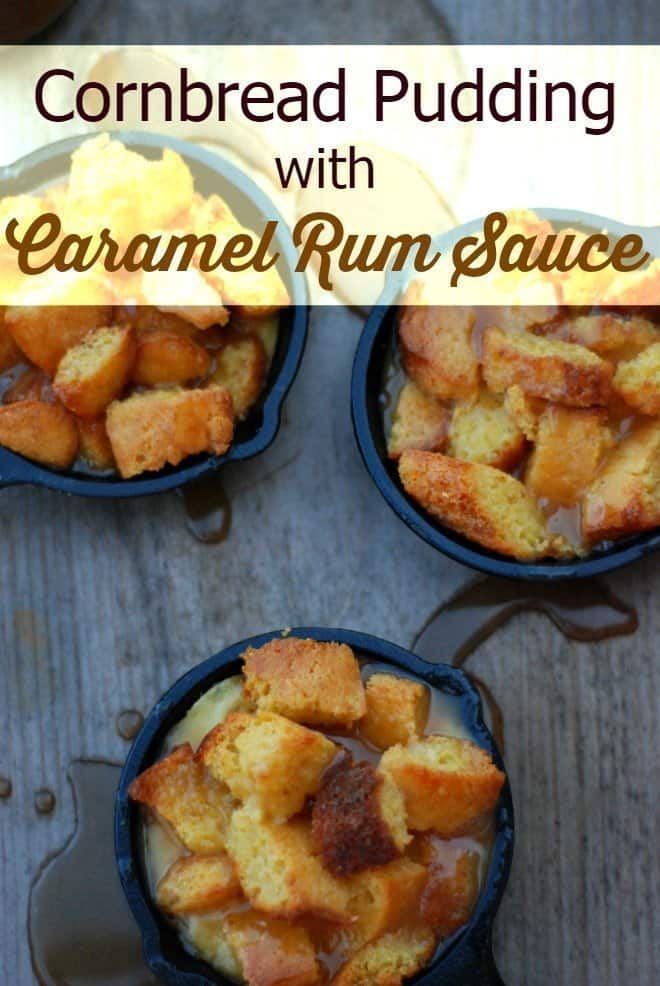 Cornbread Pudding with Caramel Rum Sauce
Ingredients
10 cups precooked cornbread (see my recipe for Cornbread Sticks)
1/2 cup butter
2 cups buttermilk
1 cup sugar
1 Tablespoon pure vanilla extract
1 tsp. salt
4 eggs
Instructions
Preheat oven to 350 degrees.
Lightly spray 8 (8 oz) ramekin cups with cooking spray and place ramekins on a baking sheet.
Cut cornbread into 2-3" pieces and place in ramekins.
Cook butter in a 2 quart saucepan over medium heat, stirring constantly, until butter turns golden brown.
Remove butter from heat and whisk in buttermilk, sugar, vanilla and salt. Whisk in eggs.
Pour mixture evenly over cornbread. Let stand 5 minutes.
Bake, covered, for 25 minutes. Uncover and bake 10-15 minutes or until light brown and set.
Cool for a few minutes on wire rack before serving. Serve warm with caramel rum sauce.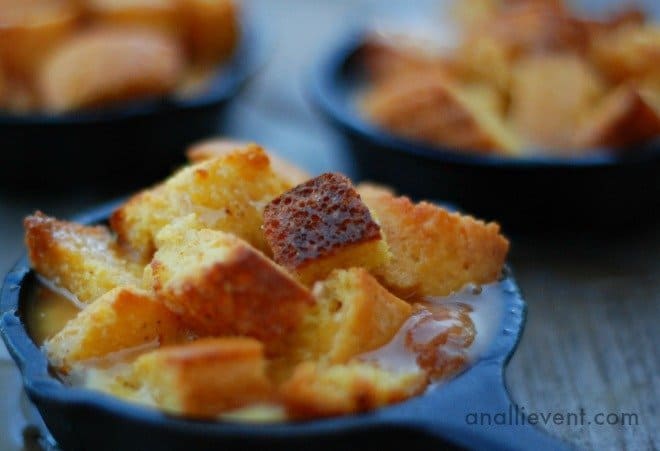 Helpful Hint:   You can find my easy caramel sauce here!  Just add 2 tablespoons rum when you add the pure vanilla extract, after you remove it from the stove.  You can find my homemade vanilla extract here!
Have you ever had cornbread pudding?  Believe me, you've got to try it!

Print Friendly