I was recently searching Pinterest for another fall DIY project.  It had to be quick, easy and cheap.  And that's when I happened upon a gazillion pins for canning jar band/rings pumpkins.  This easy DIY pumpkin is super cute and really simple.  I didn't have to look at a tutorial at all.  I like simple.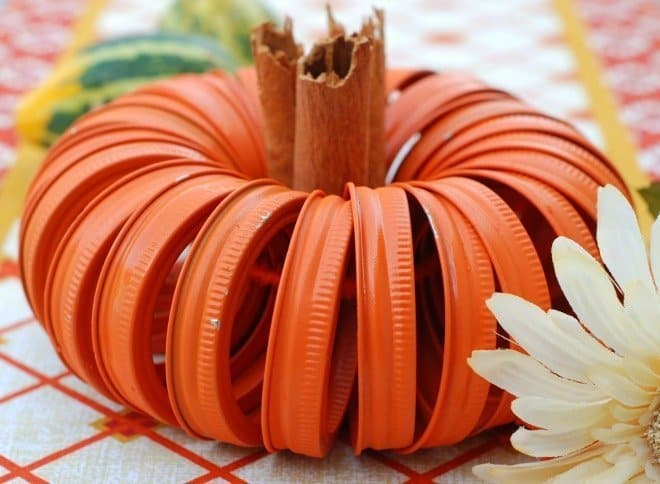 Here's what you'll need:
20 canning jar bands (I didn't have any hanging out at my house so I bought new ones)
spray paint (2 cans)
cinnamon sticks
yarn or twine (I didn't have orange yarn, so I spray painted a length of white yarn.  It worked!)
Helpful Hint:  I always buy an extra can of spray paint. Nine times out of ten, I end up using it.
I used traditional orange spray paint for my pumpkin because I was in a hurry to get this done before going out of town, but let your imagination run wild with this project.  I think white with black polka dots would be pretty.  Or all black.  Pinterest has a ton of ideas!  I even saw a white one covered with strips of book print.  Beautiful!
Side Note:  Max (the dog) grabbed a couple of my canning jar bands before they were dry.  Did you notice his teeth marks?  He's on a waiting list (???) for obedience school, but that's another story for another day.
Obviously, the spray painting takes a few coats and it's best to let it dry overnight.  I spray painted late in the afternoon and put the easy DIY pumpkin together the next morning.  It took about 5 minutes top to string it up and add the cinnamon sticks.
Make sure the bands are all facing the same direction.  Run the yarn through the bands and tie.  Space the bands so that it looks like a pumpkin.  Add the cinnamon sticks to the middle. Done!
This pumpkin was a big hit at my house and so ridiculously easy!   I'll probably be making more pumpkins in different color schemes.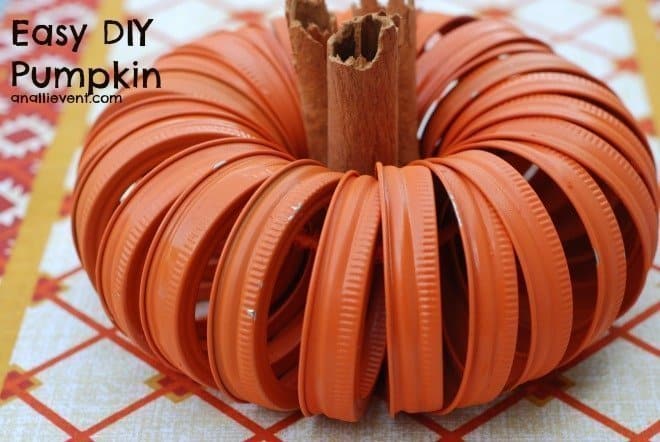 I've got an easy, cheap recycle project for next week's hit or miss.  You don't want to miss it! Have you tried any new projects lately?

Print Friendly