Lemon Cupcakes are tender, slightly tart, and a whole lot delicious. The lemon buttercream frosting is creamy and is the perfect topping for these cupcakes.
I'm linking to a couple of items I use to frost the cupcakes down below. As an Amazon Associate, I earn from qualifying purchases.
I love all things citrus. Lately, I've baked lemon bread and key lime loaf. The grandkids love citrus flavored desserts just as much as I do.
I always make a dessert or two for our Sunday family dinners. These lemon cupcakes are popular because they taste so good. Plus, it's easy for me. I don't have to slice, plate, etc. I just pass these babies out.
Note: This recipe makes approximately 12 cupcakes. I always have a little batter leftover. If you're a lick-the-bowl type of person, you're in for a treat.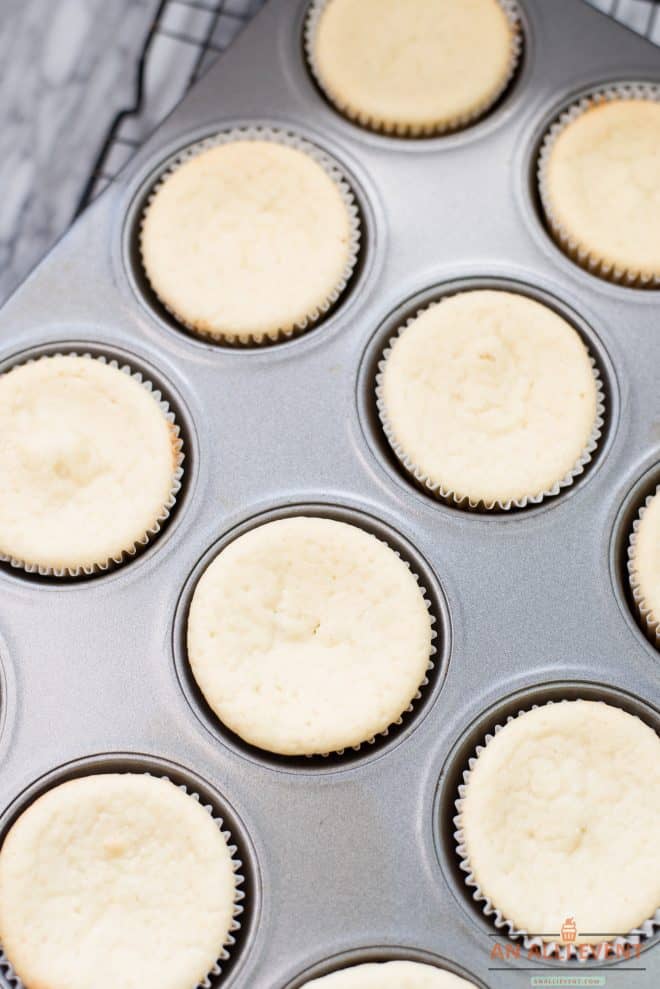 If you're planning a picnic or barbeque, cupcakes are the way to go and these lemon cupcakes won't disappoint.
Ingredients for Lemon Cupcakes
Sour cream is my secret ingredient in these lemon cupcakes. Sour cream gives more flavor and moisture to cupcakes and I do love a tender cupcake.
For this recipe, you'll need:
Granulated sugar
Unsalted butter, softened
Large eggs
Vanilla extract
All-purpose flour
Baking powder
Baking soda
Lemon zest (from 2 medium lemons)
Sour cream
Lemon juice
Milk
Lemon juice, lemon zest, and powdered sugar for the frosting
To frost these cupcakes with a buttercream swirl, I used a pastry bag with a Wilton 2D Large Drop Flower Piping Tip. When frosting cupcakes, remember to keep the pastry bag straight up. I start in the middle and work my way out and then back in.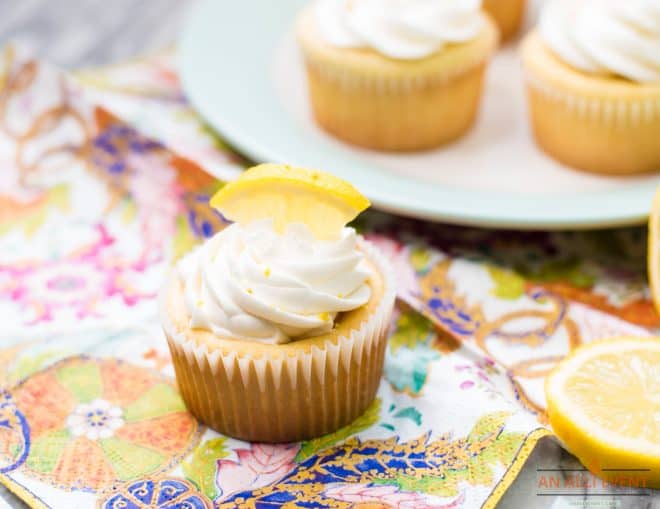 Tips for Making Great Cupcakes
Always use quality ingredients.
Bring eggs and butter to room temperature.
Don't overmix the batter.
Divide the cupcake batter evenly between the muffin tins. (I use this cookie dough scoop.)
Preheat the oven.
Don't let the cupcakes stay in the tins to cool. Let them cool for 5 minutes in the pan and then transfer to a wire rack to cool completely.
You May Also Like These Recipes
Yield: 12 cupcakes
Lemon Cupcakes With Lemon Buttercream Frosting
Lemon Cupcakes are tender, moist, and bursting with lemon flavor. I top these with a lemon buttercream frosting.
Total Time
1 hour
35 minutes
Ingredients
1 cup granulated sugar
1/2 cup unsalted butter, softened
2 large eggs
1 teaspoon vanilla extract
1-1/2 cups all-purpose flour
1-1/2 teaspoons baking powder
1/4 teaspoon baking soda
2 Tablespoons lemon zest (from 2 medium lemons)
1/2 cup sour cream
1/4 cup lemon juice
1/4 cup milk
Frosting
1/2 cup butter, softened
2 Tablespoons lemon juice
1 teaspoon lemon zest
3 cups powdered sugar
Instructions
Preheat oven to 350º F. Line 12-cup muffin tin with paper liners.
Using a stand or hand-held mixer, beat the sugar and butter on medium speed until light and fluffy. Add eggs and vanilla and beat until combined, about two minutes.
In a medium bowl, combine the flour, baking powder, baking soda, and salt. Slowly add to the egg mixture, beating on low speed.
Beat in the lemon zest, sour cream, lemon juice, and milk on low speed just until combined.
Spoon batter evenly into cupcake liners, filling about 2/3 full. Bake for 18-20 minutes or until a toothpick inserted near the center comes out clean. Cool completely before frosting.
To make the frosting, beat the butter and lemon zest until creamy. Add the powdered sugar alternately with the lemon juice. Beat until smooth.