60 Festive Pecan Desserts are simply the best holiday desserts, hands down. Why? Because they all feature pecans. For even more recipes with pecans, check out my Best Recipes Featuring Pecans.
When it comes to holiday desserts, I'm all about pecans! Preferably in every bite. Festive Pecan Desserts always go over well at my house. Because, well, pecans make everything better. The only problem you will have is deciding which dessert to try first.
I've never met a pecan-filled dessert I didn't like. Even as a little girl, my favorite dessert was pecan pie. There is something magical about the crisp crust paired with the ooey-gooey pecan filling.
Pumpkin pie may reign supreme over most holiday tables. However, it's the pecan-filled desserts that have me hurrying through the main course so I can get to dessert.
Who Created the Pecan Pie?
When I think about festive pecan desserts, I usually think of pecan pie!
It's said that pecan pie was invented in the southern USA. The pie first began popping up in Texas cookbooks in the 1800s. Since pecans are harvested in the fall, the timing is perfect!
And, since I've been eating pecan pie for as long as I remember, I have to agree that it's a southern thing.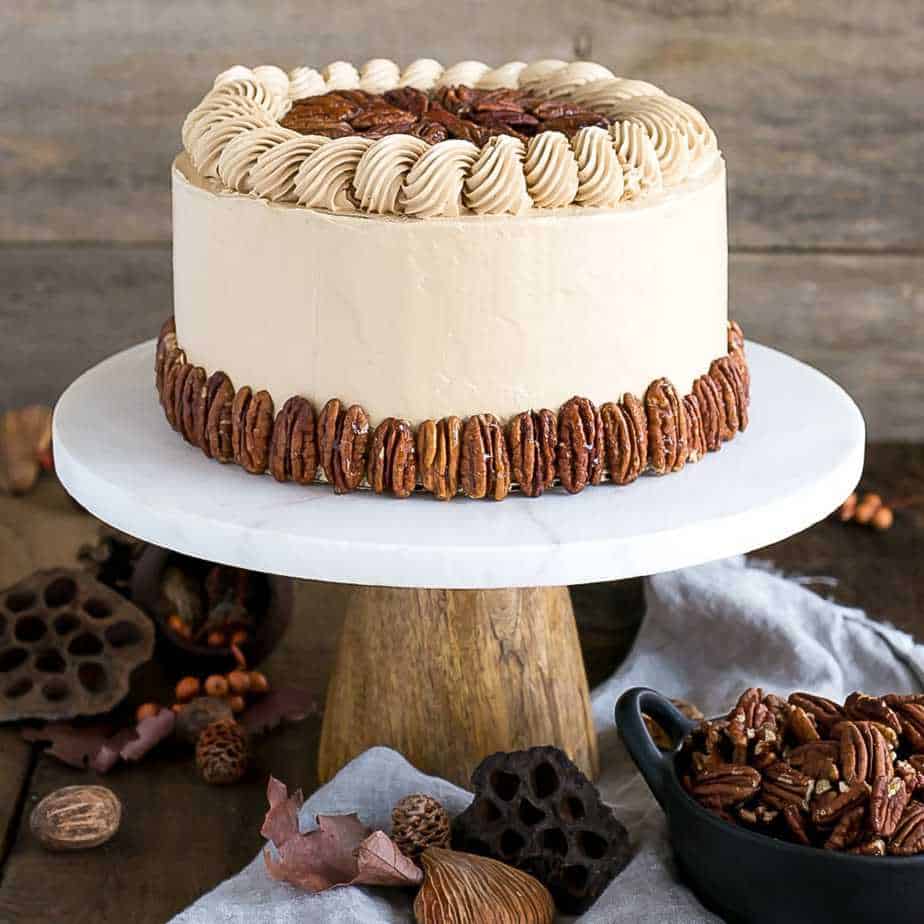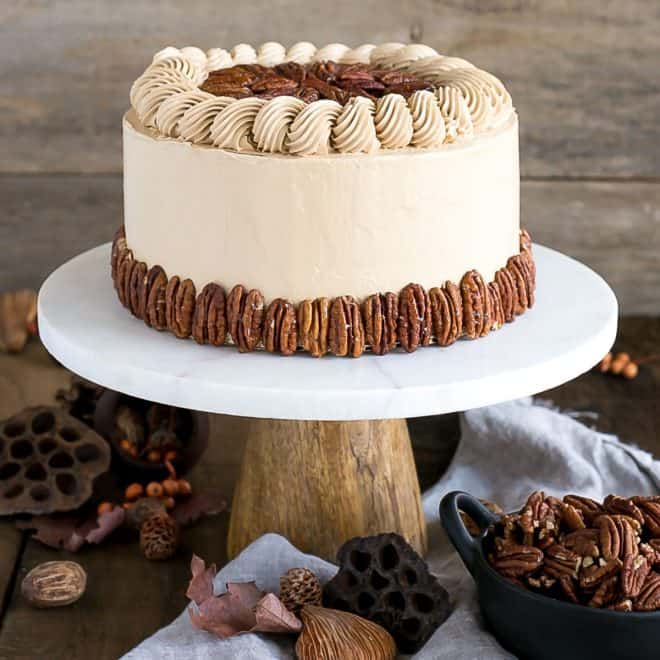 After the pecan pie became an American tradition, variations of my favorite holiday pie began popping up. But, why stop at pies? In this roundup of festive pecan desserts, you'll find cakes that will make you swoon. There are fudge and brownie recipes and even cute little pecan reindeer.
If you're gluten-free, living the keto or paleo lifestyle, we did not leave you out. There is a delicious holiday dessert for everyone.
Festive Pecan Desserts For the Holidays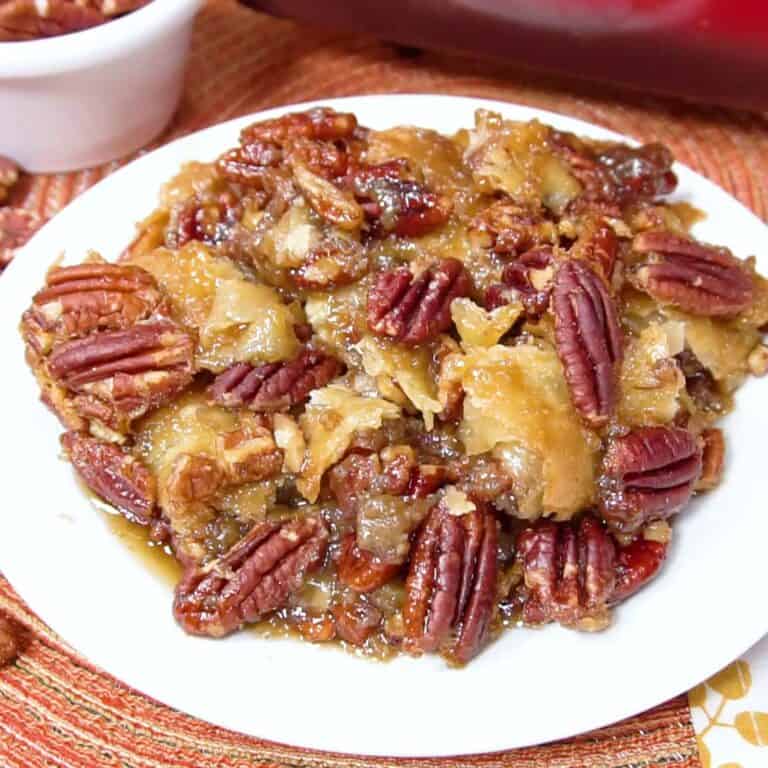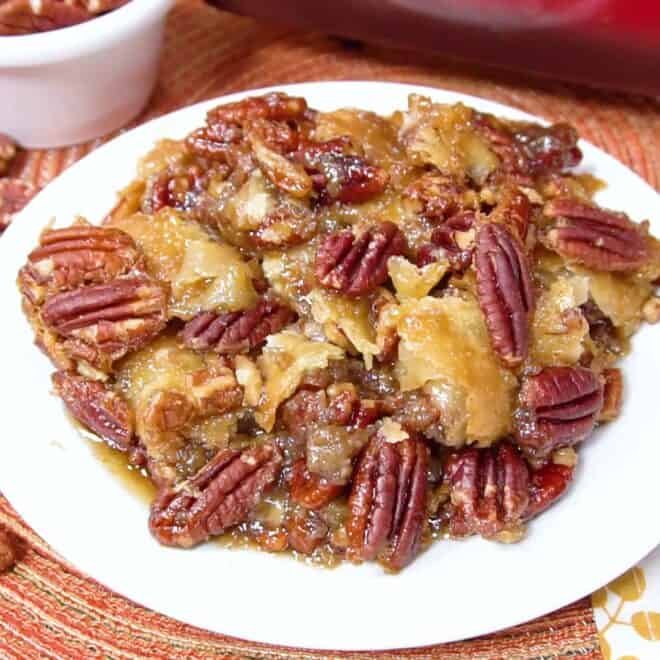 My mom always baked pecan pies for Thanksgiving and Christmas. Now that I host holiday dinners, I make sure I include at least one pecan-filled dessert. It's usually my pecan pie cobbler.
These days, you can find the ooey-gooey pecan pie filling in so many desserts. Cheesecakes, cookies, mini pecan pies, and cobblers are all popular holiday desserts.
Add some coconut, chocolate, or a splash of bourbon and you'll add even more flavor.
I Grew Up In A Pecan Orchard
My childhood home is smack dab in the middle of a pecan orchard. I remember helping to harvest our pecans. After I grew up and moved away from my hometown, mom would send me big bags of shelled pecans. She wanted me to have Georgia pecans for my holiday baking.
From a delicious traditional pecan pie to a beautiful, over-the-top pecan pie cake, these pecan recipes will be a huge hit during the holidays and beyond. I hope you enjoy trying a few of these festive desserts with pecans.
So, hold on to your seat and check out these amazing holiday desserts. Happy baking!
Festive Desserts Featuring Pecans
Holiday Desserts are better when they have pecans in the ingredients. These holiday desserts with pecans are festive and delicious.
You May Also Like These Festive Pecan Desserts
VooDoo Pecans (AKA Spicy Pecans)