Sheet Pan Pecan Pie is perfect for holidays, family reunions, and whenever you need a pie for a crowd. This pecan pie is a twist on traditional pecan pie. It's a keeper!
If you love pecans, check out all of my best recipes featuring pecans.
When the family gets together for the holidays, I always have a dessert bar. Yes, I make several desserts because everyone has their favorite. Holidays are all about giving my guests what they want. And that means dessert.
My favorite holiday dessert is Pecan Pie Cobbler or Carrot Cake. Or both. Hey, it's the holidays. The extra calories don't count. Wink.
My husband, however, likes traditional pecan pie. He likes his pie chilled and he wants leftovers. He usually eats the second piece of pie the next morning for breakfast, with a cup of coffee.
Instead of making two pies, I decided to try my hand at a sheet pan pecan pie (also known as a slab pie). This pie is made in a jelly roll or sheet pan (12″ x 17″). And, no, I don't know how this will work in different-sized pans. I've only made this pie in a sheet pan.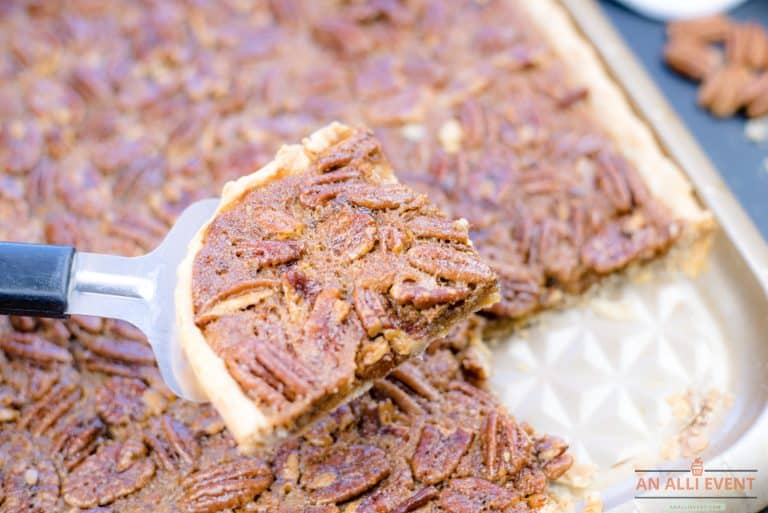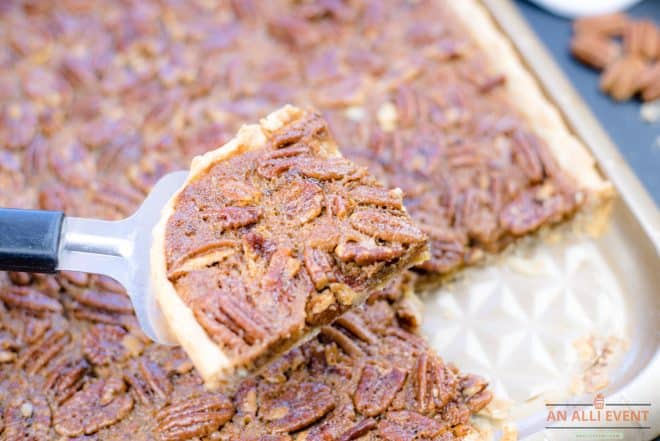 When I made this pie for the first time, it got rave reviews. Everyone likes it and I like that it's thinner than a traditional pecan pie. And that it feeds a crowd. Score!
This is definitely a special occasion pie at my house. It calls for four cups of pecans. I'm all out of my Georgia pecans from my dad's pecan trees. I had to purchase pecans for this one and well, it's worth the extra expense.
Sheet Pan Pecan Pie
You will need:
Eggs
Light corn syrup
Light brown sugar
Butter
Vanilla extract
Pecan halves (4 cups)
Refrigerated pie crusts
The Crust
You can definitely make your own crusts for this pie. I almost tried using puff pastry (store-bought) for this one but chickened out at the last minute. If I do try it, I'll let you know how it turns out.
If you do make your own pie crust, you'll need to make two pie crusts because this is a very large pie. I take the easy route on this one.
I purchase a package of refrigerated pie crusts (Pillsbury). There are two pie crusts in the package and you'll use them both.
Stack one of the pie crusts on top of the other and roll out a little larger than the sheet pan.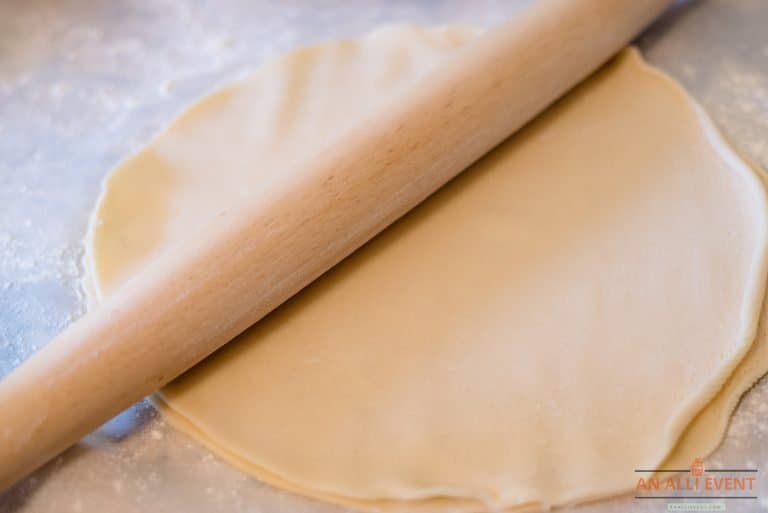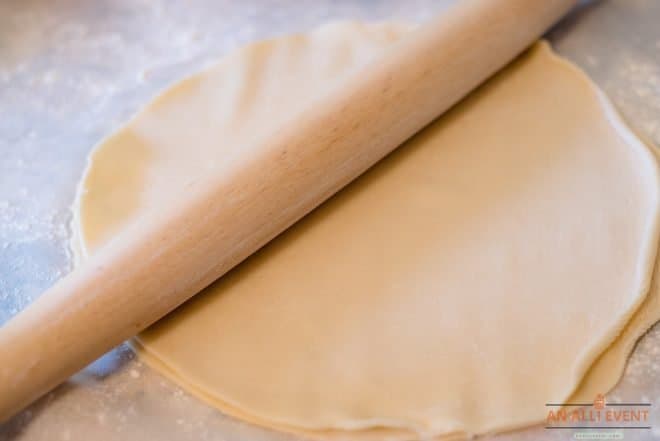 Transfer the pie crust to the sheet pan. Trim to a 1″ overhang. Tuck overhang under and crimp, if desired.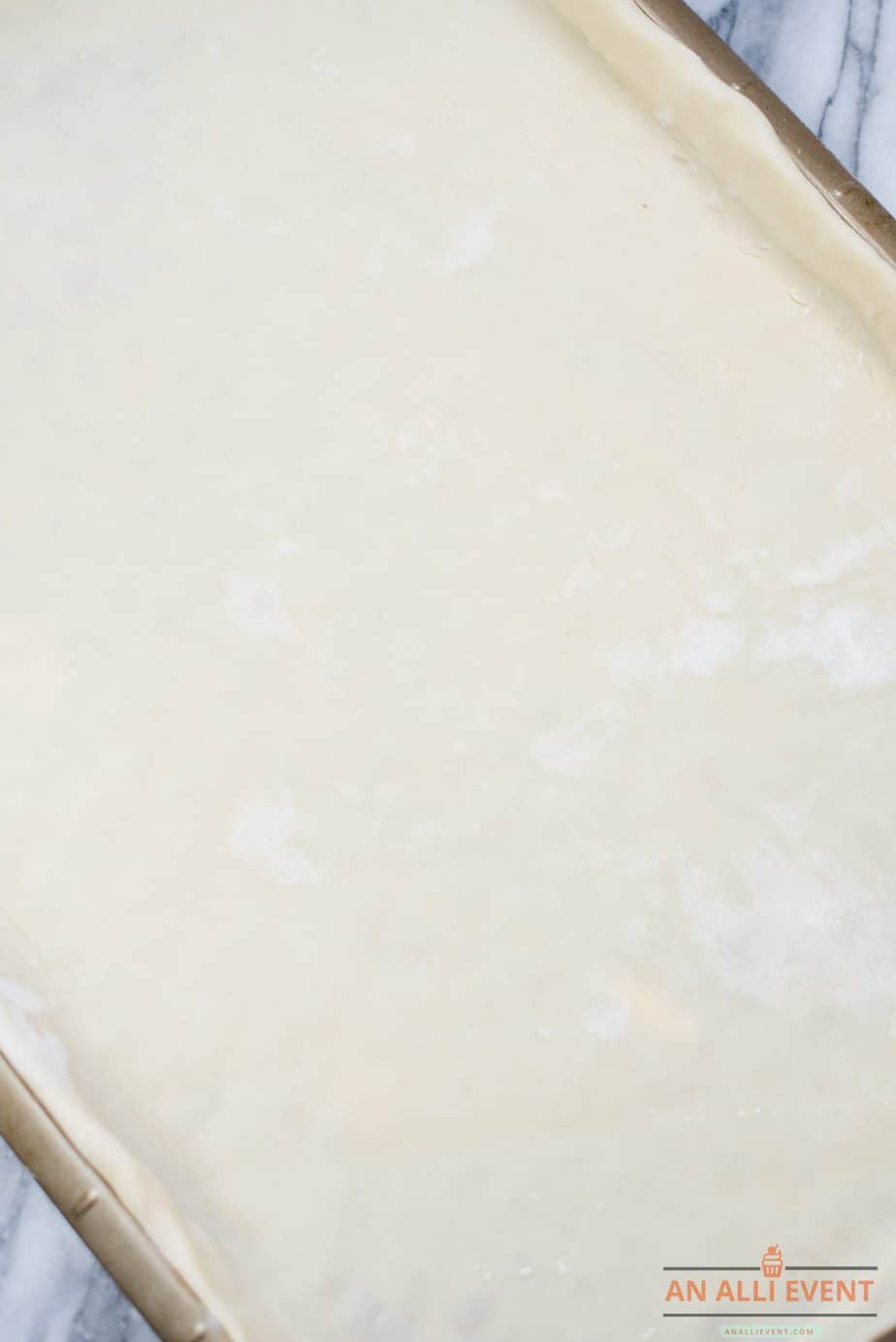 Place in the freezer while you whisk the filling together.
If you'd like to make a homemade crust, try this one. It's created especially for a sheet pan.
The Filling
Whisk together the eggs, corn syrup, sugar, and butter in a large bowl. Stir in the pecans.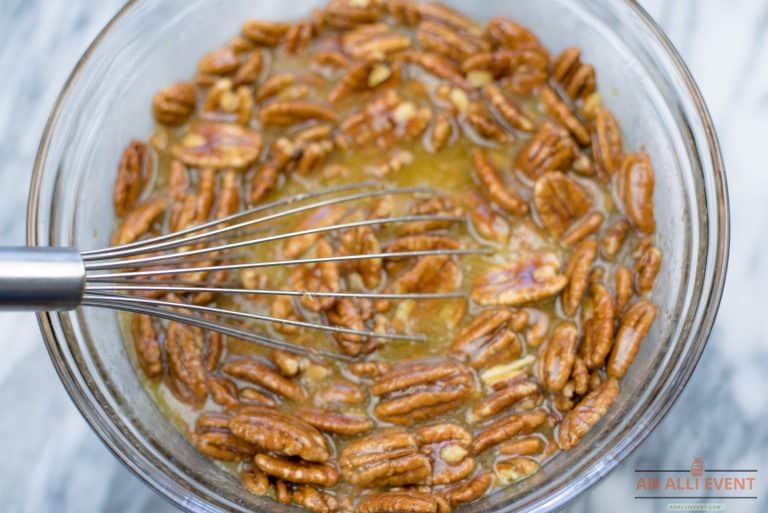 Pour into the prepared crust.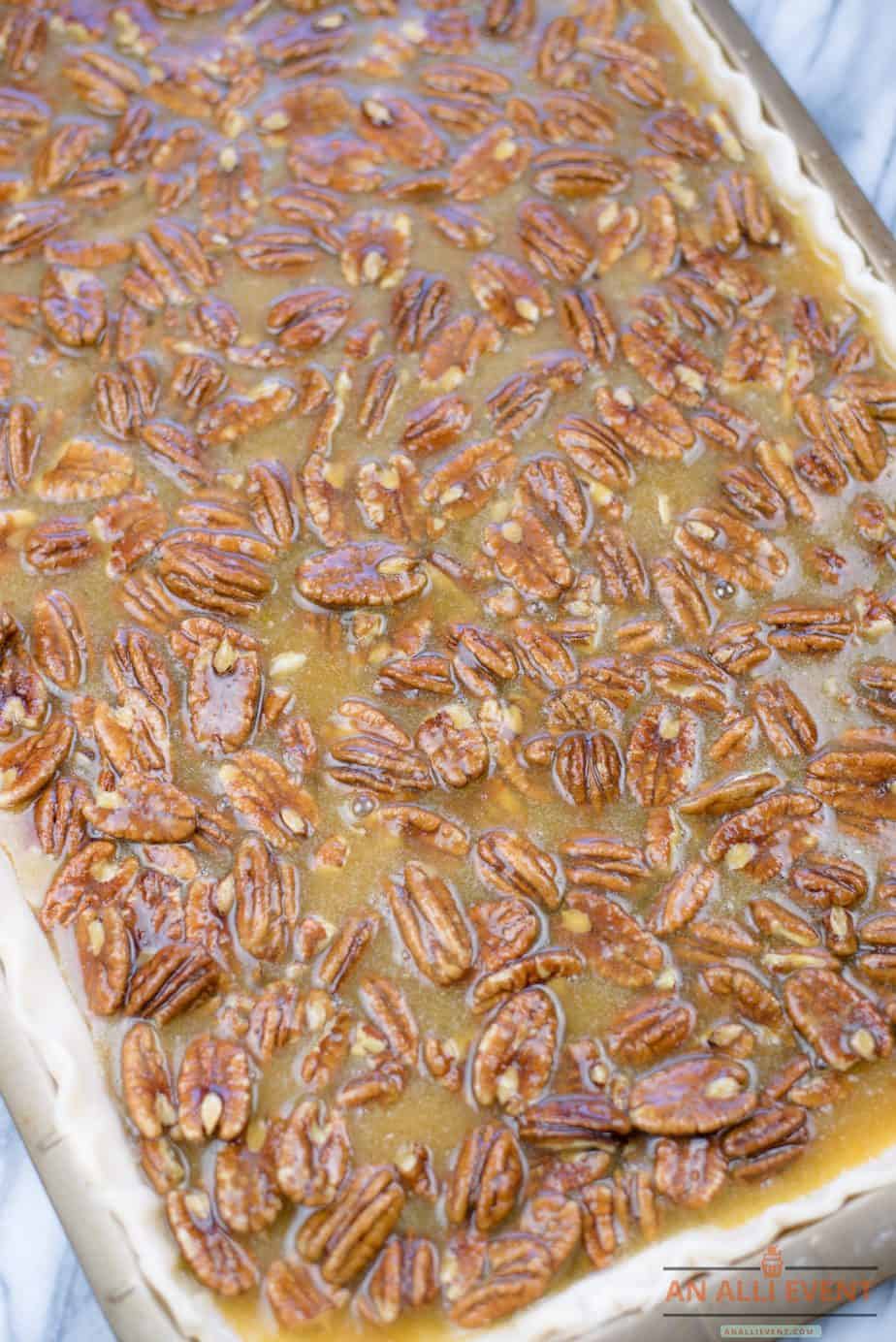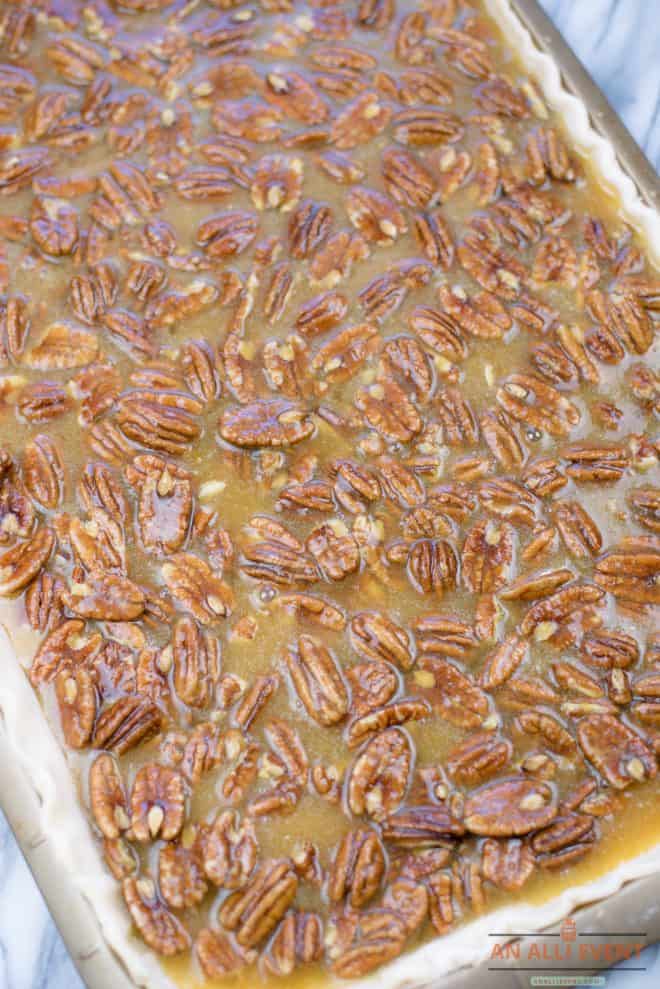 Bake until the center is just set, 40-45 minutes.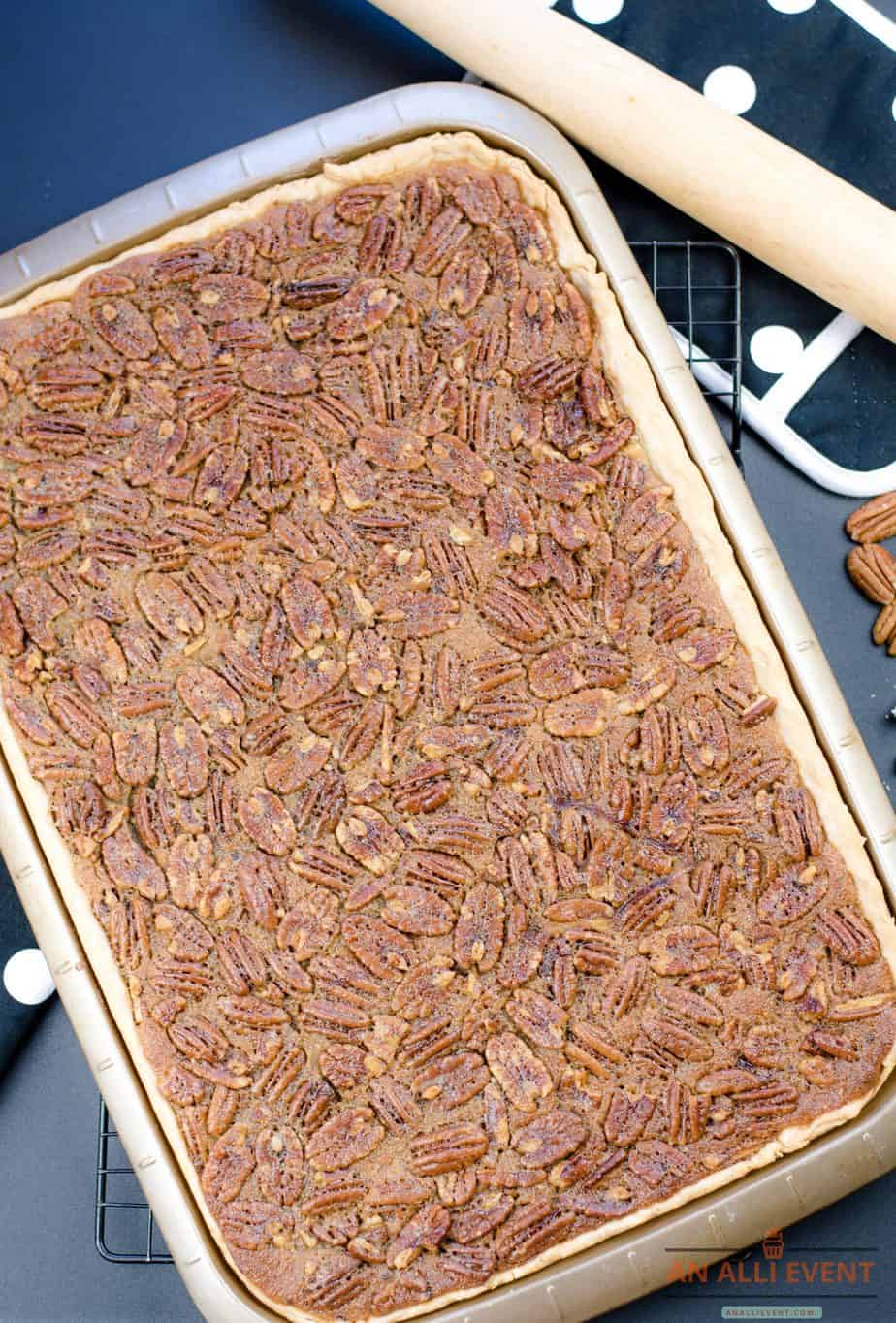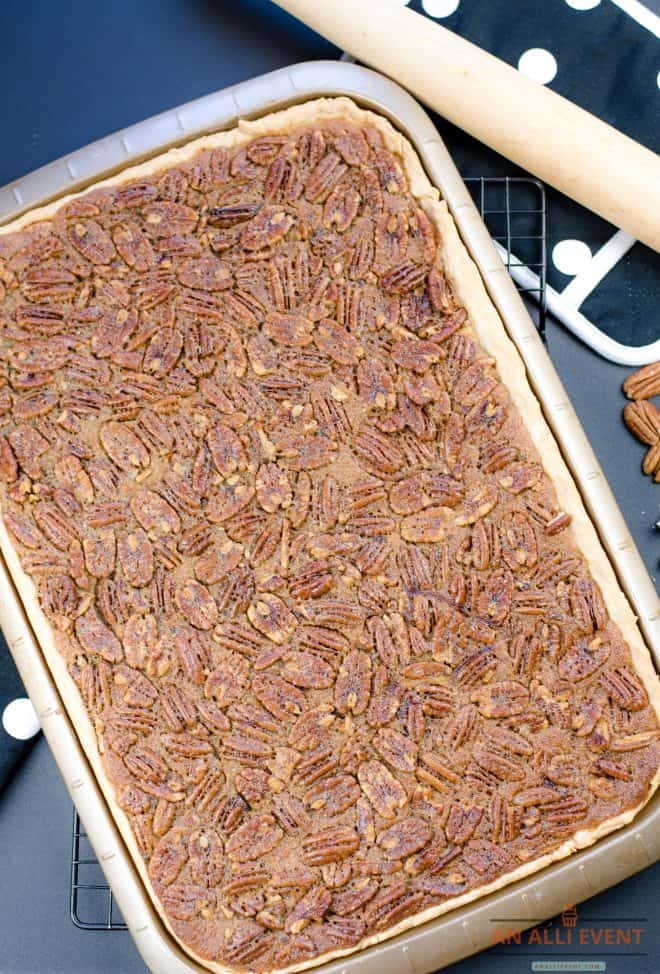 How Do You Know When A Pecan Pie Is Done?
We've all been to that dinner party or family reunion when someone else made the pecan pie. And, well, you could tell. It was either really, really break-your-teeth hard (overcooked) or runny (undercooked).
How do you know when a pecan pie is done? Pecan pie is done when it's puffy and slightly set in the middle. The center should not wobble – just a slight jiggle – and a knife inserted near the center will come out clean. Remember, the filling will continue to cook and fully set while the pie cools.
If you're still not sure whether the pie is done, the center should register 200ºF on a cooking thermometer.
Yield: 16-20 servings
Sheet Pan Pecan Pie
Sheet Pan Pecan PIe is perfect for a crowd and tastes like a traditional pecan pie.
Additional Time
10 minutes
Total Time
1 hour
15 minutes
Ingredients
6 eggs
1 cup light corn syrup
1 cup packed brown sugar
1/2 cup butter, melted
2 Tablespoons vanilla extract
4 cups pecan halves
2 refrigerated pie crusts
Instructions
Remove pie crusts from the refrigerator and let rest at room temperature for 15 minutes.
Preheat oven to 350º F.
Stack one refrigerated pie crust on top of the other and roll to an 18"x13" rectangle. Transfer pie crust to a 12"x17" jellyroll pan. Trim to a 1" overhang and tuck overhang under. Crimp pie edges and place in the freezer.
In a large bowl, whisk together eggs, corn syrup, sugar, butter, and vanilla. Stir in pecans.
Remove the pie crust from the freezer. Pour the filling into the pie crust.
Bake for 40-45 minutes. The pie should be puffed and just set in the middle. Transfer pan to a wire rack and let cool completely.
Nutrition Information
Yield
16
Serving Size
1
Amount Per Serving
Calories

463
Total Fat

32g
Saturated Fat

8g
Trans Fat

0g
Unsaturated Fat

22g
Cholesterol

85mg
Sodium

179mg
Carbohydrates

42g
Fiber

3g
Sugar

30g
Protein

6g
You May Also Like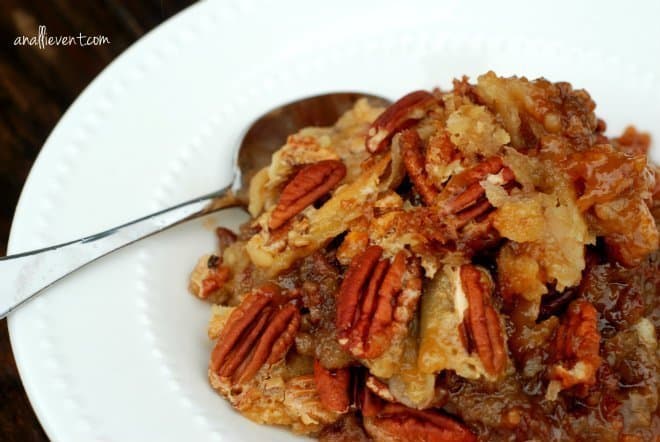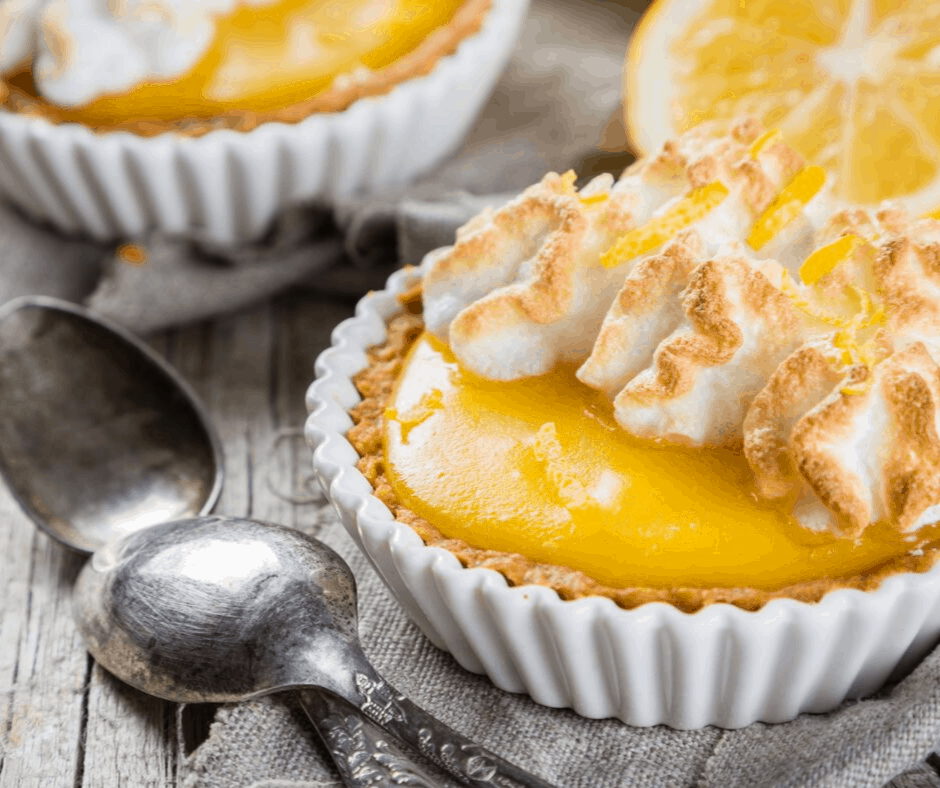 Cornbread Pudding with Caramel Rum Sauce