Thanks to Nearly Natural for sponsoring this post, Favorite Flocked Artificial Christmas Tree. All opinions are my own.
It will soon be time to decorate for Christmas. Yay! Maybe you've already started decorating. There's no judgment here because Christmas is my favorite season.
I've wanted a slim flocked artificial Christmas tree for ages but I could never settle on one that I loved until I saw this tree from Nearly Natural. This slim flocked Nova Scotia Spruce tree is 7-1/2 feet tall. It comes complete with 450 warm white LED lights and 909 bendable branches.
A few years ago I had a flocked tree that had way too much shedding going on. I love that my new flocked tree from Nearly Natural doesn't shed much at all. And it looks natural. Even after fluffing the branches, the flocking stayed on the tree and not all over the floor.
Unboxing My Slim Flocked Artificial Christmas Tree
Although there were no directions included in the box, it was easy to assemble the tree. The tree is in three hinged sections. Each section has a plug for the lights to connect. It took mere minutes to put the tree together.
This is what the tree looks like assembled (before fluffing the branches or decorating).
Advantages of Slim Trees
Small spaces (apartments, etc) – When you just don't have space for a regular-sized tree, a slim tree is perfect.
Foyer – Slim trees are perfect for a second tree in the foyer.
Saving Time – A slim tree doesn't take as long to decorate and doesn't take up as much space. You don't have to rearrange your entire living room when you have a slim tree.
Tips on Decorating My Favorite Flocked Artificial Christmas Tree
Buy a Quality Tree
That's where Nearly Natural comes in. They have so many Christmas trees to choose from. They also have beautiful Christmas wreaths, garlands, swags, and more!
It's important to buy a tree that's the right width and height for your space. And don't forget about the color. These days, you can buy a tree in many different colors.
Fluff and Shape Branches
When it comes to decorating my Christmas tree, I spend the most time making sure every branch is right where I want it. A tree is easier to decorate once the branches are fluffed and shaped to look natural.
Layer Ornaments
I like to start with the largest ornaments, spaced out evenly, and place towards the center of the tree.
Hang smaller ornaments closer to the tips of the branches. I step way back from time to time to ensure the ornaments are spaced well.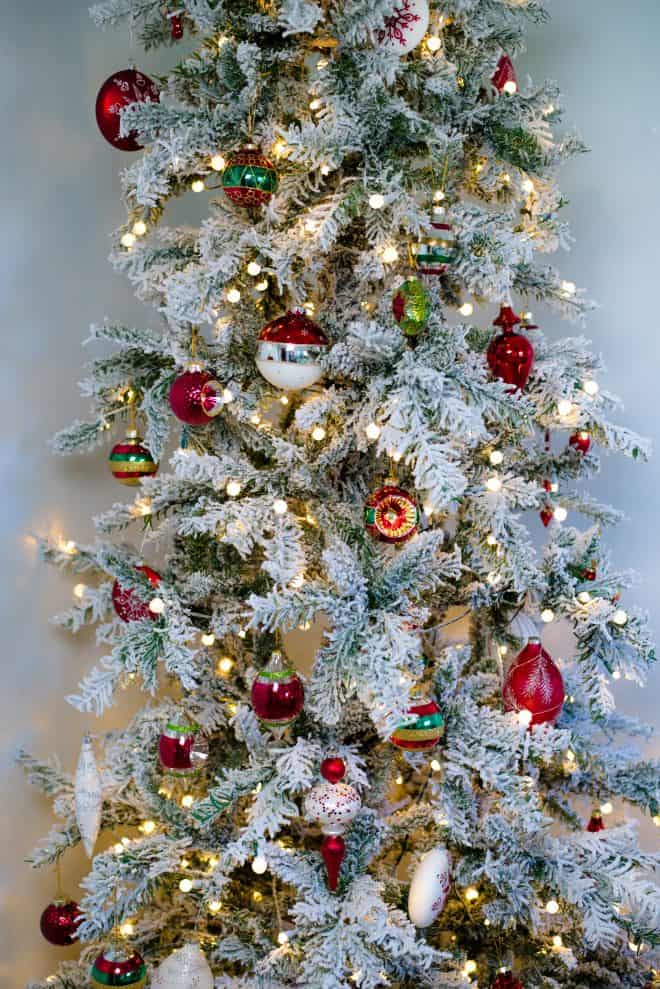 For a slim tree like this one, make sure ornaments are proportioned. You don't want to overwhelm a slim tree with ornaments. Hang smaller ornaments at the top and larger ornaments at the bottom.
Pick The Perfect Tree Topper
Pick a proper-sized tree topper that fits your theme.
Years ago, I purchased a porcelain angel tree topper. It was my main tree topper all these years and our youngest son, with the help of his dad, always placed the tree topper on the tree. That tree topper is now almost 40 years old and the cardboard underneath has disintegrated. It no longer graces the top of my tree but it's always a part of my Christmas decor.
Don't Forget The Christmas Tree Skirt
A tree skirt adds the finishing touch to a Christmas Tree. You can find so many choices in color, fabric, and texture. You don't even have to purchase a tree skirt. A festive throw makes a great Christmas tree skirt.
My flocked artificial Christmas Tree is now ready for Christmas and I couldn't be more thrilled. I think it's gorgeous.
I've got to go look for my tree topper (I know it's here somewhere) and put the finishing touches on my beautiful new flocked tree.
P.S. – Let The Kids Help Decorate The Tree
As an empty nester, I decorate the tree all by myself these days. But when the kids were little, all the rules of decorating a tree were thrown out the window when we decorated our family tree with homemade ornaments, strings of popcorn, and cups of hot cocoa in hand.
You May Also Like These Posts