Welcome to 25 Days of DIY Christmas Ornaments. It's time to get your DIY on! Are you ready?
Christmas is definitely my favorite holiday of the year. For me, it's not about receiving gifts (even though I get some pretty good stuff every year). It's all about giving to others and spending time making memories and celebrating traditions that have been passed down from generation to generation.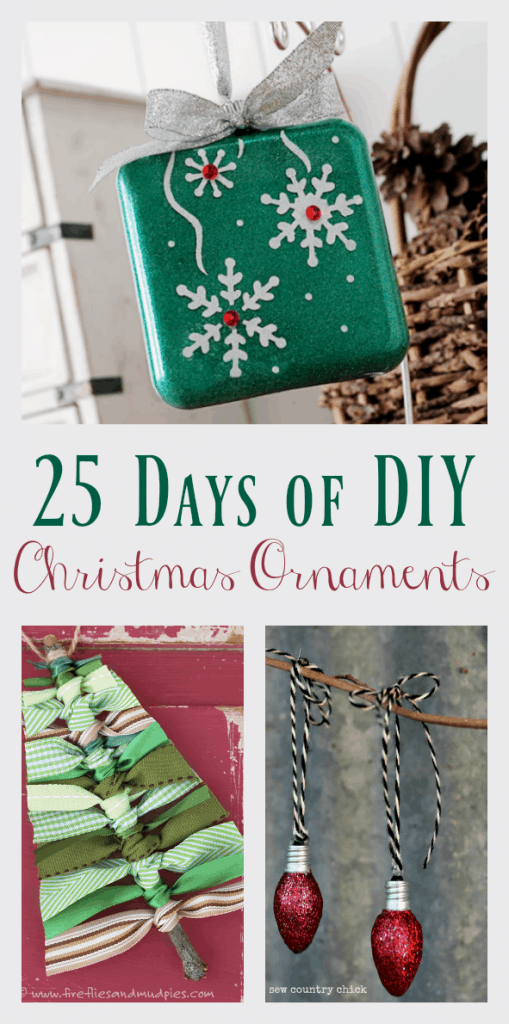 Of course, for me, the most important aspect of celebrating Christmas is honoring the time that's been set aside to celebrate the birth of Jesus.
I use the excuse of being a blogger and having tons of holiday posts due to get my Christmas decorations up early. Truthfully, I LOVE getting my tree up in early November. It doesn't bother me at all to have the tree up on Thanksgiving Day. The grandkids love it and it adds a little sparkle to my decor.
It's never too early to begin crafting DIY Christmas ornaments, so I've got a roundup of the very best. Pick out your favorites and get busy. I wish I could make them all!
25 Days of DIY Christmas Ornaments
1. Night Light Bulb Christmas Ornaments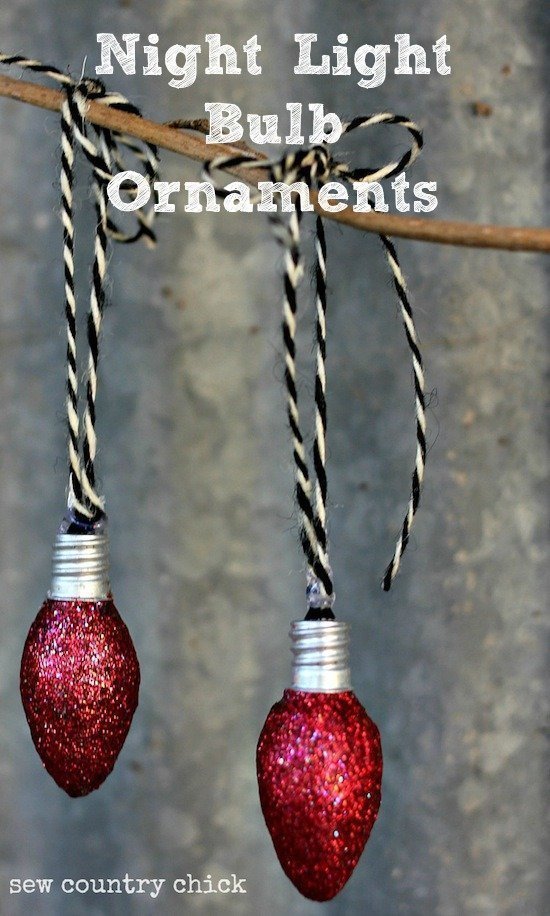 2. Christmas Candy Ornaments
3. Scrap Ribbon Tree Ornaments
4. Printable Geometric Ornaments
5. Simple Pour Painted Ornaments
6. Pom-Pom Pine Cone Ornaments
7. Glittery Snowflake Ornament
8. Paper Angel Ornaments
9. Modge Podged Photo Ornaments
10. Colorful Baking Soda Ornaments
11. Glitter Pinecone Wreath Ornament
12. Simple Snowman Ornament
13. http://www.reallifeathome.com/domino-christmas-ornaments/
14. Toy Story Inspired Ornaments
15. Cupcake Liner Christmas Tree Ornament

16. Baby's First Christmas Ornament
17. Minecraft Christmas Ornament
18. Button Candy Cane Ornaments
19. Twig Reindeer Ornaments
20. Paint Chip Christmas Tree Ornaments
21. Seashell Ornaments
22. Handprint Snowmen Christmas Ornaments
23. Glitter or Painted Ornaments
24. Harry Potter Potion Ornaments

25. Handprint Reindeer Ornament
You may also like
Easy Christmas Crafts for Snowy Days
No-Sew Denim Stocking (made from old jeans)
Have you ever made DIY Christmas ornaments?

Print Friendly