Grandma Fisher's Brunswick Stew and Pink Cloud always make me smile! These two recipes are handed down from my paternal grandmother.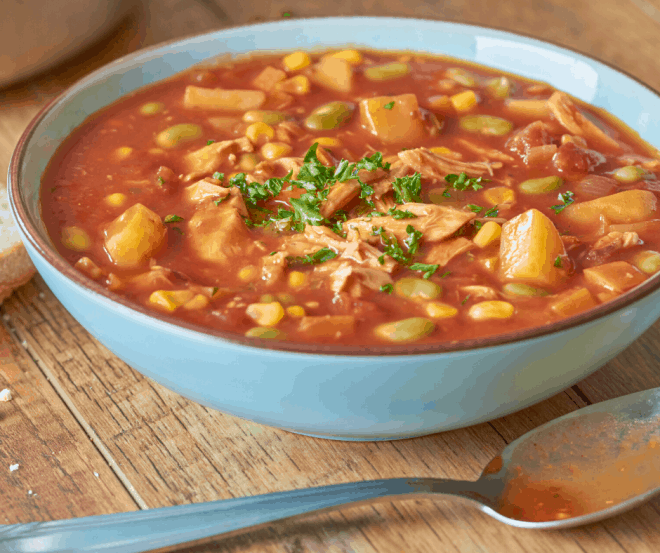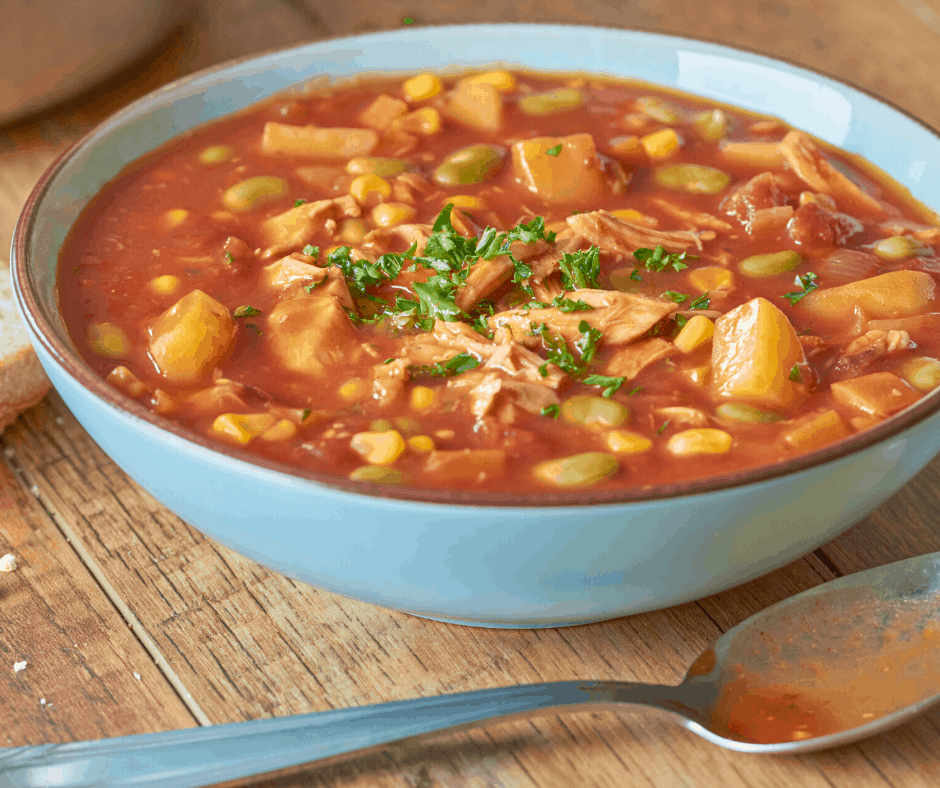 National Grandparents Day is celebrated in September. I'm so glad that grandparents have their own special day. For me, every day is grandparents' day!
My grandparents are all deceased, but that doesn't stop the precious memories from flooding my mind. If I taste a certain food or hear a special song that reminds me of my grandparents, all the memories come rushing back.
OK, back to my story: Today I'm especially thinking about my paternal grandmother, Grandma (Rutherford) Fisher. And when I think of her, I can't help but think of food, family reunions, and lingerie.
Yep, lingerie. Grandma always gave my sister and me the prettiest nightgowns for Christmas. The gowns were always sophisticated, silky and luxurious, never practical. And we felt oh, so special.
As long as I can remember, Grandma Fisher always worked outside the home. In that respect, she was a woman, hear me roar, way before her time.
Grandma worked in the adult mental health field for years, right up until she retired. She had short curly hair that was always well-coiffed and her clothing was always stylish and impeccable.
My favorite memories of Grandma was visiting her in Milledgeville, GA. At the time, she and her husband, A.C. lived in an Airstream trailer. We thought it was the coolest thing we had ever seen. Everything seemed miniature and we wanted to turn it into our playhouse.
Grandma would host big family reunions that would spill out onto the lawn, where my cousins and I could be found playing, giggling and catching up.
Looking back, I don't see how we all fit, but we did! And, because most of my cousins lived so far from each other, we relished those times spent at Grandma Fisher's house. What's with the hat?
Family Reunion Fun
And then there were the reunions in Hawkinsville, GA.
My grandma, her siblings and all their families would get together on the Sunday following Thanksgiving. I remember thinking how awesome it was that we celebrated two Thanksgivings and feeling the excitement of seeing distant cousins that we only got to see that one day a year.
Grandma and her sisters, along with my mom and others, would cook for days and they thoroughly enjoyed every minute of it! It wasn't unusual for grandma to make seven or eight cakes for that big day!
Grandma would always come "down" (we lived in south Ga so all of our relatives that lived above us – Atlanta, Milledgeville, Macon, etc. came "down.") in the summer and help shell peas, beans, shuck corn, etc. She loved to garden and put-up food for the winter.
When I think about grandma Fisher and all the great recipes she created for her family, it's hard to just think about one or two to share, but I did!
My Two Favorite Recipes From Grandma
I narrowed it down to two of my favorites – Grandma Fisher's Brunswick Stew and Pink Cloud Salad. I do hope you enjoy these two recipes. Now, go call your grandma . . . . while you still can! 🙂
I love these recipes because they are exactly as grandma wrote them down. I especially like the sentence, "Do not let burn!" Any additional notes are mine.
About Brunswick Stew
Interesting Facts: Both Georgia and Virginia lay claim to originating Brunswick Stew. Seeing that I was born and reared in Georgia and Georgia will always be home and always on my mind, you know who has my vote! Go Dawgs! 🙂
When I was a little girl, I can remember my mom and grandma boiling a hog's head to make Brunswick stew. I've tried to get that memory out of my head.
Recipe for Pink Cloud Salad
Ingredients
A 20 oz. can crushed pineapple – drained and juice reserved
1 pkg. strawberry jello (regular size)
12 oz. carton cottage cheese (small curd)
1 small Cool Whip, (8 oz.)
Instructions
Bring pineapple juice to a boil.
Sprinkle jello over pineapple juice and stir well, let cool.
Stir in pineapple and cottage cheese.
Fold in cool whip. Cover and refrigerate to let set.
Grandma Fisher's Brunswick Stew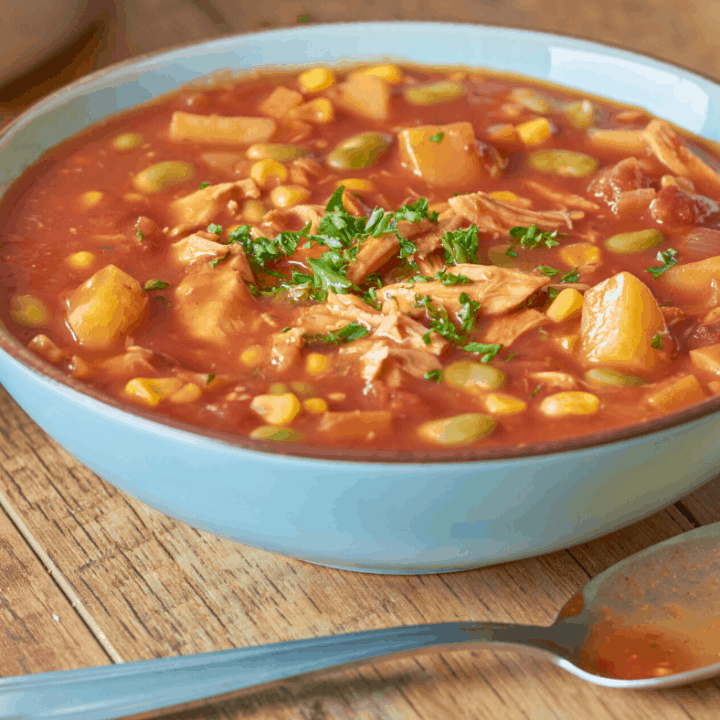 Grandma's Brunswick Stew
Ingredients
1 large whole chicken, or 2 large whole chicken breasts (4 breast halves)
Hint: the whole chicken makes a better broth than the chicken breast
3 lb Boston butt
5 med. Irish potatoes
3 large onions, chopped
2 cans crushed tomatoes (28 oz. each)
2 cans Le Sueur peas, drained (I only use one)
Hot sauce to taste
2 cans corn (1 cream style, 1 whole kernel)
1 small bottle ketchup (14 oz.)
Instructions
Boil the chicken and Boston butt separately, in enough water to cover, until done. Let cool in broth until it is cool enough to handle. Reserve the broths (do not mix). After cooling the broth, skim the fat off.
Chop, or pull the meats apart and set aside.
Cook potatoes and onions together, in enough water to cover, until tender; drain.
Add the potatoes and onions, crushed tomatoes, ketchup and corn to the cooked, chopped, chicken and pork.
Add a small amount of each broth.
Season with salt, pepper, and hot sauce.
Slowly bring to boil, reduce heat to simmer and cook, stirring often, for 1 hour. Stir frequently. Do not let burn!
If more cooking liquid is needed, add chicken broth. When stew is done, stir in the peas until heated. Serve hot. Left over stew will freeze well.
Note: It's easier to boil the chicken and Boston Butt the day before. Let cool, shred and place in the fridge. After the broth has cooled, refrigerate it, as well. Once the broth has cooled, the fat will congeal on top. Skim it off and proceed with the recipe.
What's your favorite recipe that was handed down from your grandma?

Print Friendly