Peaches and Cream Trifle is a light, refreshing, cool, and creamy layered dessert. This dessert features fresh peaches, vanilla pudding, and freshly whipped cream. This trifle is the perfect ending to a summertime meal.
Fresh peaches are my jam! Get it, jam? I don't remember a time in my life when I didn't look forward to peach season.
Back in the old days (as my grandkids say) when I was growing up in Georgia, we had several peach trees. I'd pick a peach, wipe it on my shorts and take a big bite – peeling and all.
Mom's peach ice cream was out-of-this-world good. I wish I had her recipe. I'm still trying to recreate it. I'll never forget those hot summer Sunday afternoons, sitting on the porch, taking our turns cranking out that frozen concoction studded with cubes of fresh peaches.
I can't mention peaches without thinking about mom's peach cobbler. It's another winner! But let's get back to Peaches and Cream Trifle.
Fun Facts About Peaches
Even though Georgia (my beloved home state) is known as the peach state, peaches have reigned as South Carolina's (my current home for over 28 years) official state fruit since 1984.
South Carolina produces more peaches than Georgia. In the USA, South Carolina is the number two producer of peaches, and California (because of its size) is number one. Georgia actually ranks number 4, after New Jersey.
There are two main varieties of peaches; freestone and clingstone. Peaches are a great source of vitamins A and C and a medium peach has only 59 calories.
July is the national peach month and the largest peach is located in Gaffney, South Carolina. It's not a real peach. It's actually a water tower made to look like a peach.
How To Pick The Perfect Peach
Peaches get sweeter and juicier as they ripen. Use these tips to choose the perfect peach.
A ripe peach is slightly soft. If it's firm, it's not ready.
Ripe peaches have a sweet smell.
Avoid bruised peaches with brown spots.
Choose tree-ripened peaches.
Buy local if possible. I buy my peaches from a local peach farm. They also have a little restaurant on-site and serve the best peach empanadas topped with vanilla ice cream. I'm going to recreate their recipe one of these days.
Ingredients for Peaches and Cream Trifle
For this trifle, you'll need:
Sweetened condensed milk
Water
Instant vanilla pudding mix
Heavy whipping cream, whipped
Pound cake, cubed (homemade or storebought)
Fresh peaches, peeled and sliced
Peach preserves
My dad's famous sour cream pound cake is the perfect cake for this trifle. However, when I need a dessert in a hurry, I use a storebought pound cake (like a 12-oz. Sara Lee pound cake).
How To Layer Peaches and Cream Trifle
Whenever I'm making this trifle, I cube the cake, whip the whipping cream, and mix up the pudding ingredients. That way, when it's time to start layering, everything is ready to go.
I use my hand mixer to combine the water, condensed milk, and pudding mix. My stand mixer is used for whipping the cream to stiff peaks. Then I use a spatula to fold the whipped cream into the pudding mixture.
You can use a 4-quart trifle dish or glass bowl for this dessert. The bottom layer is 2 cups of the pudding mixture.
Add half of the pound cake cubes.
Then add half of the sliced peaches brushed with half of the peach preserves.
Add half of the remaining pudding mixture. Repeat the layers. (The top layer will be the remaining pudding mixture.)
Refrigerate for 2-4 hours before serving. This is an easy dessert to make and it always gets rave reviews.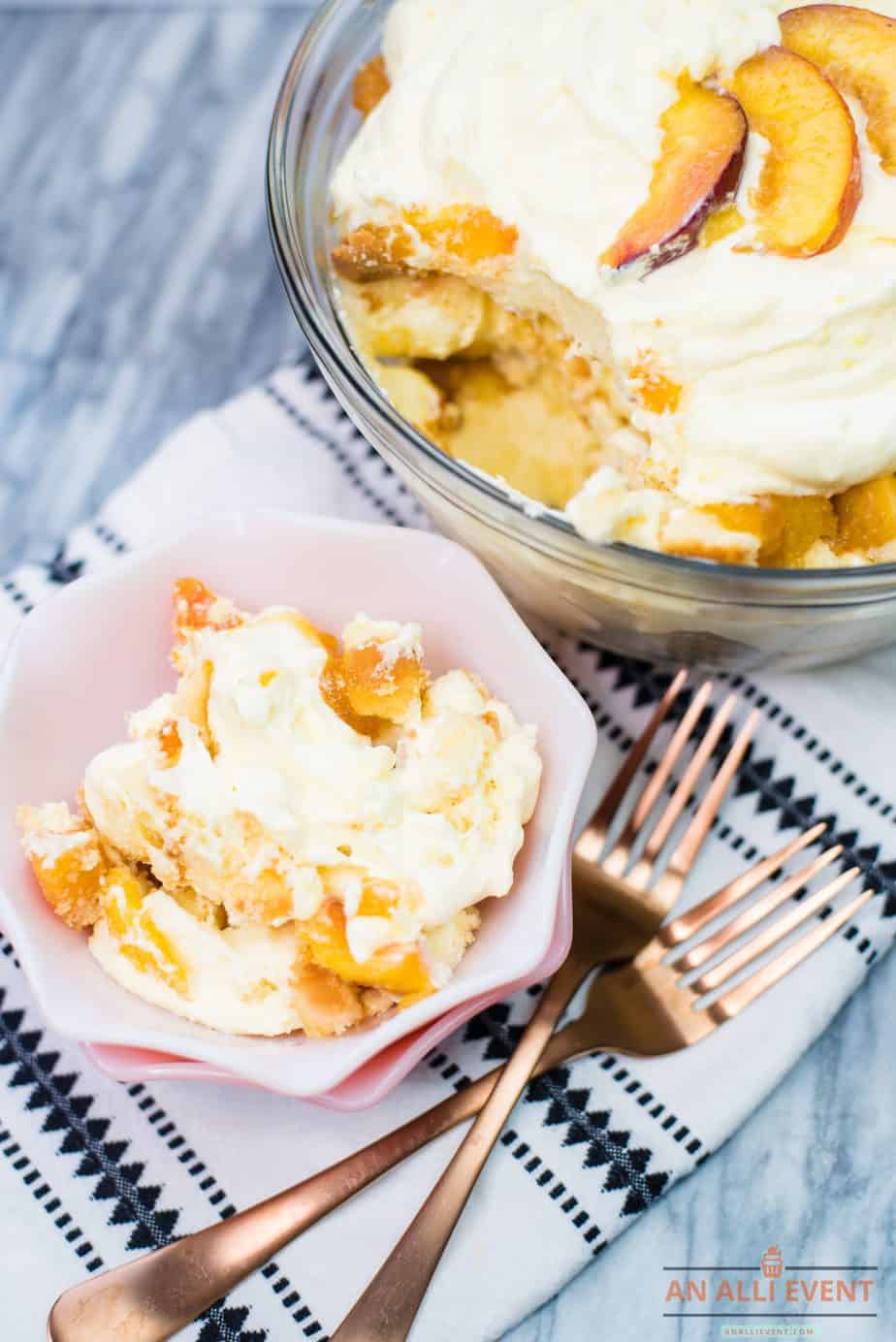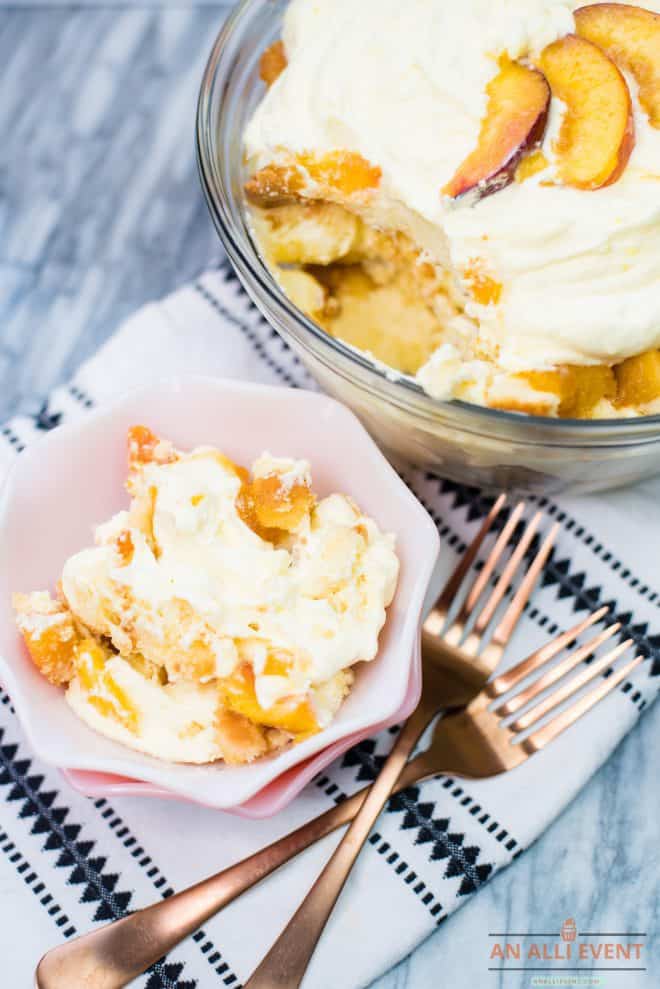 Helpful Hint: You can also make this dessert by using fresh sliced strawberries and strawberry preserves in place of the peaches and peach preserves. It then becomes a strawberry and cream trifle and it's delicious too!
You May Also Like These Recipes
Yield: 12 Servings
Peaches and Cream Trifle
Peaches and Cream Trifle is a light layered dessert that features fresh peaches.
Total Time
4 hours
15 minutes
Ingredients
1 can (14 oz.) sweetened condensed milk
1-1/2 cups cold water
1 (3.4 oz.) package instant vanilla pudding mix
2 cups heavy whipping cream, whipped
1 (12 oz.) pound cake (like Sara Lee), cubed
4 cups sliced fresh peaches
1/2 cup peach preserves
Instructions
In a large bowl, combine sweetened condensed milk and water. Add vanilla pudding mix and beat until well combined. Fold in whipped cream.
Spoon 2 cups of the pudding mixture into a 4-quart glass bowl or trifle dish. Add half of the pound cake cubes, half of the peaches, half of the peach preserves, and half of the remaining pudding mixture. Repeat the layers, ending with the remaining pudding mixture on top.
Chill for 4 hours or overnight. Store in the refrigerator.
Nutrition Information
Yield
12
Serving Size
1
Amount Per Serving
Calories

255
Total Fat

16g
Saturated Fat

10g
Trans Fat

0g
Unsaturated Fat

5g
Cholesterol

50mg
Sodium

155mg
Carbohydrates

28g
Fiber

1g
Sugar

24g
Protein

2g