Spanish Sausage Sweet Potato Stew is full of vegetables and just the right amount of spiciness.
There's nothing better on a cold winter night than a bowl of hearty stew. Add cornbread and I'm one happy camper.
Seriously, I can eat soup or stew just about every night when it's cold. And this stew has sweet potatoes, one of my favorite ingredients. My husband likes the spicy sausage. Hillshire Farms has a hot smoked sausage that is perfect for this recipe.
This recipe calls for miso and tamari. If you don't have any on hand, you can use soy sauce instead.
What is Miso?
I'm definitely not an expert when it comes to miso. I do know it adds extra flavor to soups and stews. Miso soup is always a winner when I'm eating at my favorite Japanese restaurant.
According to Bon Appetit. "Miso is a fermented paste that's made by inoculating a mixture of soybeans with a mold called koji that's been cultivated from rice, barley, or soybeans. Over weeks (or even years!), the enzymes in the koji work together with the microorganisms in the environment to break down the structure of the beans and grains into amino acids, fatty acids, and simple sugars."
There are several different types of miso. White or lighter color miso has a mild flavor and is the kind I use. It dissolves easily in soups, salad dressings, and sauces.
There's also dark miso that will clear your sinuses! The darker the color means it's been fermented longer. It will also taste stronger.
What is Tamari?
Tamari is the Japanese version of soy sauce. It's thicker and has less salt than regular soy sauce. It will add a savory umami flavor. It has less wheat and, depending on the brand, can be gluten-free.
If you're using soy sauce instead of tamari (perfectly fine) use a low-sodium option.
How To Store Leftover Spanish Sausage Sweet Potato Stew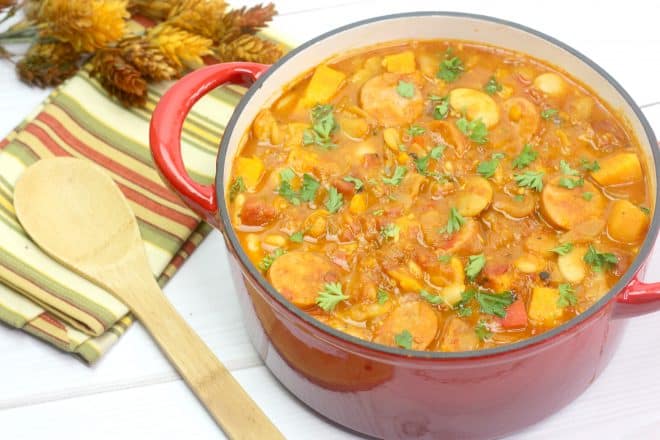 Stews can be stored in the freezer for up to three months. Store in freezer-safe containers. Leave 1/2 inch space to allow for expansion.
This stew will last in the refrigerator for 3-4 days. Let cool and cover tightly before storing it in the refrigerator.
Yield: 5 servings
Spanish Sausage Sweet Potato Stew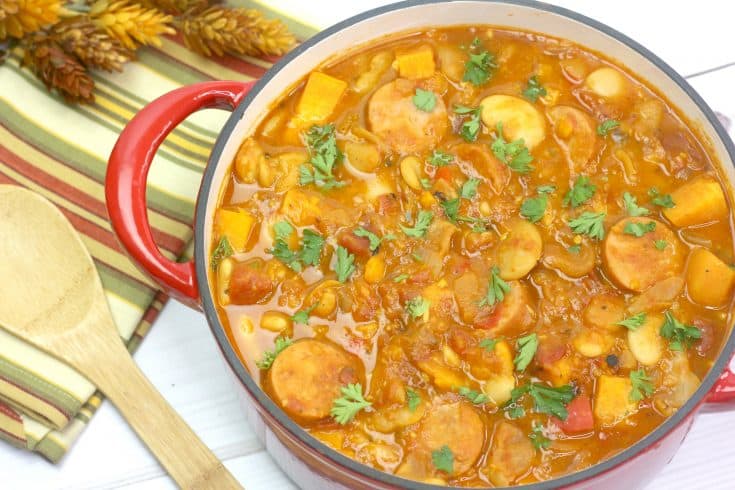 Spanish Sausage Sweet Potato Stew is hearty and delicious. The spices add the best flavor.
Ingredients
Spice Ingredients:
1 tsp garlic powder
1 tsp onion powder
2 TBSP dried onion flakes (minced)
1 tsp dried oregano
1 tsp smoked paprika
1 tsp sweet paprika
1/4 tsp turmeric
1/4 tsp cumin
1 bay leaf
1 tsp sea salt
1/4 tsp black pepper
Stew Ingredients:
Spicy sausage (cut in 1-inch pieces)
1 medium red onion (diced small pieces)
1 red bell pepper (diced small pieces)
2 TBSP minced garlic
1 1/2 cups vegetable broth
1 1/2 cups water
1 can petite diced tomatoes (14.5 oz)
1 Tablespoon Miso (or 1/2 Tablespoon low-sodium soy sauce)
1 Tablespoon Tamari (or 1 Tablespoon low-sodium soy sauce)
1 medium sweet potato (peeled/ cut in small cubes)
2 cans (15.5 oz) butter beans (drained and rinsed)
3 Tablespoons fresh parsley (chopped)
Instructions
Add the spice ingredients in a bowl. Mix Well. Set aside.

Add the red onion and red bell pepper in a Dutch Oven.

Saute on medium-high heat for 5-7 minutes.

Add the minced garlic.

Continue on medium-high heat and saute for 1-2 minutes. Add the mixed spice ingredients, sauteing for 30 seconds. This will release the fragrance.

Slowly add the broth and water. Stir to mix. Add the diced tomatoes and tamari. Bring it to a boil. Stir well. Immediately lower the heat to a low simmering boil.

Stir in the cubed sweet potatoes, sausage, and the first can of the butter beans. Continue to simmer for 18 minutes. Add the parsley and miso. Stir to combine. Add the last can of butter beans. Stir well. Continue to simmer. Check to see if the sweet potatoes are tender. Remove the bay leaf.

Garnish each bowl of stew with parsley before serving.
Nutrition Information
Yield
5
Serving Size
1
Amount Per Serving
Calories

332
Total Fat

8g
Saturated Fat

3g
Trans Fat

0g
Unsaturated Fat

5g
Cholesterol

43mg
Sodium

1579mg
Carbohydrates

47g
Fiber

9g
Sugar

16g
Protein

22g
Now that cold weather has settled in here in SC, stews, and soups will be making an appearance on my table several times a week.
Check out more of my favorite stew and soup recipes!
Grandma Fisher's Brunswick Stew (a little different from the recipe above)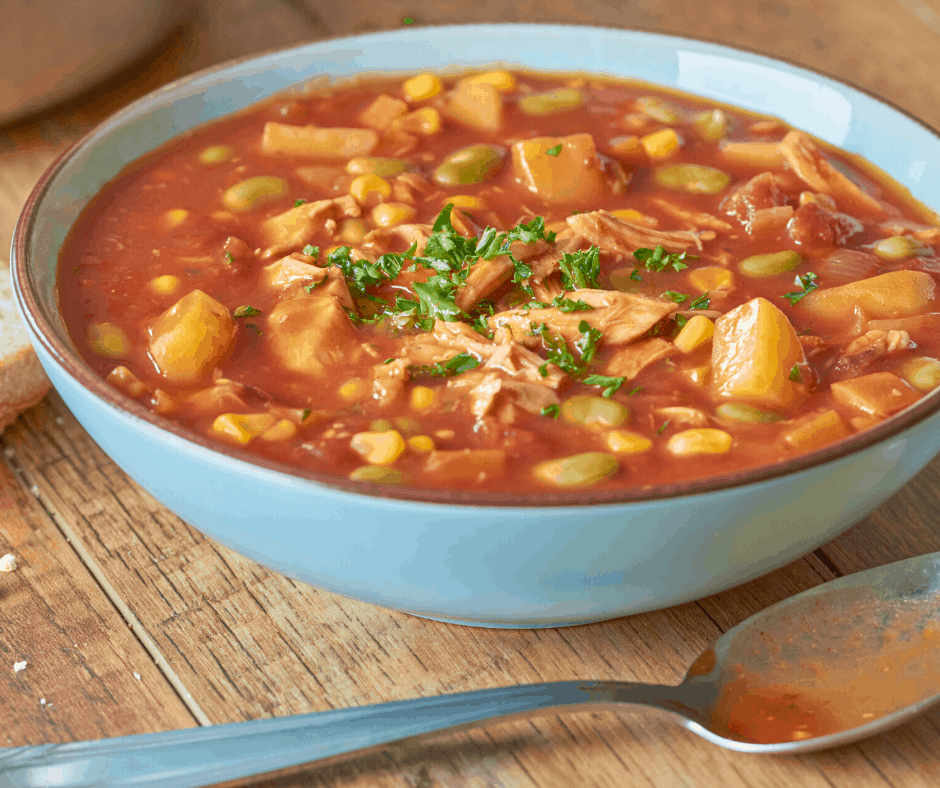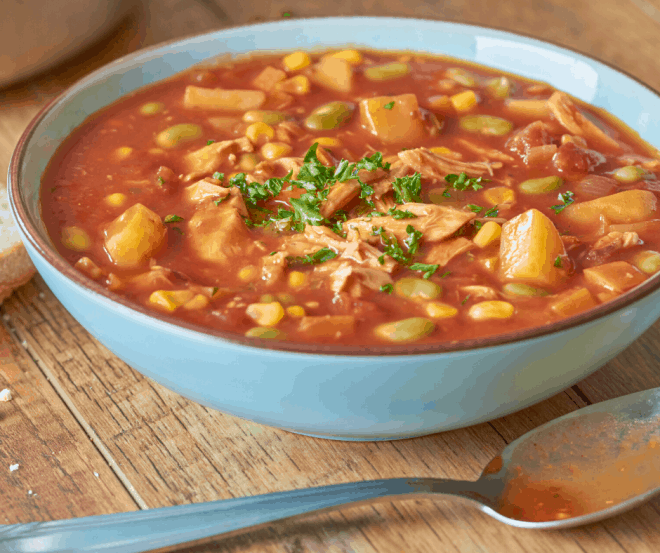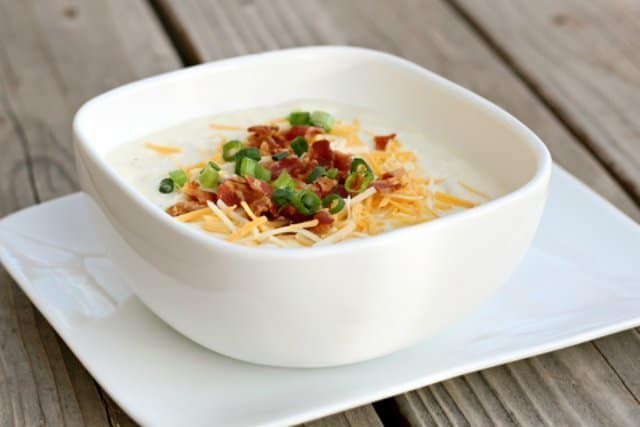 Quick & Easy Baked Potato Soup
Slow Cooker Vegetarian Taco Soup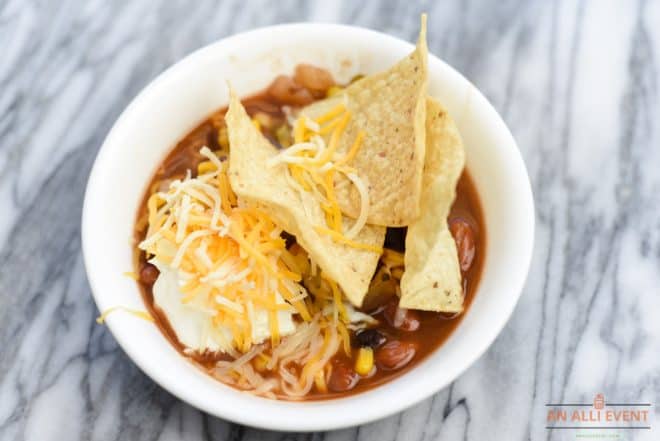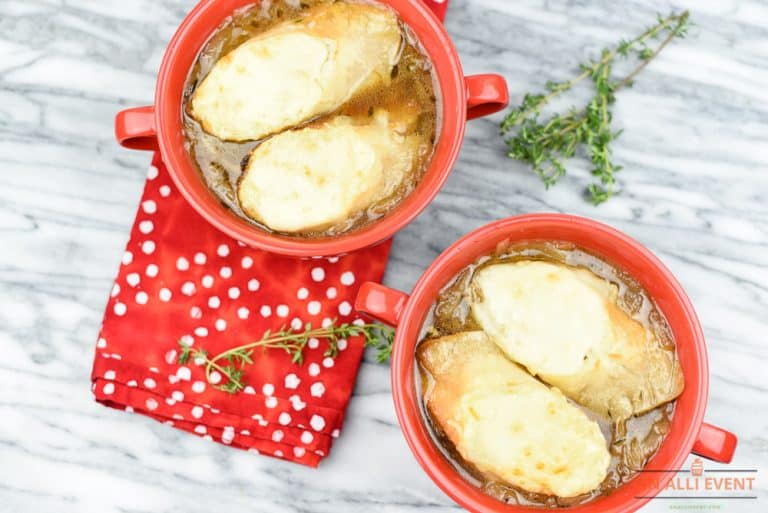 Slow Cooker Chicken Noodle Soup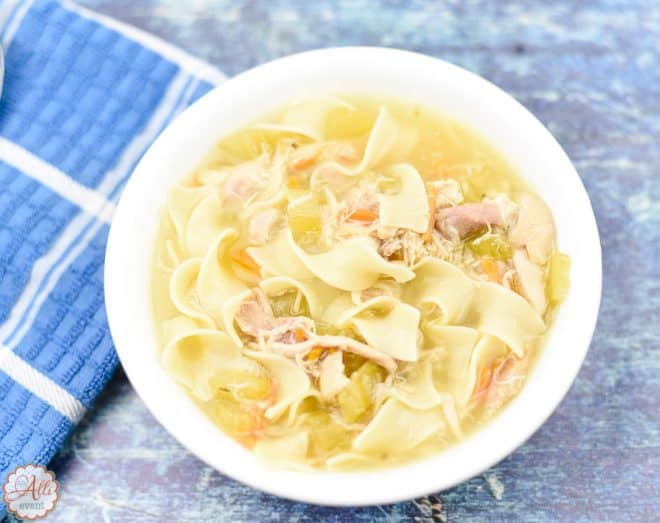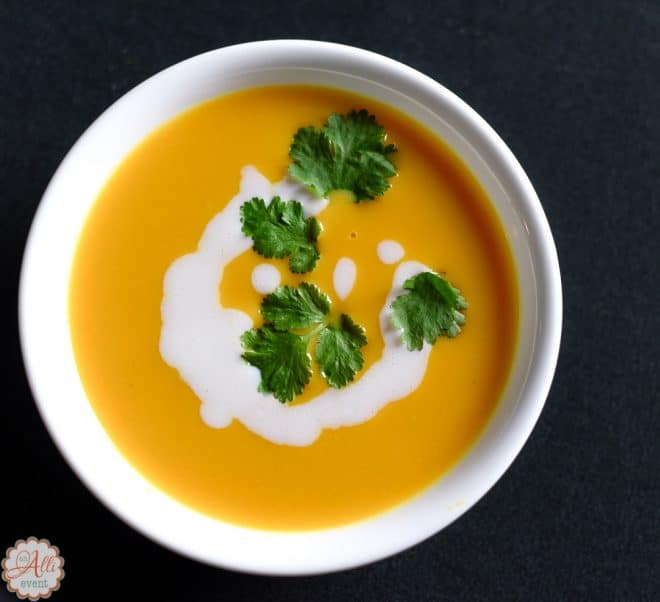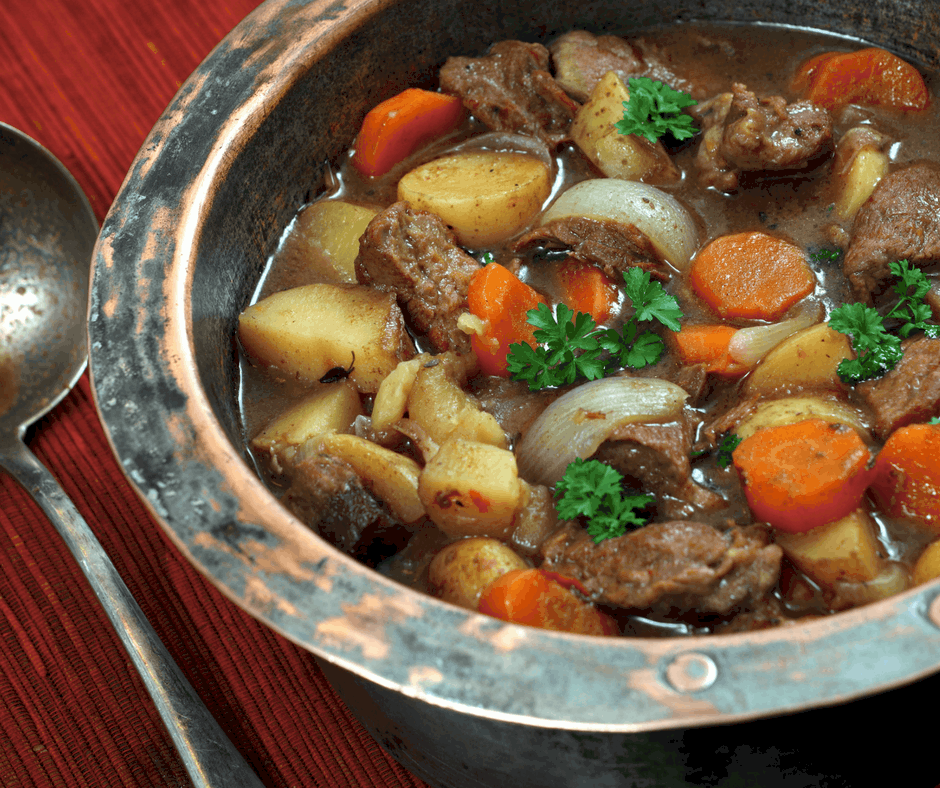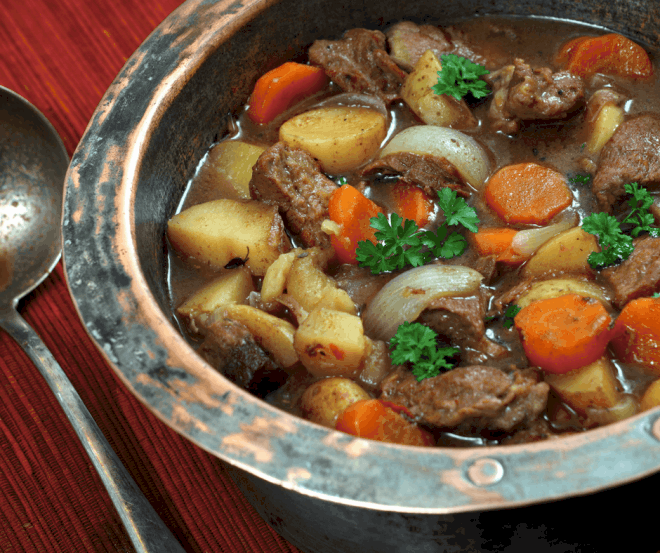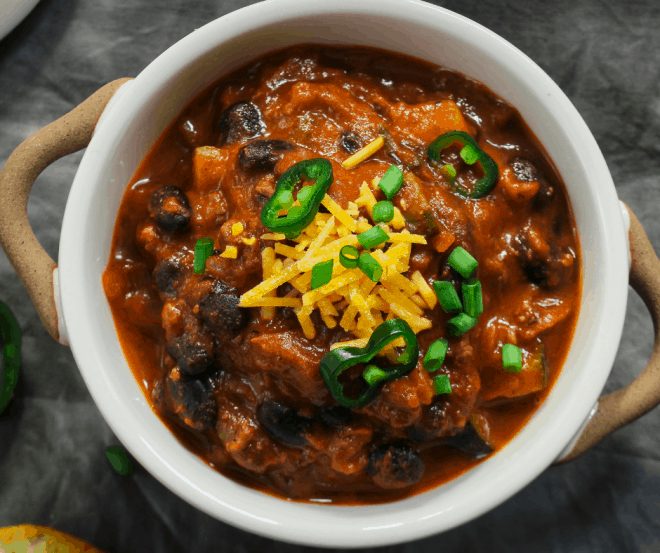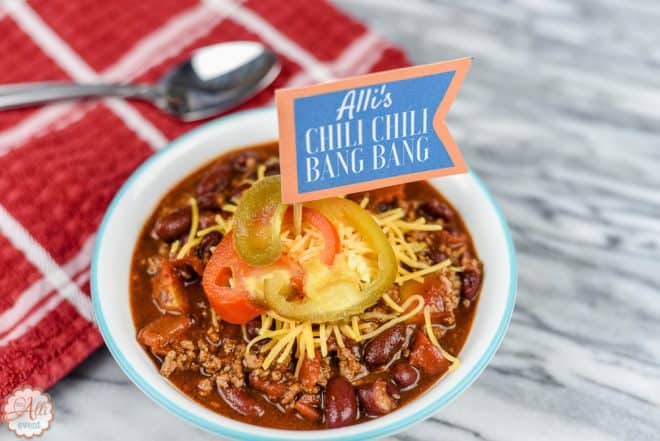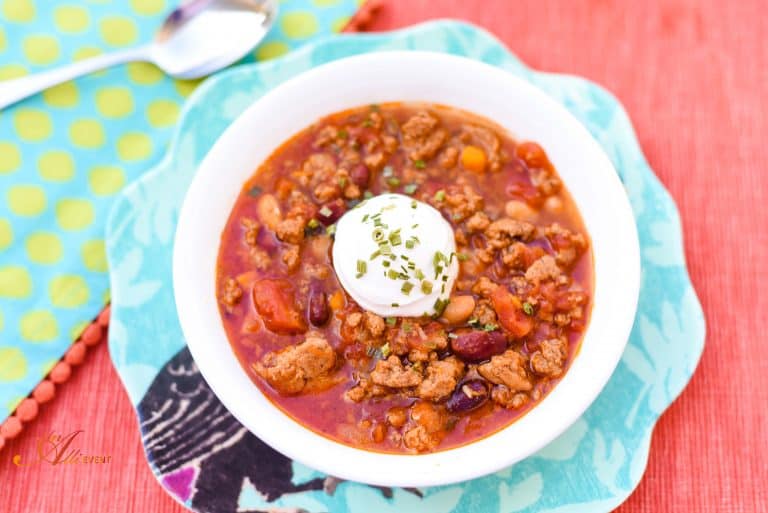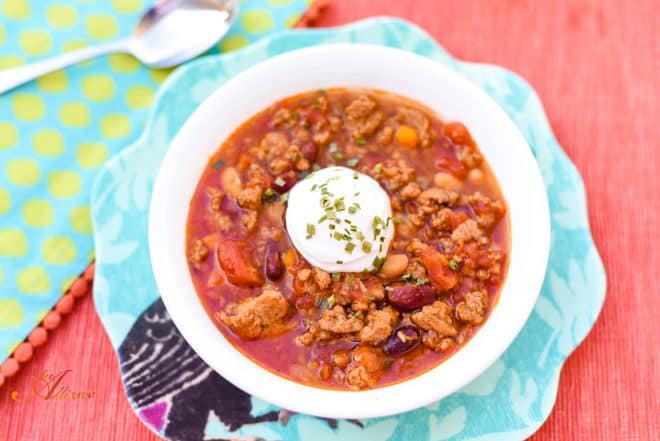 I must have cornbread with my soups, stews or chili. Here are my favorites!