A tender, delicious vanilla cake is baked in a 13×9 inch pan and topped with the best chocolate frosting full of chopped pecans. This cake is so moist and the chocolate frosting takes it over the top!
This fudgy chocolate frosting is my mom's recipe! She baked a vanilla cake with this chocolate frosting so many times during my childhood and beyond. Sometimes she used a yellow cake mix but the frosting was so good you couldn't even tell.
My entire family has so many precious memories centered around this cake and mom's amazing frosting. Every time I make this cake I think about my mom.
These days, I frost half of this cake with the chocolate icing then add the pecans and pour it over the rest of the cake. Some of the grandkids don't care for chopped nuts (I know. It's a shame!) so I frost half of this sheet cake with no nuts and half with the nuts.
If you choose to do half with no nuts, you'll only need 1/2 cup of nuts instead of the full cup that the recipe calls for.
When I made this cake for our weekly Sunday family dinner (17 family members!), there wasn't a crumb left!
Ingredients You'll Need To Make Vanilla Sheet Cake With Homemade Chocolate Frosting (Full Printable Recipe Card Down Below!)
unsalted butter
water
all-purpose flour
baking soda
salt
granulated sugar
eggs, beaten
sour cream
pure vanilla extract
Chocolate Frosting
unsalted butter
cocoa powder
granulated sugar
evaporated milk
toasted, chopped pecans (nuts are totally optional but I always add them)

How To Toast Pecans
I always like to toast my pecans (don't burn them!) before adding them to the frosting. It's a simple process.
You can use the skillet method or the oven method when toasting pecans. I prefer the skillet method but you need to watch the pecans closely.
Place pecans in a skillet in a single layer. Cook on medium-low, stirring occasionally until fragrant and lightly browned. It should only take between 3-5 minutes. Remove from the skillet and let cool.
To toast pecans in the oven, bake at 350º F for 5 to 8 minutes. Stir or shake the pan occasionally so the nuts brown evenly without burning.
How To Store Vanilla Cake With Homemade Chocolate Frosting
You can store this cake at room temperature, in an airtight container, for up to four days. If it's very hot or humid, store the cake in the fridge in an airtight container.
More Recipes To Love!
Yield: 12-14 servings
Vanilla Sheet Cake With Chocolate Frosting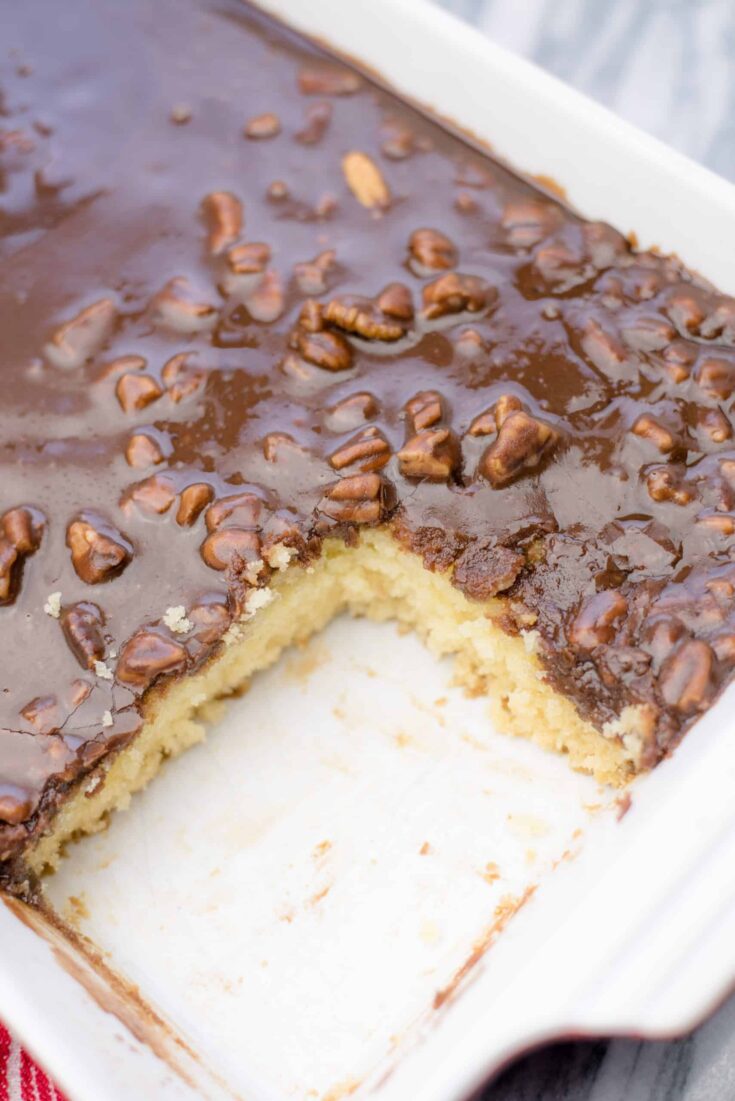 A tender homemade vanilla cake is topped with a delicious chocolate frosting.
Additional Time
20 minutes
Total Time
1 hour
5 minutes
Ingredients
1 cup unsalted (sweet) butter
1 cup water
2 cups all-purpose flour
1 teaspoon baking soda
1 teaspoon salt
2 cups granulated sugar
2 eggs, beaten
1/2 cup sour cream
1 teaspoon vanilla extract
Chocolate Frosting
1/2 cup unsalted butter
1/4 cup unsweetened cocoa powder
2 cups granulated sugar
2/3 cup evaporated milk
1 cup chopped pecans (optional)
Instructions
Preheat the oven to 350º F. Grease a 13x9 baking pan and set aside.
In a medium-sized saucepan, bring the butter and water to a boil.
While the butter/water is coming to a boil, stir the flour, baking soda, salt, and sugar together in a large bowl. In a small bowl, beat the eggs with a fork and stir in the sour cream, and vanilla extract. Add the egg mixture to the flour mixture and mix until combined.
Once the water/butter mixture is boiling, remove from the heat and pour into the batter. Mix until well combined. Pour batter evenly into a greased 13x9 baking pan. Bake at 350º for 30-35 minutes or until a toothpick inserted near the center comes out clean. Place the pan on a wire rack.
To make the frosting, melt butter in a saucepan on medium heat. Stir in the cocoa and sugar. Stir in the milk and let come to a full boil. Boil for exactly one minute, without stirring. Remove from heat and add the nuts (if desired) and beat with a spoon until slightly thickened. The frosting will thicken as it cools. Pour over the warm cake. Let the cake sit for about 20 minutes before serving.
Recommended Products
As an Amazon Associate and member of other affiliate programs, I earn from qualifying purchases.
If you love double chocolate, this is my favorite chocolate cake recipe with a light chocolate mousse frosting!