I recreated (from memory) the old fashioned ambrosia like grandma used to make. I think it rocks!
My oldest daughter called me a few days ago to ask if I had a recipe for ambrosia. I was like, you mean that stuff grandma used to make? She said, "Yes, exactly."
I explained that I wasn't a big fan of grandma's ambrosia when I was a young child but I love it now. She went on to say that she had looked for a recipe everywhere but they all had sour cream and all kinds of stuff that the original didn't have.
What is Ambrosia?
It literally means food of the Gods. I guess whoever named this orange and coconut concoction really liked it.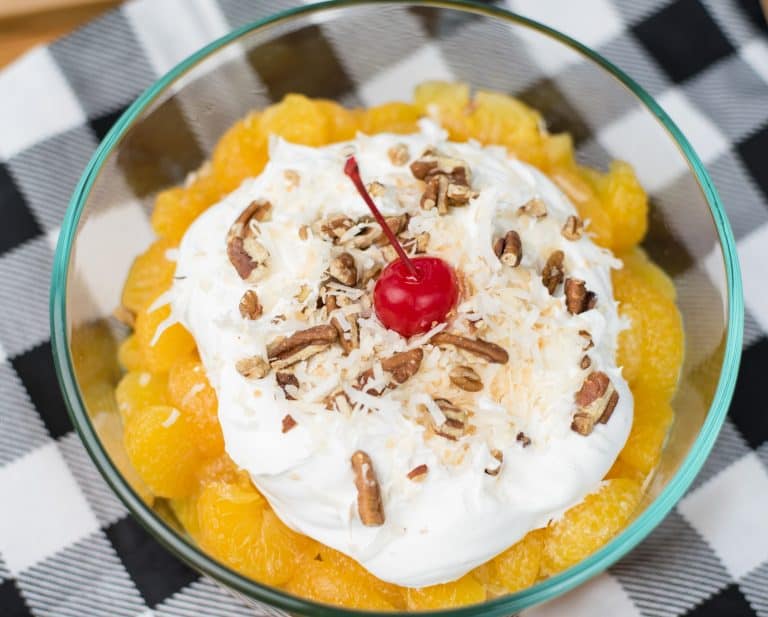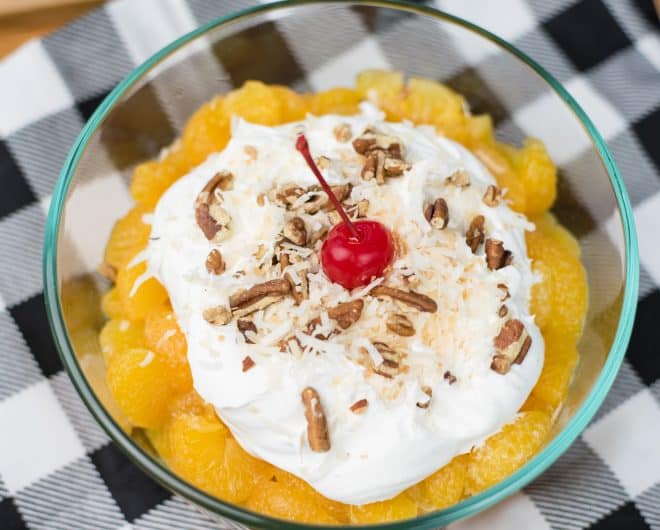 Most modern recipes have taken the Old Fashioned Ambrosia and turned it into a fruit salad. The original southern ambrosia was not a fruit salad.
All grandma's ambrosia had in it was orange segments, coconut, pecans, and the juice from the oranges. It may have had a pinch of sugar because, in the south, sugar makes everything better.
These days, you'll find every fruit imaginable in a fruit salad. There's absolutely nothing wrong with gussying up grandma's old fashioned ambrosia a little bit.
Ingredients for Old Fashioned Ambrosia
Fresh juicy oranges (Or jarred, refrigerated mandarin oranges)
Orange zest
Powdered sugar
Sweetened flaked coconut, toasted
Chopped pecans, toasted
Frozen whipped topping, thawed
Maraschino cherries, for garnish
My oldest daughter and I agree that the fresh oranges are better than the jarred mandarin oranges. It just takes a little longer to put together.
How To Segment An Orange
The oranges need to be segmented over a bowl because you're going to need to save the juice. If you hate segmenting an orange, buy the jarred mandarin oranges.
The peel, pith, and membrane need to be removed from the oranges and separated into segments.
Use a sharp, thin knife to cut the top and bottom off of the orange so that it sits flat on a cutting board. With even downward strokes, cut the skin away (including pith) from the flesh of the orange. Remove any remaining pith.
To segment the oranges, cut between each membrane, retaining the orange segments and the juice.
Make sure you zest one of the oranges before peeling. You'll need 1/4 teaspoon orange zest.
You Can Use Jarred Mandarian Oranges Instead of Fresh Oranges
As I mentioned above, if you don't have the time or inclination to segment the six oranges, buy mandarin oranges in jars in the refrigerated section of your grocery store. This is not the way grandma did it, but I think she would approve.
You May Also Like These Recipes
Yield: 4-6 servings
Old Fashioned Ambrosia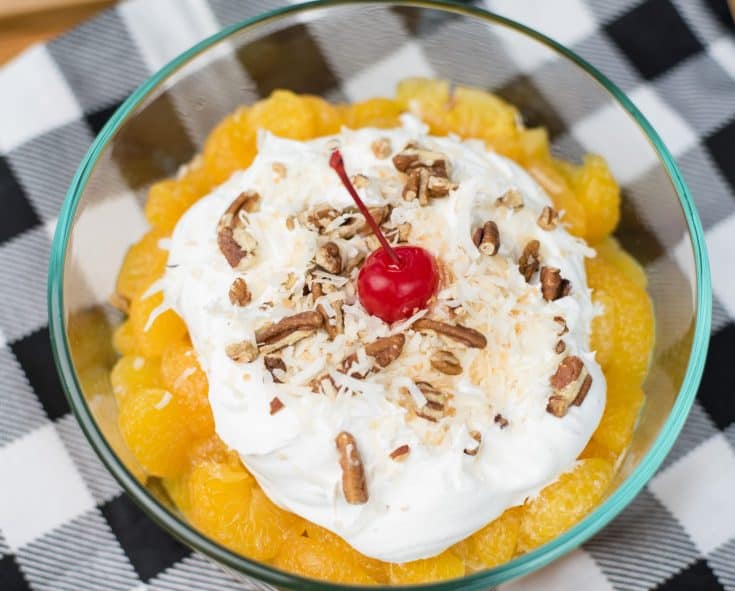 Old Fashioned Ambrosia is a simple, classic southern side dish like grandma used to make.
Additional Time
45 minutes
Total Time
1 hour
5 minutes
Ingredients
6 large juicy oranges (OR 2 jars mandarin oranges)
1 Tablespoon powdered sugar
1/4 teaspoon grated orange zest
1 cup frozen whipped topping, thawed
1/2 cup sweetened flaked coconut, toasted
1/4 cup chopped pecans, toasted
Maraschino cherries, optional garnish
Instructions
Segment oranges over a large bowl, reserving juice. (If using mandarin oranges, you don't need to reserve the juice in the jar).
Place the orange segments (with juice) in six individual small bowls or a larger glass bowl. Sprinkle powdered sugar and orange zest over the oranges and toss gently to combine. Refrigerate for 45 minutes or until ready to serve.
Before serving, top with whipped topping, toasted coconut, toasted pecans, and maraschino cherries.
Notes
If you want to change things up a bit, you can add grapefruit or pineapple chunks.
Nutrition Information
Yield
6
Serving Size
1
Amount Per Serving
Calories

124
Total Fat

8g
Saturated Fat

5g
Trans Fat

0g
Unsaturated Fat

3g
Cholesterol

0mg
Sodium

24mg
Carbohydrates

12g
Fiber

2g
Sugar

10g
Protein

1g