Technically, summer doesn't end until September 22nd. So, it's still prime summertime party season here in the south. Chunky Chicken Salad is a huge favorite at my house.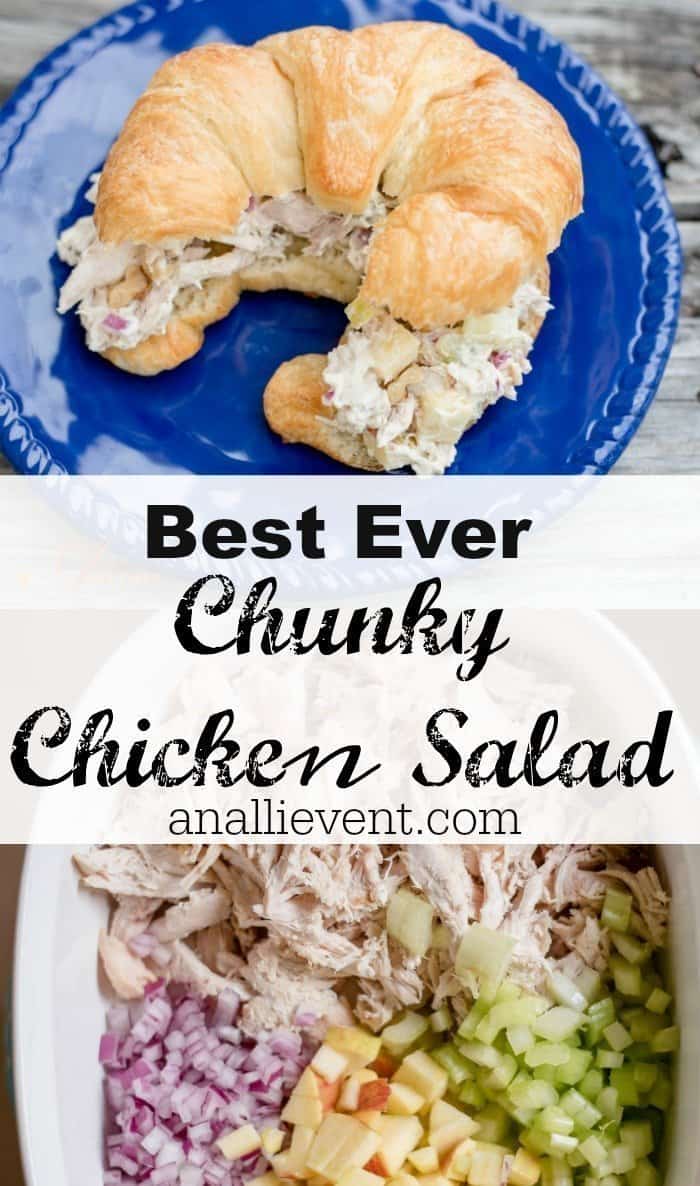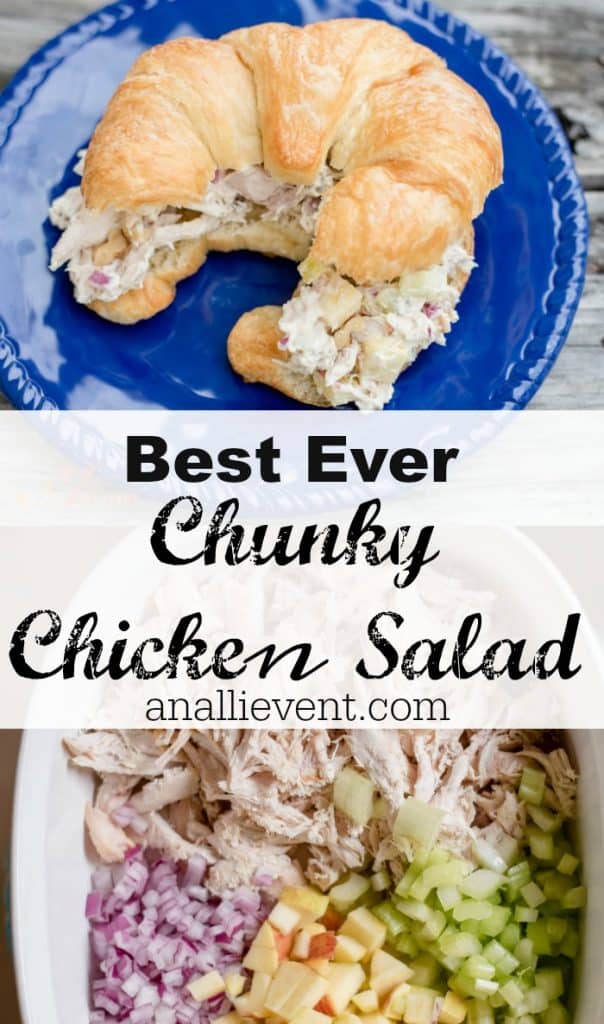 I'm in North Myrtle Beach this week enjoying a last-hurrah family beach trip. I call it our goodbye-to-summer see-ya-next-year trip. My husband has already stated that he sure hopes I'm making my chicken salad. No worries. I'll have it whipped up in no time.
If you're planning a big weekend pool party, a family reunion, or a trip to the beach, try my Chunky Chicken Salad for a Crowd. It feeds 20! And if you need more than that, just double it!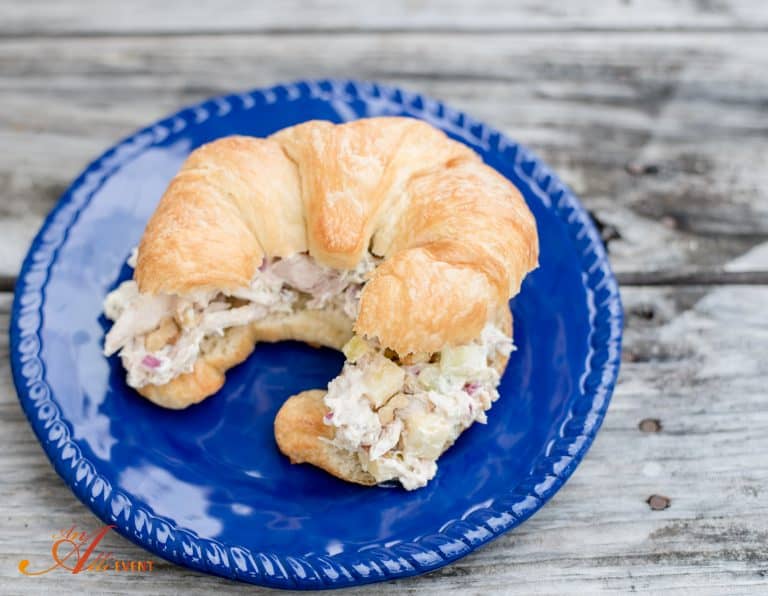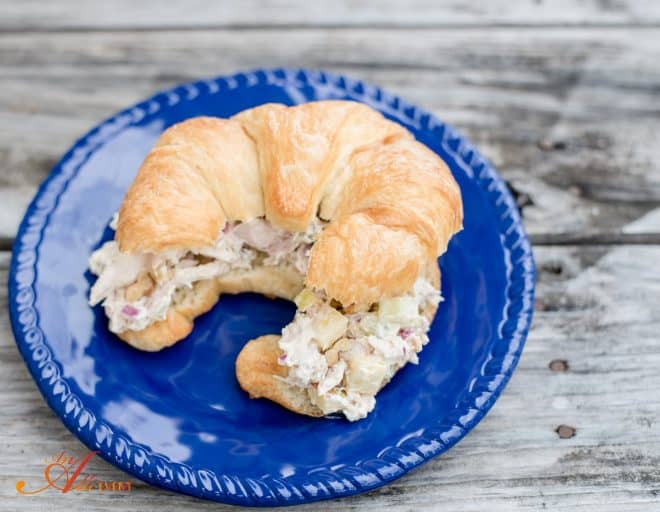 I usually prepare this the night before we hit the beach for our family vacation. I put it in a large freezer bag and stick it in the cooler just before leaving for our road trip to the beach. It's nice to have something ready to eat when we arrive. Serve with crackers or make sandwiches. It's all good!
Helpful Hint: If I need to make a chicken salad in a hurry, I use a rotisserie chicken from the grocery store. I must always be in a hurry because I use a rotisserie chicken just about every time I make this.
When I'm preparing it for guests, I just use the breast meat and save the dark meat for another use. Southerners would never use dark meat in a chicken salad! Don't tell anyone, but when it's just my immediate family, I use the whole thing! My family loves dark meat! 🙂
Chunky Chicken Salad
If you're using chicken breasts, let them cool completely before chopping.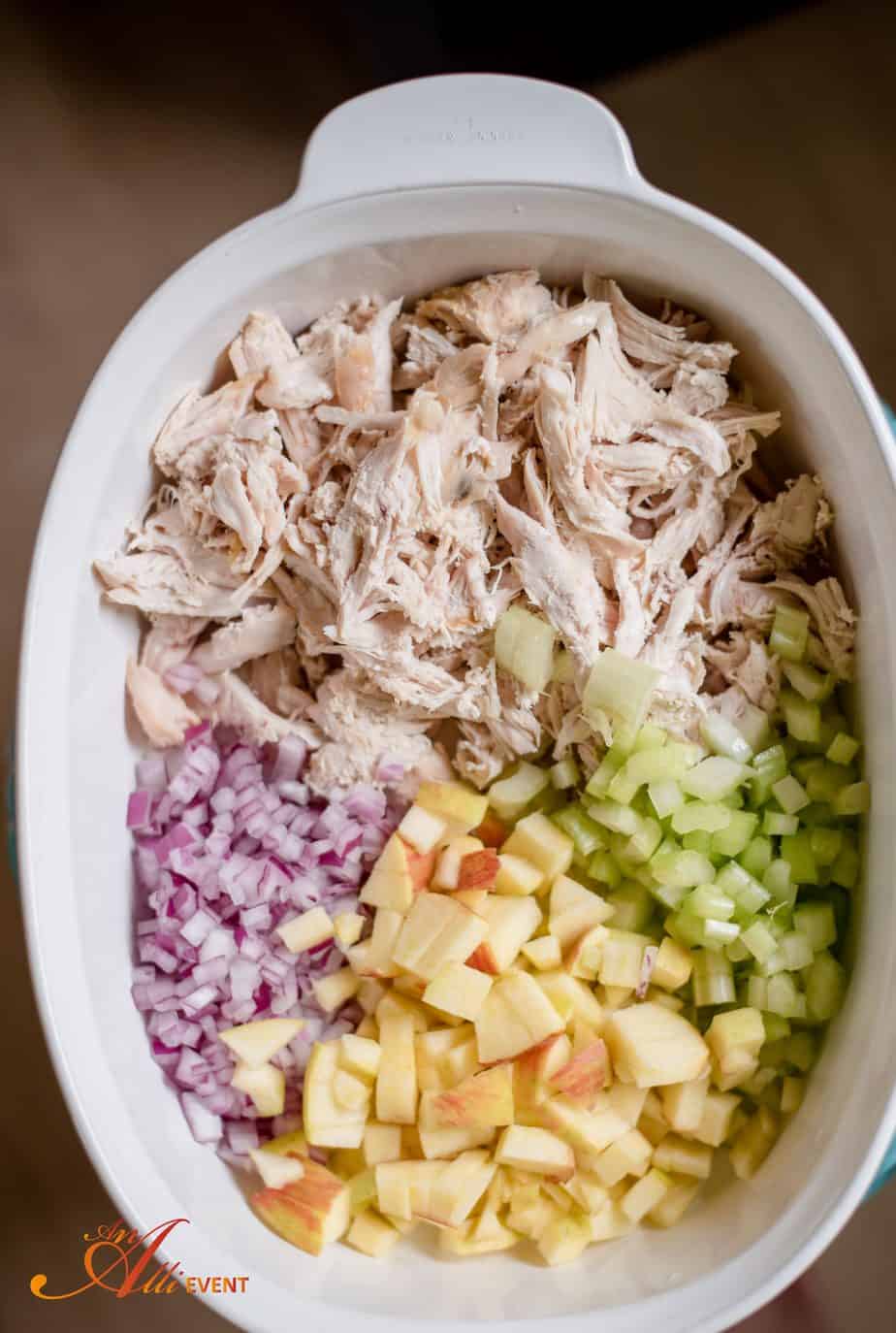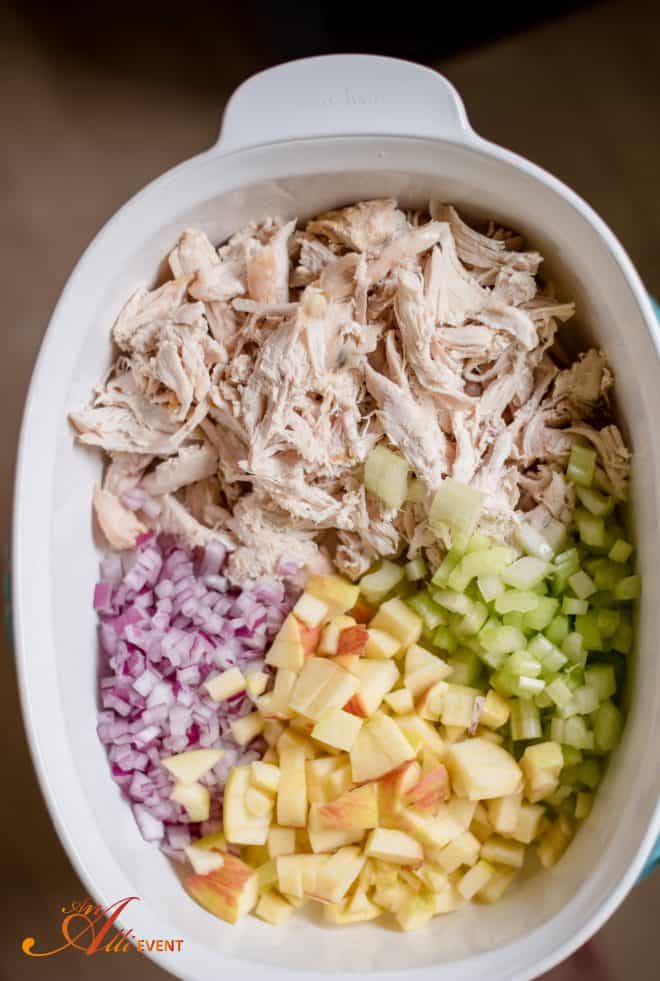 Place chicken in a large bowl and add all the ingredients and toss with the mayo and mustard. Store in the fridge.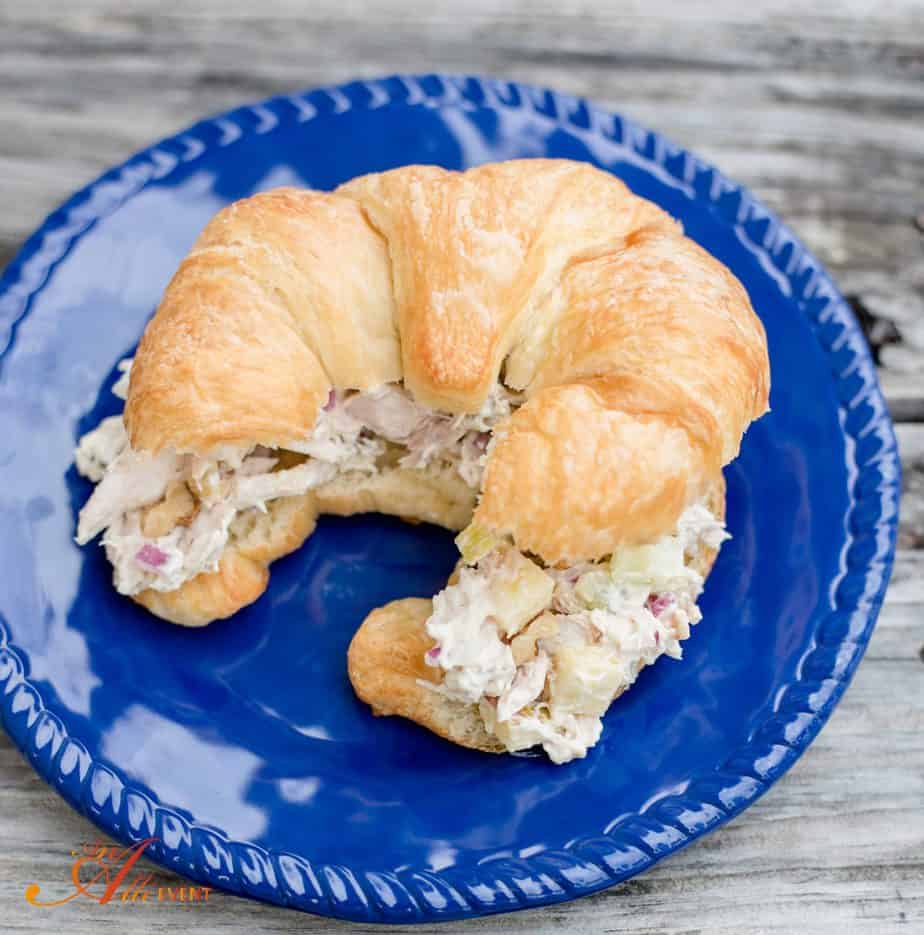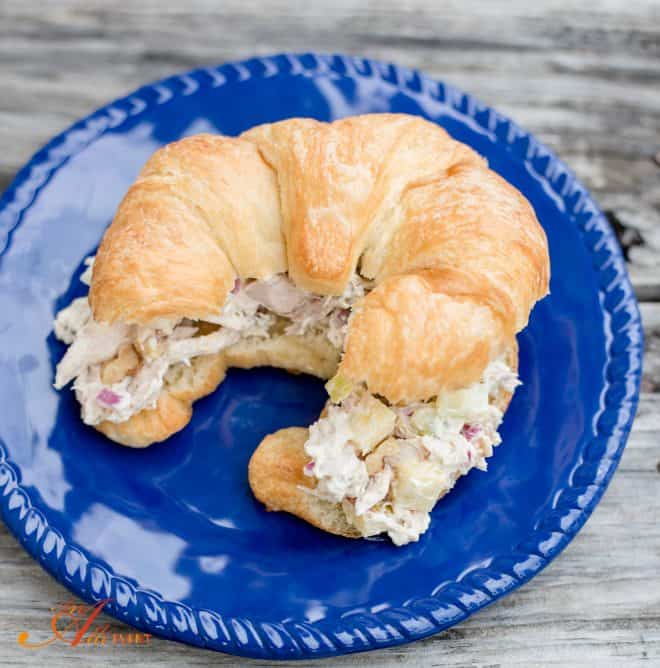 Yield: 20 servings
Chunky Chicken Salad for a Crowd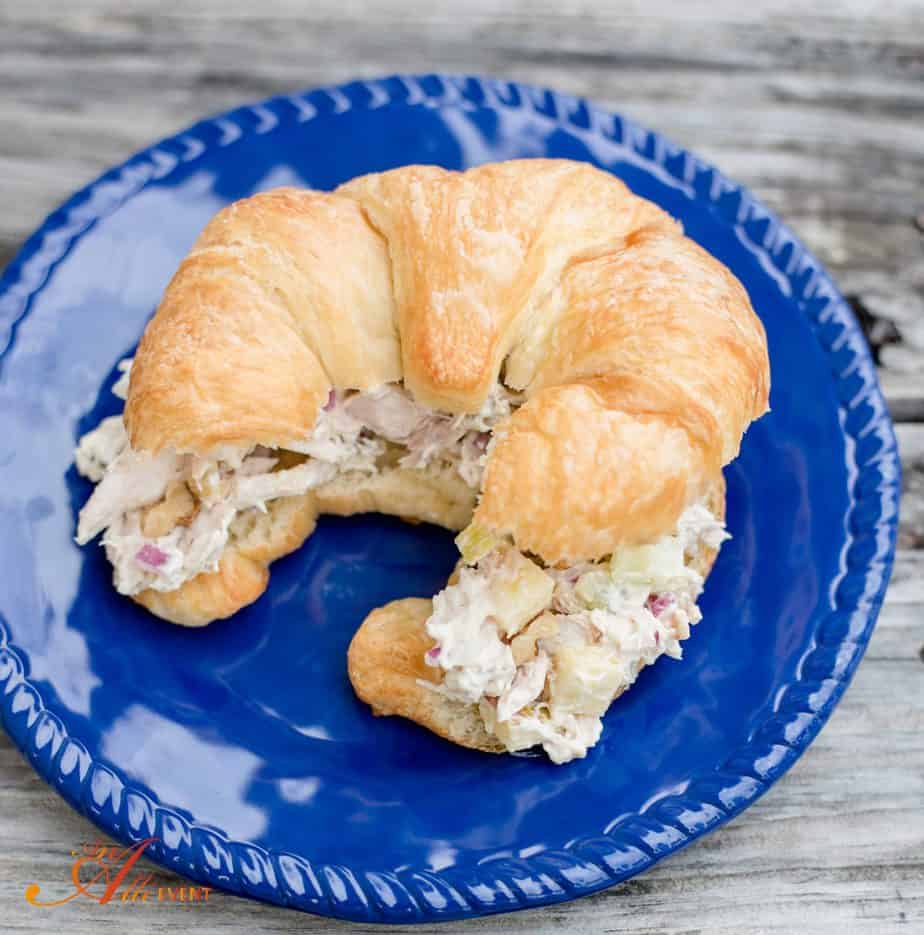 Chunky Chicken Salad is creamy and crunchy and full of flavor.

Prep Time 10 minutes

Cook Time 20 minutes

Total Time 30 minutes
Ingredients
3 lbs. boneless chicken breasts (or prepared rotisserie chicken)
4 apples (gala or fuji), chopped
1 medium red onion, chopped
1 cup chopped celery
1 cup walnuts OR pecans
1 cup mayonnaise
1/4 cup brown mustard
salt and pepper to taste
Instructions
If you're using boneless chicken breasts, place chicken in a large stockpot and cover with water.
Bring to a boil over medium-high heat. Reduce heat to low and cover.
Cook for 20 minutes or until no longer pink.
Chop or shred chicken.
In a large bowl, mix chicken with apple, onion, celery, walnuts, salt, and pepper. Toss with mayonnaise and mustard.
Store in the fridge.

My chunky chicken salad is also delicious served in croissants for a bridal luncheon or a brunch. The crunch of the apples and nuts combined with the creaminess of the mayo/mustard mixture takes a ho-hum chicken salad to a whole new level.
You May Also Like