Chips and queso rule – at least in my opinion. This Queso Fondue takes queso up a couple of notches and it's the perfect dip for your next party.
I'm a fondue lover. I guess it's because I'm a child of the 70s. Fondue parties were all the rage when I was a little girl and I'm glad that they never seem to go out of style.
What is Fondue?
Fondue is a melted cheese served in a communal pot – no double dipping, please. The lines seem to blur when it comes to the origination of fondue.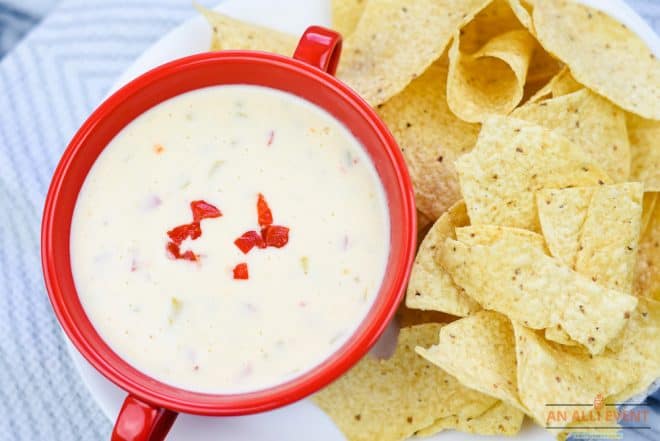 Cheese Fondue has been the Swiss national dish forever it seems. It's been said that fondue originates somewhere along the French-Swiss border. I can't fit it all in here, but if you are interested, you can find so much more about the history of fondue.
Maybe my love of fondue goes back to the fact that I'm 22% Scandinavian. I've always been a cheese lover and melted cheese is even better.
Queso Fondue
Queso Fondue is basically a fancy name for queso dip. It's a little thicker than the queso served in my neighborhood Mexican restaurant. If you like a thicker dip, this Queso Fondue will be right up your alley.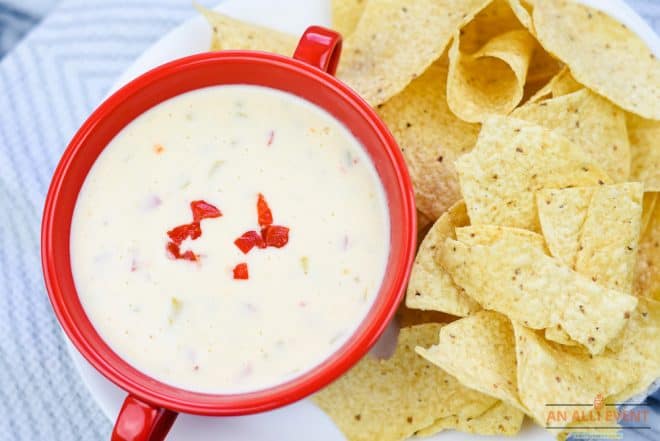 Dippers for Queso Fondue
Tortilla chips (hold the salt, please) are my favorites. You could also use crackers or cornbread. My aunt Jean's cornbread sticks would pair perfectly with Queso Fondue.
Fondue Pot
Once upon a time, I had a fondue pot. It was so cute until it disappeared. I've either loaned it out and it was never returned. Or, I've hidden it from myself. Either scenario is extremely possible.
These days, I just use one of my smaller crock pots to serve this dip. After making the fondue, I turn it on warm and give it a little stir every once in a while.
If you're hosting a fondue party, I have a few recommendations below.


Let's Make Queso Fondue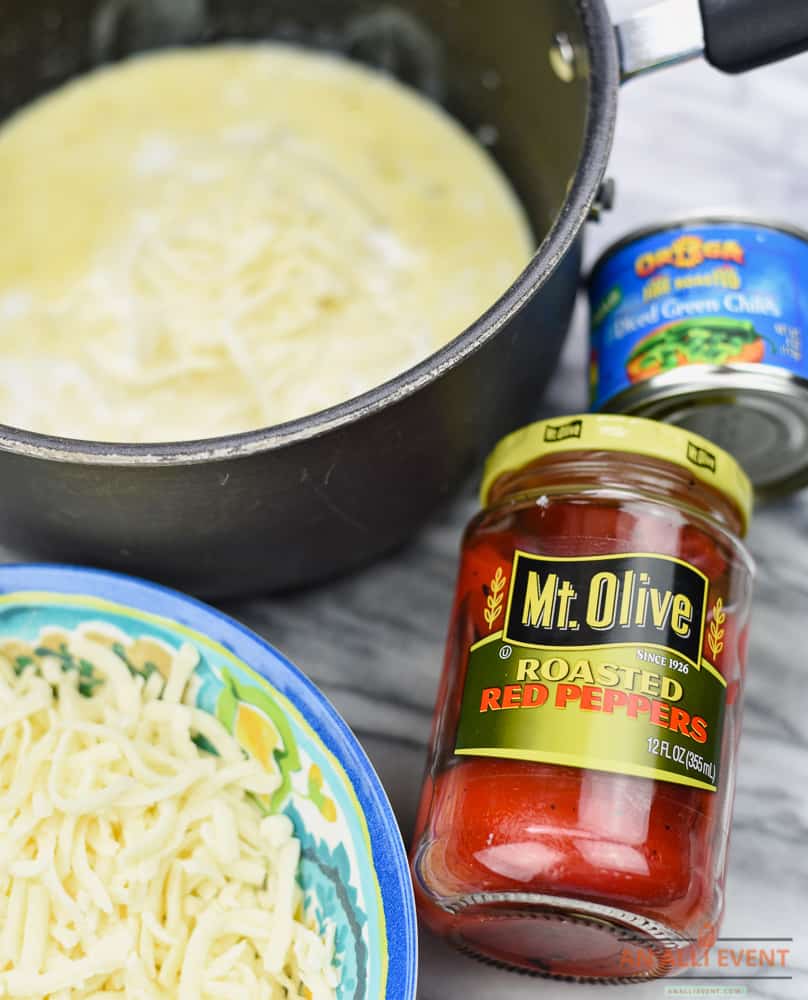 Toss shredded Monterey Jack cheese with 1 Tablespoon all-purpose flour. Set aside. Tossing the cheese with flour will keep the cheese silky smooth and improves the viscosity of the fondue. So don't skip this step.
Note: Shred the Monterey cheese yourself. Freshly grated cheese doesn't contain added preservatives and chemicals.
In a medium saucepan, melt butter. Add diced onion and cook over low heat until the onion is transparent.
Stir in 1/3 cup of the half-and-half (See note below) Gradually add the cheese mixture, a little at a time, stirring constantly until cheese is melted.
Stir in chili peppers, roasted sweet peppers, and seasonings.
Transfer to a fondue pot or a slow cooker. Keep warm.
If Fondue is Too Thick
I always start with 1/3 cup half-and-half and once the cheese is added, it gets too thick. So, I add a Tablespoon of half-and-half at a time until I reach the perfect consistency. That's why the recipe calls for 1/3 to 1/2 cup half-and-half.
If the fondue gets too thin, add additional shredded cheese until you get the proper consistency. I like this queso on the thick side.
Yield: 20 servings
Queso Fondue
Queso Fondue is creamy with just the right amount of peppers and seasonings. It's perfect for your next party.
Ingredients
1-1/2 cups shredded Monterey Jack cheese
1 Tablespoon all-purpose flour
1/2 medium onion, diced
2 teaspoons butter
1/3 to 1/2 cup half-and-half
1 4-oz. can diced green chilis
3 Tablespoons roasted red peppers, chopped
1/4 teaspoon each garlic powder and cumin
Instructions
Toss shredded cheese and flour together. Set aside.
In a medium saucepan, melt butter on low. Add the diced onion and cook, stirring often, until translucent. Stir in half-and-half.
Add the shredded cheese mixture, a little at a time, stirring constantly until cheese is melted. If the mixture gets too thick, add a tablespoon half-and-half at a time until you reach the desired thickness.
Stir in chili peppers, roasted red peppers and seasonings.
Transfer to a fondue pot or slow cooker and keep warm. Serve with tortilla chips, crackers or cornbread sticks.
Nutrition Information
Yield
20
Serving Size
1
Amount Per Serving
Calories

43
Total Fat

3g
Saturated Fat

2g
Trans Fat

0g
Unsaturated Fat

1g
Cholesterol

9mg
Sodium

56mg
Carbohydrates

1g
Fiber

0g
Sugar

1g
Protein

2g
How to Reheat Queso
You can store leftover queso in the fridge. When it's time to reheat you may be tempted to place it in the microwave and hit one minute. Don't. It may separate and look like oil with little globs of cheese throughout – not appetizing at all.
A cheese sauce separates when it is heated too quickly and uneven. Reheat the cheese sauce in the top of a double boiler (or a heatproof bowl placed over a small saucepan of simmering water.)
Add a splash of half-and-half before adding the queso to the bowl. Stir constantly until heated through.
You Will Also Love