There's just something about spring that makes me want to sing!  But I won't.  It's not pretty!  Flowers are showing off their beautiful blossoms.  Trees are budding and the grass is turning a vivid green.  I love spring!
It's time to shed our winter coats, scarves and closed-toe shoes and trade them in for lighter fabrics and sandals.  I'm going completely off subject, but did you know that scarf has two plurals?  Scarves is the preferred form, but scarfs is the original and was more common before the 20th century.
We even begin to eat lighter in the spring (thank goodness!).  Gone are the heavy stews and comfort foods. Bright, fresh salads, fruits and spring vegetables make their debut. Even Easter is making an early  appearance this year.
I've decided to ditch the normal deviled eggs (oh, my!) and serve my zippy egg salad dip as an appetizer while I'm putting the finishing touches on my Easter spread.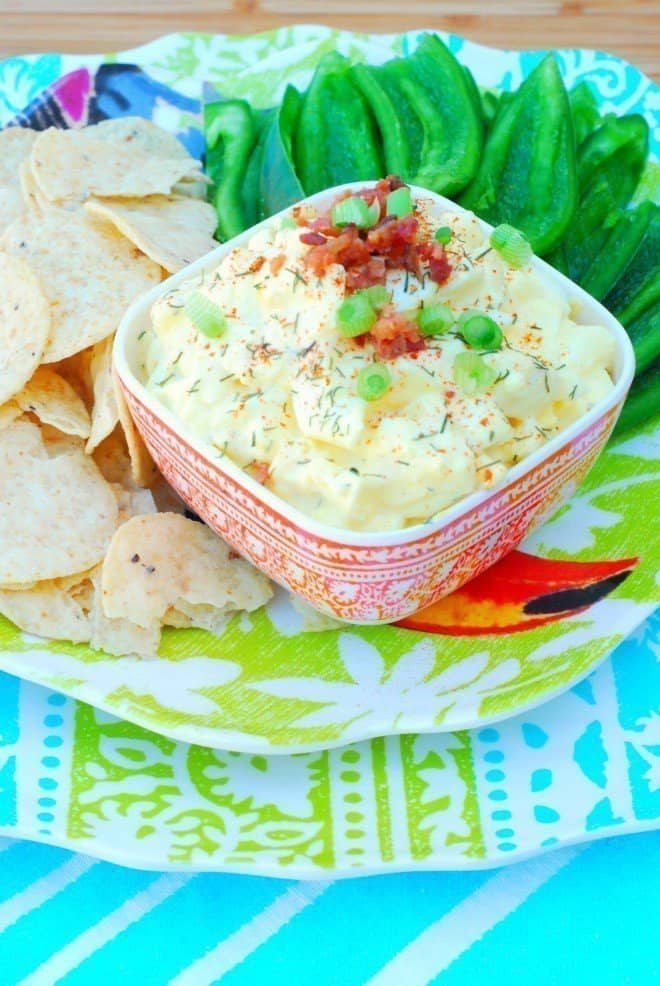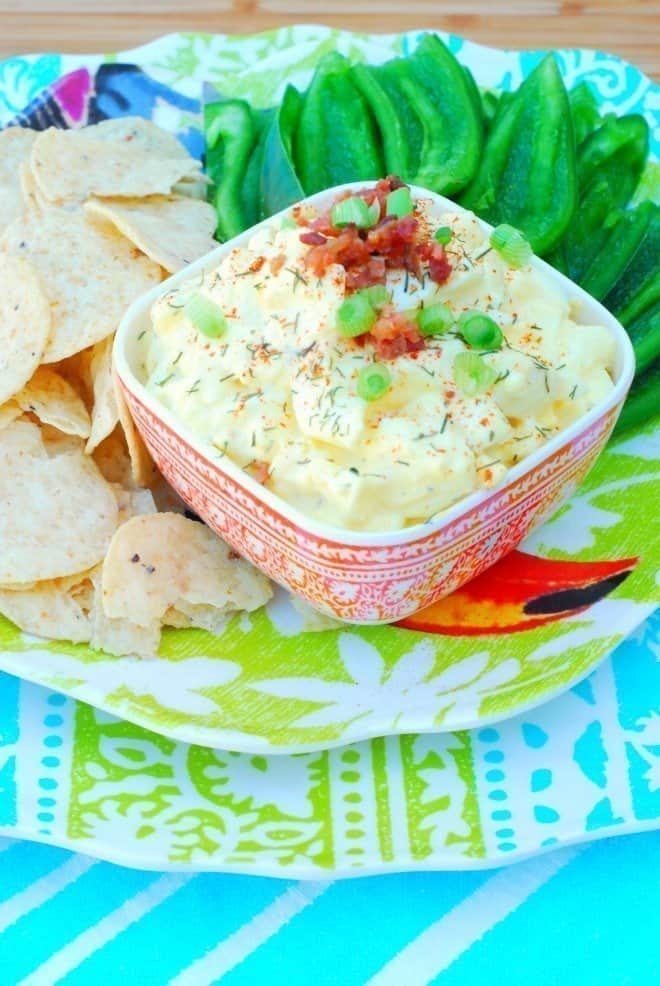 Maybe my zippy dip will keep everyone out of the kitchen!  Yes, I'm that person who wants everyone on the other side of the island when I'm cooking.  Don't step foot on my side of the kitchen!  Is that weird?
This recipe begins with boiled eggs, of course.  Place eggs in a large saucepan and cover with water (enough to cover eggs by 1″).  Bring to a boil on med/high heat.  Once the water-covered eggs come to a boil, cover saucepan with a lid, remove from heat and set the timer for 18 minutes.  When the timer goes off, drain eggs and place under cold running water until cool enough to peel.  Perfection!
Do you ever wonder if your eggs are fresh?  Here's how to tell:
Fill a deep bowl with cold water and place eggs in the bowl. If they sink to the bottom and lay flat on their sides, they are fresh. If they're a few weeks old but still good to eat, they'll stand on one end at the bottom of the bowl.  If they float to the surface, they're no longer fresh enough to eat.

Zippy Egg Salad Dip
Ingredients
12 hardboiled eggs, peeled and chopped
2 Tablespoons mayonnaise (I always use Dukes)
1 tsp. fresh dill
½ cup Greek yogurt
½ tsp. onion powder
½ tsp. garlic powder
1 tsp. dijon mustard
Black pepper and salt to taste
Garnish with chives, paprika & chopped bacon, if desired
Instructions
Chop eggs in a bowl and set aside.
Mix together mayo, yogurt, dill, onion powder, garlic powder, dijon mustard, salt, pepper and add to chopped eggs. Mix gently.
Garnish with chives, paprika & chopped, crisp bacon if desired.
Serve with veggie strips, crackers or baked tortilla chips.
You can also use this dip for egg salad sandwiches.  The dijon mustard adds a little zip.  Because I like it spicy, I sometimes add a bit more dijon.
Speaking of dips, you can find my favorite pimento cheese dip here!
What's your favorite springtime food?

Print Friendly