Since my husband and I can't make it to Italy for Valentine's Day, I've got the next best thing planned. I'm bringing Tuscany to my table and the entree will be Shrimp Fra Diavolo. Fra Diavolo means "Brother Devil" in Italian because the sauce is spicy. If you don't like spice, just leave the crushed red pepper out or don't use as much.
With a name like Shrimp Fra Diavolo, you're probably thinking hard, time-consuming, etc. Who has time for that? Not me! Thanks to Bertolli® Five Cheese Sauce, my Valentine's meal will be done in less than 20 minutes! That means more time for romance!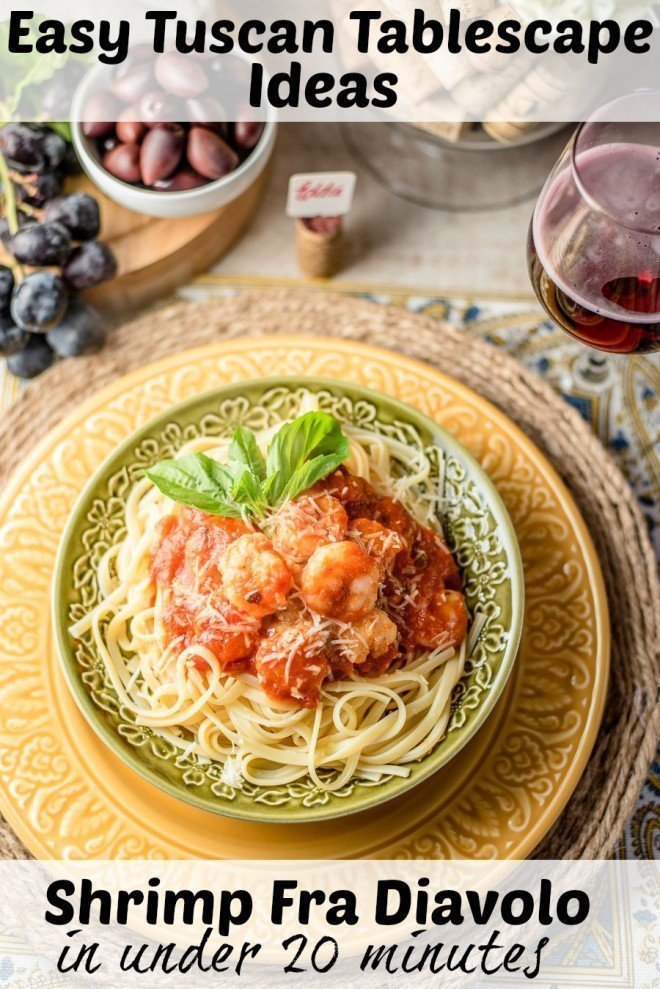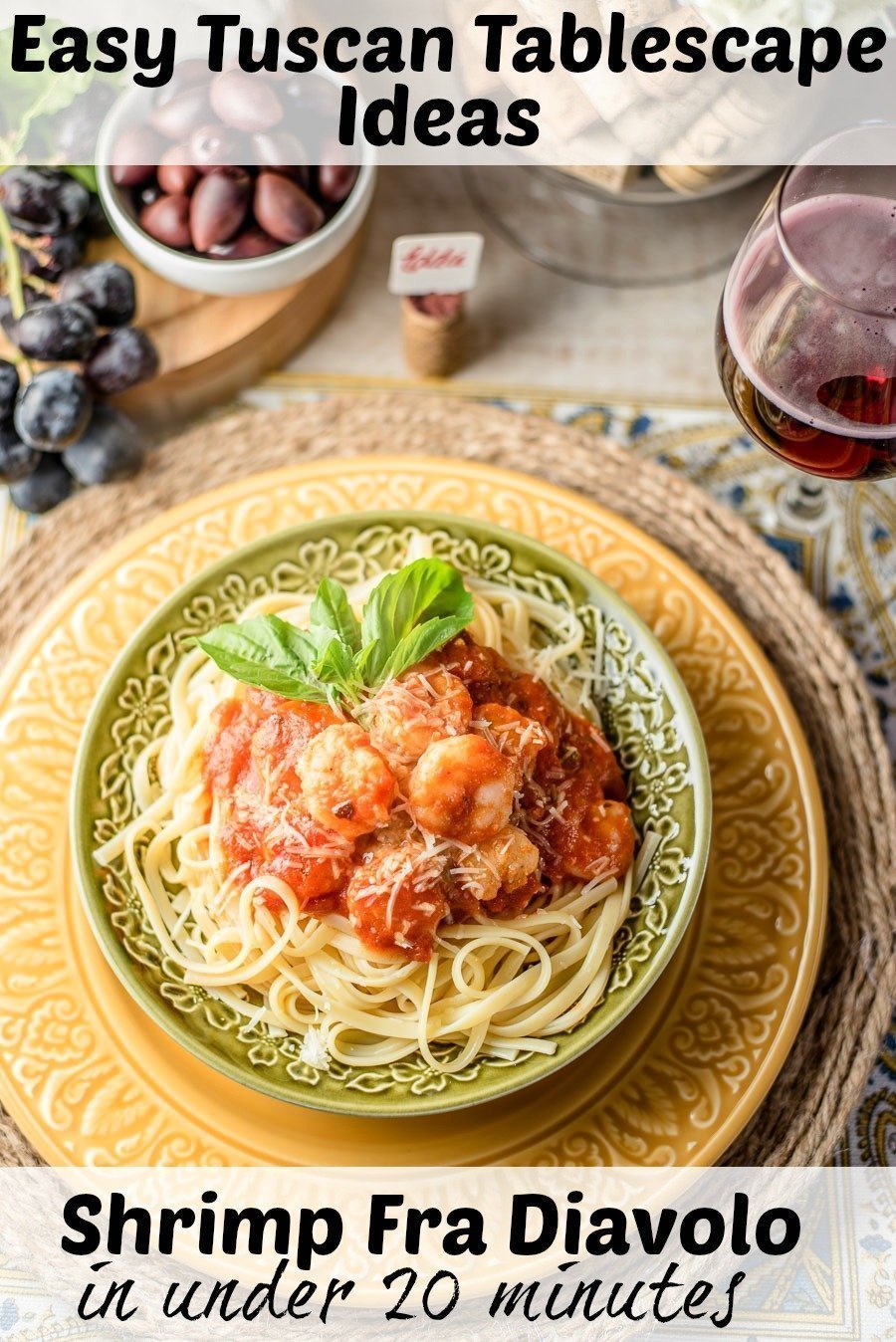 To bring Tuscany to my table, I ordered a bag of wine corks (very inexpensive) and bought some fresh hydrangeas (my fave flower) from the grocery store. Colorful placemats and DIY place card holders complete the Tuscan look.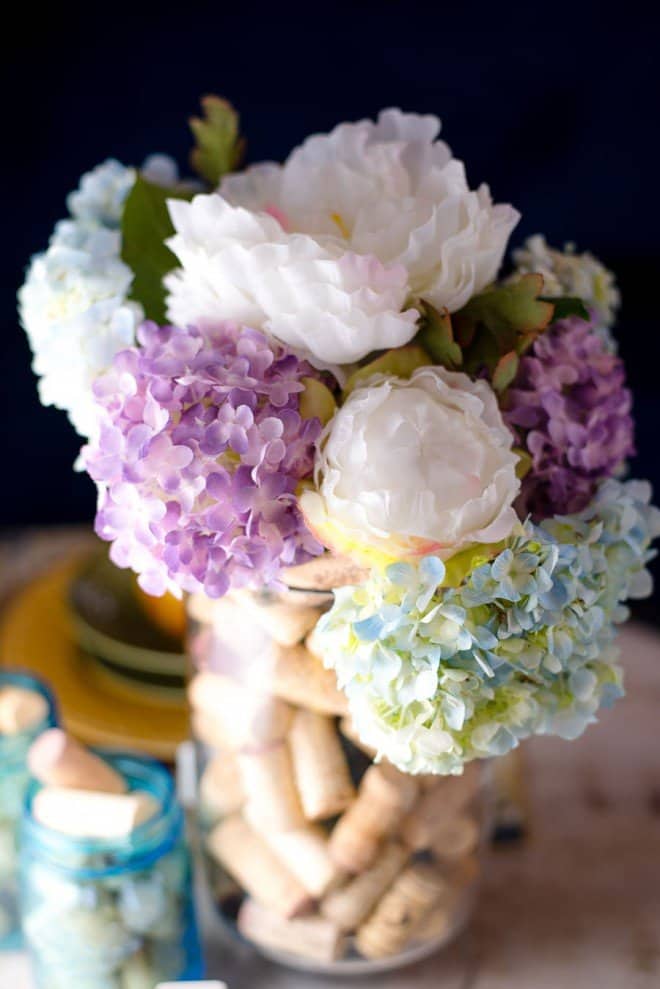 I used a skinny, tall vase inside a larger one. After filling the vase with water, I added my hydrangeas. Then I added corks between the skinny vase and the larger one. Don't tell anyone, but the hydrangeas weren't quite full enough for me, so I added some faux Allium and other faux flowers I had to make the bouquet just right. Yes, you can mix real and fake together!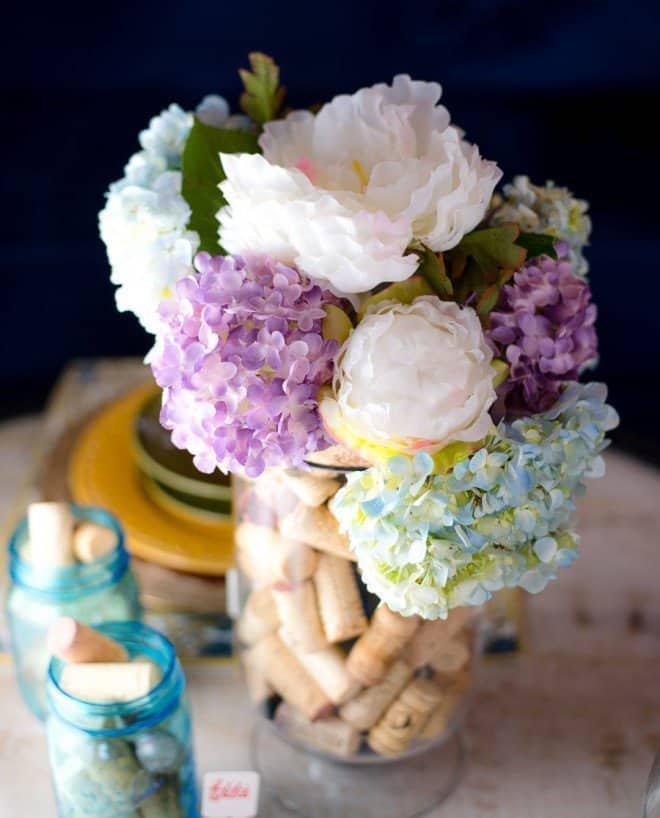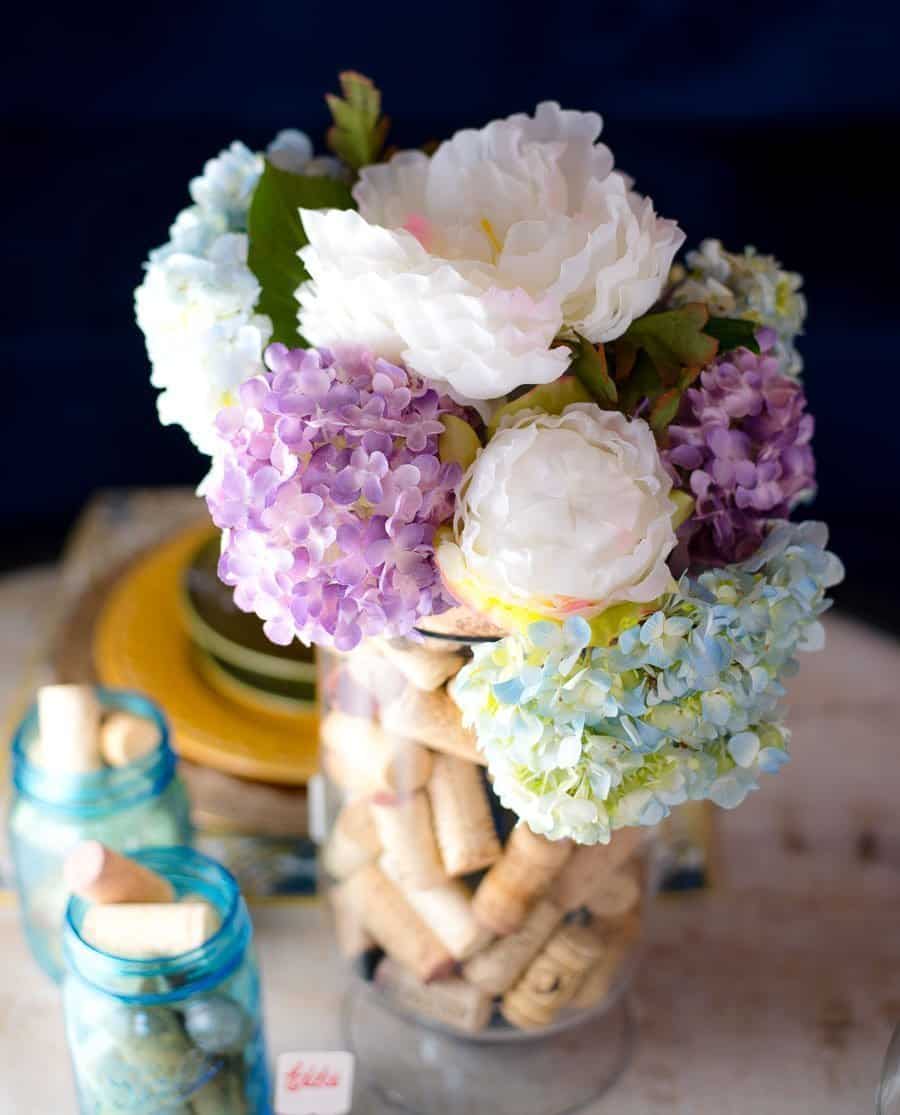 Then I used my X-Acto knife to make a slit in the top of the cork and inserted little tags I had from a craft project from long ago. The reason I made the slit in the top and not the side of the cork is because a cork on its side will not stay still unless you flatten the bottom. I like it upright.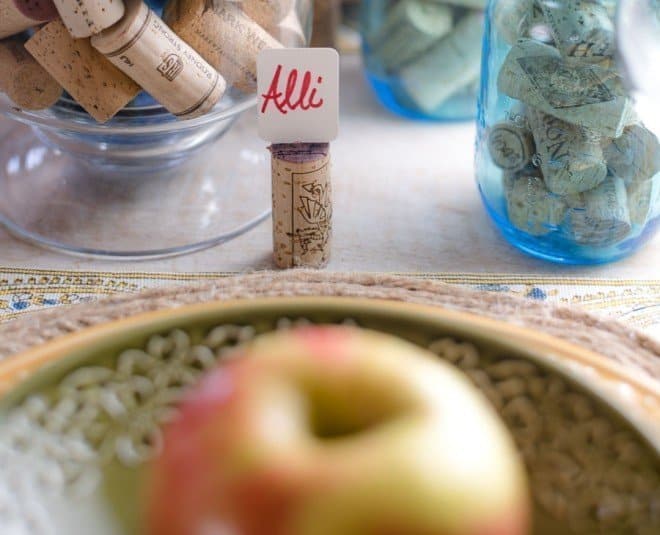 This took mere seconds to complete.
I had lots of corks left over, so I filled blue mason jars with corks. You can never have too many wine corks.
Once the tablescape is completed, it's time to make the Shrimp Fra Diavolo. Bertoli saves me so much time and effort and I'm intrigued by the story of how Bertoli was started.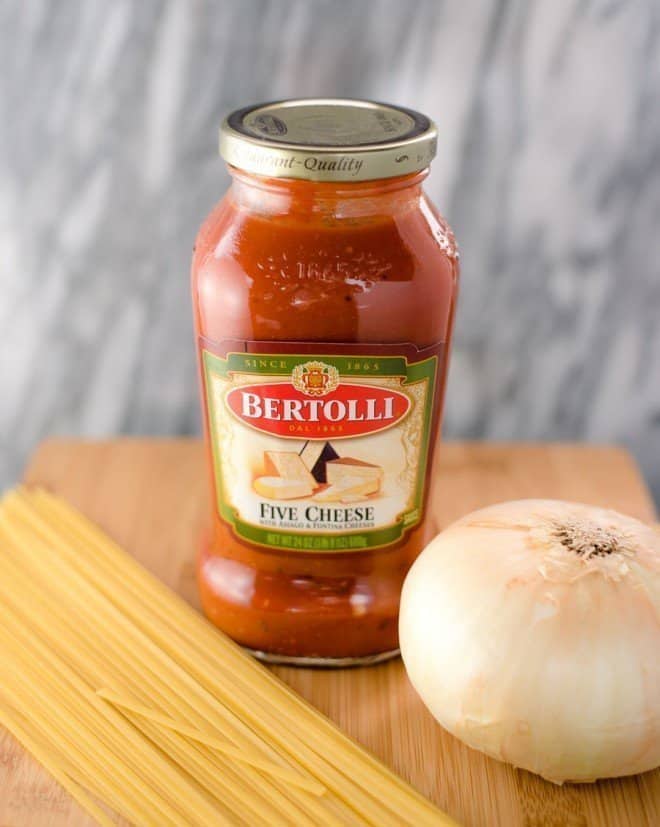 Here's the story I fell in love with: "It's been more than 150 years since Francesco Bertolli began selling his olive oil in the small town of Lucca, Italy. In 1865, Francesco opened a small storefront business selling regional foods such as olive oil, wine, cheese and olives. In the late 1800s, Italian immigrants in America, unable to find the products to which they were accustomed, wrote to Bertolli asking for crates of olive oil. In reply, Bertolli sent orders to America and thus became the first exporter of olive oil. From its beginnings in olive oil, Bertolli today has grown to also include a broad range of Italian-inspired pasta sauce and skillet meals. Today, more than 150 years since Francesco Bertolli began selling his olive oil in Lucca, Italy, the original "Villa Bertolli" at piazza S. Donato still stands – just as Bertolli remains at the heart of the Italian-inspired cuisine enjoyed at home by millions of families around the world."
Shrimp Fra Diavolo
Ingredients
2 Tablespoons olive oil
1 lb. medium shrimp, peeled and deveined
I Tablespoon minced garlic
1 small onion, diced
8 oz. linguine
1 tsp. crushed red pepper flakes
Bertolli® Five Cheese Sauce
Instructions
Cook pasta according to package directions.
Meanwhile, heat olive oil on medium. Add diced onions and cook for 5 minutes, stirring occasionally.
Add garlic, pepper flakes and shrimp. Saute for 3 minutes.
Stir in Bertolli® Five Cheese Sauce and heat thoroughly.
Serve over linguine.
An Italian inspired meal wouldn't be complete without cheese, kalamata olives and grapes. Watch out for those olive pits!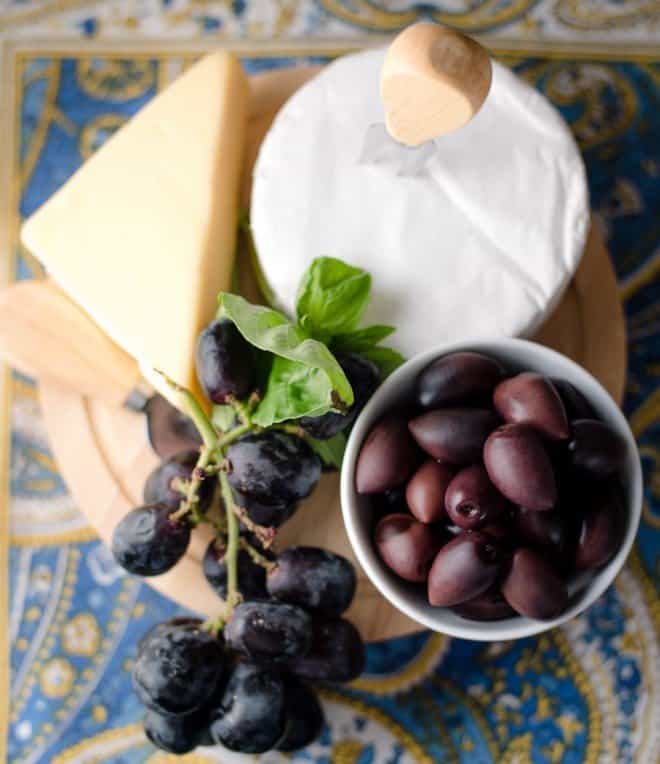 If you're looking for an easy, delicious meal and tablescape for a romantic dinner for two, this is it.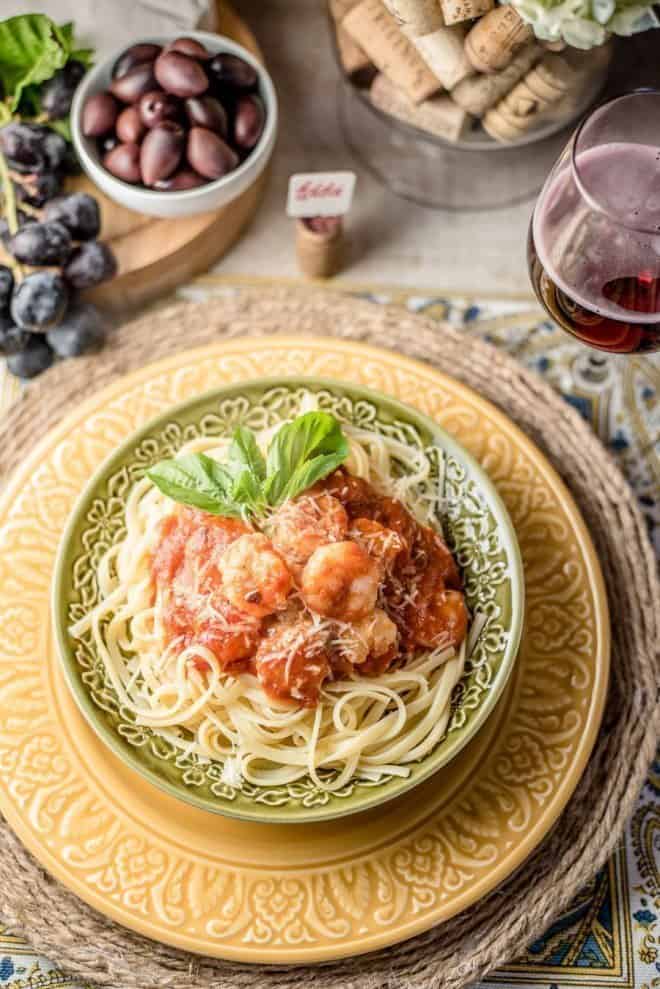 Before you go, be sure and visit Viva Bertolli Cooking School's website. You'll find the most delicious recipes and 150 ways to bring Tuscany to your table. This is one of my fave websites! While you're there, grab a coupon for Bertolli® Five Cheese Sauce. You can also follow along on Facebook and Tumbler. Ciao!
Buon Appetito! 
You may also like: How Will You Style Your One-of-a-Kind Diet Coke Bottles?

Print Friendly