Cannoli Cupcakes are so pretty and tasty. French vanilla cupcakes are covered with a mascarpone frosting and topped with chocolate ganache. The cupcakes are garnished with delicious cannoli.
This post includes Amazon links. As an Amazon affiliate, I earn from qualifying purchases.
Sometimes, you just need an over-the-top cupcake. These cannoli cupcakes look (and taste) amazing but they are so easy to make.
What is Cannoli?
I have to admit that I've never made cannoli from scratch. In my small southern town, we don't have an Italian Bakery around the corner so I buy them premade at the local grocery store bakery or whenever I visit my favorite Italian restaurant in Charlotte. In my opinion, cannoli is a classic Italian dessert.
Cannoli, originally from the island of Sicily, are crisp tube-shaped shells of deep-fried pastry dough filled with a slightly sweet, creamy filling containing ricotta.
One of these days I'm going to make my own filling for cannoli and use this easy 5-ingredient Cannoli recipe. They look absolutely amazing.
Feel free to make your own to top these cupcakes or buy them pre-filled in the bakery section of your local grocery store.
Fun fact: Cannoli is grammatically plural. The corresponding singular is cannolo, meaning a little tube.
Tips for Baking Cupcakes
You'll notice in the recipe below that you only fill the cupcake liners 2/3 full. That's to keep the cupcake batter from overflowing and causing a mess.
Plus, you have room to add more frosting. And for me, that's the best part of a cupcake.
Use a medium-sized cookie or ice cream scoop to fill the cupcake liners. That way, all the cupcakes will cook evenly and be the same size. You don't want some of the cupcakes to turn out underbaked or overbaked.
Don't forget to preheat the oven and place the cupcake pan in the center of the oven for even baking.
My Amazon Must-Haves When Baking Cupcakes
When it comes to baking, having the proper equipment helps tremendously. I always store my cupcakes in an old-school cupcake holder that was passed down from my mom. It holds 24 cupcakes and lots of sweet memories of my mom.
I'm also crazy about these cupcake carriers:
If you love baking cupcakes, you need to try some of my family's favorites:
How To Make Cannoli Cupcakes
This recipe begins with a French Vanilla cake mix. After adding eggs, milk, and butter, stir in semi-sweet chocolate chips. Scoop into muffin tins lined with cupcake liners. Bake according to the recipe below.
Make the frosting by beating all the ingredients except the mini chocolate chips. Stir in the chocolate chips and using a medium cookie scoop, scoop frosting onto the cupcakes.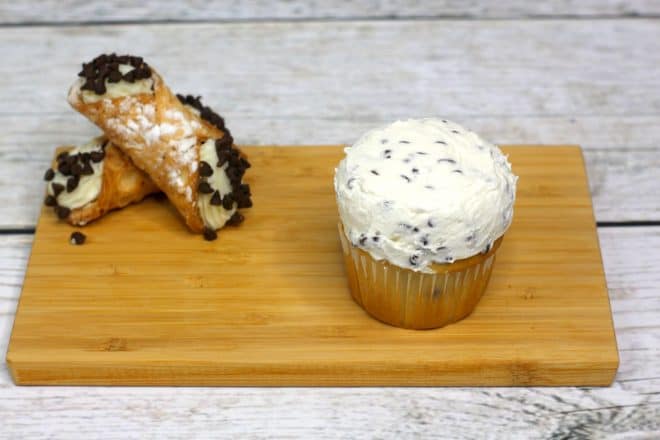 Make the easy chocolate ganache and pour it into a squeeze bottle. Drizzle the ganache over the frosting.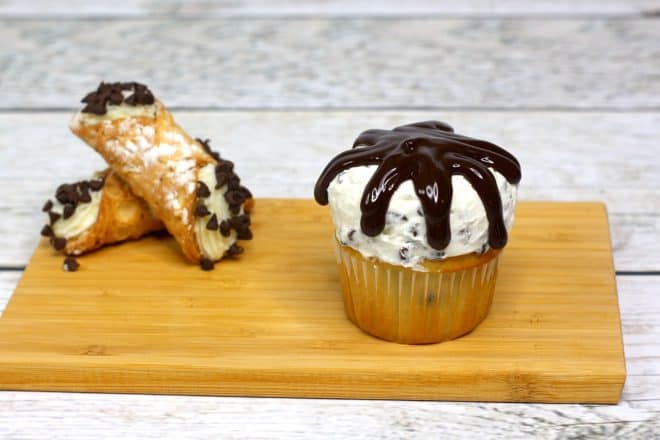 Garnish the cupcakes with cannoli halves.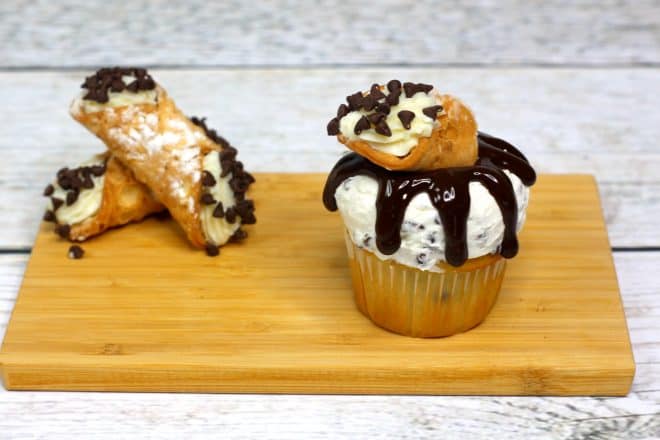 I realize these are over-the-top cupcakes. The good thing about a recipe is that you can make it your own. You can choose to leave off the cannoli or the chocolate ganache or both.
However, when you want a stunning presentation, go for it and add all the toppings. Special occasions call for special cupcakes.
Yield: 24 cupcakes
Cannoli Cupcakes
Cannoli Cupcakes are decadent and are topped with chocolate ganache and a mini cream-filled cannoli.
Additional Time
30 minutes
Total Time
1 hour
6 minutes
Ingredients
1 box french vanilla cake mix
3 large eggs
1 cup whole milk
1/2 cup unsalted sweet cream butter, softened
1 ½ cups semi-sweet chocolate chips
Cannoli Frosting
2 cups Mascarpone cheese, softened
2 cups powdered sugar
1 teaspoon vanilla extract
1 ½ cups mini chocolate chips
Chocolate Ganache
1 cup semi-sweet chocolate chips
½ cup heavy whipping cream
1/2 cup chocolate chips
12 Cannoli (cut in half)
Instructions
Preheat oven to 350º and line cupcake pan with cupcake liners.
Using a mixer, beat the french vanilla cake mix, eggs, milk, and butter together until smooth. Fold in the chocolate chips. Scoop batter into cupcake liners about 2/3 of the way full. Bake in the oven for 21 minutes or until a toothpick inserted near the middle comes out clean. Allow the cupcakes to cool completely.
Mascarpone Cheese Frosting: Using a mixer, beat the mascarpone cheese, powdered sugar and vanilla extract together until combined. Fold in the mini chocolate chips. Using a medium ice cream scooper, scoop a dollop of the frosting onto the cooled cupcakes.
Chocolate Ganache: Heat the heavy whipping cream in a small saucepan until it starts to boil. Pour the heavy whipping cream over the chocolate chips in a heatproof bowl. Allow the ganache to sit for a few minutes. Whisk until smooth. Pour into a squeeze bottle.
Drizzle the ganache over the mascarpone frosting. Place a halved cannoli on the top of each cupcake.