Classic Chocolate Cupcakes are rich, fudgy and topped with a vanilla frosting. Add the "love" to the top if you're making this for Valentine's Day or just because. This recipe makes 24 cupcakes so you'll have plenty to share.
I've been making these Classic Chocolate Cupcakes for decades. This time around, I decided to add a little love to the top and a vanilla buttercream frosting instead of my traditional Coffee Cream Cheese Frosting.
There is nothing wrong with using a chocolate cake mix to make cupcakes. But these chocolate cupcakes are extra special so it's worth going the extra mile to make these.
Chocolate Love For Classic Chocolate Cupcakes
Before starting on the cupcakes, you need to write out the word Love (24 times) and let it harden. It's so easy to do.
You'll need:
1 cup chocolate melting wafers (I use Ghirardelli)
1 piping bag with a #2 piping tip
Cookie sheet lined with wax paper
Print-out of the words "love" in cursive (unless you want to freestyle)
If you're not freestyling, place a printout of the words, love, on the cookie sheet. Place the wax paper over the printout.
Melt the chocolate wafers in the microwave until smooth, following the directions on the packaging. Spoon the chocolate into the piping bag.
Using the piping bag with a #2 tip, trace the words with the melted chocolate. Repeat 24 times. (This includes an extra just in case one of the words breaks)
Classic Chocolate Cupcakes
I use cake flour to make these cupcakes. Cake flour is finer, lighter and softer than all-purpose flour. It also has a lower protein content and produces less gluten.
I also use Crisco shortening in this recipe. Shortening yields a higher, lighter cupcake.
For the cupcakes, you will need:
Cake flour
Sugar
Unsweetened cocoa powder
Milk
Shortening (I use Crisco)
Eggs
Baking soda
Salt
Baking powder
Vanilla extract
Two-Toned Vanilla Frosting for Classic Chocolate Cupcakes
I want the word Love to stand out on these cupcakes so I'm using a simple vanilla buttercream frosting. For the frosting, you will need:
Unsalted butter
Powdered sugar
Whipping cream
Vanilla extract
Pink gel food coloring
Piping bag with a star tip
Sprinkles (Valentine's Day colors)
To make a two-toned frosting, divide the frosting equally in bowls and add a few drops of pink gel food coloring to one bowl of frosting. Mix until combined.
Spoon colored frosting into one side of the piping bag. Add the plain vanilla frosting to the other side.
Frost the cupcakes. Add a few sprinkles. Carefully peel the "love" words off of the wax paper and place a word on the center of each cupcake. Enjoy!
Yield: 24 cupcakes
Classic Chocolate Cupcakes With Vanilla Frosting
These classic chocolate cupcakes are tender, moist and fudgy. These chocolate cupcakes are perfect for Valentine's Day or whenever you want to spread the love.
Additional Time
30 minutes
Total Time
1 hour
5 minutes
Ingredients
Chocolate "Love" Words
1 cup chocolate melting wafers (Ghirardelli)
Chocolate Cupcakes
2 cups cake flour
1-3/4 cups sugar
3/4 cups unsweetened cocoa powder
1-1/4 cups milk
3/4 cup shortening (I use Crisco)
3 eggs
1-1/4 teaspoons baking soda
1 teaspoon salt
1/2 teaspoon baking powder
1 teaspoon vanilla extract
Vanilla Frosting
1 cup unsalted butter
4 cups powdered sugar
3 Tablespoons heavy whipping cream
1 teaspoon vanilla extract
Pink gel food coloring
Instructions
To make the words, place a printout of the word "Love" in cursive (or freestyle it) on a cookie sheet. Top with waxed paper. Using a piping bag with a #2 tip, pipe out "Love" 25 times. Allow the words to harden.
Preheat the oven to 350º F. Place liners in 24 muffin tins.
In a mixing bowl, add all cupcake ingredients except the frosting.
With mixer at low speed, beat until well mixed, scraping bowl as needed. Beat 5 minutes on high, scraping the bowl occasionally.
Spoon into muffin tins, filling each half full. Bake for 20 minutes or until a toothpick inserted in the center of one cupcake comes out clean.
Cool in pans on a wire rack for 10 minutes. Remove from pans and cool completely on racks.
For the frosting, add butter to a mixing bowl and beat on medium for one minute. Add in powdered sugar, one cup at a time, beating well after each addition.
Add 3 Tablespoons heavy whipping cream and vanilla extract. Mix on medium-high until the mixture is combined.
Divide the frosting in half. Mix in a few drops of pink gel coloring into 1/2 of the frosting until well combined.
Spoon the colored frosting into one side of a piping bag fitted with a star tip. Spoon the plain frosting into the other side. Frost cupcakes. Add sprinkles.
Carefully remove the "love" words from the waxed paper. Top each cupcake with love.
You May Also Like
Chocolate Cupcakes with Peanut Butter Frosting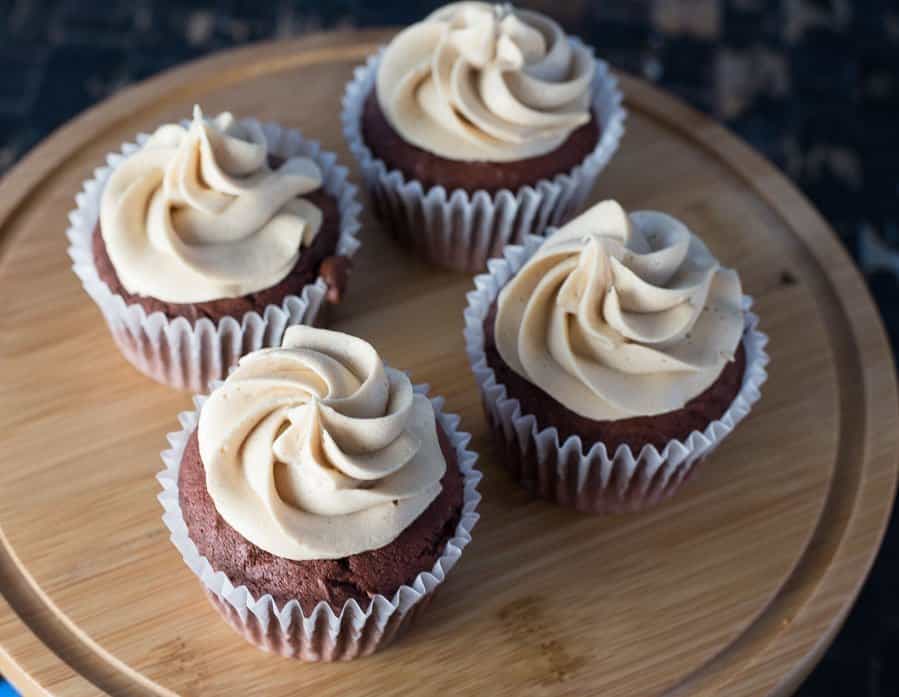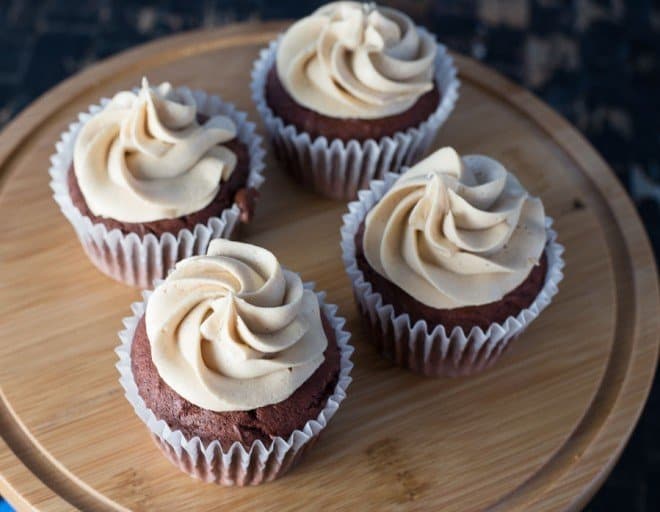 Peanut Butter Brownie Cupcakes