These Christmas Party Ideas are from the party I host each year for the ladies at my church. Feel free to grab them and make them your own.
Christmas Party For 58 Women
I recently hosted an annual Christmas party for 58 women and we had a wonderful time. We always use the slogan, "What happens at Girlfriends stays at Girlfriends." I want to share my Christmas Party ideas, games & more with you today.
Because I am very busy before and during the party, I don't get many photos. The ones I do manage to get are with my phone. No, they don't look professional, but that's OK.
Christmas Party Theme – Rustic Glam
Every year I try to come up with a different theme. In the pasty, I've hosted:
Walking In a Winter Wonderland
Spa night – stations set up for mini massages, manicures, and facials. We had a "for real" professional masseuse, and esthetician at the stations. Since they gracefully volunteered their time and talent, I placed a tip jar at each station and encouraged the ladies to tip big.
You May Also Like These Christmas Ideas!
Rustic-Glam Christmas Party Ideas
I love this rustic glam look, complete with a herd of deer, mason jar candles, and rustic Christmas trees as the centerpieces.
The mason jars were covered in Mod Podge, rolled in Epsom Salts and allowed to dry. I filled them with cranberries and tealights and tied snowflakes and tags with different greetings on them.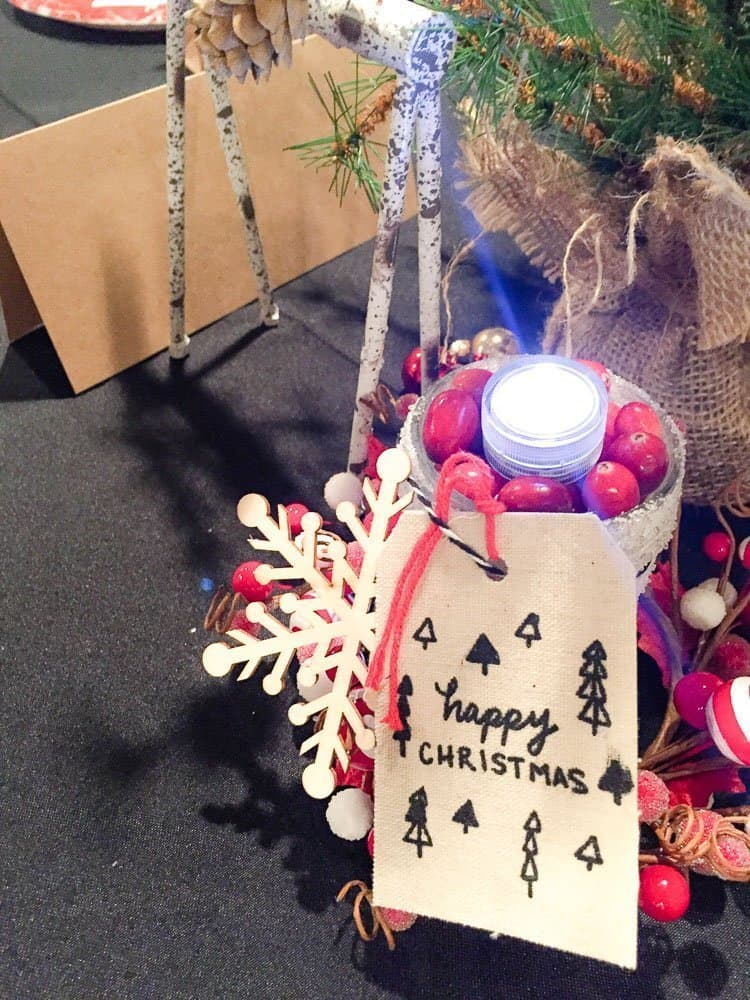 Black tablecloths and chair covers create the perfect backdrop for red, white, and gold tableware. The burlap and black striped chair sashes help bring the look together.
The burlap chair sashes are a lot thicker than they look online. It was a hot mess trying to tie those babies into bows. It took several hours and I got the best back workout. I was actually sore the next morning! I tied them in bows and knots, alternately, and they look really good.
Heavy-Duty Paper Plates and A Cute Idea for Cutlery
I use heavy-duty paper plates because no one wanted to wash a pile of plates afterward! Place the utensils in brown paper envelopes and stamp each one to create really cute cutlery holders.
Don't Forget The Favors!
I always have favors for each guest. Bath and Body holiday hand cream and lip balm are the perfect gifts.
I like to do as much as I can before the guests arrive. As I prepare the coffee bar, my daughter puts together my famous Mocha Punch. I like to offer all the women a drink as soon as they walk in the door.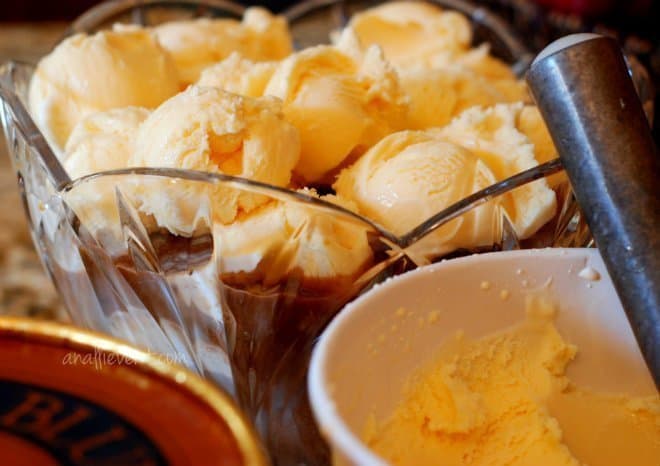 Mocha Punch Disappears Quickly!
My Christmas Party Ideas always begin with Mocha Punch! It's such a popular drink at parties.
I prepared enough punch for 60 and it was gone in no time flat. I always get requests for the recipe for this punch.
There was a time when I cooked the entire meal, but for the past couple of years I've had the main meal catered and I do the dessert bar, punch, etc. It frees me up to work on more Christmas Party Ideas.
Menu
Assorted Party Sandwiches (Philly Chicken, Pimento Cheese, Ham & Cheese)
Vegetable Soup
Potato Soup & Toppings
Iced Tea
Water
Coffee Bar
Mocha Punch
Dessert Bar
Red Velvet Trifle
Chocolate Trifle
Banana Pudding
Lemon Squares
Assorted Fudge
Oreo Truffles
Macarons
Assorted Mini Cheesecakes
Chocolate Chip Cookies
Candies
Desserts Reign At Christmas Parties!
I guess you can tell that I like to give the ladies a large choice of desserts. My daughter makes the best fudge. The mini cheesecakes are from Sam's Club and I make all the other desserts. Oh, yeah, the caterer had a strawberry trifle, too. We had a table full of desserts and I forgot to take photos. Duh!
Door Prizes
As soon as the party starts, I like to draw a name and gave away a cash door prize. Other prizes are given out through the night (high-end makeup, skincare, etc). The grand prize ($500) is given away right before the party ends.
The most popular game of the night is Jingle/Junk in the Trunk. Empty tissue boxes are tied around the volunteer's waist so that the box sits on her behind.
Five jingle bells are placed inside each box. The first one to get all the bells out of their boxes is the winner. This game always has me laughing until tears run down my cheeks.
Christmas Party Ideas – More Games
Fill-The-Stocking game – Two teams competed to fill stockings with a teaspoon and M&M's. They have to run to the stocking with their spoonful of candy and pour it into the stockings and run back to the bowl and do it again. The first team to empty their bowl of M&M's into the stocking was the winning team.
The Left-Right Game
Decorate the Tree Game – Two teams had to decorate one of the members of their team to look like a Christmas tree. Each team is supplied with red and green crepe paper and decorations.
We always have such a great time and as soon as the Christmas party is over, I started brainstorming themes for next year.
These two ladies never leave until they wash every dish. I'm eternally thankful! 🙂
Are you hosting any Christmas parties during the holidays?