Cream Cheese Pound Cake has a nice crust on top and is tender and moist on the inside. The cream cheese lifts and lightens this pound cake and gives it a delicious taste. This is definitely a winner.
This post contains affiliate links. As an Amazon Associate, I earn from qualifying purchases.
The pound cake originated in Europe in the 18th century and weighed 4 pounds. The recipe called for a pound each of butter, sugar, flour, and eggs. That's how a pound cake got its name. So now you know. 🙂
Crunchy Pound Cake
My oldest daughter has always said that she'd love to slice a pound cake horizontally about 1/2 inch from the top and just eat the crusty part dipped in a powdered sugar glaze.
She was making reference to dry pound cakes. This pound cake is not dry at all and that crunch on the top is perfect.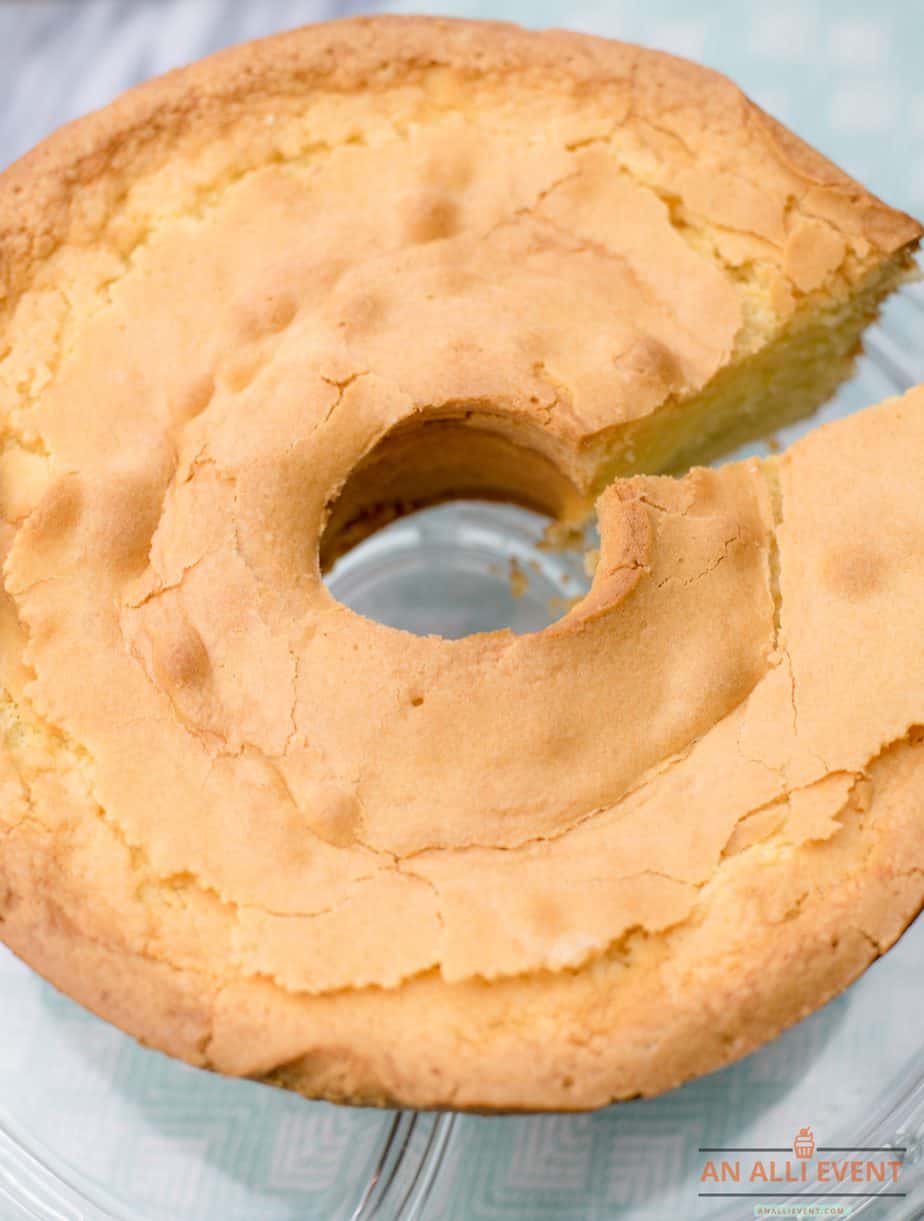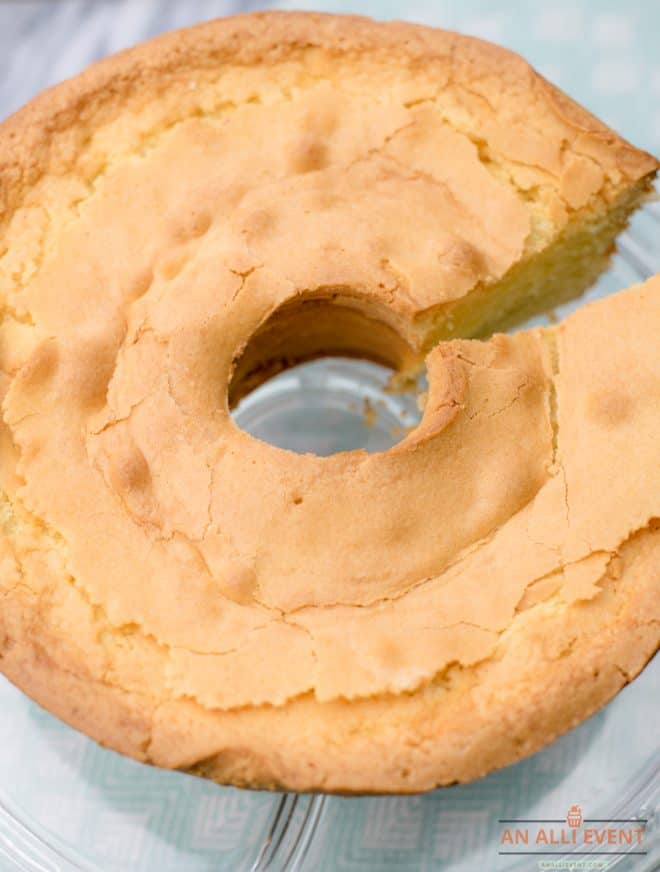 Ingredients for Cream Cheese Pound Cake
You can find the full printable recipe card down below. Here is a list of ingredients you'll need:
Cream cheese
Butter
Sugar
Eggs
All-purpose flour
Vanilla extract
Salt
You Don't Need To Preheat The Oven For This One
Many old fashioned pound cakes start out in a cold oven. This is one of those. You don't have to preheat the oven. The purpose of preheating an oven is to allow a lighter cake to rise quickly. Since pound cakes are heavier and take longer to rise, it's totally fine to start in a cold oven.
After placing the pound cake in the oven, turn the oven to 300º F. and bake for one and a half hours or until done.
Note: This is a large pound cake. You will need a large tube pan (10-12 cup) for this recipe. This is the tube pan I use and I love it.
Tips For Baking A Successful Pound Cake
Follow the recipe exactly and use the correct measurements.
Make sure the eggs, butter, and cream cheese are at room temperature.
Add the eggs one a time, making sure the egg is incorporated before adding the next one.
After the dry ingredients are added, be careful not to overmix.
After evenly spreading the cake batter into the greased/floured tube pan, pick up the pan a couple of inches off of the counter and drop it down on the counter a couple of times to break up air bubbles.
Be patient. Pound cakes need to be baked low and slow.
Ovens vary, so check on the cake periodically before the timer goes off (not opening the oven door). If the cake gets brown on the top before it's done, tent loosely with aluminum foil to prevent over-browning.
Make sure you cool the cake, in the pan, on a wire rack for 20 minutes. If you don't cool it long enough, the cake may stick to the sides or bottom. If you cool it too long, it can cause the cake to be damp and stick to the sides.
The top of this pound cake is very light and crunchy (just how I like it) so you're bound to have a few cracks.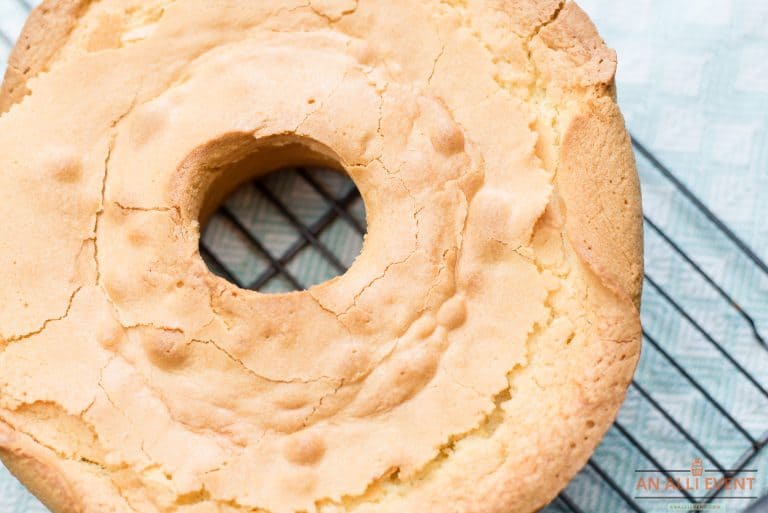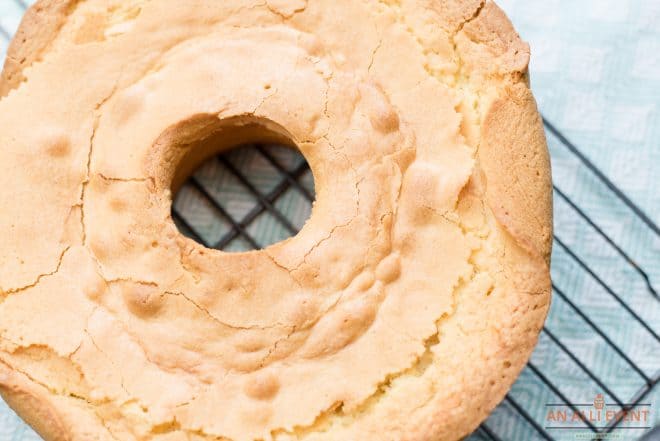 To spray the pan, I always use Baker's Joy Cake Pan Spray. It has the flour already mixed in. Below is a photo of the cake batter in the pan right before going in the oven.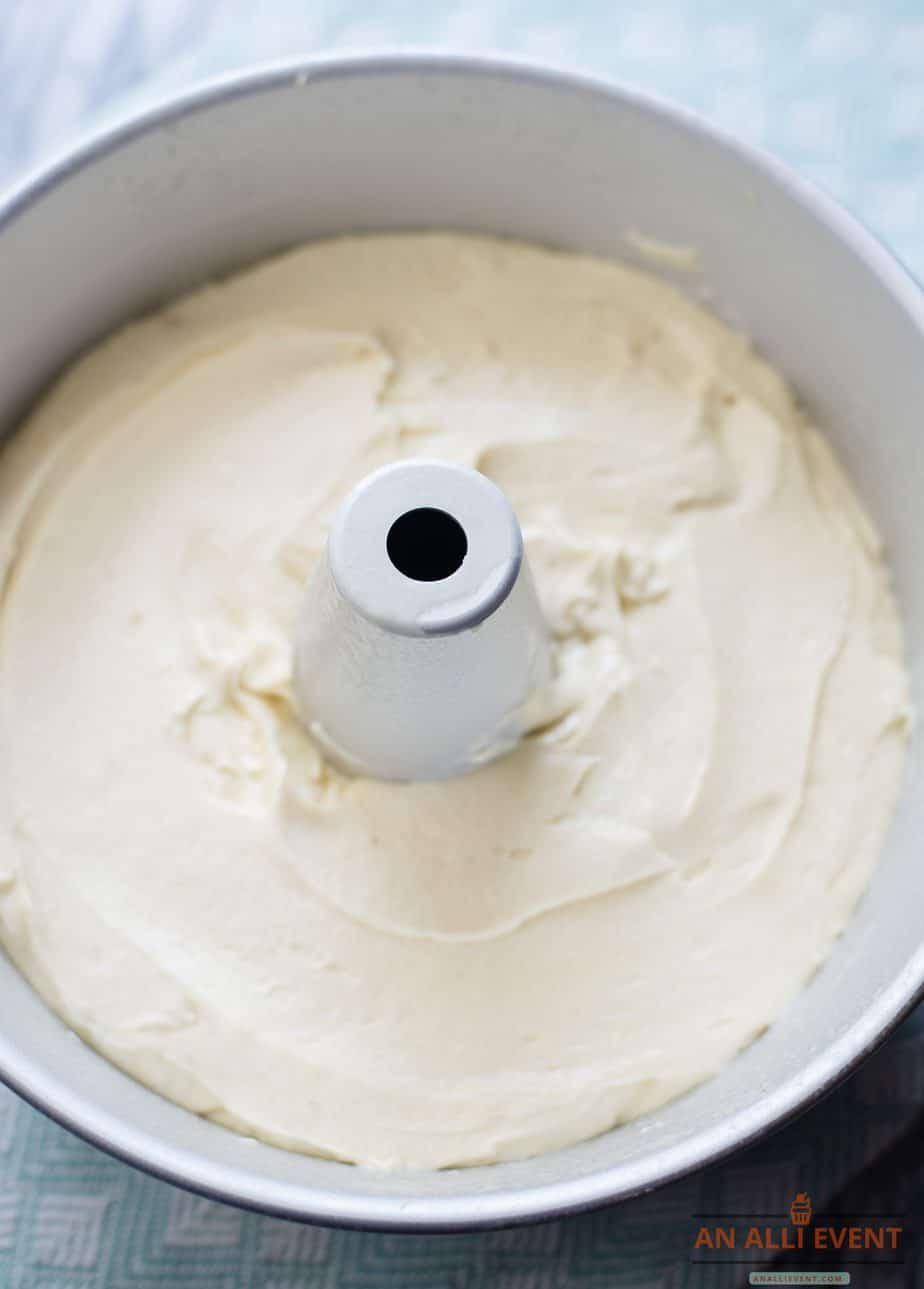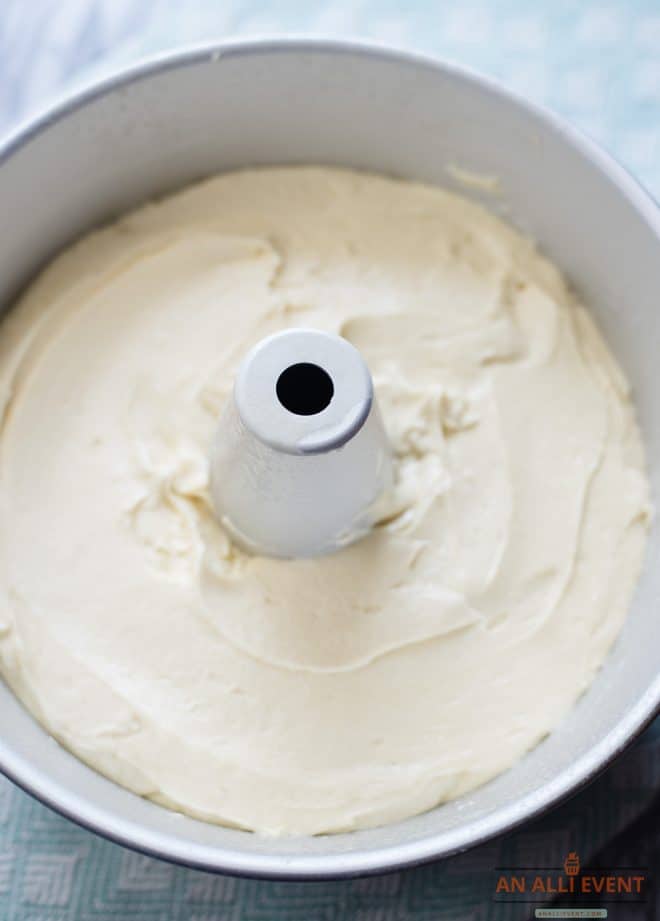 Once my cake is browned and begins to smell heavenly, I check it with a long skewer to make sure it's done. Then I let it cool in the pan, on a rack, for 20 minutes.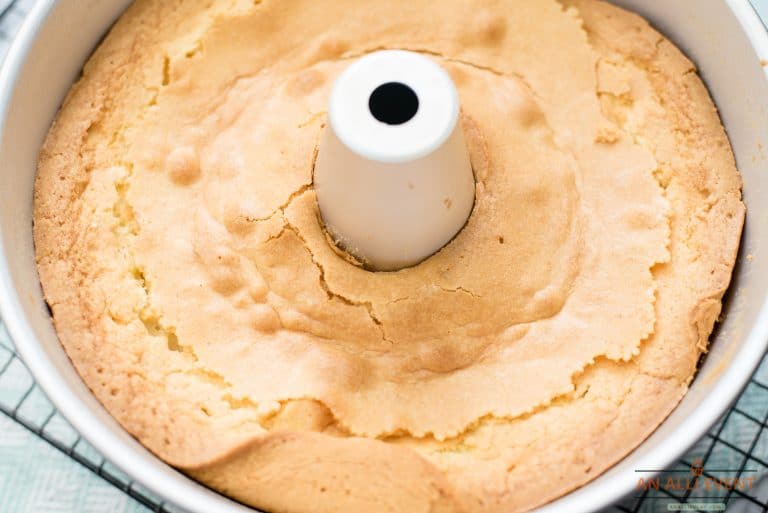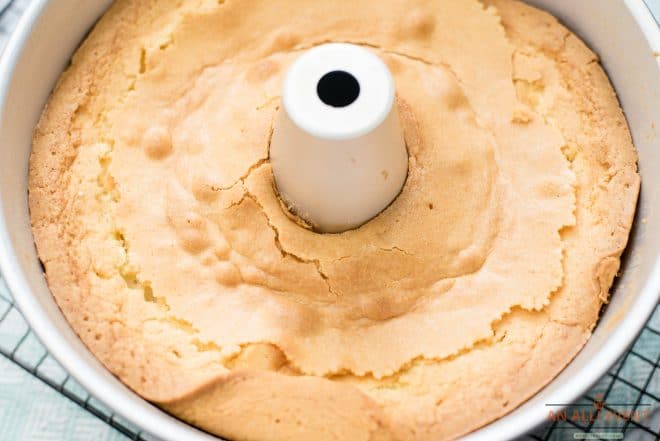 The cake slips right out of the pan onto the cooling rack to rest until completely cooled.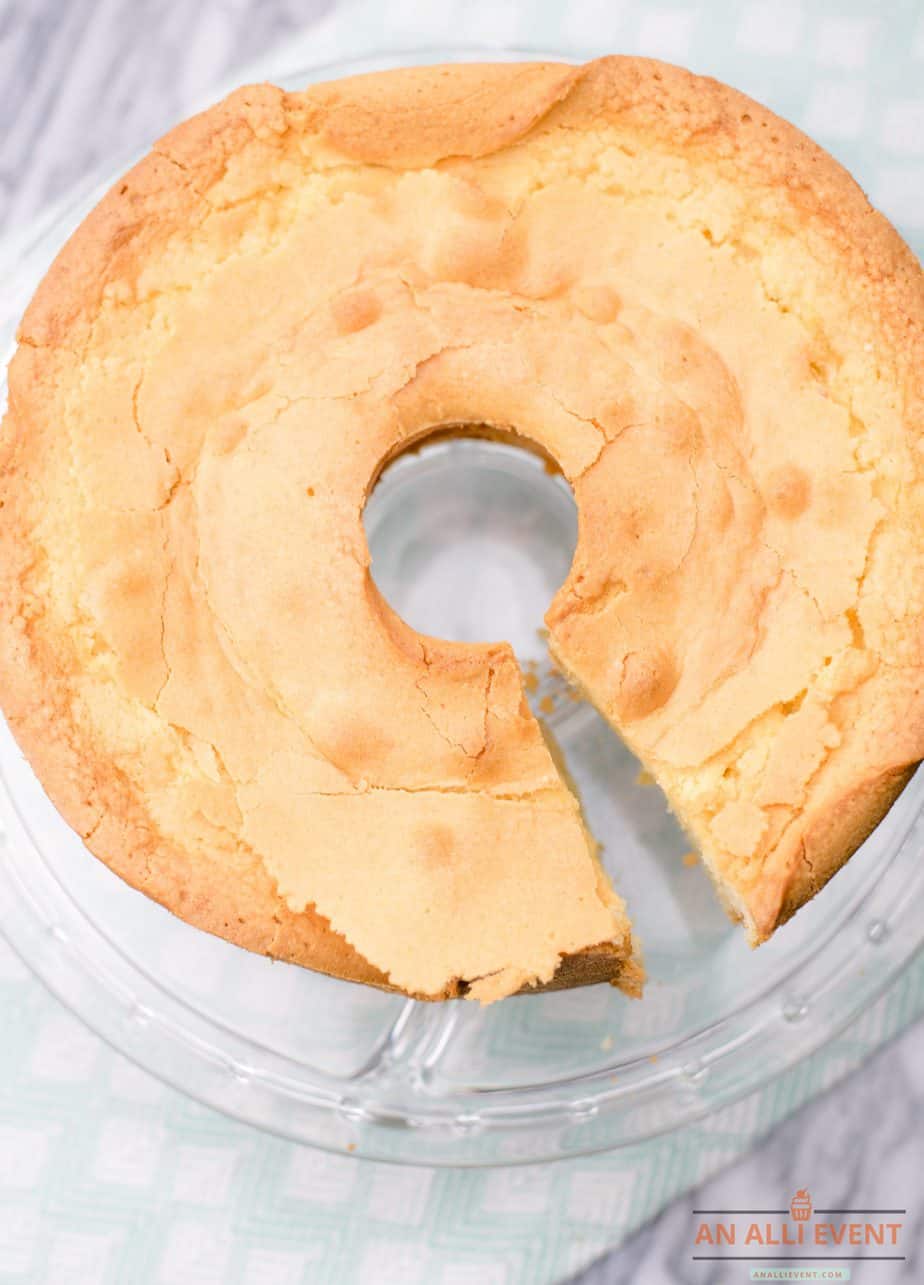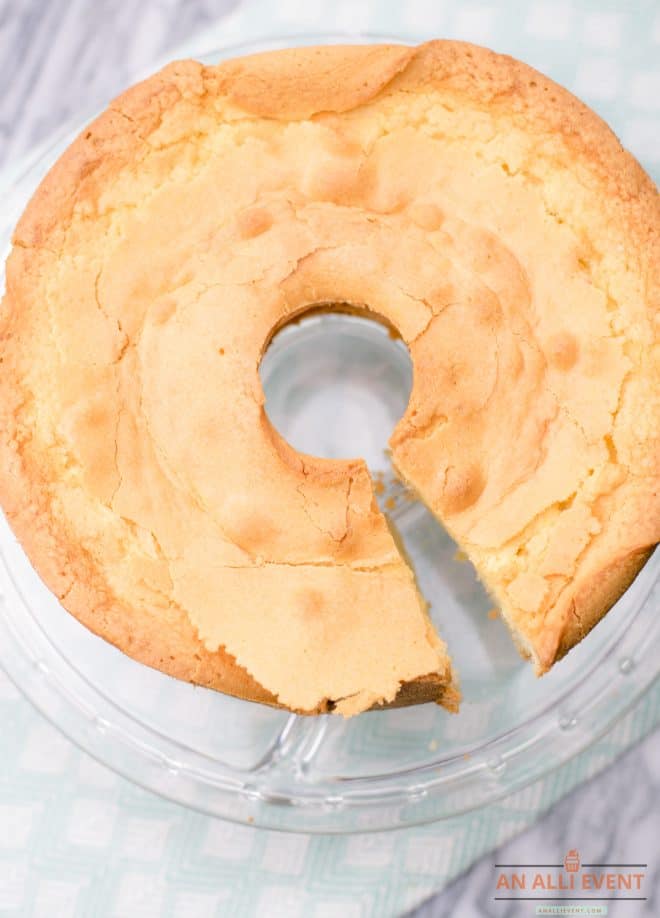 Topping Ideas For Cream Cheese Pound Cake
This pound cake is the perfect dessert (or breakfast) just the way it is. You can also top this cake with one of the following:
Fresh strawberries or raspberries and whipped cream
Fresh fruit
Lemon Curd
Powdered sugar glaze (1-1/2 cups powdered sugar whisked together with 3-4 Tablespoons milk)
Vanilla ice cream and chocolate sauce
The possibilities are endless. Any way you slice it, a pound cake is a delicious dessert.
How To Store A Cream Cheese Pound Cake
Cover leftover cake and store in the refrigerator for up to five days. To freeze the cake, wrap the completely cooled cake in plastic wrap and then wrap with foil. Store for up to three months in the freezer.
You May Also Like These Recipes
Yield: 16 servings
Cream Cheese Pound Cake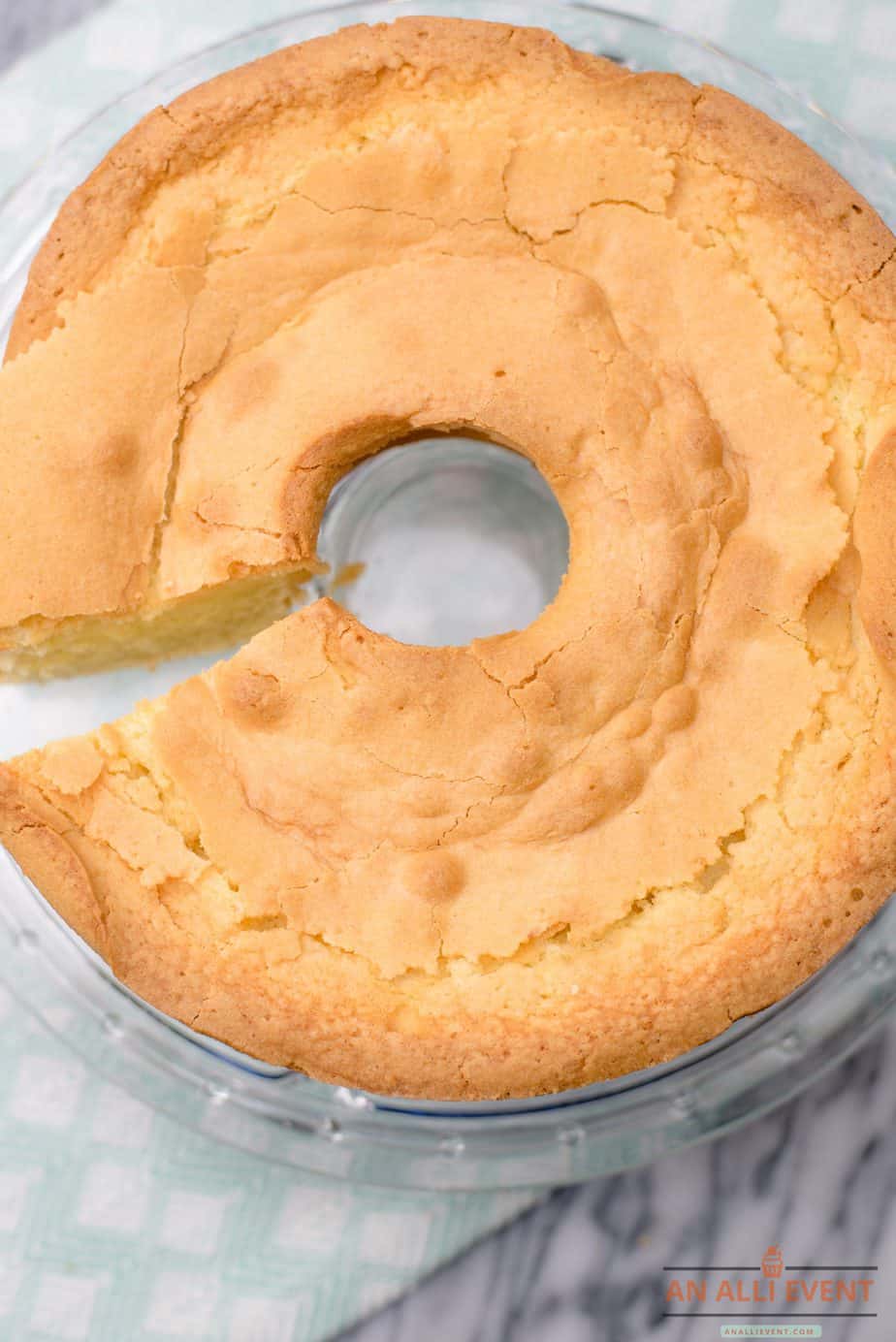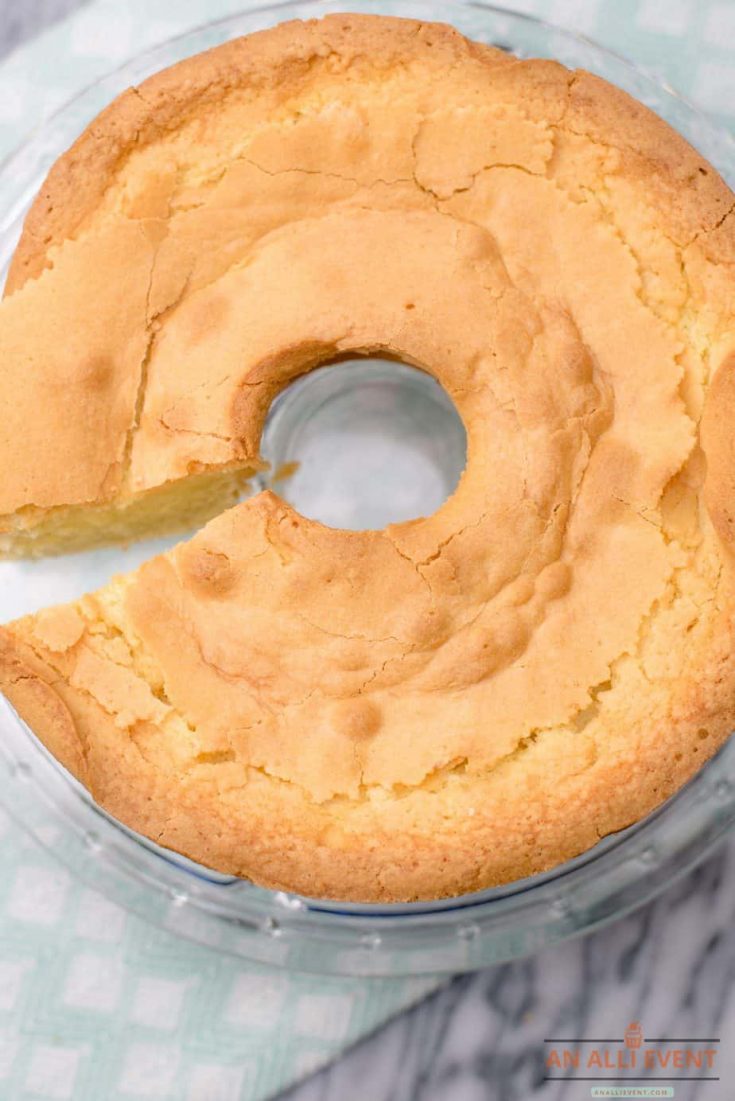 Cream Cheese Pound Cake has a crunchy top and is nice and tender on the inside. This is a perfect dessert for any occasion.
Cook Time
1 hour
30 minutes
Total Time
2 hours
45 minutes
Ingredients
1 (8 oz.) package cream cheese, softened
1-1/2 cups butter, softened (3 sticks)
3 cups granulated sugar
6 large eggs
2 teaspoons vanilla extract
3 cups all-purpose flour
1/4 teaspoon salt
Instructions
Generously grease and flour a 10-inch tube pan.
In a mixing bowl, cream together the cream cheese and butter on medium-high speed until fluffy, scraping sides as needed. Slowly add sugar; beat well.
Add eggs, one at a time, beating after each addition. Add vanilla extract.
At low speed, add flour, 1/4 cup at a time. Add salt. Beat just until combined.
Spread batter evenly into the prepared 10-inch tube pan. Drop pan on the counter a few times to remove air bubbles.
Place in a cold oven and turn the heat to 300º F. Bake for 1-1/2 hours or until a long wooden pick inserted near the center of the cake comes out clean.
Cool for 20 minutes on a wire rack before removing from the pan. Cool completely on the wire rack.