My Easter Menu rarely changes so I'm sharing it with you today.
Easter is neck and neck with Christmas in terms of being my favorite holiday. And why not? These two celebrations represent the birth and later, the death, burial, and resurrection of my Lord and Savior, Jesus Christ!
Psst: If you're just here for the menu and recipes, click the "Jump To Recipe" button above.
And, of course, the old song "Celebrate" is running through my mind because you know I have a song for that! Why, yes, I will share the lyrics and a story, to boot!
Celebrate Jesus celebrate
Celebrate Jesus celebrate
Celebrate Jesus celebrate
Celebrate Jesus celebrate
He is risen
He is risen
And He lives forevermore
He is risen
He is risen
Come on and celebrate
Come on and celebrate
Come on and celebrate
The resurrection of our Lord – Gary Oliver

So now that I'm singing this oldie-but-goody song in my head, let's take a look at my Easter Menu!
No Easter celebration would be complete without a feast! Here's a scrumptious Easter menu just for you!
I've included some recipes here. Also, keep reading to get the links to every recipe on my menu.
Easter Menu
Waldorf Salad
Stuffed Potatoes
Roasted Asparagus
Southern Pineapple Casserole
Dinner Rolls
Best Carrot Cake
Lemon Squares
You can find my Pineapple Peach Glazed Ham by clicking this link!
Waldorf Salad is a delicious side dish that's really easy to make. The recipe card is down below!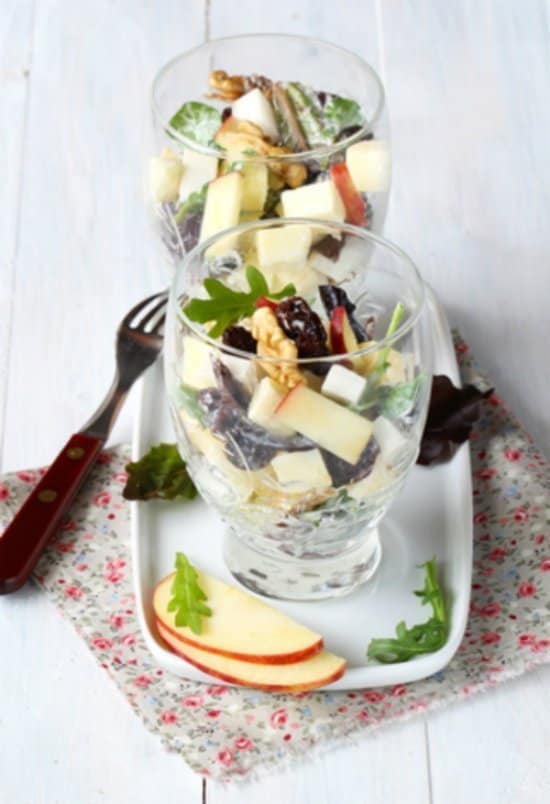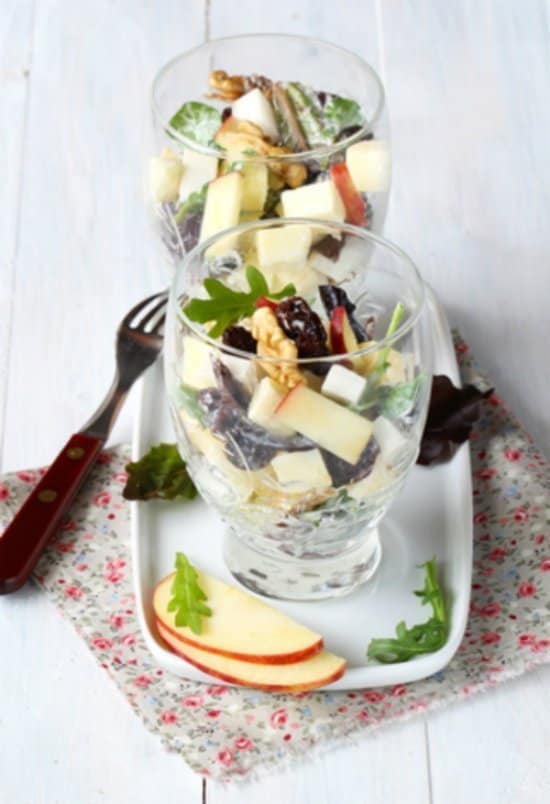 Waldorf Salad is a delicious salad that I've been making for years. It's a keeper!
Ingredients
2 Granny Smith apples, cored and cut into wedges
1 tablespoon lemon juice
1 head Boston lettuce, separated into leaves
2 heads green AND/OR red Belgian endive, separated into leaves
3/4 cup seedless green OR red grapes, halved
1/4 cup blanched whole almonds, toasted (or walnuts)
1 recipe Lemon Dressing (see recipe below)
Lemon Dressing
1 6-ounce container of lemon low-fat yogurt
1 tablespoon cider vinegar
1/4 teaspoon salt
1 tablespoon fresh dill weed (or 1/4 teaspoon dried dill weed)
1/4 teaspoon ground black pepper
Instructions
To make the lemon dressing: In a small bowl stir together the yogurt, vinegar, salt, dill weed, and black pepper until well combined. Makes 2/3 cup.
In a medium bowl toss apples with lemon juice.
On salad plates arrange Boston lettuce, endive, apple wedges, grapes, and almonds.
Spoon on Lemon Dressing.
Serves 6.
Nutrition Information
Yield
6
Serving Size
1
Amount Per Serving
Calories

172
Total Fat

9g
Saturated Fat

1g
Trans Fat

0g
Unsaturated Fat

7g
Cholesterol

3mg
Sodium

336mg
Carbohydrates

21g
Fiber

3g
Sugar

15g
Protein

5g
Stuffed Potatoes
are always on my Easter table. Whenever I serve these to guests, they always ask for the recipe.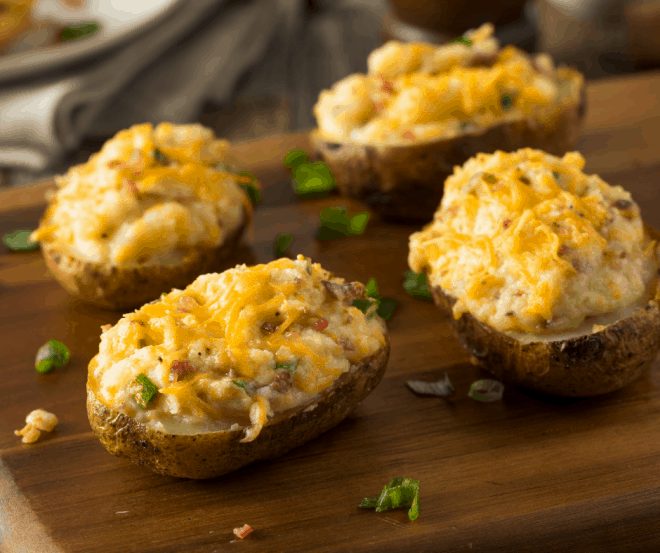 Roasted Asparagus is one of my personal favorite side dishes. It's an easy side to add to my Easter menu. I've included the recipe below!
How To Roast Asparagus (Serves 6-8)
You'll need the following ingredients:
2 lbs. fresh Asparagus spears
2 Tablespoons extra virgin olive oil
2 cloves garlic, sliced thin (or minced garlic from a jar to equal 2 cloves)
salt and pepper to taste
Rinse the asparagus spears under cold running water to remove dirt or sand. Do not wash until ready to use.
Preheat the oven to 400º F.
Trim the tough ends of the spears. Line the asparagus spears in a single row and using a knife, cut where the stalks turn from white to green.
Toss asparagus with olive oil and garlic. Spread in a single layer on a large baking pan. Sprinkle lightly with salt and pepper. Roast for 12-15 minutes, shaking the pan occasionally.
Helpful Hint: Sometimes I add fresh lemon slices and zest as a garnish.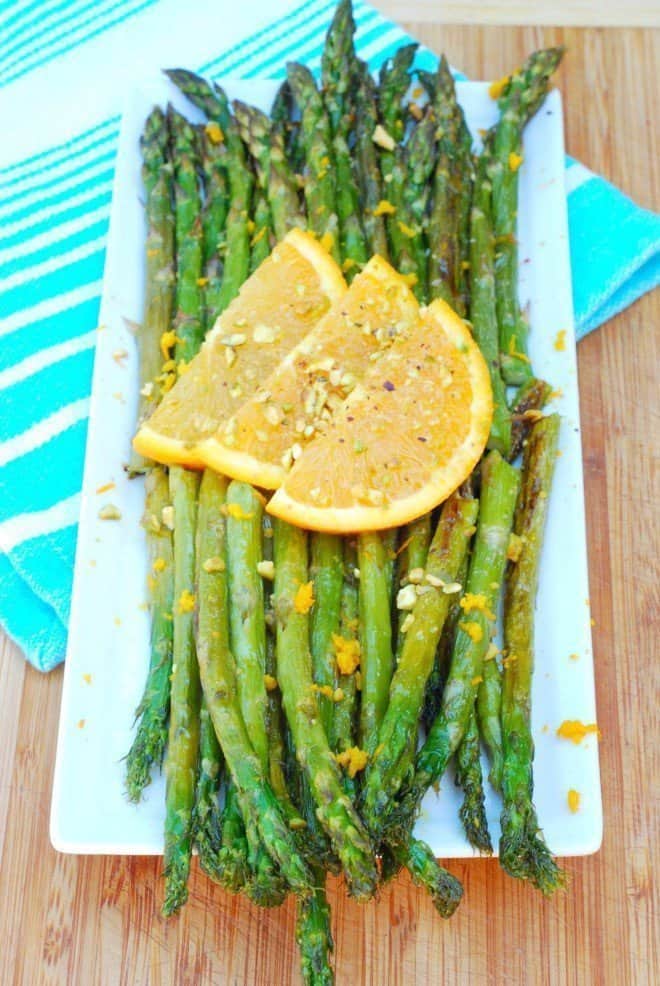 Southern Pineapple Casserole is another must for Easter dinner!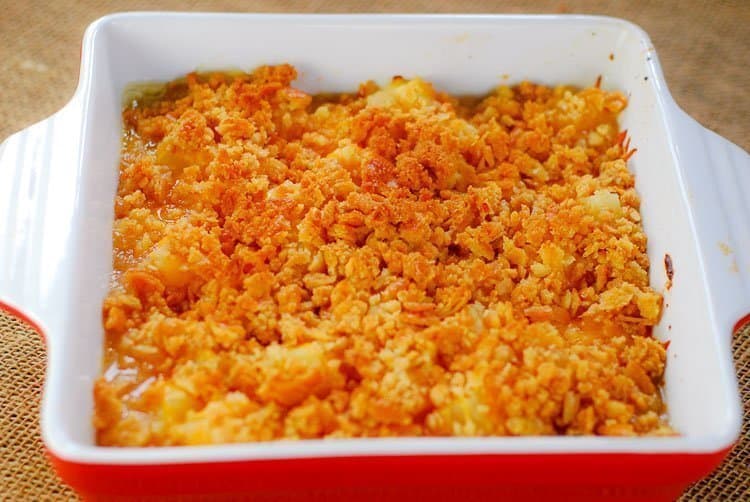 Dinner Rolls (your choice – bake them or buy them) I have two favorite frozen dinner rolls – one fave being Sister Schubert, white and whole wheat yeast type rolls. They come 10 to a package and I always buy one of each.
My other favorite is Pepperidge Farm Stone-Baked Artisan Dinner Rolls – very crusty on the outside and soft on the inside. You can find them in the freezer section of your favorite grocery store or supercenter.
Or you can bake my mom's famous homemade biscuits or Aunt Jean's Cornbread Sticks.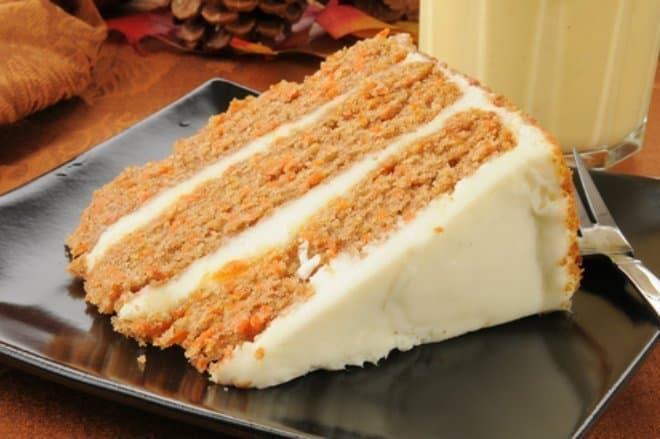 You can find my Best Carrot Cake recipe here! The grandkids love my lemon squares so they are always on the menu.
What's your go-to Easter dish? You know, that one dish that you must have every Easter!
Grab my free printable Easter menu planner here!