Easter is neck and neck with Christmas in terms of being my favorite holiday.  And why not?  These two celebrations represent the birth and later, the death, burial and resurrection of my Lord and Savior, Jesus Christ! And, of course, the song "Celebrate" is running through my mind because you know I have a song for that!  Why, yes, I will share the lyrics and a story, to boot!
Celebrate Jesus celebrate
Celebrate Jesus celebrate
Celebrate Jesus celebrate
Celebrate Jesus celebrate
He is risen
He is risen
And He lives forevermore
He is risen
He is risen
Come on and celebrate
Come on and celebrate
Come on and celebrate
The resurrection of our Lord – Gary Oliver

 You may or may not know Gary Oliver as an awesome singer, songwriter, pastor, etc. but I know him as the father of daughter #1's childhood bff!  That's right.  When we lived in Tulsa, she and Hayden were the best of friends.  He was always at our house or she was at his.  And she met some of the most amazing people, including Carman – this Carman – the Christian singer/songwriter.  He was the stuff back in the day!
So every time I hear our Praise & Worship band do this song, it takes me back – way, way back – and it reminds me of the true meaning of Easter!  He is risen!  Every day should be a celebration!
Of course, no celebration would be complete without a feast!  Here's a scrumptious Easter menu just for you!
Easter Menu
Pineapple/Peach Glazed Ham
Waldorf Salad
Hash Brown Casserole
Roasted Asparagus
Dinner Rolls
Best Carrot Cake
Yield: 12-14 servings
Pineapple Peach Glazed Ham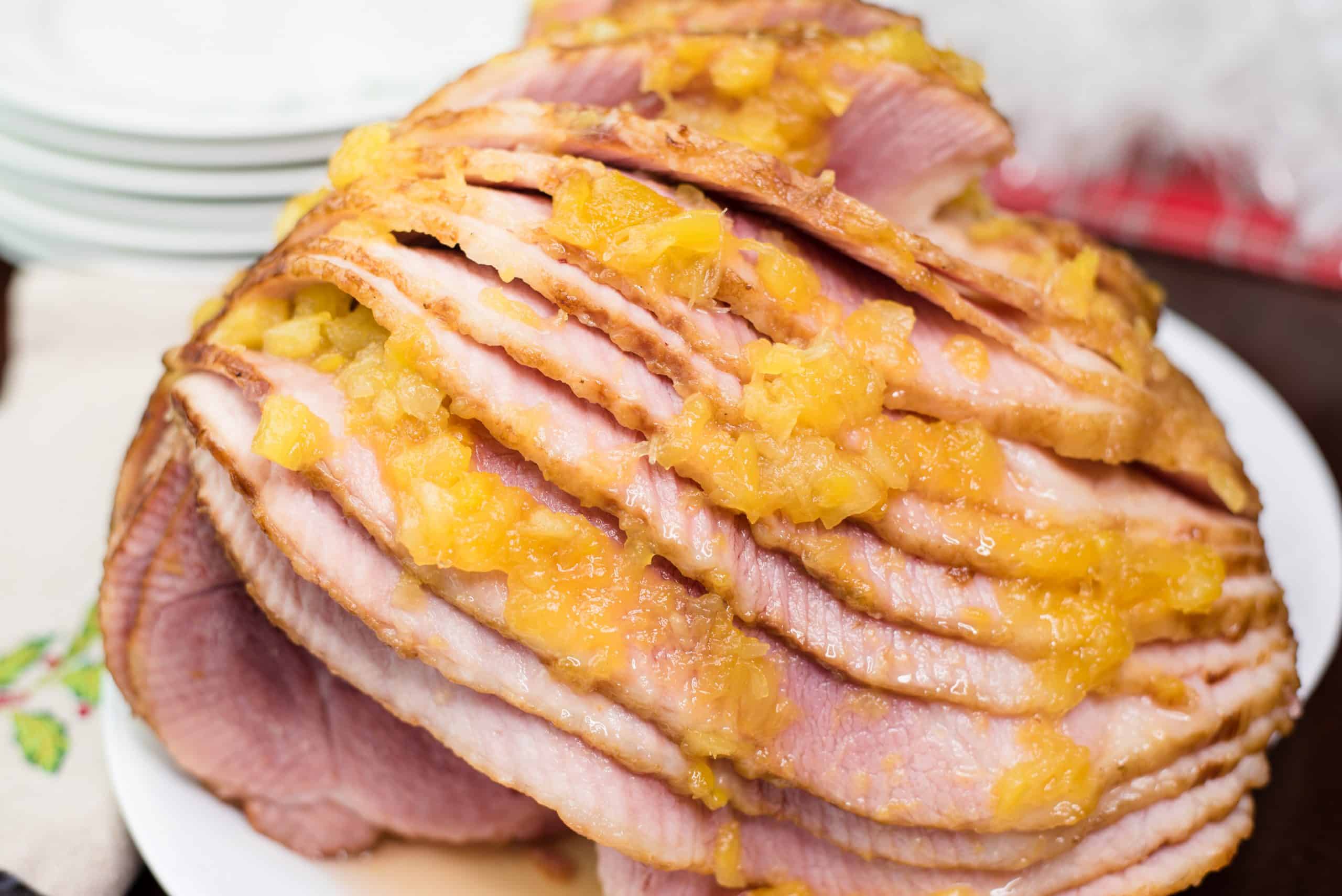 Pineapple Peach Glazed Ham is tender and flavorful. Plus, it's so easy to bake and the house smells amazing.
Cook Time
2 hours
5 seconds
Total Time
2 hours
10 minutes
5 seconds
Ingredients
8-10 pound fully cooked spiral-sliced ham
Pineapple/Peach Glaze
1 (8 oz) can crushed pineapple, undrained
1/2 cup peach preserves
2 Tablespoons apple cider vinegar
1/2 teaspoon ground ginger
Instructions
Preheat oven to 275ºF.
Place ham in a baking pan, cut side down. Cover tightly with aluminum foil. Heat for 15 minutes per pound or until a thermometer reads 140 degrees.
Add the glaze ingredients to a small saucepan. Heat on medium, stirring often, until the preserves have melted and the ingredients are well combined.
During the last 30 minutes of baking, remove foil and spoon the glaze over the ham several times
Nutrition Information
Yield
14
Serving Size
1
Amount Per Serving
Calories

403
Total Fat

13g
Saturated Fat

2g
Trans Fat

0g
Unsaturated Fat

7g
Cholesterol

166mg
Sodium

2536mg
Carbohydrates

13g
Fiber

0g
Sugar

11g
Protein

58g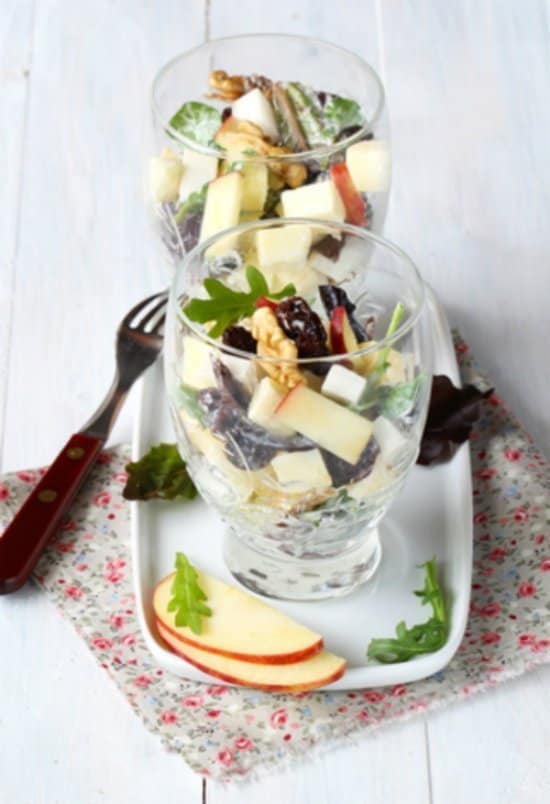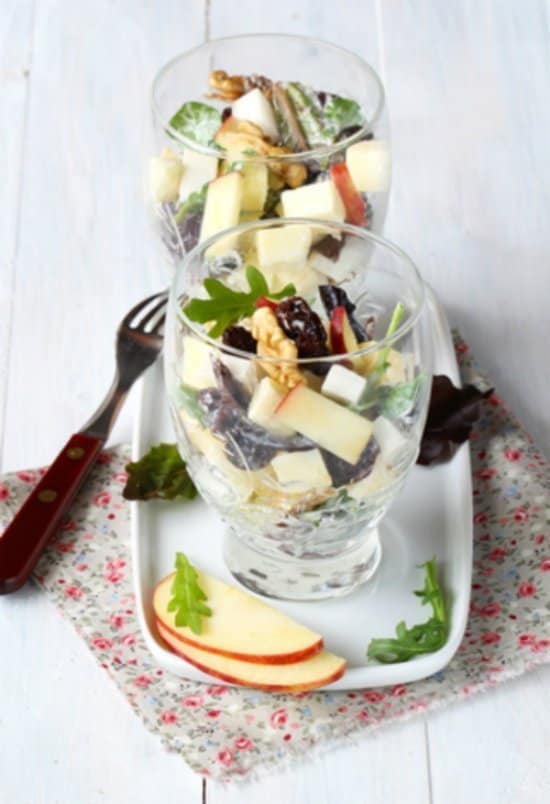 Waldorf Salad is a delicious salad that I've been making for years. It's a keeper!
Ingredients
2 Granny Smith apples, cored and cut into wedges
1 tablespoon lemon juice
1 head Boston lettuce, separated into leaves
2 heads green and/or red Belgian endive, separated into leaves
3/4 cup seedless green grapes, halved
1/4 cup blanched whole almonds, toasted (or walnuts)
1 recipe Lemon Dressing (see recipe below)
Lemon Dressing
1 6 ounce container lemon low-fat yogurt
1 tablespoon cider vinegar
1/4 teaspoon salt
1 tablespoon fresh dill weed (or 1/4 teaspoon dried dill weed)
1/4 teaspoon ground black pepper
In a small bowl stir together the yogurt, vinegar, salt, dill weed and black pepper until well combined. Makes 2/3 cup.
Instructions
In medium bowl toss apples with lemon juice.
On salad plates arrange Boston lettuce, endive, apple wedges, grapes, and almonds.
Spoon on Lemon Dressing.
Serves 6.
Nutrition Information
Yield
6
Serving Size
1
Amount Per Serving
Calories

172
Total Fat

9g
Saturated Fat

1g
Trans Fat

0g
Unsaturated Fat

7g
Cholesterol

3mg
Sodium

336mg
Carbohydrates

21g
Fiber

3g
Sugar

15g
Protein

5g
Hash Brown Casserole – find a lower-fat recipe here!  
I know, I know!  This is an oldie but a goody – comfort food at its best!
Yield: 4 servings
Roasted Asparagus
Prep Time 5 minutes

Cook Time 15 minutes

Total Time 20 minutes
Ingredients
2 lbs. fresh Asparagus spears
2 T extra virgin olive oil
2 cloves garlic, sliced thin (or minced garlic from the jar to equal 2 cloves)
salt and pepper
Instructions
Preheat oven to 400. Snap off the tough ends of the Asparagus. Toss with the olive oil and garlic. Spread in a single layer on a large baking pan. Sprinkle lightly with salt and pepper. Roast for 12-15 minutes, shaking the pan occasionally.
Nutrition Information
Yield
4
Serving Size
1
Amount Per Serving Calories 112Total Fat 7gSaturated Fat 1gTrans Fat 0gUnsaturated Fat 6gCholesterol 0mgSodium 106mgCarbohydrates 10gFiber 5gSugar 3gProtein 6g
Dinner Rolls (your choice – bake them or buy them)  I have two favorite frozen dinner rolls – one fave being Sister Schubert, white and whole wheat yeast type rolls. They come 10 to a package and I always buy one of each.  My other favorite is Pepperidge Farm Stone-Baked Artisan Dinner Rolls – very crusty on the outside and soft on the inside.  You can find them in the freezer section of your favorite grocery store or super center.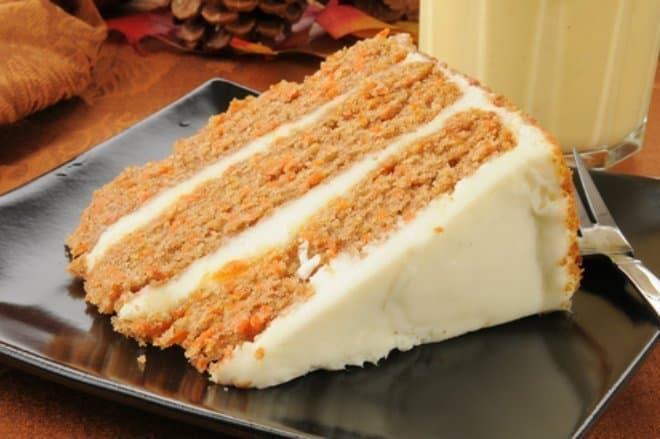 Best Carrot Cake can be found here.
What's your favorite Easter food?  You know, that one dish that you must have every Easter!