Air-Fryer Doughnuts are made from refrigerated biscuits and are so tender and delicious. The cinnamon/sugar adds so much flavor to these easy-to-make doughnuts.
If you don't want to use cinnamon/sugar on your doughnuts, I'm including a delicious glaze as well. I usually make half cinnamon/sugar and half glazed. I like them both ways.
When my kids were growing up, they loved when I made doughnuts from canned biscuit dough. These days, I rarely fry foods so these air-fryer doughnuts hit the spot without all the mess of deep-frying.
I use my air-fryer just about every single day. I always use it for making Rosemary Potatoe Wedges, Buffalo Wings, and Broccoli Cheese Bites.
Ingredients You'll Need To Make Air-Fryer Doughnuts
large Refrigerated Canned Biscuits (Like Grands)
For The cinnamon/sugar:
granulated sugar
ground cinnamon
melted butter
vanilla extract
For A Traditional Glaze:
powdered sugar
milk
light corn syrup
Tips For making Easy Air-Fryer Doughnuts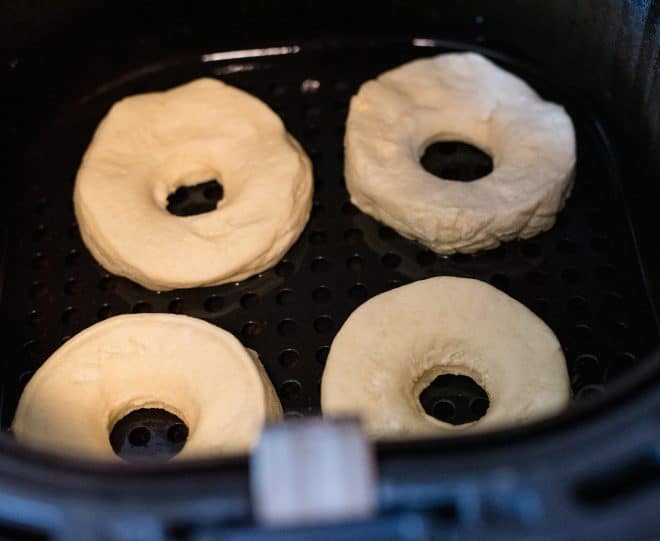 Preheat the air-fryer to 375º F. Don't skip this step! I preheat for 15 minutes but you'll want to follow the preheating directions on your air-fryer.
Spray the air-fryer basket or tray with olive oil or coconut oil spray. Nonstick cooking spray (like Pam) can damage the coating on the air fryer basket.
Separate the biscuits and cut out the centers with a 1″ cutter. Save the holes! You're going to air-fry them too. If you don't have a cutter, use a soda bottle cap.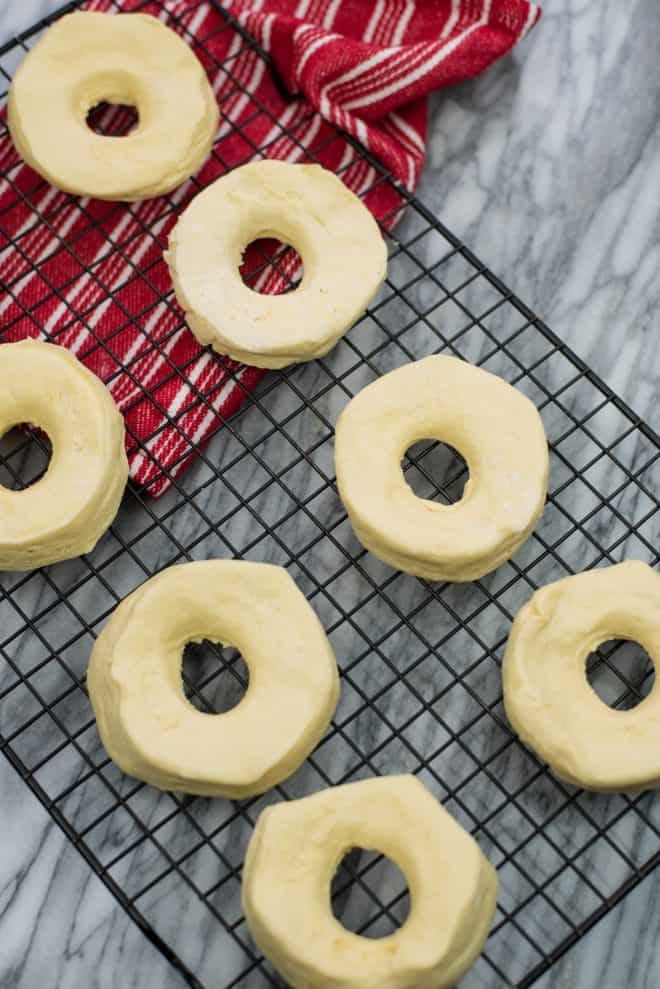 These doughnuts cook for about 2-1/2 minutes per side. Watch carefully!
Depending on the size of your air-fryer, you will probably have to make the doughnuts in two batches. Actually, three batches because you don't want to forget about the delicious doughnut holes. Leave some space between the doughnuts. They don't need to touch while cooking.
Don't forget to brush the doughnuts with melted butter and dip them into the cinnamon/sugar mixture while the doughnuts are still warm. Or dip the warm doughnuts in a traditional glaze. The glaze recipe is down below and included in the printable recipe card.
Traditional Glaze Recipe
If you had rather make a traditional glaze for these doughnuts, here you go! Ditch the cinnamon, granulated sugar, and melted butter.
For the glaze, you'll need:
1 cup powdered sugar
1-1/2 Tablespoons milk
1-1/2 Tablespoons light corn syrup
Mix the glaze ingredients together until smooth. If the glaze is too thin add a little more powdered sugar. If it's too thick, add a teaspoon of milk.
Dip the warm doughnuts into the glaze before serving.
How To Store Leftover Doughnuts
I never have any leftovers, but if you do, store the doughnuts in an airtight container at room temperature for up to two days. Reheat for 15 seconds in the microwave before serving.
Yield: 8 doughnuts + 8 doughnut holes
Air Fryer Doughnuts
Tender Air-fryer doughnuts are brushed with melted butter and dipped into a cinnamon/sugar mixture while warm.
Ingredients
1 tube (16.3 oz.) large refrigerated biscuits (8 count)
Olive Oil OR Coconut Oil Spray
Cinnamon Sugar Topping
1/2 cup granulated sugar
2 teaspoons ground cinnamon
1/4 cup butter, melted
1/2 teaspoon vanilla extract
Traditional Glaze
1 cup powdered sugar
1-1/2 Tablespoons milk
1-1/2 Tablespoons light corn syrup
Instructions
Preheat the air fryer to 375º F. Separate biscuits and cut out the centers using a 1" cutter. Save the centers.
Coat the air-fryer basket with olive oil or coconut oil spray. Place doughnuts in a single layer without touching and cook until golden brown, turning once (about 2-1/2 minutes per side). Watch carefully so that they don't burn. Repeat with remaining doughnuts. Cook the doughnut holes for about 1-2 minutes per side until golden brown.
For the cinnamon/sugar coating: In a shallow dish, combine the cinnamon and sugar. In a small bowl, mix the vanilla and melted butter. Brush warm doughnuts with butter/vanilla mixture and dip both sides in the cinnamon/sugar mixture.
For the traditional glaze, in a bowl, mix the powdered sugar, milk, and light corn syrup together until smooth. Dip the doughnuts into the glaze mixture, coating both sides.
Notes
My air-fryer is not huge so I cook the doughnuts in batches.
Non-stick cooking sprays (like PAM) can damage the coating on your air fryer basket. I always spray my air-fryer basket with olive oil or coconut oil spray.
Recommended Products
As an Amazon Associate and member of other affiliate programs, I earn from qualifying purchases.
Nutrition Information
Yield
8
Serving Size
1
Amount Per Serving
Calories

229
Total Fat

10g
Saturated Fat

6g
Trans Fat

0g
Unsaturated Fat

4g
Cholesterol

16mg
Sodium

95mg
Carbohydrates

34g
Fiber

0g
Sugar

30g
Protein

1g
You May Also Love These Recipes!